Bitcoin Rises $780 in 4 Hours; What's Driving the Pump
After registering a dismissive performance late last week, bitcoin has opened Monday with a bang.
The bitcoin-to-dollar exchange rate surged by $780, or 7.88 percent, to establish its intraday high towards $10,680, according to data provided by CoinStats' cryptocurrency portfolio management app. The move uphill appeared technical – wherein traders found psychological support around the $10,000 level and started opening new long positions. However, some catalysts from the macroeconomic space also seemed to have pushed the bitcoin price up.

Renminbi Down to 11-Year Low
China's renminbi dropped to its 11-year low after US-China trade tensions exacerbated further over the weekend. The onshore renminbi on Monday morning fell as much as 0.8 percent against the US dollar in the wake of President Donald Trump's anti-China remarks.
Trump said that he regrets that he did not raise tariffs on Chinese goods more than he already did.
Moves into so-called haven assets pushed Japanese Yen 0.1 percent higher against the dollar. Gold, meanwhile, rose 1.1 percent to establish a six-year high. The yield on 10-year US Treasury fell to its July 2016 low.
Bitcoin, meanwhile, returned to prove that its among the ranks of safe-havens. The benchmark cryptocurrency remained correlated to the price actions of renminbi, proving that either investors in China were buying it to ditch capital controls or speculators were pumping it in hopes that institutional investors would begin treating it as a global hedge against liquidity crisis.
Returning to Bitcoin Technical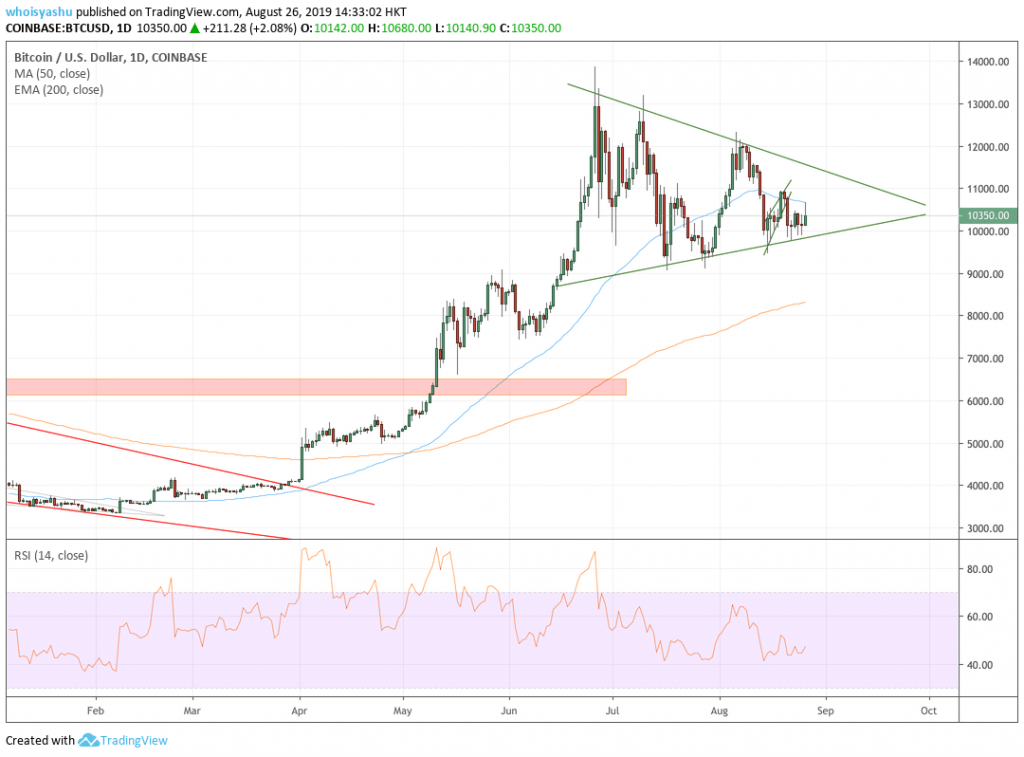 Bitcoin, as covered before, is trending inside a bull pennant structure for far too long. The price, time after time, has tested the lower trendline of the Pennant as support. It happened again today, which is why traders could be looking to retest the upper trendline of the Pennant, which is resistance.
That said, a Long position towards the upper trendline looks harmless as long as traders are maintaining a stop loss below their entry points. Fundamentals are hinting an upside bias so the trade should work well.
As for the downside levels, a break below the lower trendline could push bitcoin towards the $9,000 level. Depending upon the exchange, traders could set their downside targets based on bitcoin's recent support levels. On Coinbase, those supports are $9,071 and $7,427.
Where do you think the bitcoin price is heading next? Tell us in the comment box below.