Información general
Valores en Cartera
Mercados
Noticias
Actualizaciones del Equipo
Rank #139

STEPN Precio
•
GMT
Gráfico de precios de STEPN (GMT)
Swap
Estadísticas de mercado
Capitalización de mercado
Valoración totalmente diluida
All Time High
Apr 28, 2022
Actualización de precio de STEPN
El precio de STEPN es $0,296061, sube un 2.35% en las últimas 24 horas, y la capitalización de mercado en vivo es $406,627,792. Tiene un volumen de suministro en circulación de 5,260,427,724 GMT monedas y un volumen máximo de suministro de 5,260,427,724 junto con un volumen de negociación de 24h de $74,207,257.
Convertidor de Cripto

GMT

USD
Acerca de STEPN
What is STEPN (GMT)
STEPN is a Web3 lifestyle app with inbuilt Game-Fi and Social-Fi elements. Stepn is hosted on the Solana blockchain and is a perfect example of using blockchain technology to incentivize people to take positive actions that are beneficial to society.
It is an activity tracking app built on the Web3 which gives users the exciting option of earning money while they exercise or play its in-app games.
Stepn is built around most people's daily activities which involve a lot of moving around. The app is mainly composed of a " Play to earn " game feature and a "move to earn " fitness feature.
It was founded with the mission of becoming the leading Web3 health and fitness app.
The creators of the Web3 lifestyle app hope to inspire people to a healthier lifestyle, introduce them to Web3 and combat climate change through the occasional purchase of Carbon emission offsets.
To get a clear picture of what the Stepn web3 fitness app is all about. We are going to highlight its main components, what they do, and how they interoperate with each other to create the Stepn experience.
NFT Sneakers
The NFT sneakers are a key component of the Stepn web 3 apps. They are virtual sneakers that users can buy and then proceed to earn tokens with it while doing their daily exercise. There are various modes of exercise available in the Stepn fitness app. To get a comprehensive view of them visit the Stepn Litepaper here.
There are various sneaker types designed to fit different fitness levels. The higher the fitness level of the sneaker, the more tokens to be earned. In this way, the Stepn Web3 has a direct effect on the intensity of exercise its users do.
Users can burn their earned tokens to either level up their sneakers or customize their features. The NFT sneaker is at the center of Stepn's " Move to earn"feature.
The current price of a Stepn NFT sneaker is approximately $700.
STEPN marketplace
The Stepn marketplace is an in-house market area where users can sell or lease their NFT sneakers. New users who cannot afford to buy a fresh pair of NFT sneakers can lease from existing users for free to split their earnings later. The original owner of the NFT shoe keeps 70% while the renter takes 30%.
STEPN Tokens
The Stepn Web 3 app has two native protocol tokens with two distinct roles. Crypto entities with two protocol tokens are said to follow a dual token model. The two native protocol tokens of the Stepn apps are
Green Satoshi token or GST token
The GST Token is the utility token of the Stepn app. It is the token earned by Stepn users doing exercise with their NFT shoes on. It has an unlimited supply and has some in-built features ( Burning mechanisms )that shield it from inflation.
The GST token can also be called the Stepn game token alluding to its functionality in the Stepn Ecosystem.
Green Metaverse token or GMT Token.
This is the governance token of the Stepn web3 lifestyle ecosystem. It has a limited supply of 6 billion tokens. Users can only get this token when they reach a sneaker level 30.
Carbon Offsetting Feature
The Stepn lifestyle app makes provision for users to donate its GST tokens to Carbon emission offsetting schemes. The Stepn app also commits a percentage of its donation to the same cause to help combat climate change.
STEPN Coin Founders
Stepn was co-founded by Jerry Huang and Yawn Rong
Jerry Huang has a history of working in the information technology and gaming industry. He has ten years of experience in game development, operation, and marketing.
Yawn Rong is an Australian Blockchain developer who has previously founded Crypto SA, an Australian crypto fund and pro-regulation auditor, and has served as an ambassador for Algorand and as an industry representative of the South Australian Blockchain Association. He lives in the greater Adelaide area of Australia.
Stepn is backed by some big names in the industry. According to TechCrunch, its first initial investment was a $5m seed round from Sequoia Capital.
This was followed by an undisclosed but significant investment from Binance.
According to Techcrunch Stepn generates $3 million-$5 million in net profit from trading fees a day and earns up to $100 million every month.
How Does STEPN Work
Stepn is built on the Solana network and its consensus mechanism is a combination of Proof of history and Proof of stake consensus mechanisms.
Stepn also uses the Byzantine fault tolerance feature which ensures that its ecosystem keeps running even if some of its 200 nodes worldwide get faulty.

The Proof of history consensus speeds up Stepn's transaction time to about 50,000 transactions in one second.

The Stepn app works like any other " activity tracking app ". It is pretty easy to set up and can be downloaded on both App Store and Google Play store.
Setting Up STEPN For New Users
Setting up stepn as a new user can be broken down into five very simple steps.
Download the STEPN app from Appstore or Google Playstore.
Sign-up for STEPN
Create a new Wallet
Transfer SOL into your in-app Wallet
Purchase or rent an NFT Sneaker
Learn more at the Stepn Whitepaper here
How to Buy STEPN
Stepn utility token can either be bought with fiat or the Solana native token SOL.
The two major places to buy STEPN with Fiat US are Coinbase and Kraken for US users.
Other country users can buy STEPN with Fiat on major crypto exchanges like Binance, and other decentralized exchanges.


SOL
Sol is the native token of the Solana blockchain and it is used to buy NFT sneakers which give users the option of earning GST tokens by doing exercises.
GST earnings are stored in the in-app Wallet, which has a built-in Swap function.
Leer más
Activos relacionados
Los tenedores de STEPN también tienen
Explora altcoins comúnmente tenidas por los inversores de STEPN y descubre nuevas oportunidades.
Criptomonedas en tendencia
Activos con el mayor cambio en vistas de página únicas en CoinStats en las últimas 24 horas.
Capitalización de mercado similar
Entre todos los activos disponibles en CoinStats, estos tienen la capitalización de mercado más similar a STEPN.
| # | Exchange | Par | Volumen (24H) | Volumen (%) | Precio | Última actualización | |
| --- | --- | --- | --- | --- | --- | --- | --- |
| 1 | Binance Futures | GMT/USDT | $147.674.352,118 | 62.54% | $0,2945 | | |
| 2 | Upbit | GMT/KRW | $21.615.918,141 | 9.15% | $0,306604 | | |
| 3 | Binance | GMT/USDT | $18.696.102,337 | 7.92% | $0,2947 | | |
| 4 | Bitrue | GMT/USDT | $9.494.858,703 | 4.02% | $0,2948 | | |
| 5 | Btse | GMT/USD | $6.853.593,056 | 2.9% | $0,2974 | | |
| 6 | OKEX | GMT/USDT | $5.256.515,673 | 2.23% | $0,2948 | | |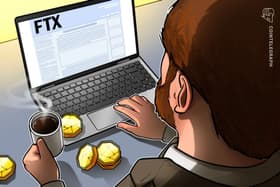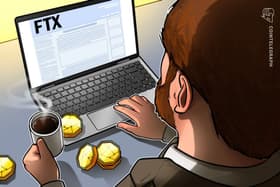 También revisa el precio de STEPN en
Descargo de responsabilidad
Ninguna parte del contenido que proporcionamos constituye asesoramiento financiero sobre precios de monedas, asesoramiento legal, o cualquier otro tipo de asesoramiento destinado a que te bases en él para cualquier propósito. Cualquier uso o dependencia de nuestro contenido es únicamente bajo tu propio riesgo y discreción.