Հետազոտություն
Ֆոնդեր
Շուկաներ
Նորություններ
Team Updates
Rank #1233

Counterparty Գին
•
XCP
Counterparty Price Chart (XCP)
Փոխանակել
Market Stats
All Time High
Jan 10, 2018
Counterparty Price Update
Counterparty price is $3,01, վեր 1.84% in the last 24 hours, and the live market cap is $7,795,475. It has circulating supply volume of 2,649,272 XCP coins and a max. supply volume of 2,649,272 alongside $78,087 24h trading volume.
Crypto Converter

XCP

USD
About Counterparty
What is Counterparty?
Counterparty is a platform built on the Bitcoin blockchain that enables users to create and trade digital tokens, build decentralized financial applications, and more. It was created in 2014 as an open source project with the goal of allowing anyone to use the Bitcoin blockchain for their own projects. The platform provides a wide range of features, including asset issuance, token trading, decentralized exchange (DEX), and smart contracts. Counterparty also allows users to issue their own tokens which can be used for crowdfunding or other purposes.
Counterparty uses a distributed ledger system based on the Bitcoin blockchain which ensures that all transactions are secure and immutable. This means that no one can modify or delete transactions once they have been recorded on the blockchain. Additionally, Counterparty has its own native currency called XCP which is used to pay fees associated with using the platform.
The Counterparty protocol is designed to be compatible with existing Bitcoin wallets and exchanges so users can easily access their funds without having to learn a new system. Additionally, it supports multiple programming languages such as Python and JavaScript so developers can easily create applications for the platform.
Overall, Counterparty provides an easy-to-use platform for creating digital tokens and building decentralized applications on top of the Bitcoin blockchain. With its wide range of features and compatibility with existing systems, it is becoming increasingly popular among developers looking to explore new possibilities within the cryptocurrency space.
Կարդացեք ավելին
Related Assets
Counterparty Holders Also Hold
Explore altcoins commonly held by Counterparty investors and discover new opportunities.
Trending Cryptocurrencies
Assets with the largest change in unique page views on CoinStats in the last 24 hours.
Similar Market Cap
Among all the assets available on CoinStats, these have the most similar market capitalization to Counterparty.
| # | Բորսա | Զույգ | Ծավալ (24ժ) | Ծավալ (%) | Գին | Վերջին թարմացում | |
| --- | --- | --- | --- | --- | --- | --- | --- |
| 1 | Zaif | XCP/JPY | $32,48 | 100% | $2,68 | | |
| 2 | Zaif | XCP/BTC | N/A | N/A | $3,55 | | |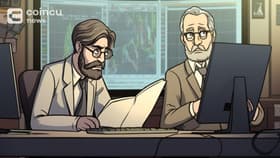 Also Check Counterparty Price On
Հրաժարում պատասխանատվությունից
No part of the content we provide constitutes financial advice on coin prices, legal advice, or any other form of advice meant for you to rely on for any purpose. Any use or reliance on our content is solely at your own risk and discretion.