Հետազոտություն
Ֆոնդեր
Շուկաներ
Նորություններ
Team Updates
Rank #142

NEM Գին
•
XEM
Փոխանակել
Market Stats
NEM Price Update
NEM price is $0,035883, վեր 2.91% in the last 24 hours, and the live market cap is $322,945,637.999. It has circulating supply volume of 8,999,999,999 XEM coins and a max. supply volume of 8,999,999,999 alongside $7,127,949.036 24h trading volume.
Crypto Converter

XEM

USD
About NEM
What Is NEM
NEM (New Economy Movement) can be seen as this ecosystem of platforms that end up using blockchain as well as cryptography to provide solutions. XEM is the native cryptocurrency token used on the NEM public blockchain known as NIS1.
NIS1 is a network of distributed as well as independent nodes which process as well as record transactions on a public ledger. They are incentivized to do so through transaction rewards which are paid out in the form of XEM tokens.
The interesting part about it is the fact that it evolved in March of 2015 as a fork of the NXT, which is a virtual currency platform.
Furthermore, it is operated by a non-profit organization known as the Nem Group.
Who Are the Founders of NEM
NEM is a creation by three developers that went by name of Jaguar0625, BloodyRookie, and gimre.
Since its creation, NEM has grown from a personal project to a large ecosystem composed of various platforms. It is now managed by the NEM group, which is a parent company specifically created with the intention of supporting the growth of the ecosystem which leads up to the launch of Symbol which is NEM 2.0. It was formed by a team of NEM representatives as well as enterprise veterans.
Furthermore, you have the NEM Group Board of Directors that are responsible for setting the strategy as well as the budgets. The NEM Group operates three separate entities, the NEM Software, The NEM Trading, and the NEM ventures.
What Is XEM Used For
Harvesting is a system that was designed by NEM with the goal of generating XEM. This was done with the intention of helping in the maintenance of the integrity of the blockchain, where every time someone carries out a transaction, the first computer that sees and verifies it will notify nearby users. It is known as generating a block, and whenever someone with more than 10,000 vested XEM generates a block in NEM they will end up receiving the transaction fees of that block as a form of payment.
XEM is a decentralized and open-source cryptocurrency that has specific features. It keeps NIS 1 secure through proof-of-importance (PoI), which is its consensus mechanism.
One of the main differences between the POS and POI consensus algorithms is the fact that in the POS consensus algorithm, the number of coins staked matters, and if a staker allocates 10% of the staked amount, they will be able to mine only 10% of the blocks within the network.
It allows anyone to run a node in the NIS1 network and facilitate the transactions through delegated harvesting, where the system takes into account every single node's amount of already held coins, as well as how often they transact on the network and who they transact with.
NIS1 even supports features such as multisignature account contracts, encrypted messaging, the Eigentrust++ reputation system, and the Apostille service.
NEM uses the Ed25519 public-key signature system and the SHA3 hash algorithm with the intention of securing its network.
Generally speaking, all of this is backed by blockchain technology, and as such the XEM price crypto as well as the crypto price is impacted and showcased on exchanges.
NEM also has social uses such as secure voting, record keeping, registration as well as access control. It allows a participant to create, distribute and even trade cryptocurrencies and tokens that are compatible with the wallets as well as other applications that are available within the NEM ecosystem. NEM is also API compatible and allows any global application to be linked as well as utilized on the platform.
Where Can You Buy XEM
NEM crypto has an available supply of 8,999,999,999 and a total supply of 8,999,999,999 coins.
Կարդացեք ավելին
Related Assets
NEM Holders Also Hold
Explore altcoins commonly held by NEM investors and discover new opportunities.
Trending Cryptocurrencies
Assets with the largest change in unique page views on CoinStats in the last 24 hours.
Similar Market Cap
Among all the assets available on CoinStats, these have the most similar market capitalization to NEM.
| # | Բորսա | Զույգ | Ծավալ (24ժ) | Ծավալ (%) | Գին | Վերջին թարմացում | |
| --- | --- | --- | --- | --- | --- | --- | --- |
| 1 | Binance Futures | XEM/USDT | $11.729.500,772 | 164.63% | $0,0359 | | |
| 2 | Upbit | XEM/KRW | $2.116.647,233 | 29.71% | $0,03712 | | |
| 3 | Gokumarket | XEM/BTC | $1.699.464,06 | 23.85% | $0,038075 | | |
| 4 | Gokumarket | XEM/USDT | $1.558.004,784 | 21.87% | $0,0397 | | |
| 5 | Binance | XEM/USDT | $655.747,361 | 9.2% | $0,03587 | | |
| 6 | AscendEX | XEM/USDT | $655.489,382 | 9.2% | $0,03576 | | |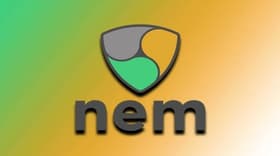 Հրաժարում պատասխանատվությունից
No part of the content we provide constitutes financial advice on coin prices, legal advice, or any other form of advice meant for you to rely on for any purpose. Any use or reliance on our content is solely at your own risk and discretion.