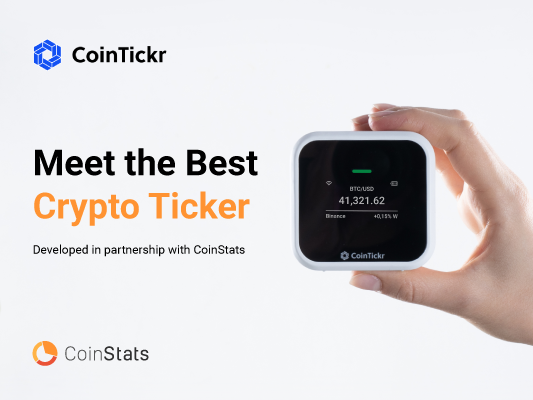 CoinStats Partner CoinTickr Launches on Kickstarter
<! -- End of the Reviewed by section -->
Great news for all fans of crypto gadgets – CoinStats and CoinTickr have partnered to bring the most sophisticated crypto ticker to your desk.
Introducing CoinTickr Crypto Tracking Device
CoinTickr, a compact portable tracking device that showcases the market fluctuations of a chosen cryptocurrency, has launched on Kickstarter and is rapidly moving toward its initial funding goal – quite remarkable stats for the niche of crypto trackers.
The 1.3" crypto tracker receives the displayed data from CoinStats' live database containing information about more than 20,000 coins and over 300 exchanges. This way the investor can closely monitor the market and act at the right moment without being constantly engrossed in his or her smartphone or computer.
As a bonus, all backers of the fundraising campaign will receive a free Pro or Premium CoinStats membership for a whole year, which will give them access to key insights about their holdings and allow them to see the bigger picture and make valuable conclusions.
Why CoinTickr
It is the unique combination of functionality and well-thought-out design that makes CoinTickr a worthy investment. Sleek and minimalistic in either black or white, the crypto tracking device is waterproof, supports long-range Wi-Fi connectivity, and has an energy-efficient screen and rechargeable batteries that last up to 10 hours. Each CoinTickr is a dedicated tracker for a single coin, but it is easy to combine a few devices and track several cryptocurrencies simultaneously. Early backers can order a CoinTickr for their favourite coin at a discounted price of $95, down from the future retail price of $139.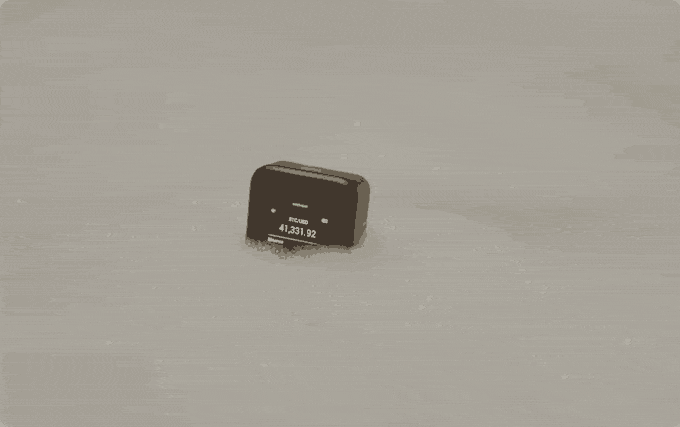 What This Means
The launch of CoinTickr marks the beginning of an exciting time for crypto-related products. It is evident that the data CoinStats aggregates – especially under the conditions of extreme volatility typical for the crypto market – can and will give rise to the creation of a wide range of data-based tools.
In a sense, CoinTickr shows how we've come full circle and are now inviting the digital financial ecosystem back into "the real world" in the form of a small elegant device. Besides, seeing a crypto ticker on someone's desk is a great conversation starter that will without a doubt lead to a more connected crypto community.
CoinStats remains dedicated to giving you the full information about your holdings in real-time to majorly improve your decision-making abilities, and the fact that you can now access that data on a separate dedicated device makes our goal that much more achievable. The niche of inventive crypto gadgets is yet to be filled, and CoinStats welcomes all such innovations.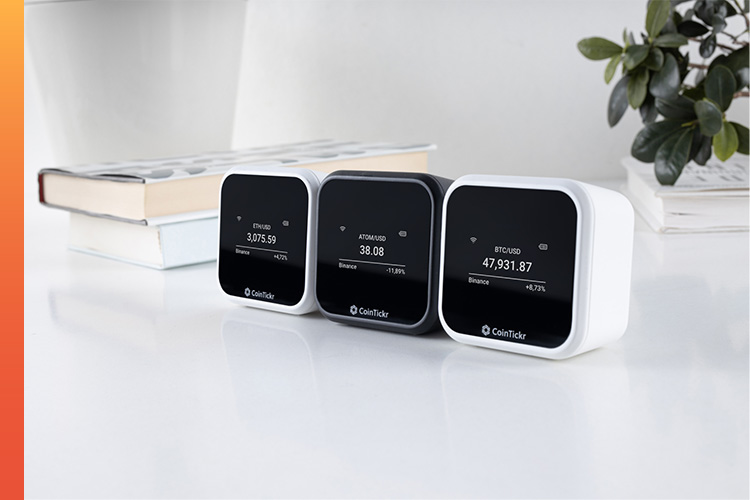 Conclusion
CoinTickr is a simple and efficient tracking solution that will ease your anxiety about missing a great trade and let you shift your attention back to the real world of touching grass and spending quality time with loved ones. So, what are you looking for? Order your CoinTickr today, set up an alert based on your preferred price point, and rest assured that you'll always be on top of your crypto game.