We all can agree that managing your crypto portfolio can be a VERY challenging task for both beginners and experienced investors without the proper cryptocurrency portfolio tracker.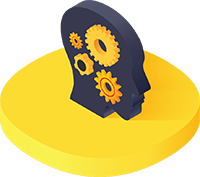 That's why crypto asset management tools and portfolio trackers have been created to help investors manage and monitor their portfolio in the easiest way possible with lots of innovative features.
Crypto-asset management apps, when used correctly, have the ability to become great tools, helping investors in making their trading experience more structured, less stressful, and have the potential to increase their profits.
Wanna know how?
Keep reading.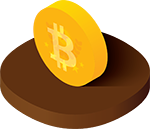 Chapter 1
What is a crypto-asset? Types of cryptocurrencies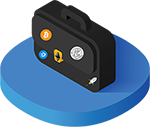 Chapter 2
Definition of Cryptocurrency Portfolio Management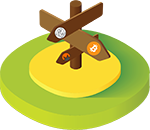 Chapter 3
What is and Why You Need to Diversify your Portfolio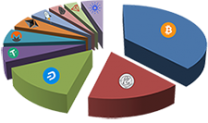 Chapter 4
Why it is worth to have more than 5+ cryptocurrencies on HODL (Technical View)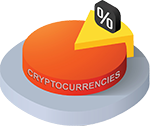 Chapter 5
How to diversify your Crypto portfolio. What you can accomplish with it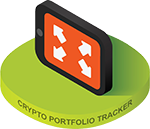 Chapter 6
What is a cryptocurrency portfolio tracker and types of trackers

Chapter 7
How to Choose the right Crypto Portfolio Tracker App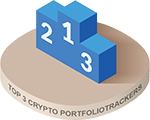 Chapter 8
TOP crypto portfolio trackers
Chapter 1
What is a crypto asset? Types of cryptos.
In this chapter, we will talk about what cryptocurrencies are in general. Then, we will define the 3 main categories of cryptocurrencies.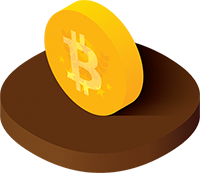 Digital currencies have become the subject of numerous discussions and even scandals in the recent years. However, most still struggle to understand what they actually are.
A crypto-asset is a digital currency where the generation of the currency units and transfer verifications are controlled by a code based on cryptography.
In other words, cryptocurrencies are digital currencies, based on blockchain.
Many of these are systems, which are not governed unilaterally, meaning that they are decentralized.
In other words, this means that no central bank or government controls crypto-assets.
You might have also heard the term "trustless" referring to crypto-assets.
But are they really trustless? Are they just code and nothing else?
Cryptocurrency transactions happen without third party interference and are considered more private and safe compared to the traditional systems.
The first and most popular cryptocurrency is Bitcoin, which was created in 2008 by Satoshi Nakamoto (identity hasn't been revealed up to now). Launching at practically zero, Bitcoin reached the price of $19,943 in December 2017.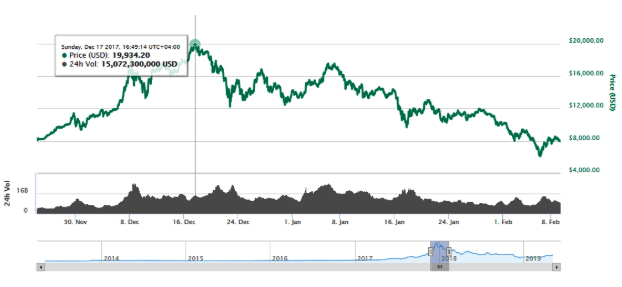 This crypto-asset was the first to demonstrate that safe, decentralized networks for value transactions via the internet are possible, creating opportunities for new technologies.
Other cryptocurrencies, which were created after Bitcoin, have been named Altcoins. These types of coins vary from Bitcoin in many ways, such as different coin-distribution methods, economic models or consensus algorithms.
Currently, there are more than 2000 Altcoins, and the numbers are still growing.
So, what type of cryptocurrencies exist?
As a rule, there are 3 main categories of cryptocurrencies that you may come across.
Transaction Cryptocurrencies
Originally, crypto-assets were created for payment transactions and Bitcoin is the most vivid example. They were designed as alternative options to traditional systems,  where third-party institutions like banks or, would not be needed.
Platform Cryptocurrencies
Platform cryptocurrencies enable the operation of other decentralized applications. The most popular of this group is Ethereum, which is currently the most extensively used smart contract platform.
What are smart contracts?
Smart contracts are self-executing contracts in which the terms are directly written into lines of code. These types of cryptocurrencies are the groundwork for other decentralized apps/cryptocurrencies.
This type of crypto-asset is specially designed for a particular purpose like domain name registry or storage pointers. For instance, Siacoin is created to support a decentralized storage network, and that is a unique and fresh way to use blockchain technology.
These are projects that are created based on a platform protocol with a particular target or industry in mind. Utility tokens' examples are VeChain, Golem, Auger, etc.
Chapter 2
Definition of Cryptocurrency Portfolio Management.
In this section, we will speak about what is a crypto portfolio management and how to manage your cryptocurrency portfolio.
Managing your digital assets can be quite challenging for lots of reasons. So, let's discuss them and find the best solution.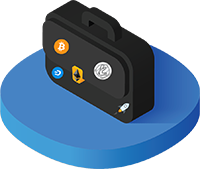 First of all, not all cryptocurrencies are listed on the same crypto exchange.
That's why you need to use different wallets and exchanges. It makes managing and dealing with your assets an awful hassle since it becomes more time-consuming and attention-intensive.
Moreover, to be more efficient, you will need a complete overview of your entire portfolio from a single interface.
Why?
Because you see all of your investments at the same location.
There's also an issue of exchange and wallet compatibility without third-party involvement since many exchanges don't work with specific wallets.
Especially for active traders, being able to effectively monitor the flow of holdings is a top priority.
As a result,simultaneous monitoring of the entire investments becomes practically impossible, and a need for a centralized spot for gathering all crypto-assets arises.
This is where crypto portfolio trackers come in.
Crypto portfolio trackers assist investors of any level in managing their diverse holdings with advanced portfolio statistics and support.
Remember that, active supervision and management of your crypto portfolio allows you to accurately judge its value, evaluate your investments, and calculate your tax liabilities.
Overall, cryptocurrency portfolio management tools are designed to manage the investment portfolio by simplifying and improving the experience of crypto investors.
Chapter 3
What is Crypto Portfolio Diversification: Reasons Why You Need to Diversify your Portfolio.
In this part, we are going to talk about what is a crypto portfolio diversification.
Then, we will speak about the importance of diversification and give the reasons why you need to diversify your crypto portfolio.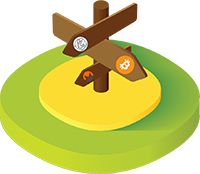 When it comes to investing, diversification is critical and the crypto market is not an exception. However, not everyone knows how exactly it is done.
Why is cryptocurrency diversification important, and how exactly should a well-balanced portfolio look?
Diversifying a crypto portfolio is about allocating your funds in multiple digital assets to minimize the risk.
That way, you spread the risk around by putting your money across different digital coins, resulting in loss of only a PART of your funds if the value of one coin decreases.
It makes sense? Good!
Generally, one of the key requirements of diversifying is not to include digital assets that have a positive correlation between each other.
Thereby, you make sure that if the price of one crypto coin decreases, other coins stay stable or increase in price, overcoming losses and keeping the stability of the portfolio.
In other words, in case of losses, YOU LOSE only A PART of your funds.
But if you are investing for the long term, there is a piece of good news.
You don't need to worry unless your assets are under the risk of extinction, like Stocks, but the difference is that if you don't have the risk of extinction, your investment will have a chance of growth.
Even if the correlation we see today is very high and BTC is driving the crypto market, sooner or later the altcoins will grow and have their own market influences.
So, why do you need to diversify your crypto portfolio?
Diversifying will solve some important issues and risks listed below.
Technical and security issues:
These kinds of problems can hugely influence crypto prices. If any technical or security issue affects your main cryptocurrency, it can or lose its value or even worse, fully collapse.
The uncertainty of the crypto market:
Because of its short history, the crypto market has not been thoroughly studied yet. Even if the correlation between Bitcoin and Altcoins is high, we don't have enough data to claim that this won't change in the near future.
Therefore, it is highly recommended to invest several cryptocoins at a time. Since the crypto market is so vulnerable and volatile, you need to diversify your holdings to not become a victim of another bear market.
Chapter 4
Why it is worth to have more than 5+ cryptocurrencies on HODL (Technical View).
Here, we speak about HODLing and why you need to HODL more than 5 cryptos, with examples showing why low-price crypto coins can be more profitable investment assets.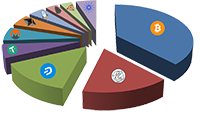 HODLing is the easiest way to get started in crypto: specifically, getting cryptocurrencies, putting them in a wallet, waiting (for a few years) and nothing else you need to do.
However, in spite of the past success of crypto HODLing, nowadays it is becoming much harder to make a profit just by investing in a single asset and sitting on it.
There were just a few cryptocurrencies back in 2013, and now there are more than 2000 and not all of those are good options for investing your funds.
Thus, to make the right decision, you need to know which ones will survive for the long term.
Blockchain technology is obviously here to stay and will be used more and more often in the near future. But which coins/tokens will still be operational in a year from now is much harder to know.
Try looking at the bigger picture when assessing the future of different coins a full year from now. You need to consider what types or groups of coins have potential for adoption in the near future.
So, how to understand which crypto coins to HODL?
In order to understand which cryptocurrencies to hold you need to pay attention to different factors: the team, and how dedicated they are (Yes, still there are too many avatars out there looking to take and run.), their background and how many of their roadmap promises have been done.
More factors to consider are supply and demand, market capitalization of a coin, where they are listed.
Quick Note: Binance and Kraken (high-volume crypto exchanges) are believed not holding coins or tokens considered "Shitcoins" because getting listed there means not only having a good financial status but also a good product as well.
Therefore, in order to maximize your possible future profits, you need to invest in different cryptocurrencies.
Why?
Because, investing in multiple cryptos with multiple levels of risk associated with each, you immunizing your portfolio to adverse movements in the market.
In short, maximizing profits while minimizing risk. If dealing with diversified crypto coins' management becomes an issue, you can use cryptocurrency portfolio trackers.
Pretty simple, right?
Going back to the main topic, as stated previously, the correlation between the BTC and altcoins is very high. However, volatility may differ.
Coins with less market cap are more likely to grow in their price based on price percentage than the cryptocurrencies with higher market caps.
For example, let's compare BTC (Bitcoin), XRP (Ripple), NEM, and Stellar.
Bitcoin grew from $1,000 to $19,800 in 2017, registering 20x growth in price.
During the same period, Ripple grew from $0.006396 to $3.82, growing almost 600 times.
That means if you bought Ripple for $1,000 at the beginning of 2017, you could have made $597,248 within a year.
Math for sceptics:
02.01.2017 – 1 Ripple = $0.006396
04.01.2018 – 1 Ripple = $3.82
$1000 : $0,006396 (1 Ripple) = 156,347.7 Ripple
156,347.7 Ripple x $3.82 (1 Ripple) = $597,248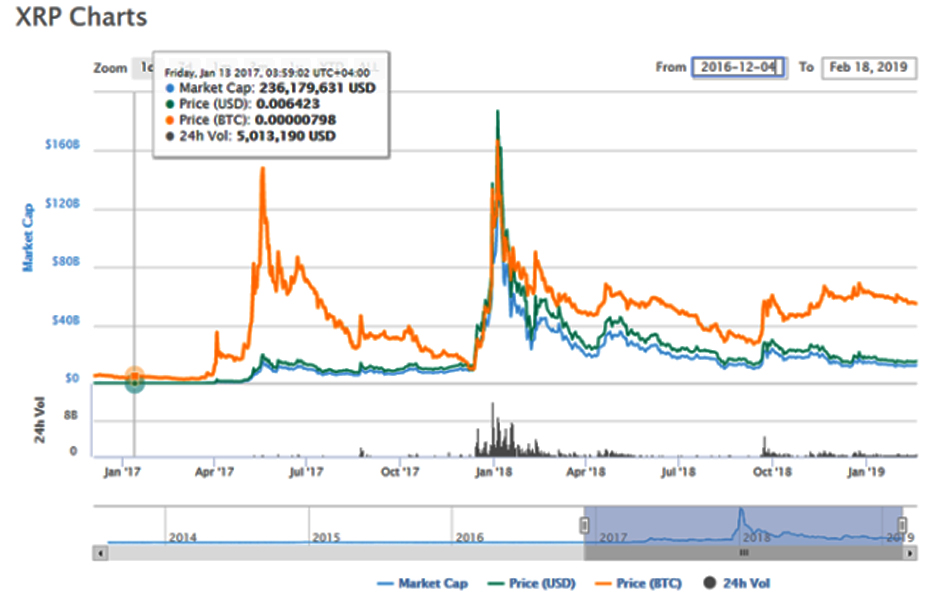 Let's take a look at another crypto coin: NEM.
During the aforementioned period, NEM grew from $0.003454 to $2.09, growing 605 times.
That means if you bought NEM for $1,000 at the beginning of 2017, you could have made $605,095.5 within a year.
Can not believe that? Take a look at a simple Math:
03.01.2017 – 1 NEM = $0.003454
04.01.2018 – 1 NEM = $2.09
$1000 : $0,003454 (1 NEM) = 289,519 NEM
289,519 NEM x $2.09 (1 NEM) = $605,095.5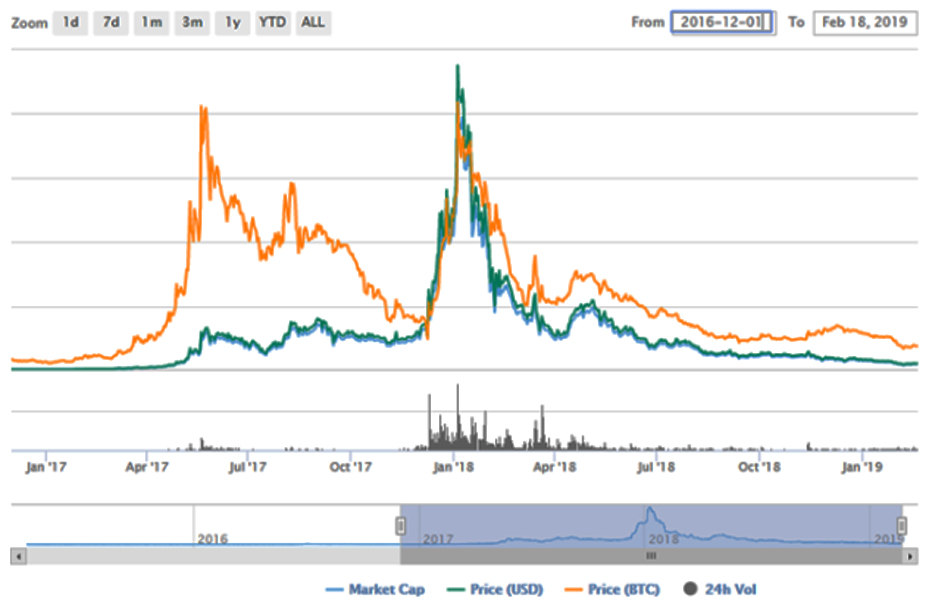 Here is another example – XLM (Stellar).
During 2017, the price of Stellar increased from $0.0025 to $0.938, growing around 375 times and setting its all time high price on the 4th January 2018.
That means if you bought Stellar for $1,000 at the beginning of 2017, you could have made $367,600 within a year.
01.06.2017 – 1 Stellar = $0.0025
04.01.2018 – 1 Stellar = $0.938
$1000 : $0.0025 (1 Stellar) = 400,000 Stellar
400,000 Stellar x $0.938 (1 Stellar) = $375,200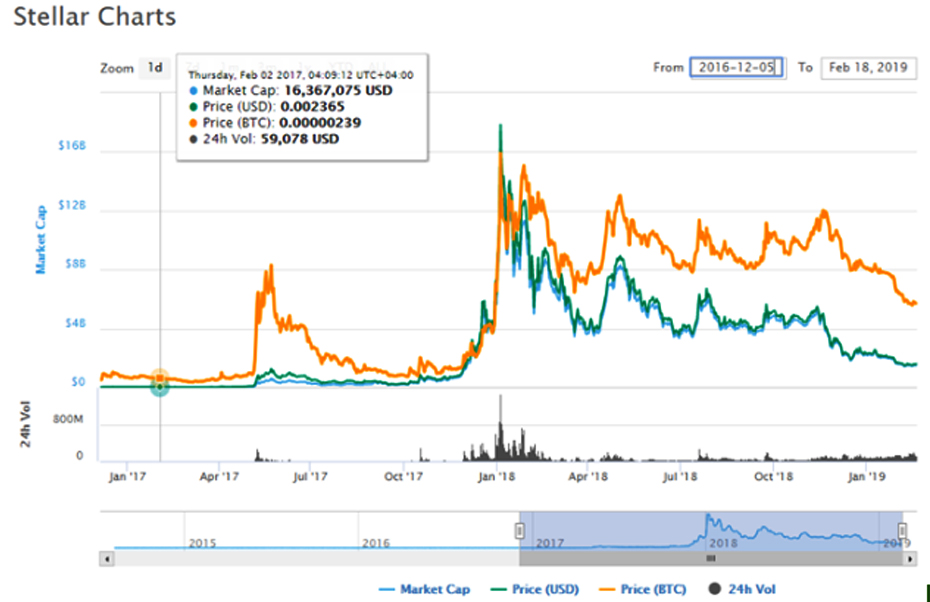 So, understanding all the above, you could have x10 your profits easily. I hope you get the point.
Keep reading.
Chapter 5
How to diversify your cryptocurrency portfolio. What can you accomplish with the diversification?
In this chapter, we are going to speak about how to diversify your cryptocurrency portfolio and what you can accomplish with the correctly implemented diversification.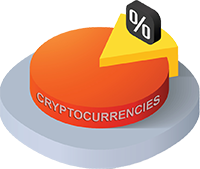 There are some factors you should pay attention to when it comes to diversifying cryptocurrencies.
First, the categories of cryptos. Cryptocurrencies that you can buy are divided into 3 main categories.
Other factors you need to pay attention to during diversification are circulating supply, total supply and market capitalization.
So, what do they mean?
Circulating supply presents itself the number of a particular digital asset that currently exists.
Total supply represents itself the total number of a specific digital asset that will ever exist.
Market cap refers to the total dollar market value of a particular digital asset. Higher market cap speaks about the fact that the cryptocurrency is much more stable and will not experience enormous gains compared to smaller digital assets.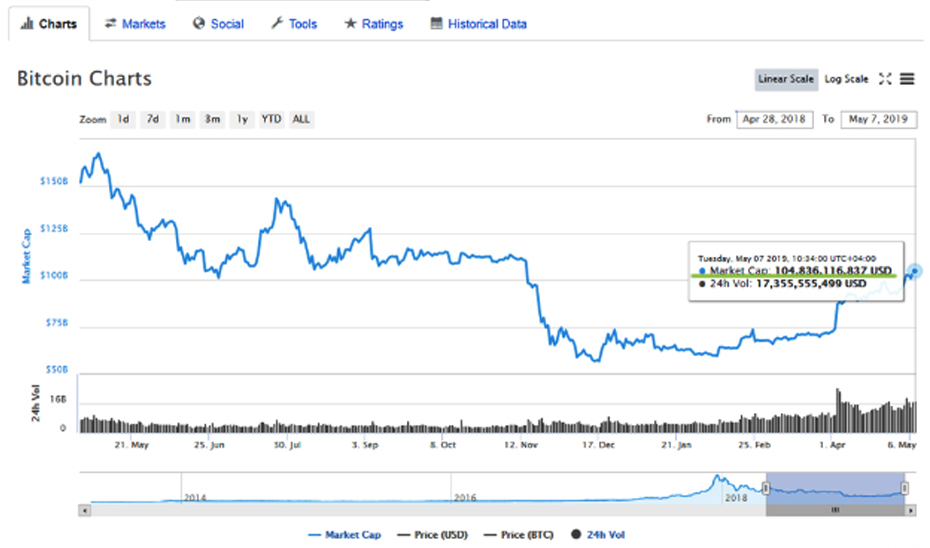 Tip:
Bitcoin has the highest market cap and, consequently, it is considered the most stable digital asset.
So, how to diversify your crypto portfolio?
Lots of cryptocurrency investors think that the smartest strategy is diversifying through the mix of market caps:
Low market cap (up to $250 mln) – 20% of your holdings.
Medium market cap ($250 mln to $5 bln) – 30% of your holdings.
Large market cap digital assets ($5 bln and more) – 50% of your holdings.
Combining this with correctly chosen digital assets, you have a well-diversified digital asset portfolio.
Remember that diversification makes your investments safer and more predictable.
Its usage allows you to protect yourself from the sharp shakes of the crypto market, making yourself resistant to random situations which can affect the crypto sphere, your funds, and your life totally.
Even though it's hard to monitor and manage diversified crypto-assets, yet you can ease your life by using cryptocurrency portfolio trackers.
Chapter 6
What is a cryptocurrency portfolio tracker and what types of crypto trackers are available.
In this section, we speak about what is a cryptocurrency portfolio tracker, why its usage is critical and what types of crypto trackers are available in the market.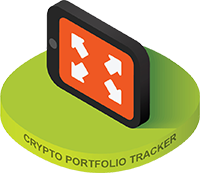 Considering how difficult the crypto-assets management is, companies like CoinStats introduced crypto portfolio trackers. These apps were already mainstream in traditional markets and provided a way of monitoring currency and tokens of interest online in the cryptocurrency industry.
These cryptocurrency portfolio trackers assist investors in managing their diverse holdings and offer advanced portfolio statistics and support.
There's a diverse variety of these tools in the market for every taste. Even when dealing with only a couple of trades, it may be difficult to record all of your losses and profits.
That is why you need to concentrate all of your portfolios in one place. Some of these tools possess advanced features that can assist users in supporting multiple portfolios and automatic syncing.
All in all, crypto trackers are your solution for tracking, monitoring, and analyzing your crypto investments more efficiently.
Types of crypto portfolio trackers.
In general, there are two types of crypto trackers: desktop applications and mobile apps. Each has its own advantages and disadvantages, but ultimately it comes down to personal preference. The most important thing is finding the one with the features and layout that will suit your needs best.
Cointracking website suggestions:
CoinTracking.info

Altpocket.io

CryptoCompare.com
Crypto Tracking App suggestions:
Delta

Coinstats

Blockfolio
Chapter 7
How to Choose the Right Cryptocurrency Portfolio Tracker App.
We have already discussed what crypto portfolio tracker is. Now let's speak about how to choose the right one depending on your trading or investing style.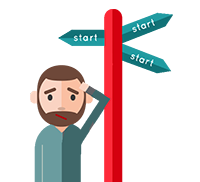 Due to the growing interest in crypto trading, the number of applications and websites specifically designed to track the crypto portfolios is exploding.
Right now, more than 200 various crypto portfolio trackers are available only on the APP store.
That makes the decision-making process complicated and it can be a little bit unclear which portfolio app exactly has the right features for you.
However, in cryptocurrency portfolio management accurately chosen application can get you huge benefits.
Cryptocurrency portfolio trackers can help you make much more effective financial decisions through accurate and quickly delivered information.
However, if you choose the wrong app it can lead to destructive errors and massive loss in profits.
How to choose the right cryptocurrency portfolio tracker?
In order to choose the crypto portfolio management application that best suits your financial needs, you should understand the exact way you are going to trade and invest in cryptocurrencies.
The first possible way is, if your intention is to invest only in Bitcoin and you only need the updates on prices, then any crypto tracker with the basic features can suit you.
If you want to invest in multiple cryptocurrencies such as ETH, Dash, etc., then you need apps with more features than just basic ones that offer crypto price checking and other minor features.
Another option is to keep your portfolio balanced based on asset percentage. For example, you can have 5 cryptocurrencies each one 20%. If any of the crypto-assets increases or falls in price you can just sell or buy that particular asset to maintain the portfolio balanced.
For instance, you have $1000 splitted into 5 equal parts (20%).
Then the price of ADA grows 10% and LTC 5% you just sell some to keep the $200 value.
Then we sell some ADA and LTC in order to keep the $200 balance. As a result, we get $57.6 profit.
Finally, your intention is to trade on daily swings and you need a broad chart and signals to make more informed decisions on when to buy and when to sell.
Chapter 8
TOP cryptocurrency portfolio trackers.
In this chapter, we break down TOP 3 crypto portfolio trackers, their main features and compare them with each other.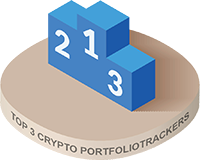 Above we have already spoken about how to choose the right app that best suits your financial needs. Now let's consider some of the best cryptocurrency portfolio trackers, their pros and cons.
The TOP 3 apps to track your crypto-assets are Delta, CoinStats, and Blockfolio.
Let's take a closer look below.
(We have tried to be as neutral as possible.)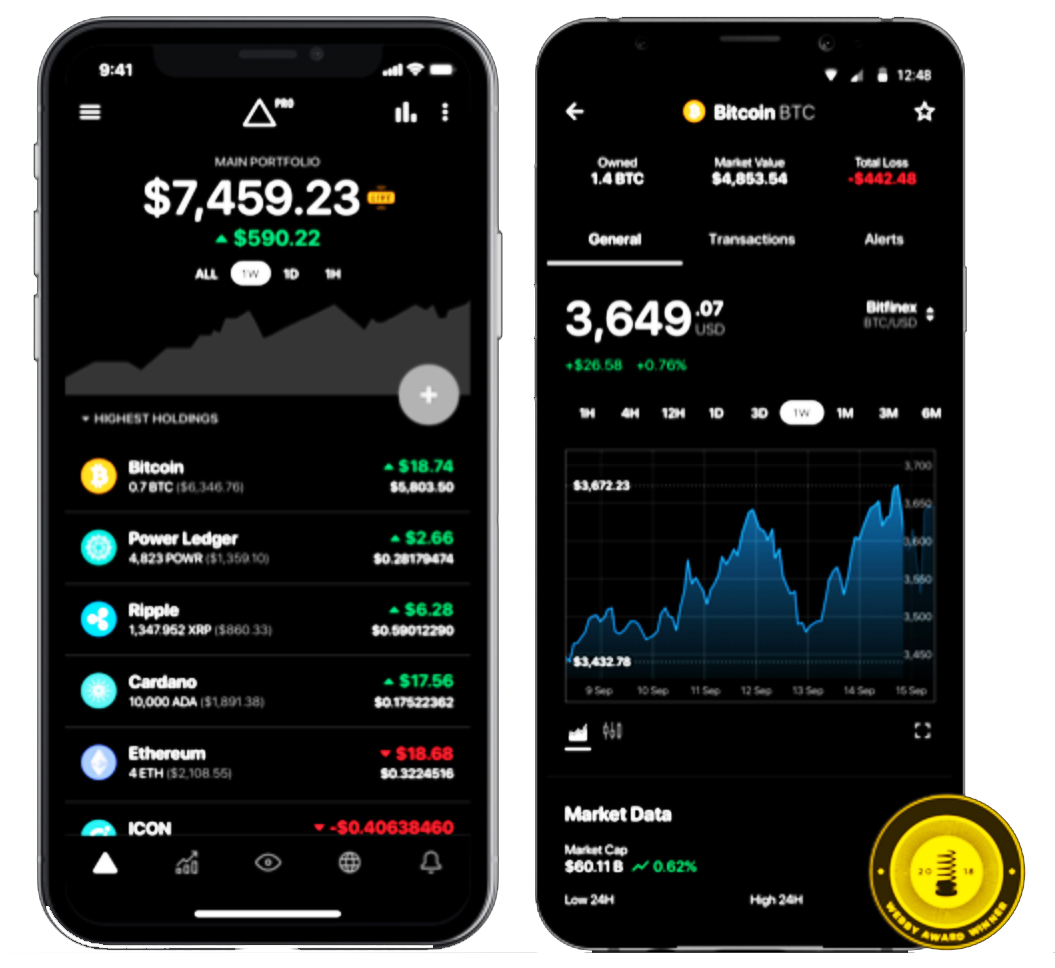 Let's start with Delta.
Delta is available on desktop, iOS and Android mobile. It supports more than 2000 tokens. Besides the standard portfolio tracking function, there is also a Watchlist feature to track cryptocurrencies that you have an intention to buy.
There is one more effective feature – the account recovery option. The cryptocurrency portfolio tracker generates a dynamic recovery code, which later can be used to restore the application to the last known state.
To summarize, Delta is suitable for low to medium-level traders because of its portfolio tracking compact set of features. It is the only crypto tracker with separate desktop clients.
CoinStats
Coinstats is considered one of the best cryptocurrency portfolio trackers. This highly rated application is available for Mac OS, iOS, Android.
CoinStats has some impressive functionality and supports around 2000 coins, with 80 exchanges' live prices.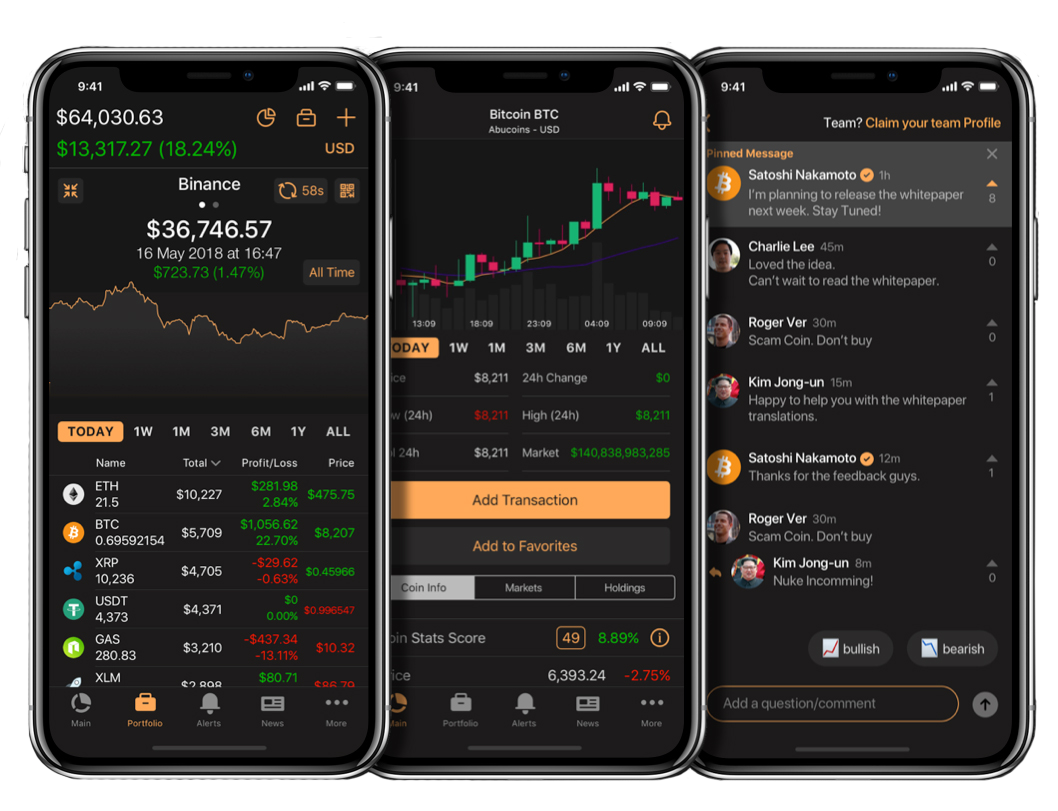 It also has Web app, Chrome extension, Apple watch and TV, the ability to submit easy-mode trades.
Coinstats offers in-app purchases for unlimited access to coin statistics. It is the only tracker providing an automated exchange portfolio import feature available for more than 30 exchanges. It also has a news aggregator that tracks more than 40 sources, including Twitter and Reddit for each digital asset.
Another distinguishing function is alert settings, allowing to get notifications based on the price, market cap and volume. There is also a chatbot which automatically answers your coin-related queries.
In a nutshell, CoinStats is a great application for both beginners and advanced crypto investors. It offers many sophisticated features that will make trading trouble-free for you such as automated exchange portfolio import, portfolio analytics, crypto news and much more.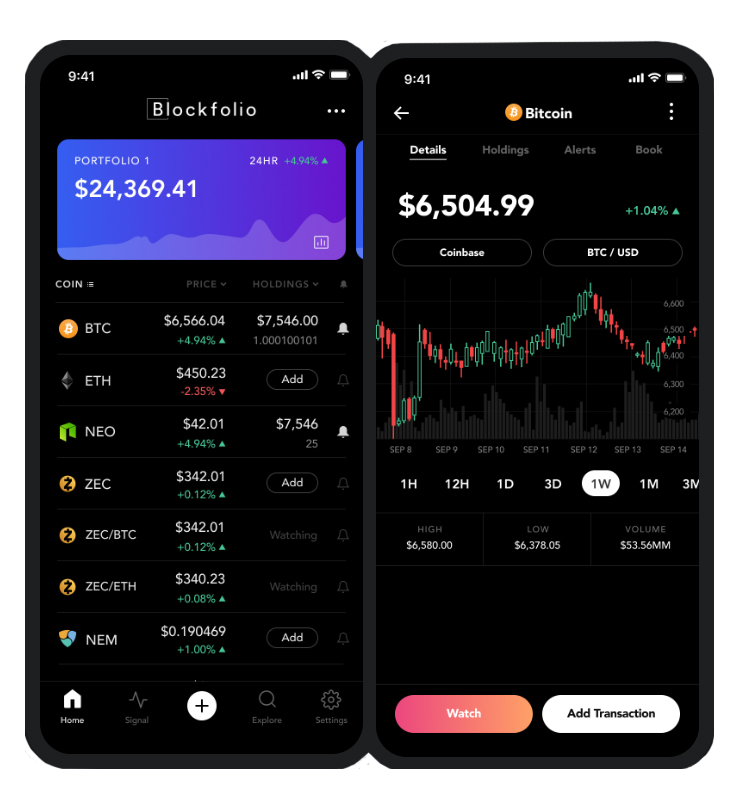 Blockfolio
Blockfolio  is possibly the most popular cryptocurrency portfolio tracker of the marketplace and perhaps the biggest one of its kind, being available on iOS and Android.
This crypto tracker has some splendid features: its charting abilities, supported more than 200 exchanges.
Another feature of this cryptocurrency portfolio tracker is the notification function. This is ideal for users who want to receive instant alerts when a particular price level is hit.
There is also a news aggregator tab providing an effective way of staying updated with the latest news.
Overall, Blockfolio is very useful for those, who aren't full-time crypto traders and want a simple and free tracker. Among its best features are multiple portfolio support and charting ability.
To summarize, in the table below are shown features of these crypto portfolio tracking apps.
Automated exchange portfolio import

Manually transaction adding

Portfolio sharing with friends



Available only on PRO version


To conclude, having a good crypto portfolio management app is crucial for every investor who wants to keep track of all the crypto investments.
If you are interested in testing CoinStats, here is the link to get access.
We hope this guide helped you understand what a cryptocurrency portfolio tracker is, how to choose the best one for you in 2019, and why you need to have your crypto portfolio diversified.
And now we'd like to know what gave you this guide.
Did you learn something new from it?
Or maybe you just have any questions?
Either way, leave a comment below right now.