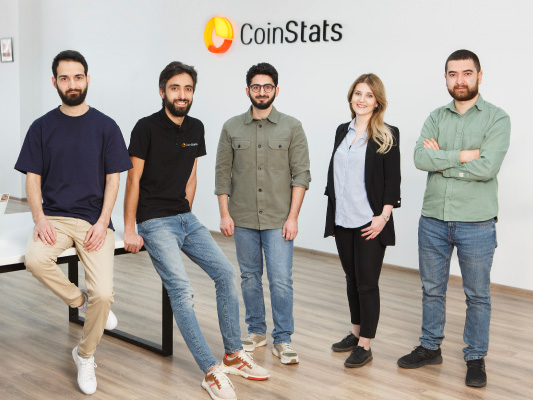 Letter From CoinStats CEO: $3.2M Raised
<! -- End of the Reviewed by section -->
We have some amazing news for you: Recently, in the seed round, CoinStats received $3.2M from a number of prominent investors in the field. The round was led by Alex Pack's Hack VC and included Mike Dudas's 6th Man Ventures. This means that extended DeFi functionality is coming to CoinStats sooner rather than later!
On the occasion of CoinStats stepping into this new stage of development, CoinStats Founder & CEO Narek Gevorgyan sent you an official letter, saying:
"I am writing first and foremost to break the good news: CoinStats closed its seed round with $3.2M of funding. Congratulations, this is also your achievement, because you — our community — are the main reason why we do what we do. With the new funds, we will expedite our product development and growth delivering better financial products and helping you achieve financial freedom.
We are living in a very transformative stage and this directly applies to the field of finance. The future of financial institutions is decentralized finance, which is why CoinStats is working to become a lively hub that houses all your holdings, the one place where you can manage all your DeFi operations. Soon enough everyone, from the goth next door to the grandma on the bench in the park, will be able to access DeFi hassle-free via CoinStats. Crypto is everyone! Accessibility is key.
We're taking our mission of empowering people to effectively manage their crypto portfolio via an easy-to-use platform to the next level. The funding we received will serve this goal. Read more about it here.
Thanks for being with us. Let's march on!"
Excited to announce that @CoinStats has raised $3.2m in funding.

Thanks to @alpackaP & @hack_vc for joining us in our mission to shape the future of DeFi.

And, of course, thanks to our community for empowering us to be better every day.https://t.co/AQcYH2QqzZ

— Narek Gevorgyan (@narek_gevorgyan) April 12, 2022
CoinStats is in for a big change. Soon enough you will be able to earn on your crypto, instead of just hodling. CoinStats will become a DeFi aggregator, curating the safest and most profitable opportunities for the community to take advantage of. Stay tuned for our own cryptolution!