Overview
Holdings
Markets
News
Team Updates
Rank #473

Zephyr Protocol Price
•
ZEPH
Zephyr Protocol Price Chart (ZEPH)
Swap
Save on CoinStats Fees
Enjoy 0% Fees with Premium
Go Premium
Market Stats
All Time High
Nov 23, 2023
Zephyr Protocol Price Update
Zephyr Protocol price is $25.68, down -8.30% in the last 24 hours, and the live market cap is $65,507,171. It has circulating supply volume of 2,550,155 ZEPH coins and a max. supply volume of 2,550,155 alongside $1,834,390 24h trading volume.
Crypto Converter

ZEPH

USD
About Zephyr Protocol
What is Zephyr Protocol?
Zephyr Protocol is a decentralized, open-source protocol that enables the creation of secure, private and censorship-resistant communication networks. It combines blockchain technology with peer-to-peer networking to create a platform for users to securely communicate without fear of censorship or surveillance. The protocol allows users to send messages, files and other data over the network in an encrypted manner, ensuring that only the intended recipient can decrypt and view the content.
The protocol is designed to be highly scalable and resilient against attacks from malicious actors. It uses a combination of distributed ledger technology (DLT) and cryptography to ensure that all communications are secure and private. Additionally, it utilizes a consensus mechanism called Proof-of-Stake (PoS) which ensures that all nodes on the network agree on the validity of transactions before they are added to the blockchain.
The Zephyr Protocol also provides an incentive system for users who contribute resources such as storage space or computing power to help maintain the network. This helps ensure that there is always enough capacity available for users who need it.
Overall, Zephyr Protocol is an innovative solution for creating secure communication networks without sacrificing privacy or security. It provides users with a reliable way to communicate without fear of censorship or surveillance while also providing incentives for those who contribute resources to help maintain the network.
Read More
Related Assets
Trending Cryptocurrencies
Assets with the largest change in unique page views on CoinStats in the last 24 hours.
Similar Market Cap
Among all the assets available on CoinStats, these have the most similar market capitalization to Zephyr Protocol.
| # | Exchange | Pair | Volume (24H) | Volume (%) | Price | Last Updated | |
| --- | --- | --- | --- | --- | --- | --- | --- |
| 1 | Mexc | ZEPH/USDT | $1,760,448.854 | 92.51% | $25.4 | | |
| 2 | Xt | ZEPH/USDT | $142,490.269 | 7.49% | $27.5 | | |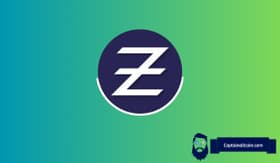 Also Check Zephyr Protocol Price On
Disclaimer
No part of the content we provide constitutes financial advice on coin prices, legal advice, or any other form of advice meant for you to rely on for any purpose. Any use or reliance on our content is solely at your own risk and discretion.