Trump NFTs Top Sales Charts as Traders Buy In for the Lulz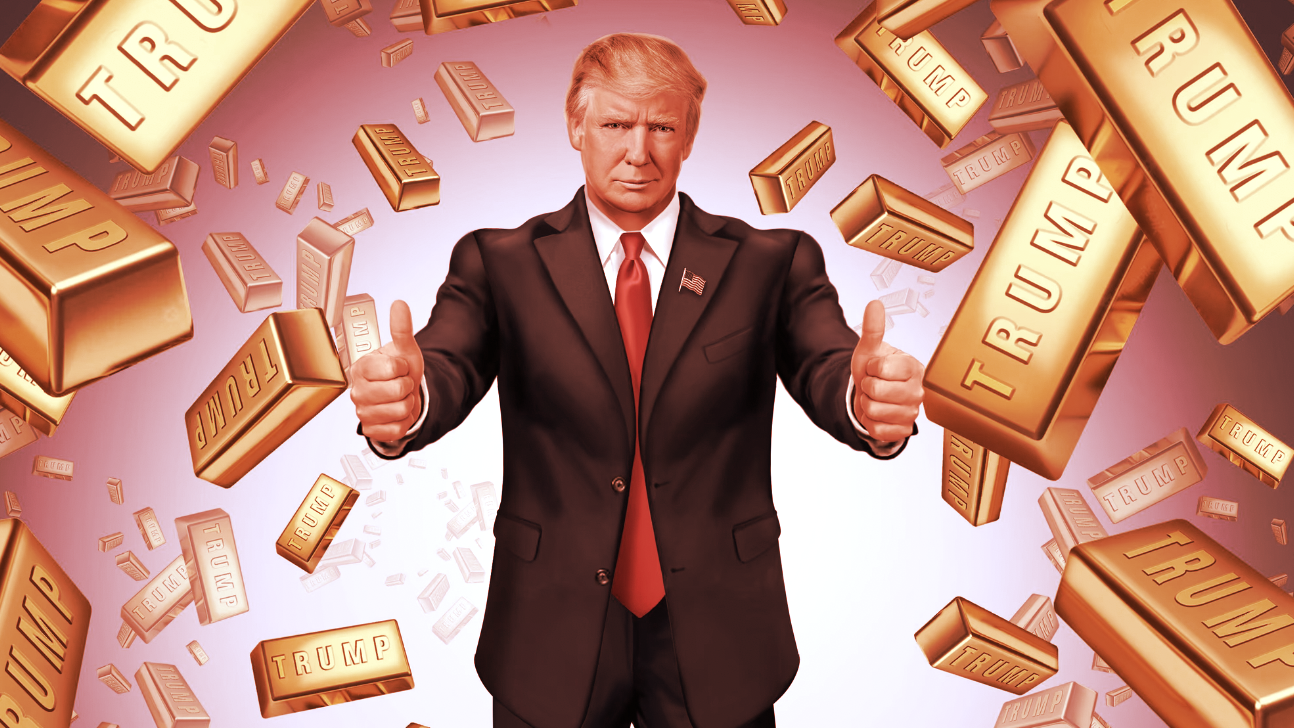 Despite incredulous mocking and criticism, the first official NFT collection from former United States President Donald Trump has sold out in less than a day. Now the digital trading cards are topping secondary market charts, and at least some of the sales came from NFT traders who bought in as a joke.
Trump's collection of 45,000 NFTs minted on Ethereum scaling network Polygon had completely sold out this morning, fueling a rising secondary market as prices climbed. Currently, the cheapest-listed Trump NFT on leading marketplace OpenSea starts at about 0.15 ETH, or nearly $180, but had been higher earlier this morning. The NFTs initially sold for $99 apiece.
Over the past 24 hours, no collection has put up more secondary market trading volume, as OpenSea shows 1,204 ETH—or about $1.44 million worth—of trades. The Bored Ape Yacht Club is second with 427 ETH, or about $511,000 worth, in NFT sales.
Trump's NFT rollout on Thursday—following the disgraced ex-president's promise of a "major announcement"—was widely mocked by both NFT enthusiasts and haters alike as a cash grab, and the latest grift from someone whose companies have frequently been investigated (and convicted) of fraud. Even Trump's supporters complained about the project.
Even so, Trump's NFT collection sold through in less than a day, netting over $4 million in primary revenue, and now secondary market sales are climbing. In some cases, supporters may have been lured in by Trump's celebrity, or the promise of potential perks for holders including meet-and-green events and a ticket to a Trump gala.
I bought a Trump NFT yesterday because of lulz. I'm already getting offers 60% over what it cost to mint...we really still haven't bottomed yet have we? pic.twitter.com/iyuZV9uYUs

— guinnessstache 🎄🎅 (@guinnessstache) December 16, 2022
But in some instances, it appears that NFT enthusiasts bought in because they thought it was funny or ridiculous, as evidenced by tweets suggesting that they had purchased a Trump NFT "because of lulz," "for the memes," or "for the culture." Others wrote of buying and flipping Trump NFTs as being a "degen" play for bored traders.
"I've spent $99 on much dumber shit," wrote one Twitter user. "Didn't win a dinner date, [though]."
When your friend claims to be a degen but won't sweep the Trump NFT floor with you pic.twitter.com/qKyBq6MunH

— alexjm 🍿 the blue roo 🦘 (@alexjmingolla) December 16, 2022
Not every buyer will get a "dinner date" with the ex-president, but at least so far, there's been an opportunity to profit from a flip. We'll see whether the "lulz" are strong enough to sustain secondary market demand beyond the initial hype, however.
According to data from CryptoSlam, the highest Trump NFT sale so far went for 6 ETH, or about $7,400 at the time late Thursday. The NFT features a digital autograph from Trump, which just 0.16% of the NFTs depict.
Thanks to his royalty fee, the Utah-based company behind the Trump NFTs takes a 10% cut of any secondary sale on marketplaces (like OpenSea) that respect creator royalties. That's a much higher rate than most large-scale NFT projects with thousands of assets, which often pick a rate between 2.5% and 5%.
Manage all your crypto, NFT and DeFi from one place
Securely connect the portfolio you're using to start.