Best Cryptos To Invest $100 In - Shiba Inu (SHIB), FIREPIN Token (FRPN) & UFO Gaming (UFO)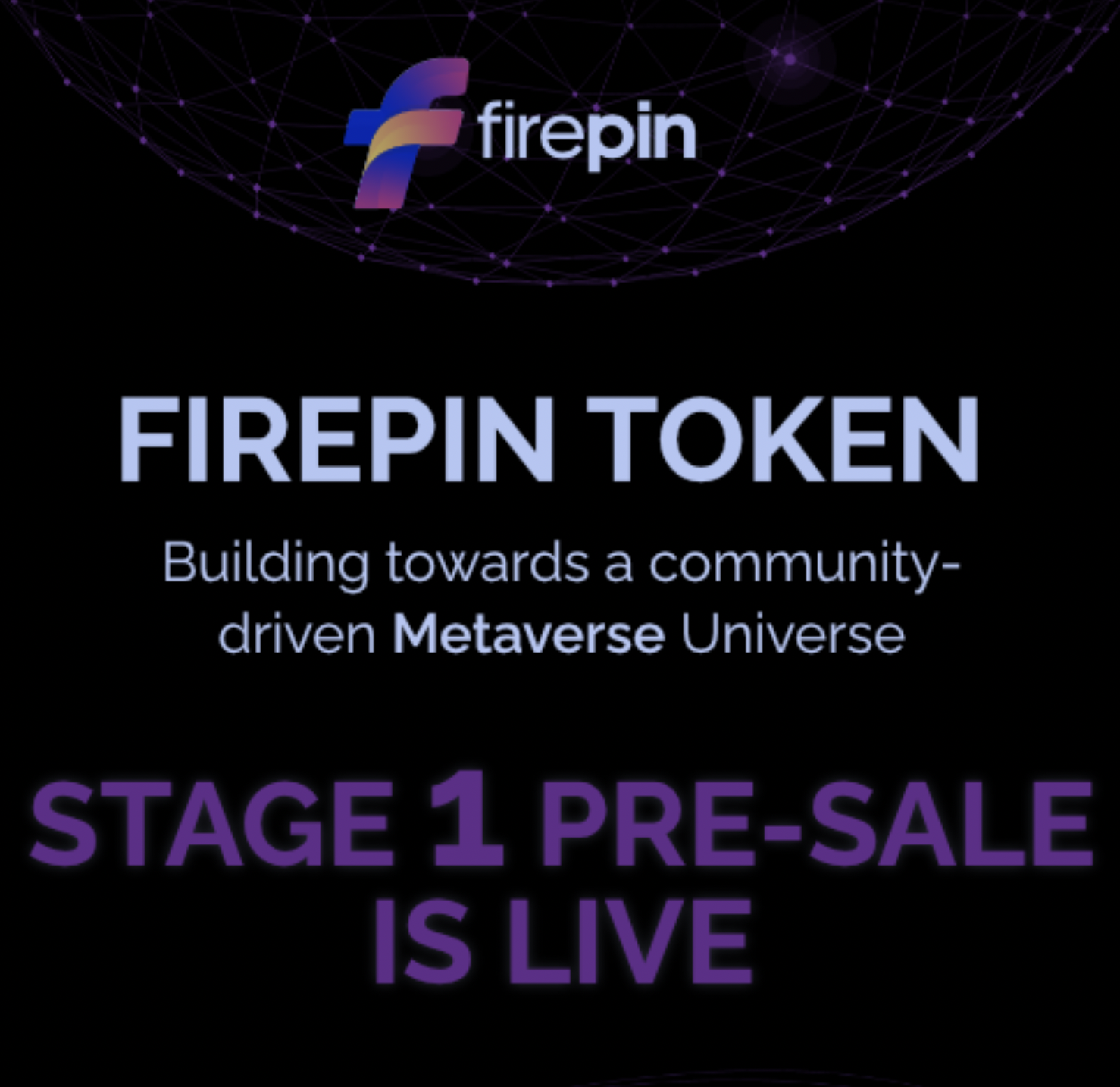 If you want to get started in crypto but don't have much of a budget then you're not alone. 2021 saw thousands of everyday people make substantial gains in the space. Why you may not become a crypto millionaire overnight, it's still very possible to make that kind of money with the right strategy and patience.
There we a handful of projects over the last 18 months that would have made you very rich even if you had only invested $100. Shiba Inu (SHIB), FIREPIN Token (FRPN) & UFO Gaming (UFO) are three projects that could make you some serious money over the coming year.
FIREPIN Token (FRPN) is a community-driven DAO platform with Metaverse integration. The project has just launched in its presale phase and has already risen by 150%. Looking at the success of other presale launches we can see that this is one of the best opportunities to invest in projects. With the official launch not until April there is still plenty of time to ape into the presale and catch some impressive gains. In fact, many analysts are making bold claims that the coin could see at least another 1000% increase over the coming month. That's a sure-fire easy way to turn $100 into $1000 and that would only be the beginning!
Shiba Inu (SHIB) was one of the best performing cryptos of 2021. The price of the dog meme coin rose an incredible 74,327,600%. Whilst it's unlikely the coin will see that kind of rise again there is a notable trend when it comes to trading this particular token. Shiba Inu (SHIB) gets its popularity mainly thanks to the backing of Elon Musk and his love for the other canine crypto, Dogecoin (DOGE). What is interesting is that every time
Musk tweets a cryptic tweet that links to the dog coins, the price skyrockets. As a result of this, it is never a bad idea to have a small percentage of your portfolio dedicated to any of the dog coins. With most things crypto though, when the price goes up it will inevitably come back down at some point so make sure you watch out for that!
UFO Gaming (UFO) is a completely decentralised gaming platform that connects traditional games to the blockchain and allows players to earn money while playing. The ecosystem's primary utility coin will be $UFO, and each game produced on the platform will have its own planet in the "Dark Metaverse." $UFO token holders will receive future gaming IDOs on new releases, as well as a Metaverse integration and an NFT marketplace.
The price of the tokens should rise in tandem with the popularity of the Metaverse. UFO Gaming (UFO) is now at $0.00000857 but would shoot to $0.000149 it reached the same market cap as Metaverse leader Decentraland (MANA). That's a whopping 17x on your $100.
You don't need to invest thousands of dollars to make some serious gains in the crypto space. You just have to ride the waves of the projects, investing when a coin is low and selling when it is high. One of the most sure-fire ways to make money is to invest in presales. You can rest easy at night knowing that the value of your coins will not decrease. If you only have a $100 budget to get started with your crypto journey then be sure to keep a close watch on any of the three projects highlighted above.
Join Presale: https://presale.firepin.io/login
Website: https://firepin.io/
Twitter: https://twitter.com/FIREPIN_io
Telegram: https://t.me/FIREPINOFFICIAL
Disclaimer: This is a sponsored press release, and is for informational purposes only. It does not reflect the views of Crypto Daily, nor is it intended to be used as legal, tax, investment, or financial advice
Manage all your crypto, NFT and DeFi from one place
Securely connect the portfolio you're using to start.