ZKSwap to list algorithm pegged synthetic asset Zerogoki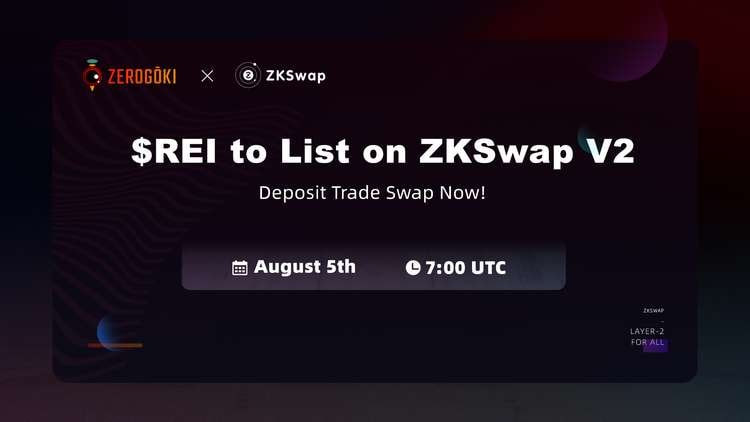 ZKSwap is a decentralized exchange (DEX) that offers a layer 2 scaling solution to its users. The platform had recently announced the launch of its V2 on the 28th of July.
With an upgrade the platform is looking to expand its ecosystem, thereby making it possible for their users to add and swap any ERC-20 token.
The V2 will enable the platform to support other blockchains like Binance Smart Chain, OKEx Chain, and Huobi ECO Chain.
ZKSwap is based on the ZK-Rollups technology and aims to provide a solution to the low throughput and high transaction fees that pose a problem on Layer 1 networks like Ethereum, BSC, OKEx Chain, and HECO.
ZKSwap's V2 protocol has been scheduled to be deployed to the OKEx chain and give ZKS, WBTC, ETH, and USDT as withdrawal fees.
Zerogoki's listing
Zerogoki ($REI) is an algorithm-pegged leveraged synthetic asset platform. ZKSwap and Zerogoki have announced a partnership wherein the former will list $REI and zUSD stablecoin on the platform on 5th August.
Zerogoki in turn will integrate and develop resources in synthetic assets, onramp traditional and stake rewards.
ZKSwap will also provide Zerogoki with a complete Layer 2 solution and light synthesis paradigm with better efficiency.
About Zerogoki Protocol
Zerogoki Protocol is a derivatives trading platform deployed on Ethereum providing minting and trading modules for Algo-pegged leveraged tokens. The initial portfolio of Zerogoki includes traditional asset classes such as gold, currencies, treasure, and indexes.
The platform lets its users mint leveraged tokens using the system token REI or purchase leveraged assets directly using the protocol's stablecoin zUSD.
The total system liquidity of Zerogoki is over $5 million whereas the system synthetic stablecoin, zUSD has reached liquidity of $2.2 million on Uniswap.
For more information about ZKSwap, check out their website.
Disclaimer: This is a paid post and should not be treated as news/advice.
The post ZKSwap to list algorithm pegged synthetic asset Zerogoki appeared first on AMBCrypto.
Manage all your crypto, NFT and DeFi from one place
Securely connect the portfolio you're using to start.