Cryptocurrency exchanges are online platforms that allow individuals to buy and sell cryptocurrencies, such as Bitcoin, Ethereum, and Litecoin, for fiat currencies or other cryptocurrencies. As the popularity of cryptocurrencies has grown in recent years, the number of crypto exchanges has increased significantly. Choosing the right crypto exchange is crucial for traders and investors, as it can impact their profitability and security.
One important factor to consider when choosing a crypto exchange is trading volume. Trading volume is the amount of cryptocurrency that is bought and sold on an exchange over a certain period, typically measured in 24-hour periods. The higher the trading volume, the more liquidity an exchange has, which can help traders get better prices and faster transactions.
Currently, the top 5 crypto exchanges by trading volume are Binance, Coinbase, Kraken, OKX, and Bybit. Binance is the largest crypto exchange by trading volume, accounting for over 40% of the global crypto market share. Coinbase is the most popular crypto exchange in the US, with over 50 million users. Kraken is a well-established exchange that has been in operation since 2011. OKX is a Hong Kong-based exchange that offers a wide range of cryptocurrencies and trading pairs. Bybit is a newer exchange that has gained popularity for its user-friendly interface and advanced trading tools.
One Place For All Your
Crypto, DeFi & NFTs
Binance ($17.7 B)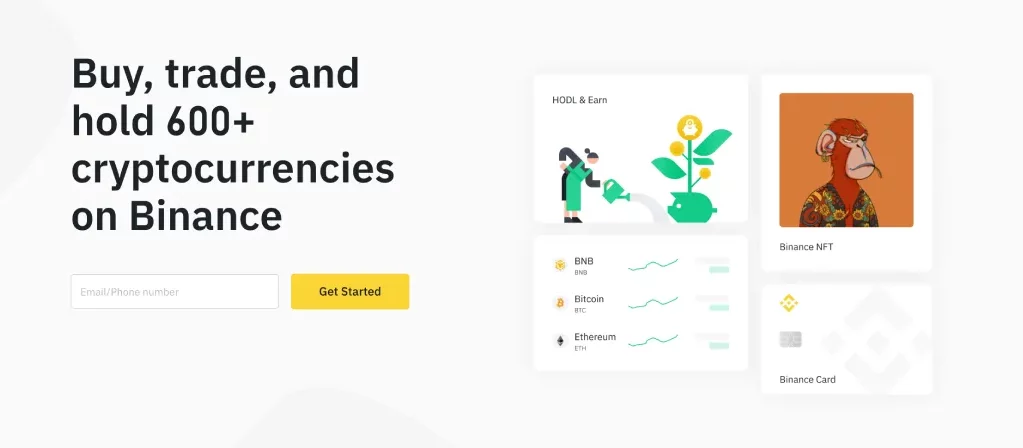 Binance, a highly rated cryptocurrency exchange, offers over 350 different cryptocurrencies to cater to all types of investors. Whether you want to trade in popular cryptocurrencies such as Bitcoin and Ethereum, or prefer exploring the lesser-known altcoins, Binance is a one-stop destination for all your cryptocurrency needs.
Binance's fees are among the lowest in the industry, making it a popular choice for traders who want to maximize their profits. Binance offers fee discounts to users who use Binance Coin (BNB) to pay fees, referral bonuses, and VIP status to reduce fees even further. Trading Bitcoin on Binance incurs no fee, making it an attractive option for Bitcoin traders.
Binance's real-time charting tools and different order types, such as stop orders and trailing stop orders, make it easier for traders to execute trades confidently. Binance's trading tools are accessible through its mobile app, website, or desktop app. However, some features, such as margin trading and some order types, may not be available in the U.S.
OKX ($2.7 B)
OKX is a centralized platform for cryptocurrency trading and wallets, which is based in Seychelles. Its global clientele has access to a variety of trading options, such as spot trading and basic options, as well as more advanced derivatives such as futures, perpetual swaps, and options.
OKX is regarded as one of the best cryptocurrency exchanges and is ranked 18th by trading volume on CoinMarketCap. It has a user base of over 20 million people from more than 100 countries. However, it does not currently accept customers from the United States due to regulatory concerns.
OKX is a convenient option for managing cryptocurrency assets, as it offers both exchange and wallet services. It can be used as a supplementary exchange or a one-stop-shop for all cryptocurrency needs.
OKX supports over 300 cryptocurrencies, with 343 currencies available on the exchange. This extensive range of options provides users with a variety of choices for buying, holding, and trading their preferred cryptocurrencies.
OKX's fee structure categorizes cryptocurrencies into different pricing tiers based on trade volume and account holdings. The maximum fee for spot trading is 0.08% for makers, and 0.1% for takers but frequent traders and those with a significant holding in OKB may be eligible for fee reductions. However, the platform does not publicly disclose the fees for deposits and withdrawals, which may be a concern for some users.
OKX offers a user-friendly trading interface for beginners and an advanced platform for more experienced traders. It provides a straightforward and intuitive interface for buying and exchanging cryptocurrencies, making it ideal for individuals new to the cryptocurrency world. For advanced traders, OKX offers an active trading platform with various features such as market, limit, and stop orders, advanced conditional trades, and access to the open order book of supported currencies on the exchange. The platform also allows users to personalize the interface with custom layouts and offers flexible market charts to support advanced trading strategies.
Coinbase ($2.3 B)

Coinbase is a user-friendly and widely used cryptocurrency platform that offers trading and investment opportunities for more than 240 cryptocurrencies. Founded in 2012, Coinbase aimed to provide a secure and safe way to transfer Bitcoin, and it now has over 98 million users and assets worth $2.3 billion. With a presence in more than 100 countries, Coinbase caters to a large and diverse customer base. In addition to its robust and user-friendly trading platforms, Coinbase also offers a standalone cryptocurrency wallet service, making it easy for users to manage their cryptocurrency portfolios or trading plans.
Coinbase supports over 13,000 financial institutions and is committed to driving the growth of the cryptocurrency market, ensuring that more people have access to this innovative asset class.
Bybit ($1.5 B)

Bybit is a cryptocurrency exchange that caters to both novice and experienced traders by providing a range of professional trading tools and services. The platform boasts a fast and reliable matching engine, enabling traders to execute orders quickly. With over 10 million users and institutions globally, Bybit offers access to more than 100 assets and contract types, including spot trading, futures, options, launchpad projects, earn products, and an NFT marketplace.
Bybit is known for its robust security measures and impressive uptime record, ensuring uninterrupted service for its users. The exchange supports over 300 spot trading pairs, including BTC, ETH, BIT, SOL, APE, DYDX, LTC, and DOGE. Trading fees on Bybit vary based on maker/taker fees for adding or taking liquidity from the market. Bybit stands out for its derivative trading products, offering three contract options: Inverse Perpetual, USDT Perpetual, and Inverse Futures. The platform provides access to data analysis tools, market analysis, and the latest news updates. Bybit allows for a range of advanced order forms, including limit orders, conditional orders, stop-loss orders, Good till Cancelled, Immediate or Cancel, and Fill or Kill.
Kraken ($1.0 B)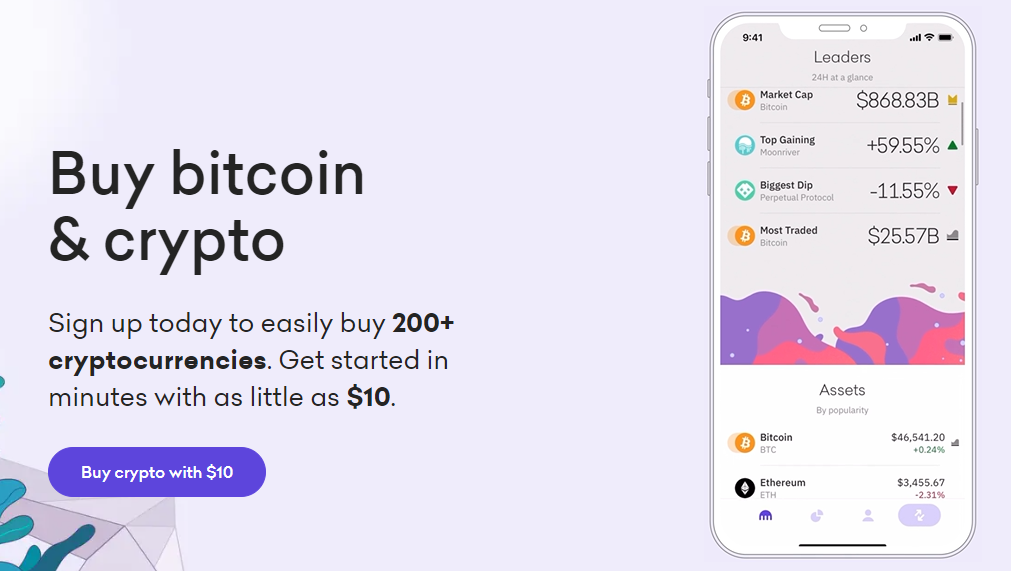 Kraken is a well-known crypto exchange founded in San Francisco in 2011. It has gained the trust of individual and institutional investors in 190 countries, including the United States, by offering competitively priced trading options for over 185 cryptocurrencies. The platform is suitable for both beginners and experienced traders, with a simple and straightforward main platform and an advanced Kraken Pro platform with margin and futures features. Kraken is renowned for its unparalleled security features, and users can stake their crypto holdings and receive rewards without paying excessive fees. The platform offers high liquidity and a wide range of fiat currencies and stablecoins, making it easy to buy and sell cryptocurrencies at set prices. While Kraken's fees may not be the lowest, its maker-taker fees are still lower than those of Coinbase, and its tiered fee structure allows for volume discounts for high-volume traders. Kraken offers two trading platforms, Kraken and Kraken Pro, to cater to different trading needs and experience levels.
Each exchange has its own advantages and disadvantages. For example, Binance offers a wide range of trading pairs and low fees, but it has been criticized for its complex user interface. Coinbase is known for its security and user-friendliness, but its trading fees can be high. Kraken is a trusted and reliable exchange, but its trading pairs are limited compared to other exchanges. OKX offers a comprehensive range of cryptocurrencies and trading pairs, but its customer support has been criticized. Bybit offers advanced trading features and a simple interface, but it has limited support for fiat currencies.
Safest Crypto Exchanges
When it comes to choosing a crypto exchange, safety should be a top priority for traders and investors. The safety of a crypto exchange refers to its ability to protect users' funds from hacks, thefts, and other security breaches. Some factors to consider when choosing a safe crypto exchange include the exchange's security features, regulatory compliance, insurance policies, and reputation in the industry.
Some of the safest crypto exchanges that traders and investors should consider include Coinbase, Kraken, and Bitstamp. Coinbase is known for its security measures, including two-factor authentication and cold storage of funds. Kraken is a regulated exchange that has never been hacked, and it offers insurance coverage for user funds.
When comparing the security features and insurance policies of these exchanges, it's important to note that each exchange has its own strengths and weaknesses. For example, Coinbase is regulated by government authorities, which can provide additional security and legal protection for users. Kraken offers insurance coverage for user funds, which can provide added peace of mind for traders and investors.
Factors to Consider When Choosing a Crypto Exchange
In addition to safety, there are several other factors that traders and investors should consider when choosing a crypto exchange. These include:
Trading Fees and Commissions
Different exchanges charge different fees for trading cryptocurrencies, and these fees can have a significant impact on profitability.
Supported Cryptocurrencies and Trading Pairs
Some exchanges offer a wider range of cryptocurrencies and trading pairs than others, which can be important for traders who want to diversify their portfolios.
Payment Methods and Ease of Use
Some exchanges offer more payment options than others, and some are easier to use than others for buying and selling cryptocurrencies.
Payment Methods and Ease of Use
The user interface and mobile app of a crypto exchange can have a big impact on the user experience, and traders should look for exchanges that offer a user-friendly and intuitive platform.
Customer Support and User Reviews
It's important to choose an exchange that has responsive customer support and positive user reviews, as this can help resolve any issues that may arise while trading cryptocurrencies.
Conclusion
In conclusion, choosing the right crypto exchange is crucial for traders and investors who want to buy and sell cryptocurrencies safely and profitably. The top 5 crypto exchanges by trading volume (Binance, Coinbase, Kraken, OKX, and Bybit) offer different advantages and disadvantages, and traders should choose the exchange that best meets their needs. Additionally, traders and investors should prioritize safety when choosing a crypto exchange and consider factors such as security features, regulatory compliance, insurance policies, and reputation in the industry. By considering all of these factors, traders and investors can make informed decisions about the crypto exchanges they use, and they can maximize their profits while minimizing their risks.
Rosie is a worldly woman that loves all the forms that value takes, from crypto and gold to time and attention. Devouring New York Times bestsellers over coffee with milk instead of breakfast, she is constantly plotting to take over the financial world. If you're not careful, she'll network with you over golf that she pretends to like.