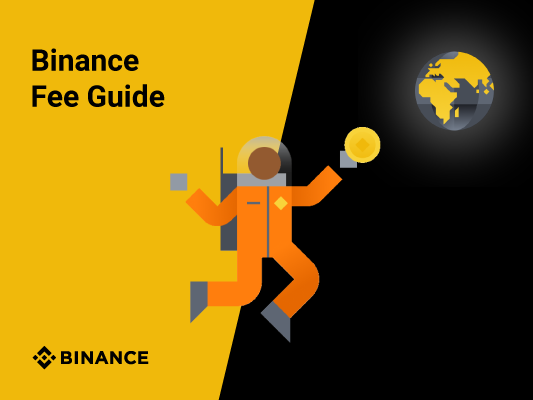 A Complete Guide to Binance Fees 2023
<! -- End of the Reviewed by section -->
Between Elon Musk's viral tweets and the global pandemic, how exactly Binance, one of the most popular crypto aggregators and cryptocurrency exchanges, responded to the turbulence and, most importantly, what Binance fees look like now. All of this and more, covered in our complete guide for 2021.
Binance Exchange: A Quick Intro
Binance is a leading crypto exchange platform founded in Hong Kong and headquartered in Europe after China's strict regulations on crypto exchange businesses.
Its main functions and services include buying and selling coins, altcoin trading, and even some gaming elements like coin futures battles. The exchange provides a crypto wallet for traders to store their electronic funds. Binance also offers supporting services for users to earn interest using cryptocurrencies and programs helping traders make investment decisions.
Binance has its own blockchain-based token, Binance Coin (BNB).
Capable of handling over 1,4M operations per second, the system is by far the most user-friendly exchange platform on the market. Binance offers crypto-to-crypto trading in more than 500 cryptocurrencies and virtual tokens, including Bitcoin (BTC), Ethereum (ETH), Litecoin (LTC), and the lesser-known cryptos. Per market research carried out by Statista, the 24-hour crypto trading volume, along with the high security, trust, and success ranking of the platform, put Binance ahead of the curve.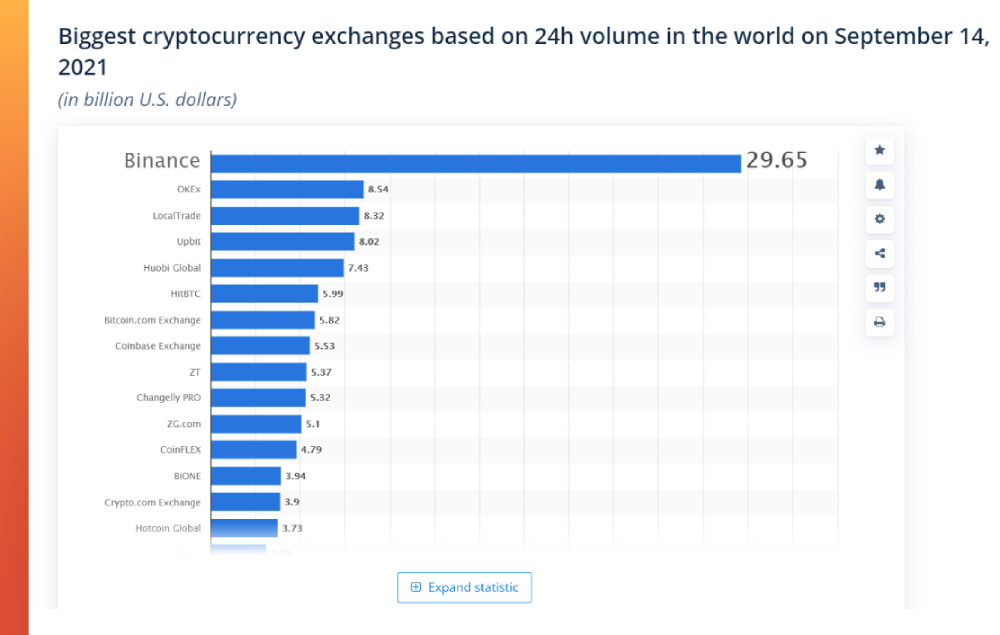 Some sources claim that Binance is geared towards more advanced users; however, in our age of intuitive UI and UX, having a Binance account and doing some research will suffice for a clear understanding of the system. In fact, as a first-time user, you will be conveniently guided by tips and informative popup windows displayed on top of your content.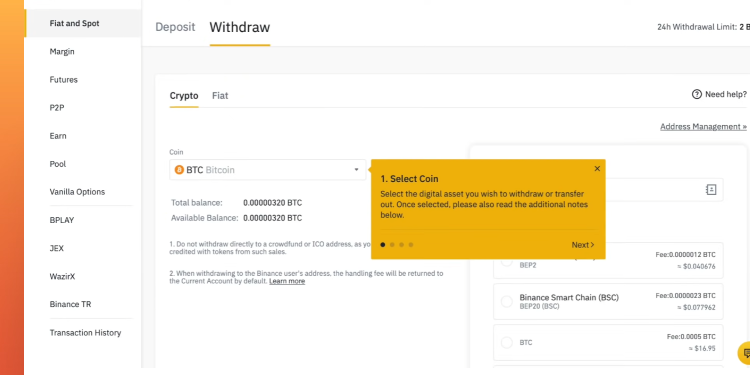 Binance Fees
Binance transaction fees and trading fees are lower compared to most exchanges.

Binance Transaction Fees
The key advantages of using Binance as your exchange platform are low fees and a wide selection of currencies and payment methods.
Binance accepts both crypto and fiat currencies. You can start trading with crypto without providing KYC information; however, you will need to provide it for trading in fiat currencies.
Binance fee structure is conveniently available on their website.
Withdrawal fees are usually fixed and vary from crypto to crypto.
Binance charges 0.0005 BTC per BTC-withdrawal, which is below the global industry average.
Binance offers a flat trading fee of 0.10% for both takers and makers. Binance's trading fees are far below the industry average, which is arguably around 0.25%.
The trading fees are also reduced based on trading volume and holdings of Binance's native token, the BNB.
Cryptocurrency
Depositing crypto comes free of charge. However, some reasonable fees apply if you want to transfer your assets to another exchange, wallet, or simply withdraw.
To make a transfer, you need to choose the network that matches both the recipient's network address and yours.
Withdrawal fees differ by cryptocurrency; i.e., withdrawals of Bitcoin cost 0.0005% and a minimum withdrawal amount of 0.001 bitcoin. Check out the most popular BTC exchange rates and tips here.
Fiat Currencies
Binance accepts deposits of cryptocurrencies and fiat currencies (USD, EUR, or GBP are the most popular currencies). Transaction fees differ according to your transfer method: Bank account, Visa or MasterCard-credit cards, wire transfer.
You will receive a 1:1 ratio stablecoin for buying digital currencies with fiat, i.e., on Binance USD, it will be converted to BUSD.
To trade with fiat currency, you will need to provide some personal data for a simple identity verification process. The fees vary depending on the currency of your choice and the transfer method. Direct bank transfers and Advcash (due to their partnership with Binance) mostly come free of charge.
With an OTC Trading Portal, you can execute larger trades without any risk of "slippage." There are no trading fees and quick settlements. Still, the minimum trade size for the OTC Trading Portal is an equivalent value of 10,000 USDT, and 25 different coins and tokens will initially be available for trading.
Binance Coin (BNB) and Its Advantages
Binance Coin (BNB) is the platform's internal token. It is used to facilitate crypto trading on the Binance exchange.
Binance Coin runs on the Ethereum blockchain with the ERC 20 standard and has a cap of 200 million BNB tokens. It is the third most valuable blockchain-based token by market cap, at roughly $3.6 billion.
Binance offers and actively promotes the use of BNB to pay the transaction fees.
You can enjoy more benefits with BNB fee deductions for the following transactions: Spot Trading Fee at 25% off and an extra 10% off of the USDS-M Futures trading fees.
Binance Trading Fees
Binance is a centralized crypto trading platform, meaning the company acts as a middleman. It offers a VIP program to reward users with high trading volume while boosting their revenue with unique benefits and perks.
Maker-taker fees, also known as payment for order flow, provides liquidity providers with rebates for participating in markets.
Binance Margin Trading
Binance offers margin trading to its users for trading crypto assets using borrowed funds from a third party. It enables them to amplify trading results by giving them access to more capital. In return for providing liquidity, the lenders earn interest based on market demand for margin funds.
Futures Trading and Spot Trading Fees
On 17 September 2019, Binance officially launched futures trading, also known as option contracts. It gives the holder a right to buy or sell a specific asset at a particular price, before the expiry of the agreement or during a specific date.
Spot trading involves directly purchasing or selling crypto assets in spot markets that are either exchange-based or over-the-counter (directly between traders). When trading on spot markets, you can only use assets you own – there is no leverage or margin.
The maker/taker model here affects the fees, just like in trading. The same effect has the VIP ranking based on the 30-day prior trading score. Every new trader on Binance will be charged 0.1% per spot trade.
Reducing Binance Fees
The Binance platform offers a few additional tricks helping users to reduce transaction fees of any type. There are two basic ways to minimize Binance trading fees.
The first way is having a Binance account set up with some Binance coin BNB in your account at all times. Enabling your fees to be taken from your account gets you a 25% discount on all of your trading fees.
The second step involves using the available futures trading platform. Binance offers fees as low as 0.02% and 0.04% for traders on the futures trading platform.
Additionally, you can benefit from Binance's referral programs As Binance put it: 'Invite Friends. Earn Crypto Together. Earn up to 40% commission every time your friends make a trade on Binance.'
Also, some affiliates feature links or discount codes in their blogs and YouTube tutorials.
And the final way for reducing fees is through building a stable and active reputation on Binance by making more transactions and securing a higher VIP status.
Final Thoughts
Binance is a leading crypto exchange and one of the biggest trading platforms. If you still need more info on this exchange, check our Binance Review article.
You are welcome to explore the Binance suite of products and services, as well as the benefits and advantages to get the most out of the Binance platform.