Bitcoin Could Fall Towards $6,500; Here's Why
Ever since hitting the $14,000 level earlier this year, bitcoin has attracted massive selling. Traders in the third and currency quarter are busy taking profits by leaving their Long positions or going Short altogether. The result is a cryptocurrency which is now down by more than 40 percent from its year-to-date top.
Bitcoin's failure to revive its bullish momentum has sparked fears of it sliding further. True, the cryptocurrency's price rally this year was explosive, backed by promises of larger institutional adoption after the launch of Bakkt, an Intercontinental Exchange-backed bitcoin futures platform, and trading service launches at Fidelity, E*Trade, and TD Ameritrade. But so far, Bakkt, in particular, has been unable to bring any mass capital influx to bitcoin.
The result is a dwindling buying sentiment. Even macroeconomic risks associated with the ongoing US-China trade war, Brexit, currency devaluation, hyperinflation, and recession fears have failed to boost Bitcoin in any direction.

Global regulators are also adding their bits to the bearish fuel. At first, they have primarily spoken against Facebook's upcoming cryptocurrency project, Libra, which could have legitimized bitcoin's use case before billions of people across the globe. Second, the US Securities and Exchange Commission (SEC) has choked the road to institutional adoption by rejecting yet another Bitcoin exchange-traded fund (ETF).
A typical investor, therefore, is putting his/her capital in risk-off assets, such as bonds and gold. An easing sentiment from central banks is also making risk-on equities more attractive than bitcoin.
Why a $6,500 Bitcoin
Strong fundamentals are not proving beneficial to bitcoin, which has prompted traders to look for clues in technical patterns. To many of them, bitcoin's downside movements are nothing but a natural correction after its explosive price rally this year. It is like catching a breath after a long run.
Josh Rager writes that each of bitcoin's uptrend eventually suffers a 30-40 percent pullback. The market analyst tweeted:
Rager said the price could, therefore, fall towards the mid-$6,000 region, explaining:
"IMO, the lowest $BTC will hit: between $6,300 to $6,600 where there is major interest. Price currently bounced off monthly support & if this area breaks could head to $6,600 – based on higher time frames."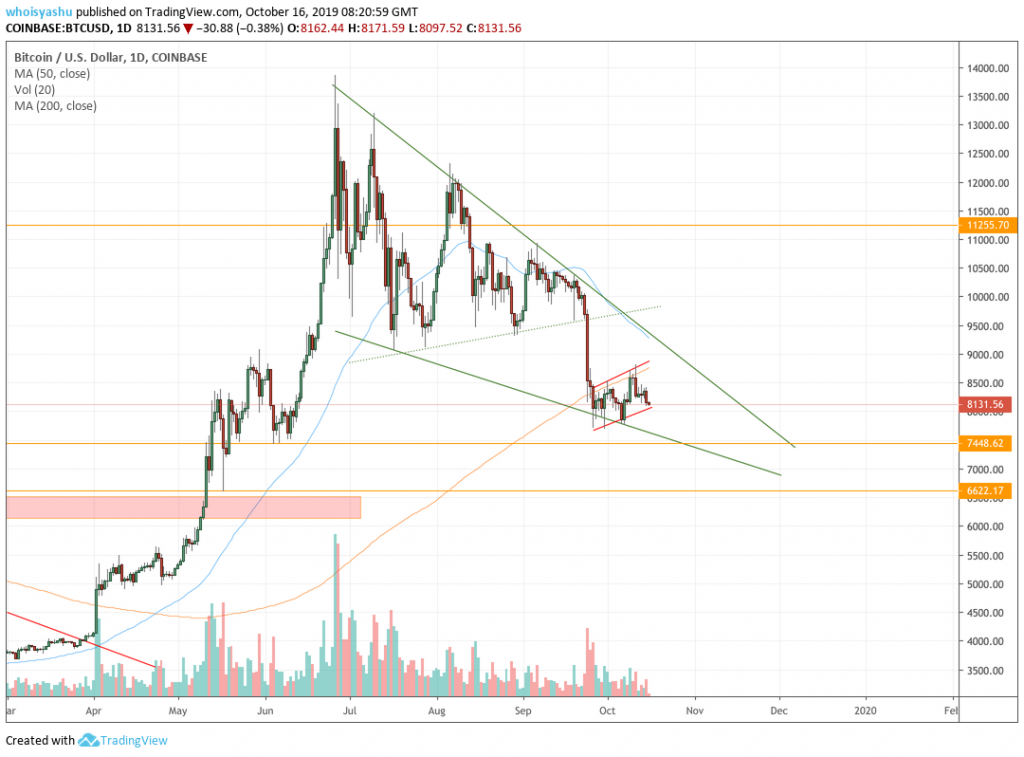 Rager's analysis fits the pattern bitcoin is trending inside as of now. The Falling Wedge represents the green area defined by a set of lower highs and lower lows. The price could fluctuate between it unless it reaches the apex, which roughly falls in the $6,500-7,500 range. After that, bitcoin could attempt a breakout to the upside, with a target towards $14,000.