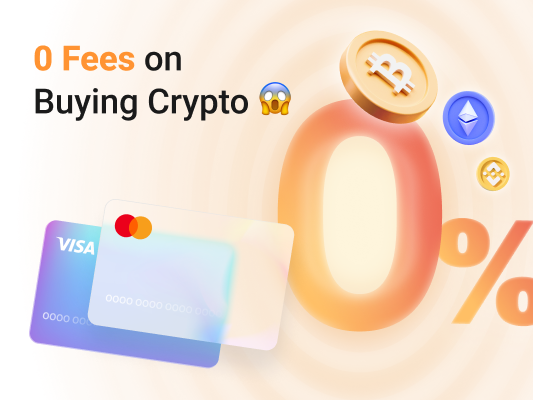 Start Buying Crypto With Your Credit Card With 0% Fees
<! -- End of the Reviewed by section -->
You Say Fees – We Say ZERO!
Are you stressed out by everything that is happening with crypto exchanges recently? The saying "not your keys, not your coins" rings true now more than ever. But, how can you buy crypto without surrendering your newly-bought digital assets to the exchanges, at least initially? Fret no more, we got your back!
We're excited to announce the launch of our newest product that enables you to buy crypto with your credit or debit card.
On top of that, to celebrate the product launch, we are having a limited-time promotion: 0% fees for 3 weeks! You heard it right, ZERO!
With our new product set in motion, you will be able to effortlessly buy crypto for your CoinStats Wallet, or any of your existing wallets (such as MetaMask, Coinbase Wallet, or Trust Wallet) or exchange accounts connected to CoinStats. This product is another step towards achieving our main goal: empowering people to effectively manage their crypto portfolio and control their finances via an easy-to-use platform.
Buy Crypto With Credit Card — Pay 0% In Commission Fees
By partnering up with MoonPay, we have created a gateway to buying crypto with credit and debit cards!
This will enable CoinStats users to purchase crypto assets directly through the all-in-one portfolio management platform via a user-friendly and simple interface in a quick, secure, and reliable way.
Users will be able to purchase crypto with cash with 0% commission fees for 3 weeks as part of our limited-time promotional offer.
Buying crypto through CoinStats is designed in such a way as to make it suitable for newbie investors and professionals alike. Now, users can save the time and effort they used on jumping from one app to another, and instead, have all their needs met in one place.
With safety being our main concern, we will provide a safe gateway for our users to purchase crypto without setting foot on platforms that hold custody over your assets. Yes, we are bringing you the goodies without compromising on security!
The new product will enable our users to purchase crypto using bank cards issued by Visa and Mastercard.
How to Buy Crypto on CoinStats Web?
Head over to the CoinStats homepage
Navigate to the Cryptocurrencies tab in the menu bar above and pick your desired cryptocurrency.
Click Buy Crypto
Select a portfolio or add a wallet address where the funds will be deposited
Choose MoonPay as the provider
Add the credentials of your payment method
Complete the payment
That's it! You have successfully purchased crypto directly on CoinStats web.
A Word From Our Team
Here's what CoinStats CEO Narek Gevorgyan had to say about this critical addition to the CoinStats product suite:
Our team is working hard on acquiring strategic partnerships and developing products that provide value and utility to our users. All our efforts are aimed at creating a one-stop shop for managing all crypto-related tasks & assets — including the purchase of crypto — from just one platform.
Feel free to engage with our pinned tweet and celebrate the 0% fee promotion with us 🤩
Disclaimer
The 0% fee promotional period refers only to commission fees, and does not take gas fees into account.