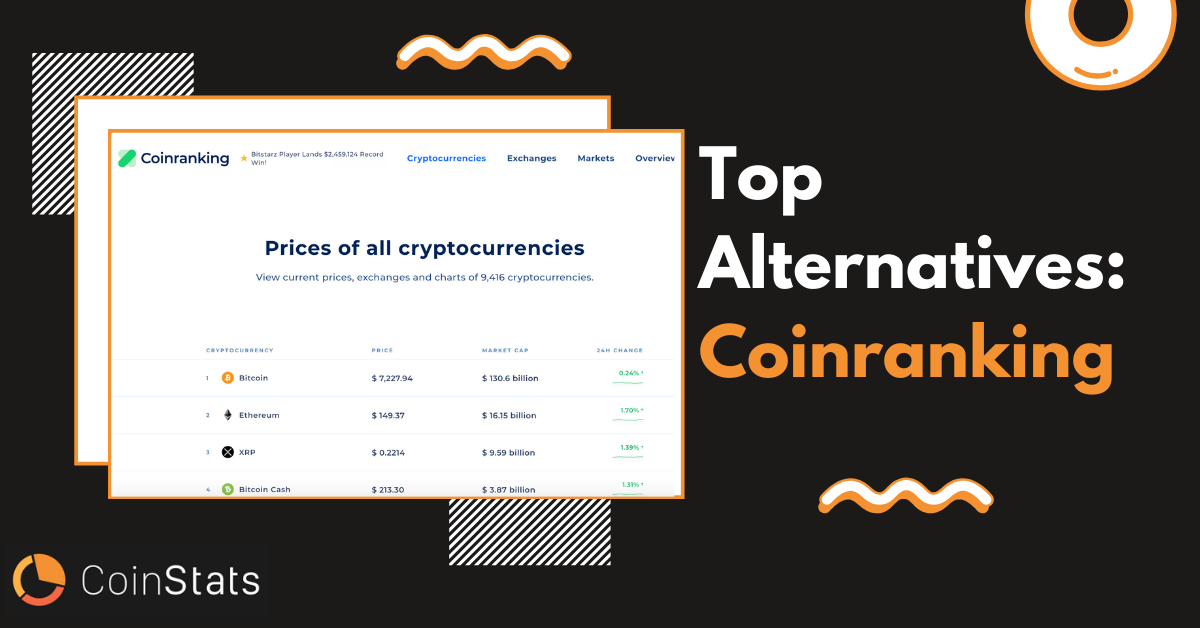 Top 6 Alternatives to Coinranking
<! -- End of the Reviewed by section -->
It's important to use the right crypto portfolio tracker to manage your investments. If you don't pick the best technology to handle your digital assets you could miss out on tools and insights you need to succeed.
Coinranking is one of the top sites on the web for tracking the prices of your favorite coins, but it has much more limited functionality than many alternative offerings. Coinranking doesn't have a native app nor does it interact with other IoT devices like a smartwatch, its services list more limited information than many of the offerings highlighted below, and it doesn't offer price comparisons across internationally-used currencies.
As you explore alternatives you'll find not all crypto portfolio trackers are made equal. It's easy to end up using a service that does not provide accurate information or has a user interface that makes it difficult to navigate the platform.
Points to Consider About Portfolio Trackers Before Purchasing
You want a product you can trust: one that will track all over your holdings in one easy to use place. Your tracker should give you valuable insights about what is happening in the market. It should provide you with the most current industry news to keep you knowledgeable. A crypto portfolio tracker should alert you across platforms when there is a major shift regarding the price point on your investments.
In short, a crypto portfolio tracker should help you make money.
With hundreds of business offerings to choose from for tracking your digital assets, it's hard to know what to use. We've done the legwork for you to endure you end up using the service that best suits your needs.
Here are the top six alternatives to Coinranking:
CoinStats
CoinStats is an industry leader in crypto portfolio tracking, with offerings that cater to everyone from amateur HODLers to professional investors. The app tracks over 300 cryptocurrencies with information across 100 exchanges and aggregates crypto news from over 40 online news networks.
You can either select coins manually to build a custom portfolio to track your selected investments and the movements of chosen coins, or you can simply sync your wallets and exchanges.
CoinStats sets itself out apart from the competition with its highly accurate CoinStats Insights feature. This particular product features analysis based on market trends and user data.
The Buy/Sells Today Insight correctly predicted a Bitcoin price bump over the summer and is regarded by some as a useful tool for acting on trends in both day trading and long term holding.
These insights are only available on the premium version of the app, which also sends order fill notifications. The premium subscription is very reasonably priced.
CoinStats also has much more information readily available than Cointracker: showing you 24-hour market volumes along with market change, giving the price of coins relative to bitcoin, and allowing users to see the price of coins across a variety of currencies.
For these reasons (among even more great features), CoinStats was selected as the official Crypto Tracking app of Chainpoint.
CryptoCompare
CryptoCompare is a British cryptocurrency tracker that offers a variety of more specialized analytics, such as side-by-side visualizations of the most traded coins, and up-to-date information about top mining companies and ICOs.
CryptoCompare's depth of information is one of its major bragging points. The company goes as far as offering in-person, educational events in London, an experiential marketing opportunity that other companies could benefit from.
CryptoCompare offers information in a limited number of supported foreign currencies. There are many people, especially developers, who may love CryptoCompare's offerings such as the APIs and the ability to design custom widgets.
Gem
Gem features a sleek unicorn interface, an extremely fun UI that's styled off of the colors of a unicorn. The main strength of Gem is it's UI, although it does not track as many exchanges or coins as some other apps on this list, it does allow users a highly intuitive (and entirely free) experience.
Gem allows you to view your uploaded assets across currencies, yet there is no obvious way of syncing your portfolio. Unlike the other offerings on this list, Gem does not have a web version of their app. Depending on your specific needs, this could be a feature or a bug.
Download the Gem app for iOS and Android.
BlockFolio
Blockfolio is a mobile-only offering, which may deter users who like to track their cryptos online. Regardless, their app is top-notch.
This crypto portfolio tracker is geared more towards serious professionals and it tracks more coins than any other platform on our list— 8000 coins across 300 exchanges.
Blockfolio integrates into Slack and boasts Blockfolio Signal, a messaging service that allows token teams to directly engage with the community. This is a lot of functionality and may provide more than the average user needs, but if you are looking for a mobile-only tracker, this one is one of the best out there.
KryptoGraphe
KryptoGraphe is another mobile-only Crypto portfolio tracker that offers a robust selection of features across three payment plans: free, premium, and gold.
KrpytoGraphe offers not only analytics across currencies, but the app itself is also available in 13 languages, making it accessible to international users.
They show not only how your portfolio is performing, but how it is doing compared to other traders in the market. The highest tiers offer performance/loss and tax reports as well. This gold plan also offers automated coin alerts, which are available at a much cheaper cost in some of the other paid plans highlighted in this article.
Cointracking
Cointracking offers some of the best functionality on this list, however, it is also the most expensive service. The highest tiered plan is priced at .035 BTC (over 225 dollars annually at current market prices).
Their free plan allows you to track 200 transactions, while their highest tier plan tracks unlimited transactions.
There is a clear disconnect between the services offered at the lowest plans and the paid services: which include API access to your portfolio and tax services. For professionals, they do provide a lot of functionality, only at a very high price point.
Though there is an app, all the trades need to be entered through the website, which can lead to frustration.
In Conclusion
There are hundreds of options for Crypto Portfolio Tracking and the service you end up using will be dictated by your particular needs and budget.
Coinranking is a popular option but does not have as robust features as some of the competition.