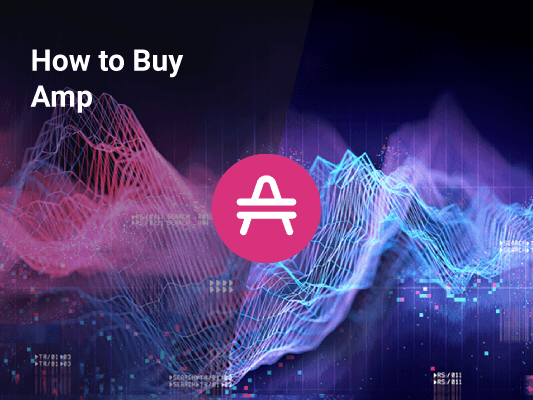 How to Buy Amp | Where, How, and Why
<! -- End of the Reviewed by section -->
Investment in cryptocurrencies has registered a significant rise lately.
The invention of Bitcoin and, most importantly, the creation of Ethereum, a default blockchain for all top DeFi protocols, has drastically changed people's perceptions about digital assets.
While a variety of cryptocurrencies dominate the market, AMP is the crypto that gained a lot of popularity early this year.
Amp was audited in September 2020 and, since listing on Coinbase, its price has been steadily rising. More investors are adopting Amp due to its availability on one of the most trusted and easy-to-use digital asset exchanges. Investors are interested in the future of Amp and its price predictions.
Fortunately, we've got that covered. Read on for a comprehensive guide on this recently established collateral-based coin and learn more about the Amp tokens and how to buy them.
What Is Amp (Brief History and Overview)
Before deciding to invest in Amp, it's vital to learn how it works.
On Tuesday, September 8, 2020, the official Amp tokens contract address was released and validated on Etherscan. Since then, the wallet address has been: 0xfF20817765cB7f73d4bde2e66e067E58D11095C2.
On September 15, 2020, Amp became the tenth token to ever list on the Gemini market, one of the major exchanges in the crypto world.
Amp is a revolutionary token and staking platform that enables the immediate and verifiable collateralization of any cashless transaction. The breakthrough was accomplished as a result of close collaboration and partnership between Flexa and ConsenSys.
Amp is a digital collateral token based on Ethereum with full ERC-20 support. As an ERC20-compliant token, the Amp token implements the newest Ethereum technologies and its collateral management interfaces to offer unprecedented capabilities.
Amp is used to manage and instantly collateralize payments on the Flexa Network securely. It claims to provide instant and verifiable assurances for any value transfer.
The goal of Amp is to lower the cost of inter-party payment transaction interchange while also reducing the risk of fraud. Here is how it works: Amp covers the value of each transfer while it is pending confirmation – a process that can take seconds or days. The Amp collateral then can be used to reimburse the vendor and cover the costs if the payment takes too long or fails.
Amp can be purchased and traded in exchange for fiat currencies or other digital currencies.
What Makes Amp Unique
So, what is it about Amp that makes it unique and appealing for investors? Let's dive in.
Amp enables instant payment authorizations possible, cutting short the process of transactions and allowing any actions that rely on it to continue without delay.
Individuals and businesses benefit from the security and efficiency of transparently attestable collateral on an immutable ledger by utilizing Amp as collateral.
Amp is compatible with any value transfer, meaning users can stake and guarantee on any form of value exchange, be it digital payments, fiat currency exchange, loan distributions, property sales, and more.
To organize the process of staking collateral on the chain, Amp applies collateral partitioning. In so doing, Amp divides each object, process, application, or transaction into partitions that may be accessed or managed by any number of operator addresses, enabling smooth management and flexibility across a nearly limitless number of applications.
How to Buy Amp
To buy Amp, consider choosing an exchange that supports both fiat and cryptocurrency.
Follow our easy, step-by-step guide for buying Amp.
Take note of the following before you register an account:
Choose an exchanger that supports not only Amp but also multiple crypto and fiat currencies.
Check out the commissions and fees charged by the crypto broker. It is customary for exchangers to charge you a fee or commission when buying and selling crypto using its platform. You will be able to accurately calculate your profits if you are aware of the charges and fee schedules.
The broker's local availability is another key factor to consider. Some brokers are not available in every state or country, so consider checking their licenses to provide cryptocurrency support and local restrictions before you open an account.
After choosing your cryptocurrency broker, you will need to:
Step #1: Open an Online Account on the Trading Platform Provided by the Broker
Step #2: Purchase a Crypto Wallet (optional)
If you intend to hold your AMP for longer than a week without actively trading it, you'll want to store it in an off-exchange wallet. The wallet will protect your crypto if the exchange is targeted in a hack. You can choose between two types of wallets: software and hardware wallets.
Software wallets are online storage applications. Among them: Ledger Nano X, Trezor Model IT, Ledger Nano S, Exodus, Electrum, and Mycelium.
Hardware wallets are devices that store Amp and tokens offline. While hardware wallets are costly, they offer superior protection by keeping your coins in cold storage. You might consider: Trezor Model IT, Ledger Nano S, Privacy Pros, Mycelium, etc.
Step #3: Make a Purchase
Now you are all set to make your purchase. You should first select the type of order you'd want to use to buy Amp, depending on your assumptions about its price moving up or down. The most common order types are:
A Market Order
A market order ensures that your order is filled quickly at the current market price of the asset you want to invest in.
A Limit Order
With a limit order, you tell your broker a price you are ready to pay for the asset. Your broker only executes the order if they can buy each token at your specified price or below it; otherwise, the order remains unfilled.
If your order cannot be filled, your broker may leave the order open indefinitely or cancel it at the end of the trading day.
Where Can I Buy Amp Coins? Gemini, Coinbase, and CoinStats
Major cryptocurrency exchanges where you can buy or sell Amp (Previously Flexa Coin) are Coinbase and Gemini.
We've also made a list of the top cryptocurrency exchanges that support Amp:
Coinbase
Gemini
1Inch
Uniswap
Gate.io
Poloniex


How to Buy AMP Using CoinStats
At CoinStats, you have all your financial assets in one place. You can also exchange any other cryptocurrency with AMP with ease.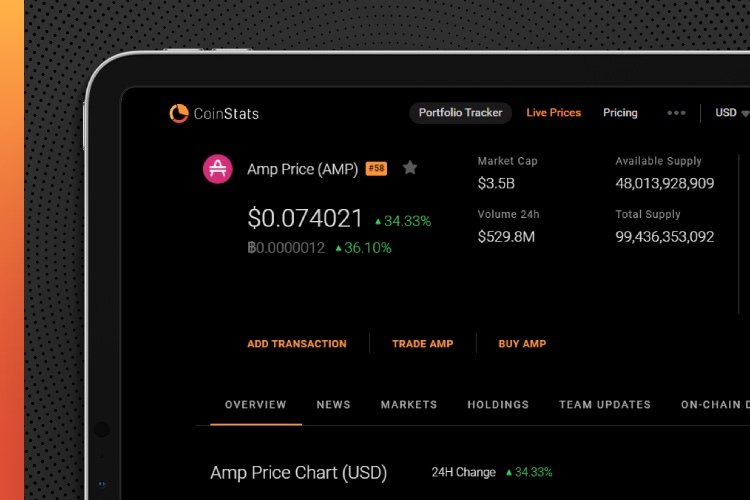 To buy AMP with CoinStats, simply search for AMP on the search box on the top right. Select Trade AMP from the list. Note that you should have to link your CoinStats profile to your Binance Smart Chain Wallet to trade Amp.

Why Invest in Amp Coin
The key benefits of Amp — offering instant and verifiable assurances for any value transfer; providing fast and secure transactions for a wide variety of cases; decentralizing the risk in a payment transaction — appeal to international investors willing to avoid the long wait for transaction confirmations.
In other words, Amp offers great benefits by reducing transaction costs while improving the cost efficiency and accessibility of financial markets. Amp ensures that no transaction fails, ensuring that business runs as expected at the point of sale.
As demand rises for such a service, the rewards for AMP stakers increase. The majority of analysts predict a rise in the Amp's price. AMP has become a popular topic on social media. The early listings on major exchanges like Coinbase and Binance have also contributed to Amp's value on the market.
Summary
The AMP, an Ethereum-based currency, is used as collateral for stablecoin payments. Flexa ensures that users can get paid with AMP as collateral if the payment is late or fails. This adds extra security for both crypto buyers and sellers. The decentralized collateral also serves to remove expensive intermediaries and efficiently distribute risks.
Amp claims that it covers a large variety of transaction types: "digital payments, fiat currency exchange, loan distributions, property sales, and more."
The risk of volatility is reduced with a fixed supply of AMP tokens.