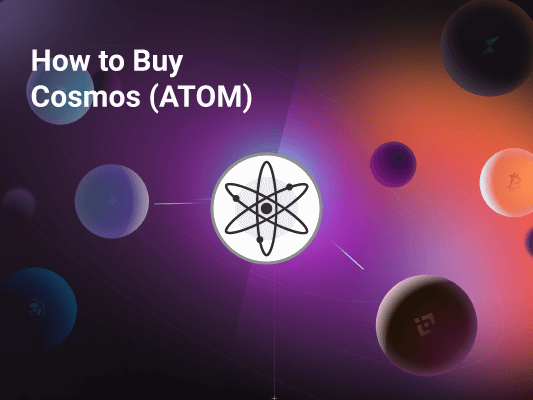 How to Buy Cosmos (ATOM) | Where, How, and Why
<! -- End of the Reviewed by section -->
Looking to find out how to purchase Cosmos? You've come to the right place. Cosmos is the blockchain protocol that aims to allow separate blockchains to seamlessly communicate and synchronize data and tokens in a decentralized manner. Cosmos focuses on interoperability and customizability, seeking to create a unique network of multiple cryptos that use the same open-source tools to streamline cross-platform transactions.
In so doing, Cosmos makes it possible to transform friction in the market into a positive force for development. Developers call this concept an "Internet of Blockchains," where an increasingly large number of blockchains can share data and transact with each other.
Many people consider Cosmos as the third generation of crypto due to the impact this decentralized blockchain ecosystem has on the cryptocurrency world.
Cosmos also introduces a next-generation technology stack that increases blockchain creation efficiency.
While Cosmos is designed to support many tokens, its native crypto is ATOM, which is the driving force behind the Cosmos Hub. The Cosmos blockchain is supported by Byzantine Fault Tolerant consensus algorithms like Tendermint.
Read on for a deep dive into the Cosmos network and the blockchain concept; learn more about how to purchase Cosmos and where, why, and how to buy ATOM.
How the Blockchain Works
Blockchain is the technology at the heart of bitcoin and other virtual currencies. Blockchain is an open, distributed ledger where all financial transactions are stored efficiently in a verifiable and permanent way.
Blockchain is a decentralized platform, i.e., uses P2P, a distributed peer-to-peer network that consists of a group of devices (nodes) that collectively store and share files where each node acts as an individual peer. In this network, P2P communication is done without any central administration or server, which means all nodes have equal power and perform the same tasks.
To initiate a transaction, users are issued a public and a private key. These keys are a part of the Public Key Cryptography (PKC); i.e., these are highly secure encryptions unique to each user. The public keys can be shared to access the network, while private keys must be kept secret. The private key is used in the verification process – it generates a one-of-a-kind digital signature that is immutable. This immutability, the ability for a blockchain ledger to remain a permanent, indelible, and unalterable history of transactions, is one of the key benefits of blockchain. Immutability brings trust and integrity through visible and easily identifiable transactions. It transforms the auditing process into an efficient and cost-effective procedure.
To ensure secured and verified transactions, the Blockchain network uses a consensus algorithm. The algorithm aims to find a common agreement between all the Blockchain network peers about the present state of the distributed ledger. The consensus protocol ensures that every new block added to the Blockchain is the only version of the truth agreed upon by all the nodes in the Blockchain.
Now you know the idea behind the word blockchain!
How Cosmos Works
Cosmos implements sharding using various independent blockchains called zones. Each zone can authenticate accounts and transactions, create and distribute new tokens, and execute changes to its own blockchain. Zones are interconnected by Cosmos Network Hub, designed to act as an intermediary between zones and responsible for facilitating interoperability between all the zones within the network by keeping track of their states.
Cosmos Network Hubs connect directly with zones instead of zones directly connecting, reducing the risk of double-spending and unfreezing of tokens.
ATOM is the blockchain's native coin and is primarily used to reward validators and for staking.
Cosmos relies on a set of open-source tools to allow users to develop custom blockchain applications that are highly secure, interoperable, and scalable. The Tendermint BFT engine is the most essential among them. It is an algorithm used by the network of computers running the Cosmos software to secure the network, validate transactions, and commit blocks to the blockchain. It connects to applications through a protocol called the Application Blockchain Interface.
Unlike Ethereum and Bitcoin, which are difficult to customize and fork from, the Tendermint protocol allows developers to build blockchains without having to code them from scratch.
ATOM's annual inflation rate is set at anywhere between 7% to 20%. If token holders don't stake their tokens, their wealth is diluted due to the high inflation rate. This is the key incentive behind the staking of tokens owned in the system. The automatic adjustment of the inflation rate is built so that the percentage of staked tokens attains the target of 66.7%. In short, holders are encouraged to stake more tokens in the system to take advantage of the increased inflation rate when the target is higher than the staking ratio.
The Cosmos Network Hub does not have any specific membership rules. It uses a protocol known as the IBC (Inter-Blockchain Communication) to connect zones to the Cosmos Hub. The IBC enables information to travel freely and securely between each connected zone. Each zone connected to the Cosmos Hub is interoperable with other zones connected to the hub, meaning blockchains differing in applications, validators, and consensus mechanisms can still exchange data.
Developers can use the Cosmos SDK, software development kit, interface to create blockchains using Tendermint's consensus algorithm. The software minimizes complexity by offering tokens, governance, and staking, among other things. Developers can create plugins to add any additional features they want to have.
History of Cosmos
Cosmos is a registered trademark of the Interchain Foundation. In 2017 Cosmos held their ICO, initial coin offering. They sold a total of $16.8 million worth of ATOM cryptocurrency within the first 30 minutes, making it one of the most successful ICO's in blockchain history.
Ethnan Buchman and Jae Kwon are co-founders of Cosmos. Kwon is also the founder of Tendermint, which has evolved into a virtual ecosystem of multiple blockchain networks.
How to Buy Cosmos (ATOM)
To buy ATOM, simply follow these easy steps:
Step 1: Create an Account
Open an online account with a cryptocurrency broker. A crypto broker will provide you with a much-needed exchange platform that you can use to trade atoms and other cryptocurrencies.
Step 2: Get a Wallet
After choosing a broker, you might want to select a crypto wallet to help you securely store your ATOMs. This will reduce the chance of losing your coins to any form of a hack. You will have to choose between a hardware wallet and a software wallet, depending on your needs.
Step 3: Purchase ATOM
When your brokerage account and your wallet are both active and functional, you are all set to place an order to buy Cosmos. While processes will vary by broker, including payment methods, most of them are straightforward. You can select the amount of Cosmos you want with just a few clicks. When your order is completed, you'll see your investment in your account.
How to Buy Cosmos (ATOM) Using Coinstats
CoinStats is among the best platforms to trade Cosmos. CoinStats offers in-depth research tools to help investors discover key crypto market financial data.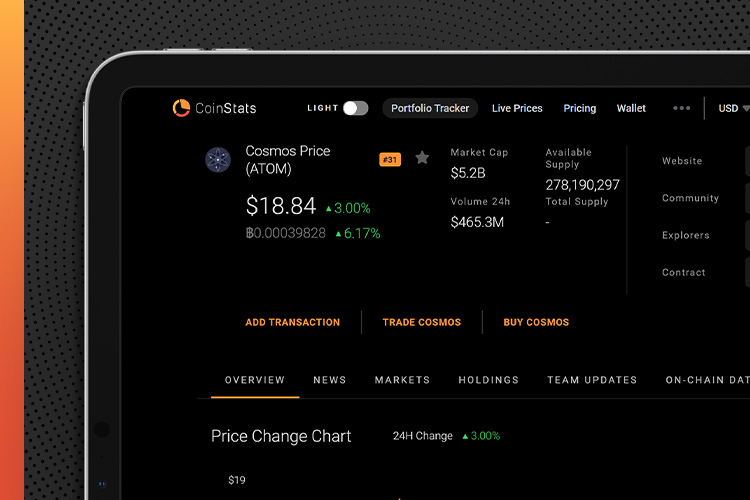 To buy Atom, you need to first create an account on the CoinStats platform and link it to your Binance Smart Chain Wallet. Then, search for ATOM on the site or the mobile app dashboard, and click on Trade ATOM.

U.S.-based users can make payments via credit or debit card or Apple Pay, with the feature soon to be rolled out to all other users across the world.
Things To Consider When Buying Cosmos (ATOM)
There are a few factors we suggest you consider when you decide to buy Atom.
Commission or transaction fees. Compare each broker's fees and commissions to find those that suit your long and short-term financial needs. Note that many stockbrokers now offer commission-free investing in stocks and ETFs.
The trading platform, provided by the crypto broker. Consider choosing a platform tailored to suit your exact needs. For crypto veterans and newbies planning to be active in trading, a broker that provides plenty of analysis tools is recommended. If you are completely new to crypto trading, you might need a broker that provides an intuitive platform and additional educational resources.
Knowledge of thousands of available coins and tokens. No broker can offer you comprehensive access to all available cryptocurrencies. Therefore, you should check the range of supported coins on your broker's list. Ideally, you need to opt for a single platform that you can use to buy and sell all the cryptocurrencies you want to add to your portfolio.
Mobile app. For ease of access, you need to check whether the broker has a mobile app. If you prefer trading on the go, you should choose a broker that offers a mobile investing platform, a mobile app compatible with your device.
Security. It would help if you researched extensively on the level of security. Security breaches can compromise all of your hard-earned ATOMs. So you should always look out for platforms that have high-level security features like multi-layer encryption and 2FA (2-factor authentication) before you buy Atom.
Things to Consider When Trading Cosmos (ATOM)
After completing your order, you'll need to decide about the return on your investment: whether you want to buy Atom for long-term or short-term investment.
Long-term investing: If you want to buy Atom for long-term investing and feel that ATOM prices will rise in the coming months, you can hold onto your coins. Be sure to transfer your investment to your wallet as soon as possible to avoid the risk of theft.
Short-term investing: If you want to buy Atom for short-term investing, you can capitalize on the cryptocurrency market's volatility by converting your ATOM to and from a stablecoin when it's most advantageous for each coin.
What Are The Best Exchange Platforms for Cosmos (ATOM)
The best cryptocurrency exchanges for Cosmos should be chosen according to the reliability, security, and high liquidity. Read on for our list of options to buy Cosmos, ATOM coins.
Conclusion
While this is by no means investment advice, Cosmos is a truly impressive digital innovation in the crypto universe, a secure and scalable blockchain ecosystem where the interoperability of thousands of decentralized applications creates the foundation for a new token economy.
Cosmos offers a way for all these blockchain projects and new ones constantly emerging to interact. As a spokesman from The Cosmos Network put it, Cosmos offers "the ability of different protocols to speak the same language."
Now you know everything on how to buy Cosmos and why you should buy Atom coins.