The Basic Attention Token (BAT) is an Ethereum-based cryptocurrency that creates a transparent and decentralized advertising experience while benefiting users, publishers, and advertisers. Basic Attention Token is digital innovation aiming to revolutionize the $330 billion digital advertising industry by creating a blockchain-based digital advertising exchange that eliminates any chance of fraud.
This article is designed to teach you everything you need to know about the project and how to buy Basic Attention Token. Read on to learn more.
Looking to buy BAT?
Card purchases made quick & easy!
Step #1: Select a Crypto Exchange
Basic Attention Token (BAT) tokens are available on a growing number of cryptocurrency exchanges. Visit the market page on CoinStats to view the exchange platforms supporting BAT. Compare the exchanges' security, user experience, fee structure, supported crypto assets, etc., to choose the one with the features you need, such as affordable transaction fees, top-notch security, high trading volume, an intuitive platform, round-the-clock customer service, etc. Also, consider whether the cryptocurrency exchange is regulated by the Financial Industry Regulatory Authority (FINRA) and allows you to buy BAT using your preferred payment method.
To trade cryptocurrencies, you must use a centralized or decentralized crypto exchange, so let's look into the details of each type below.
Centralized Exchange
A centralized crypto exchange or CEX, such as Coinbase, eToro, Binance, etc., functions as a middleman between buyers and sellers and charges specific fees for using their services. Most crypto transactions are conducted on centralized exchanges, allowing users to buy and sell cryptocurrencies for fiat currencies such as the US dollar or digital assets like BTC and ETH. Centralized exchanges require their users to follow KYC (know your customer) and AML (anti-money laundering) rules by providing some information and personal identification documents. However, the drawback of trading on a CEX is that it's highly vulnerable to hacking or cybersecurity threats.
Decentralized Exchange
On the other hand, a decentralized exchange (DEX), like Uniswap, SushiSwap, Shibaswap, etc., is a non-centralized alternative to a centralized exchange and isn't governed by any central authority. Instead, it operates over blockchain and charges no fee except for the gas fee applicable on a particular blockchain, i.e., on the Ethereum blockchain. Decentralized exchanges use smart contracts to let people trade crypto assets without needing regulatory authority. They deploy an automated market maker to remove any intermediaries and give users complete control over their funds. This method is safer since no security breach is possible. However, decentralized exchanges are less user-friendly in terms of interface and currency conversion. For instance, they don't always allow users to trade crypto with fiat currency; users have to either already own crypto or use a centralized exchange to get crypto. Another drawback of decentralized exchanges is that it has failed to achieve liquidity levels comparable to centralized exchanges. It also takes longer to find someone looking to trade with you as DEX engages in peer-to-peer trade, and if liquidity is low, you may have to accept concessions on price and quickly sell or buy low-volume crypto.
You can list anything on a DEX, which means you have access to new, in-demand assets while also taking on more risk.
Step #2: Create an Account
After you've chosen a cryptocurrency exchange that suits your investment needs, you must register with the exchange using a valid email or mobile number. A link will be sent to your address, and you must click it to verify your account. Once the account is activated, you must create an elaborate password, and you're good to go.
Some exchanges have strict KYC and AML requirements, and in order to get verified, you must provide personal information such as:
Full name
Residential address
Date of Birth
ID Document.
In some cases, you might also need to upload a selfie or undergo video verification to finalize the verification process.
Once your identity verification is complete, it's recommended to activate two-factor authentication (2FA) for an extra layer of security.
Step #3: Deposit Funds
The next step is to deposit funds into your account. Many crypto exchanges support fiat currencies like USD, EUR, etc. Simply select your preferred deposit method, such as a bank transfer, wire transfer, credit or debit cards, e-wallets, PayPal, etc., and the currency you wish to deposit. Tap on "Deposit Funds," enter the amount you want to deposit and click "Deposit."
Some deposit methods are extremely fast, while others, depending on the amount, require a confirmation from authorities. Remember to evaluate the fees of different deposit methods since some have larger fees than others.
Linking your debit card to your crypto account is advantageous as it lets you make instant or recurring purchases, but be aware that it attracts an additional fee.
It's usually free to make a bank transfer from your local bank accounts, but you should still double-check with your exchange.
BAT can be traded for another cryptocurrency or a stablecoin; the trading pairs vary between exchanges. So, you must search for BAT on the spot market to select a pair from the list of available trading pairs.
Step #4: Buy BAT
Follow the steps below to place a market order to buy BAT instantly at the current market price:
Click the search bar, enter BAT, and select "Buy BAT" or the equivalent.
Select a trading pair you wish to buy BAT against.
Choose the payment method, the currency you wish to use, and input the amount of BAT or the fiat amount to be spent. Most exchanges will automatically convert the amount to show you how many BAT tokens you'll get.
Double-check the transaction details and click "Confirm."
The BAT tokens will be displayed in your balance once the transaction is processed.
You can also place a limit order indicating that you want to buy BAT at or below a specific price point. Your broker will ask you the number of coins you wish to acquire and the maximum price you're ready to pay for each once you've placed an order. The coins will only appear in your wallet if your broker fulfills your order at or below your requested pricing. The broker may cancel your order at the end of the day or leave it open if the price increases over your limit.
If you're planning to keep your newly purchased coins for an extended period, we highly recommend securely storing them in a hardware wallet.
To trade BAT on spot markets, go to the Trade page and search for the BAT pairs ( BAT/USD or BAT/USDT). Select the trading pair and check the price chart. Click "Buy BAT," select the "Market," enter your amount or choose what portion of your deposit you'd like to spend by clicking on the percentage buttons. Confirm and click "Buy BAT."
Congratulations on adding Basic Attention BAT tokens to your crypto portfolio!
How to Buy BAT on CoinStats?
Did you know that you can buy BAT directly on CoinStats with 0 additional fees? It's super quick and secure and allows you to buy crypto with your credit card right where you track and manage it. Here's how you can buy BAT on CoinStats on web and mobile in a few simple steps.
Head over to the CoinStats homepage
Navigate to the Cryptocurrencies tab in the menu bar above and pick your desired cryptocurrency.
Click Buy Crypto
Select a portfolio or add a wallet address where the funds will be deposited
Choose MoonPay as the provider
Add the credentials of your payment method
Complete the payment
Store BAT
While your BAT tokens can be stored in your brokerage exchange wallet, experts highly recommend storing your precious coins away from exchange wallets, as those might be susceptible to hacks and interference.
We highly recommend creating a private wallet with your own set of keys. Depending on your investing preferences, you might choose between software and hardware wallets:
Software Wallets
If you're looking to trade BAT regularly, software or hot wallets provided by your selected crypto exchange will suit you. The strength of software wallets lies in their flexibility and ease of use. A software wallet is the most easy-to-set-up crypto wallet and lets you easily interact with several decentralized finance (DeFi) applications. However, these wallets are vulnerable to security leaks because they're hosted online. So, if you want to keep your private keys in a software wallet, conduct due diligence before choosing one to avoid security issues. We recommend a platform that offers 2-factor authentication as an extra layer of security.
Examples of software wallets include CoinStats Wallet, MetaMask, Coinbase Wallet, Trust Wallet, and Edge Wallet, amongst others.
Hardware Wallets
Hardware or cold wallets are usually considered the safest way to store your cryptocurrencies as they offer offline storage, thereby significantly reducing the risks of a hack. They are secured by a pin and will erase all information after many failed attempts, preventing physical theft. Hardware wallets also let you sign and confirm transactions on the blockchain, giving you an extra layer of protection against cyber attacks. These are more suitable for experienced users who own large amounts of tokens.
Ledger hardware wallets are arguably the most secure hardware wallets letting you securely manage your digital assets. The Nano X is designed for advanced users and offers more storage space and advanced features than Ledger Nano S, designed for crypto beginners.
A hardware wallet is more expensive than a hot wallet, with prices ranging between $50 – $200.
Examples of cold wallets are Trezor Model T, Ledger Nano X, CoolWallet Pro, KeepKey, Ellipal Titan, and SafePal S1, amongst others.
Bonus Step: Track BAT Tokens
The crypto market is volatile, and managing your portfolio could get tricky if you hold multiple assets. Utilizing a portfolio tracker will help you keep track of your BAT tokens and all your crypto investments from one platform at all times. CoinStats offers one of the best crypto portfolio trackers in the market; you can find more information here.
You can also monitor the profit, loss, and liquidity of BAT across several exchanges on CoinStats.
CoinStats supports over 250 cryptocurrency exchanges and over 7,000 cryptocurrencies. It offers charting tools, analytical data, advanced search features, and up-to-date news. Here you have the opportunity to connect an unlimited number of portfolios (wallets and exchanges), including:
Binance
MetaMask
Trust Wallet
Coinbase
Kraken
Kucoin
Bitstamp and 500 others.
To connect, go to the CoinStats Portfolio Tracker page and:
Click Add Portfolio and Connect Wallet.
Click the wallet you want to connect to (e.g., Ethereum Wallet).
Input the wallet address and press Submit.
The Reason for BAT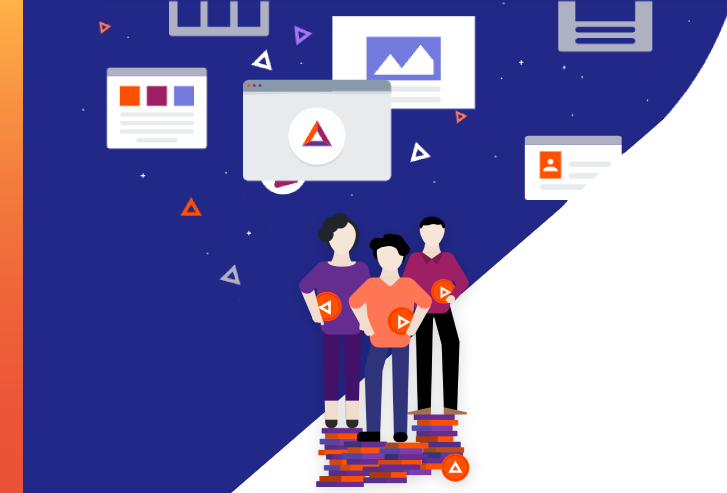 The Basic Attention Token forms part of Brave's ecosystem of collaborative technologies and is an innovative approach to solving the problems in the digital advertising industry. The creators of BAT see current trends of data privacy violations, the growth of malware infestations, and increased demands on data and battery life as disadvantaging users, publishers, and advertisers alike.
They believe that the Brave Browser that connects publishers, advertisers, and users in a mutually beneficial system solves all problems. As a result, users benefit from heightened privacy, autonomy, ad relevance, and the ability to earn BAT for surfing the internet. Publishers find new sources of revenue, and advertisers get less expensive customer attention based on documented user content preferences and interests. They can also avoid fraud more efficiently.
What Is Basic Attention Token?
Brendan Eich and Brian Bondy are co-founders of Basic Attention Token (BAT). Their goal was to improve the security, fairness, and efficiency of digital advertising through blockchain technology. Brendan Eich is also the co-founder of Mozilla and Firefox and the creator of JavaScript. Brian Bondy is also a key figure in the development of Khan Academy, Mozilla & Evernote.
The Brave browser is fundamental to BAT and is an open-source, privacy-focused desktop browser that automatically blocks third-party ads and tracking. In 2019, the Brave browser introduced 'Brave Rewards,' an opt-in feature that pays users Basic Attention Tokens (BAT) to view advertisements and interact with them.
BAT is the native token of the Brave web browser and is an ERC-20 token that utilizes smart contracts to confirm user attention — allowing advertisers to verify both target audience and user engagement without infringing on privacy.
As of Oct. 13, 2021, there are 38.9 million monthly active users and 13.4 million daily users of the Brave browser.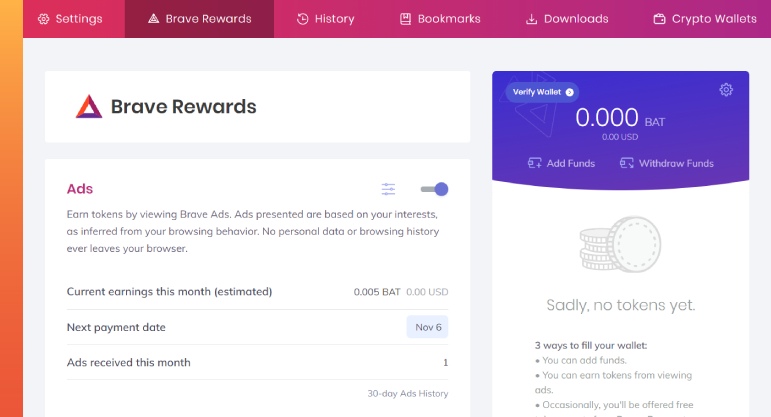 How Does the Basic Attention Token (BAT) Work?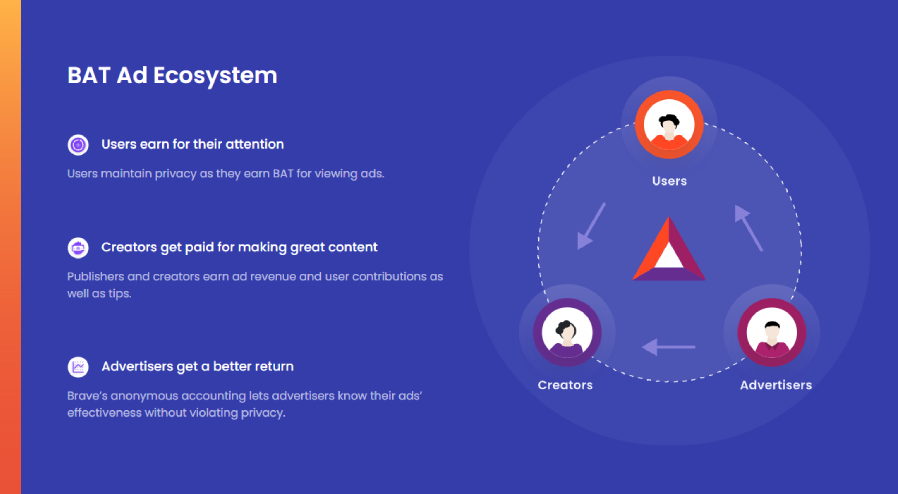 Brave is an open-source privacy-centered browser designed to block all unnecessary ads, trackers, invasive cookies, and malware by default with Brave Shields. It also anonymously and securely tracks user attention with a built-in ledger system to improve users' advertising experience. This is done by calculating the amount of time each advertisement is viewable to a user and the number of pixels they can see.
Publishers of digital advertisements are rewarded for user attention with Basic Attention Token. Brave matches content with advertisers that are genuinely relevant, while feedback mechanisms ensure that users receive advertising for the products they are most likely to buy. All of this data is encrypted and stored on the device only, and Brave protects the identities of its users.
Brave also utilizes anonymous user attention data to assist advertisers with targeting and fraud reduction.
BAT is the digital currency linked with attention value, which is calculated based on both incremental duration and pixels in view for any relevant advertising content.
Anyone using the browser can turn on the Brave Ads feature to get paid in Basic Attention Token for their time viewing advertising. They can also turn on the Brave Rewards feature which will automatically divide up their chosen monthly BAT token contribution between the sites they visit according to time spent on each.
Users can also tip their favorite content creators directly, either through the browser's reward panel or by clicking the tip button next to the URL bar on sites such as YouTube, Twitter, and Reddit.
How BAT Is Distributed?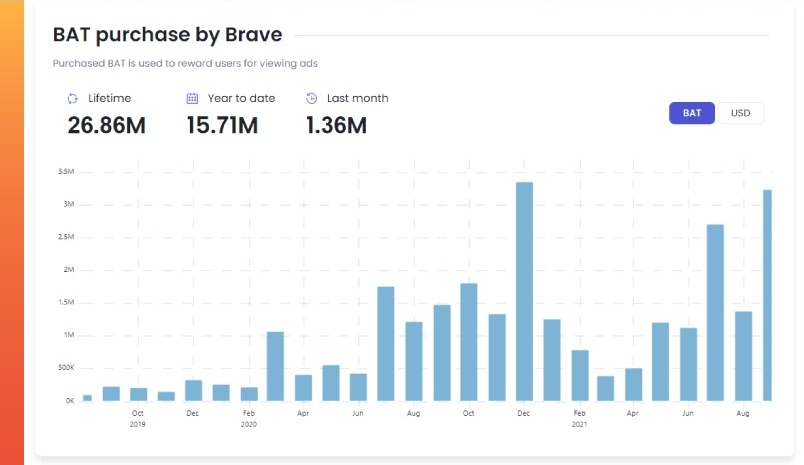 Basic Attention Token has a total supply of 1.5 billion BAT tokens, almost all of which is currently in circulation. One billion BAT coins were sold to investors in the 2017 ICO. 200 million of the remaining tokens went to a development pool. The final 300 million BAT coins were reserved for a user growth pool to incentivize participation in the BAT ecosystem and reward early adopters.

The Basic Attention Token is a unit of exchange. It can provide an essential source of income for content creators and a means of payment for effective ad campaigns for advertisers.
Users who opt into advertising on the Brave platform receive a small portion of the Basic Attention Tokens distributed for their attention. They can use BAT to sell, tip publishers, purchase Brave premium services, etc. Advertisers pay BAT to capture users' attention. Publishers earn the majority of BAT involved in a transaction.
Each month, BAT is transferred directly either to the Brave Wallet or to other Ethereum-compatible wallets. Users receive 70% of the tokens they earn, with the rest split between advertiser and Brave.
"Brave Payments" and the decentralized "Brave-Micropayment ledger" provide additional in-browser functionality for the cryptocurrency. They enable Brave-browser users to directly support content creators with BAT donations by pressing a button on a YouTube video or Tweet. Content creators with a verified Uphold account can convert BAT to fiat and transfer it to their bank accounts.
As more users opt for Brave's browsing experience, they will need to purchase the Basic Attention Token. This could increase Basic Attention Token price and market cap in the future.
How To Get Basic Attention Token for Free?
Basic Attention Token shares 70% of its ad revenues with users. All you have to do is download the Brave browser, enable "Brave Ads" within the browser, and get notified about ads to earn free BAT while surfing the web.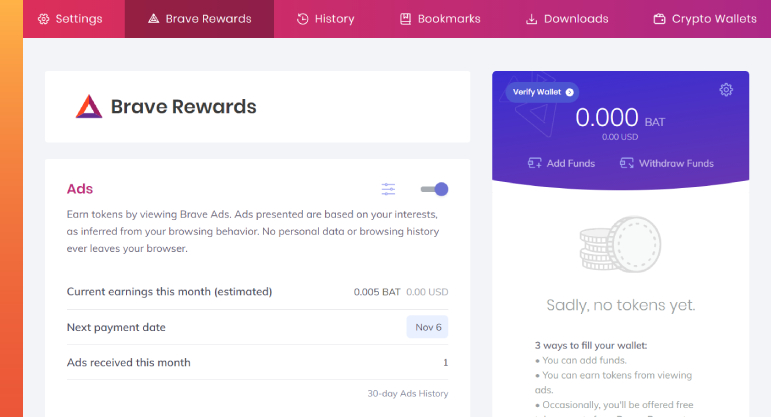 You can also earn BAT by claiming random token grants worth 25-40 BAT. Enable "Brave Rewards" to be eligible for possible token grants. A notification will appear on the Rewards icon when a grant is available.
Follow our step-by-step guide on how to get free BATs below: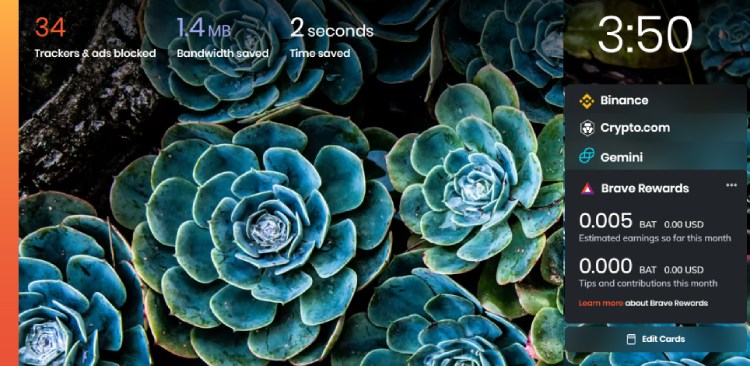 Step #1:
Download and install the Brave Browser. Brave Ads is currently available on the desktop app.
Step #2:
Launch the browser and click on the Basic Attention Token logo.
Step #3:
Click on Join Rewards.
Step #4:
Navigate to brave://rewards// and ensure that Brave Ads is on.
Step #5:
You will be presented with offers in the form of notifications. Engage with the notifications, view the ads, and you will earn a 70% revenue share from the viewed ad.
Step #6:
At the close of the Brave Rewards monthly cycle, you can claim your accumulated tokens. Soon you will be able to convert BAT to fiat currency through cryptocurrency exchange platforms.
Please note that Brave Ads are geo-restricted to the following countries: US, UK, Canada, Germany, and France. More geographies will be available soon.
Conclusion
The Brave Browser has a unique ledger system and shields for measuring user attention. It also loads pages faster than its competitors by blocking advertising and trackers.
The Basic Attention Token creates a new efficient marketplace, offering excellent opportunities for advertisers to reach valuable customers. It also grants users a share in ad revenue and the ability to tip their favorite content creators directly.
BAT has over 1 million verified content creators registering for BAT rewards.
More than 400 advertisers are part of the Basic Attention Token ecosystem, and the Brave Browser has reached 25.4 million monthly active users and 9.2 million daily active users.
Isa is a seasoned writer and a true cryptocurrency expert with about 7 years of experience under his belt. He has worked with a number of renowned cryptocurrency websites across the world, where he has produced hundreds of authoritative articles regarding the broad subject of cryptocurrency. He's always been enthusiastic about cryptocurrency, and now, he's commited to educating people around the world about the digital currency.