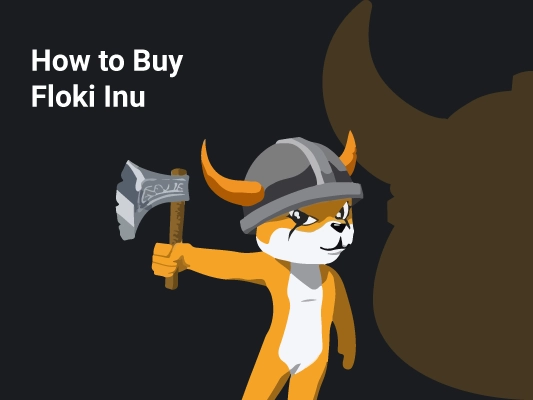 How to Buy Floki Inu
<! -- End of the Reviewed by section -->
The metaverse opens up new vistas of opportunities, enabling you to create your own avatar to communicate, play, shop, create, or learn. You can own or create art or virtual property, exchange it for NFTs, and sell that property to other metaverse users.
NFTs and crypto are the keys to accessing the virtual reality of the metaverse, and many metaverse tokens are soaring in value. FLOKI is one such metaverse token created by fans and existing members of the Shiba Inu community.
FLOKI is a dog-themed metaverse crypto coin named after Elon Musk's Shiba Inu. The Floki Inu community calls itself the "Floki Vikings" in honor of Floki (Musk's dog named after a Viking character.)
Read on to learn everything you need to know about Floki Inu and where, why, and how to buy Floki Inu to ride the wave to metaverse success.
1. Sign Up for a CoinStats Account
Sign up for a CoinStats account if you don't already have one, and verify your identity. Connect your digital wallet that supports Ethereum-based tokens, such as MetaMask or MyEtherWallet, to your CoinStats account.
2. Navigate to the CoinStats Swap
Navigate to the CoinStats Swap platform. After successfully linking your wallet, choose the token to swap by providing the data in either cryptocurrencies or USD/EUR.
3. Swap Floki Inu
For example, we are swapping ETH for FLOKI. In the "From" field select the ETH token from your wallet, and in the "To" field, select "FLOKI."
Click on Advanced Options to change the slippage. When you're finished customizing, scroll down to the bottom of your screen and tap the "Submit Swap" button.
Confirm
After you submit your swap request, you'll be prompted to confirm it. To begin the swap, follow the instructions on the screen, review the information, and click "Confirm."
NOTE: You will be charged Network Transaction fees also known as gas fees. This refers to the charge necessary to complete a transaction on the blockchain. In essence, gas fees are paid in the network's native currency, i.e. ETH for the Ethereum network. CoinStats charges a small swap fee in addition to the gas fees.
Once the transaction is completed, your FLOKI will be credited to your digital wallet, and you can track your FLOKI holdings in your CoinStats account.
If you don't have any crypto yet, don't fret! You can buy any large-cap cryptocurrency on CoinStats' buy crypto with bank card page, and swap that crypto for Floki Inu (FLOKI).
What Is Floki Inu?
The Floki coin is a dog-themed meme coin launched in June 2021. Floki Inu (FLOKI) was developed by the Shiba Inu community members after Elon Musk bought a Shiba Inu puppy and named it Floki, after a Viking character. Musk's brother, Kyndall Musk, and his Million Gardens Movement have become part of the team.
Meme coins are a new crypto category associated with an internet joke or pop culture reference. It all started when Dogecoin was forked out from Litecoin (LTC) to become one of the most popular cryptocurrencies worldwide. Tesla founder Elon Musk was a key reason for the success of dog-themed meme coins after he tweeted about his interest and support of Dogecoin in 2021.
Starting as a meme coin, Floki Inu regards itself as a "movement" rather than a meme coin. The team intends to create a vast and robust community and expand its digital asset in the NFT market. Floki Vikings, the Floki Inu community members, have been ranked in the list of Top 10 social media engagement leaderboards by LunarCrush several times.
Despite pessimistic projections, more than 400,000 people have invested in the Floki Inu coin, and its market capitalization has passed $1 billion.
The Story Behind Elon Musk's Tweets in Crypto World

Elon Musk's tweets have been significantly affecting the crypto market, and he has a history of shifting stocks and cryptocurrencies.
As Dan Lane, an analyst at British trading app Freetrade has remarked, "There's an odd irony to Elon Musk's ability to move the market." Vincent Flood, the presenter of the "VideoWeek" podcast, talked about Musk's tweets having "devastating consequences for retail investors whilst he and his friends enrich themselves at the expense of the little guy."
Ever since Musk started tweeting about cryptocurrencies, specifically Bitcoin, the cryptocurrency market often saw certain coins or stocks plummeting or skyrocketing, depending on the mood of Musk's tweets. At one point, Bitcoin's price reached almost 70,000 US dollars, an all-time high for the cryptocurrency. At another time, Bitcoin's price fell after Elon Musk posted a Tweet suggesting he's fallen out of love with Bitcoin. He tweeted a meme about a couple breaking up over the male partner quoting Linkin Park lyrics, adding the hashtag #Bitcoin and a broken heart emoji.
Musk initially invested about 1.5 billion dollars in Bitcoin; however, last year, he sold 75 percent of it for about two billion dollars.
Other cases include Musk's Tweet about how he was holding no Shiba Inu Coin, as a result of which, Shiba plummeted nearly 7%. The Tweeter community interpreted Elon Musk getting a Shiba Inu to be "very bullish for #Dogecoin."
Due to another Musk Tweet, which, at first glance, seemed a joke, Dogecoin increased in value by 50 percent in the crypto market. At first glance, the Tweet with the picture of Floki, Musk's dog, displays just a cute dog, but crypto enthusiasts saw a message in it, and the Shiba price skyrocketed.
At the same time, Musk announced that Tesla would stop accepting Bitcoin as a payment method due to concerns over its energy usage, resulting in Bitcoin losing its value and shaking off the entire crypto market in a single day.
As we can see, Musk's dog plays a huge role in all these Tweets, and the influence wasn't limited to only Shiba and Dogecoin.
Floki Inu Unique Features

The Floki Inu (FLOKI) token was launched in July 2021 as both an ERC-20 token on the Ethereum blockchain and a BEP-20 token on the Binance Smart Chain.
Floki Inu has real-world utility through its three projects, including:
Floki Inu NFT Gaming Metaverse
Valhalla is an NFT gaming metaverse based on a play-to-earn mechanism. The game gives out rewards for battling, trading, or holding onto the assets obtained in its metaverse. It also offers various features such as a gardening system for players to grow their crops, battling and capturing creatures called Vera, etc., which later can be sold as NFTs.
According to Grayscale, revenue from virtual gaming worlds alone could grow to $400 billion by 2025. Floki Inu has announced plans to step into the Metaverse with its play-to-earn game and useFloki Inu as the central currency in the game.
Floki University
Floki University is a learning platform for anyone interested in learning more about cryptocurrencies and blockchain technology, catering to users of all experience levels.
The University is FLOKI's attempt to boost crypto education while "creating awareness for the FLOKI token" while featuring plenty of memes.
Floki NFT Marketplace
The FlokiPlaces is an NFT and merchandise marketplace where Floki holders can sell NFTs earned in the Valhalla game. They can buy, sell, and trade NFTs and merchandise using crypto.
FLOKI will be the main currency of the FlokiPlaces marketplace.
Additionally, Floki Inu wants to bring the power of Decentralized Finance (DeFi) to give people financial freedom. To learn more about how DeFi can revolutionize the financial world, read our CoinStats guide, What Is DeFi.
Floki Inu (FLOKI) has also partnered with CryptoCart, letting Floki Inu (FLOKI) holders shop at over 1700 CryptoCart stores using FLOKI tokens.
To sum up, Floki Inu is a meme coin with utility, aiming to revolutionize the way people use cryptocurrencies.
Check the real-time Floki Inu Price, FLOKI Inu price chart, market capitalization, maximum supply, circulating supply, 24-hour trading volume, total supply,etc., on CoinStats, one of the best crypto platforms around.
Floki Inu Markets
Although Floki Inu is a relatively new coin, it has become one of the most popular cryptocurrencies worldwide. Floki Inu is listed on several centralized and decentralized cryptocurrency exchanges, including BitMart, HuobiGlobal, Mexc, PanCakeSwapV2, etc. Moreover, Pancakeswap is the first decentralized exchange to list Floki Inu, withother cryptocurrency exchanges joining the list shortly.
To find a way to buy Floki Inu, visit the market page on CoinStats to view the crypto markets supporting Floki. Compare the cryptocurrency exchanges' security, user experience, fee structure, supported crypto assets, etc., to choose a crypto exchange with the characteristics you need, such as affordable transaction fees, an intuitive platform, round-the-clock customer service, etc. Also, consider whether the cryptocurrency exchange allows you to buy crypto with your preferred fiat currency, using a debit card, bank transfer, etc., and is regulated by the Financial Industry Regulatory Authority (FINRA).
How to Buy Floki Inu on Coinbase?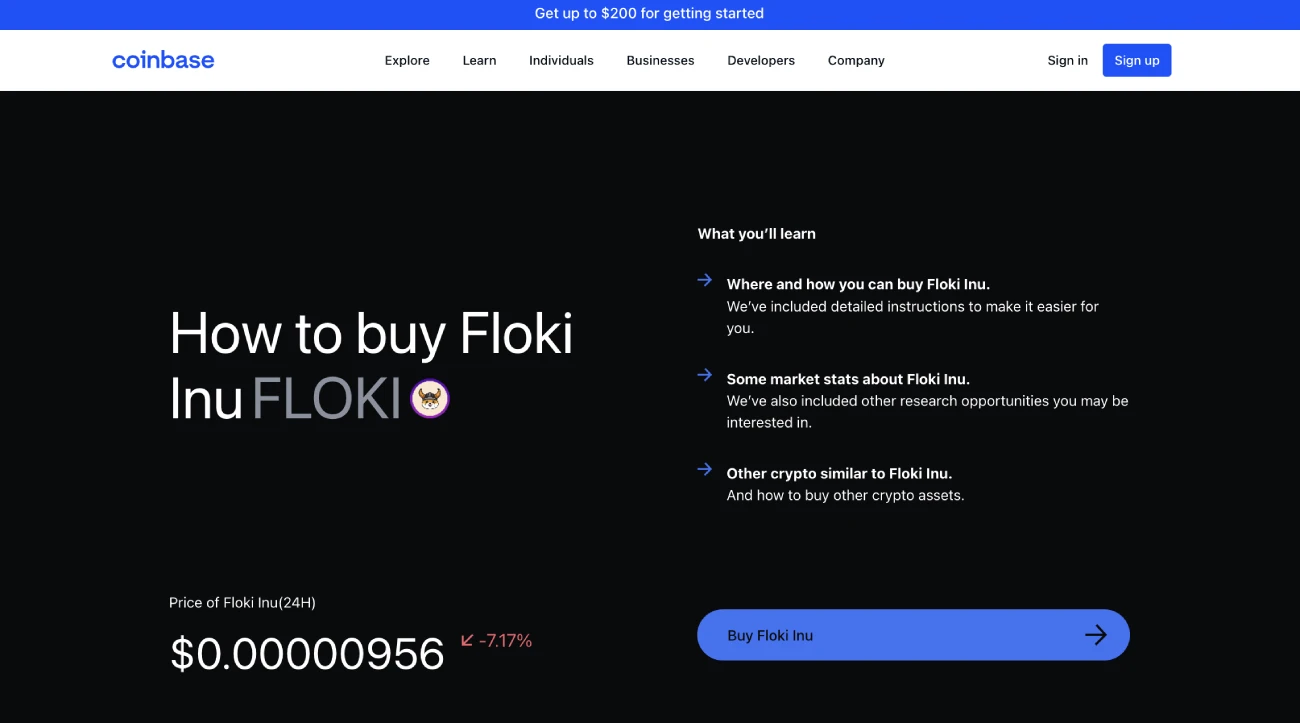 Floki Inu can only be purchased with other cryptocurrencies on decentralized cryptocurrency exchanges. To purchase Floki Inu on Coinbase, you must first purchase Ethereum (ETH) and then use ETH to buy Floki Inu. In so doing, you need a self-custody crypto wallet, such as the Coinbase Wallet.
1. Download Coinbase Wallet
To purchase Floki Inu, you need to download Coinbase Wallet here. Coinbase Wallet is available as a mobile app and browser extension. You can
2. Select a Coinbase Wallet Username
When setting up your Coinbase wallet, you must choose a username, which lets other Coinbase Wallet users easily send you cryptocurrency. You'll need it to access your account.
3. Securely Store Your Recovery Phrase
When creating a new self-custody wallet, you'll be given a recovery phrase consisting of 12 random words. The recovery phrase is the key to your crypto assets, i.e., anyone with your recovery phrase will have access to your cryptocurrency. Do not share your recovery phrase with anyone.
We strongly recommend writing it down on paper and storing it securely, also using the Coinbase Wallet's cloud backup feature.
Remember: Do not share your recovery phrase with anyone! Coinbase is not responsible for the security of your recovery phrase and will never ask you for it, and if you lose it, Coinbase won't be able to help you regain access to your wallet.
4. Plan for Ethereum Network Fees

Ethereum network fees, known as gas fees, depending on the network load, the transaction's complexity, and the desired completion speed. Ensure to set aside some funds in advance to pay for fees. Read more about Ethereum network fees here.
5. Buy and Transfer ETH to Coinbase Wallet
If you don't have a Coinbase account, you must create one to buy Ethereum (ETH). Learn more about how to create a Coinbase account and buy Ethereum (ETH) here. See how to transfer ETH to Coinbase Wallet using the mobile app or the Chrome extension here .
6. Use ETH to Buy Floki Inu in the Trade Tab
If you're using Coinbase Wallet on your mobile phone, you can purchase Floki Inu directly from the app. On Coinbase Wallet App, click on Coinbase icon.
Then click on the "Trade" tab, where you can swap ETH for any ERC-20 token. Click "choose coin" and select Floki Inu. Enter the amount of ETH you want to exchange for Floki Inu. Remember to leave funds for the transaction fees. Confirm your purchase and follow the on-screen instructions to finalize.
Storing Your Floki Inu
Now that you know how to buy Floki Inu on centralized and decentralized crypto exchanges, the next step is to store your Floki Inu and other crypto assets securely. While most exchanges have mechanisms to protect users from cyber attacks, etc., there are still some dangers to storing your crypto assets on the exchange platforms. It's always a great idea to store your crypto assets in crypto wallets under your control.
A crypto wallet can be of two kinds: a software wallet and a hardware wallet.
Software Wallets
If you're looking to trade Floki regularly, software or hot wallets provided by your selected crypto exchange will suit you. The strength of software wallets lies in their flexibility and ease of use. A software wallet is the most easy-to-set-up crypto wallet and lets you easily interact with several decentralized finance (DeFi) applications. However, these wallets are vulnerable to security leaks because they're hosted online. So, if you want to keep your private keys in a software wallet, conduct due diligence before choosing one to avoid security issues. We recommend a platform that offers 2-factor authentication as an extra layer of security.
One of the best software wallets you can use to store Floki Inu is the CoinStats Wallet. Other examples of software wallets include MetaMask Wallet, Coinbase Wallet, Trust Wallet, and Edge Wallet, amongst others.
Hardware Wallets
Hardware or cold wallets are usually considered the safest way to store your cryptocurrencies as they offer offline storage, thereby significantly reducing the risks of a hack. They are secured by a pin and will erase all information after many failed attempts, preventing physical theft. Hardware wallets also let you sign and confirm transactions on the blockchain, giving you an extra layer of protection against cyber attacks. These are more suitable for experienced users who own large amounts of tokens.
Ledger hardware wallets are arguably the most secure hardware wallets letting you securely manage your digital assets. The Nano X is designed for advanced users and offers more storage space and advanced features than Ledger Nano S, designed for crypto beginners.
A hardware wallet is more expensive than a hot wallet, with prices ranging between $50 – $200.
Examples of cold wallets are Trezor Model T, Ledger Nano X, CoolWallet Pro, KeepKey, Ellipal Titan, and SafePal S1, amongst others.
Track Floki Tokens
The crypto market is volatile, and managing your portfolio could get tricky if you hold multiple assets. Utilizing a portfolio tracker will help you keep track of your Floki tokens and all your crypto investments from one platform at all times. CoinStats offers one of the best crypto portfolio tracker in the market; learn what other crypto portfolio trackers are out there.
You can also monitor the profit, loss, and liquidity of Floki Inu across several exchanges on CoinStats.
CoinStats supports over 250 cryptocurrency exchanges and over 7,000 cryptocurrencies. It offers charting tools, analytical data, advanced search features, and up-to-date news. Here you have the opportunity to connect an unlimited number of portfolios (wallets and exchanges), including:
Binance
MetaMask
Trust Wallet
Coinbase
Kraken
Kucoin
Bitstamp and 500 others.
To connect your portfolio to CoinStats:
Click Add Portfolio and Connect Wallet.
Click the wallet you want to connect to (e.g., MetaMask, Ethereum Wallet).
Input the wallet address and press Submit.
Floki Inu (FLOKI) Tokenomics
The Floki Inu (FLOKI) token reached its all-time high price of USD 0.0003311 on November 4, 2021, and since then, the price has been on a downward trend. However, this is not due to any flaws with the token or the ecosystem; instead, the whole crypto market has been in a bear trap for the past 6 months due to the uncertainty in the crypto markets as a result of certain global factors such as recession, wars, high inflation, Covid, etc.
Notably, Floki Inu experienced a significant bull run that started in September and lasted till the end of 2021. After trading at just $0.00003213 on the thirteenth of September, the Floki coin price soared to an all-time high of $0.0003437 by November 2021.
Overall, FLOKI Inu is currently up by 58.678 percent since its inception. However, the token has been massively down throughout 2022. With a market cap of $2.3 billion in November, Floki Inu's total market cap was just $128 million in May 2022.
Floki Inu's Price Forecast 2022-23
The Floki Inu is trading well below its November highs. Floki has lost more than 90% of its value since the price of $0.0003264 in November.
However, analysts predict a brief price expansion towards the end of the year. The crypto analysts predict an estimated price of $0.0000196 for Floki Inu by the end of the year. This would be an upwards movement of 30%.
While Floki inu price prediction cannot be 100 percent accurate since they're based on historical data, Floki Inu's expected price expansion is supported by their partnerships and promotion campaigns.
After forming a partnership with Cryptocart, a decentralized exchange for e-commerce, Floki Inu (FLOKI) holders can shop at over 1700 CryptoCart stores using FLOKI tokens. A similar endeavor is in the process with Curate (XCUR), where Floki Inu tokens will be used as a mode of payment.
In 2023, the token's value is predicted to reach $0.00006599. 
Floki Inu Price Forecast 2025
Will Floki Inu grow further by 2025? Since the token is less than a year old, assessing Floki on historical data won't provide satisfactory results. However, Floki Inu's future positions could depend upon their entry into the DeFi (Decentralized Finance) and Web 3.0 spaces.
Floki has integrated with Chainlink, a blockchain-based smart contract protocol, to supply DeFi access to all users. It has integrated two powerful DeFi brands by leveraging Chainlink:
Inversed Finance: Floki's inverse finance pool lets Floki Inu token holders access interest-earning and staking options.
BarnBridge Pool: Allowing users to hedge against inflation and volatility by locking in tokens on senior and junior pools. This, in turn, protects them against leveraged exposure and downward volatility.
In the future, Floki plans on introducing its own DeFi products as well. Such exposure within the DeFi sector will benefit the ecosystem's long-term growth.
DigitalCoinPrice predicts steady growth for Floki Inu from 2022 to 2025. The utmost price investors can expect Floki Inu to reach by 2025 is $0.0000312, mostly thanks to NFT platforms.
Conclusion
Floki Inu's future success is determined by the educational and NFT projects described in this article. Projects will succeed, and so will the Floki tokens.
However, as we can see, despite these predictions, just one Tweet from Musk can radically change the picture. So these predictions are relative, and token creators roll their days like the hero in the Ionescu story, "waiting for Musk's Tweets."
The Floki Inu price prediction is optimistic in the long run. However, users are advised not to take this content as investment advice or financial advice and to do their own research before investing in any cryptocurrency.