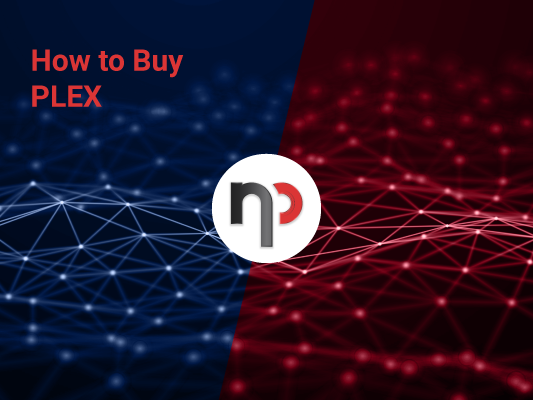 How to Buy PLEX | Where, How and Why
<! -- End of the Reviewed by section -->
MinePlex is a new generation mobile crypto bank with its own blockchain, liquid token, and mobile app. It successfully combines the traditional financial instruments, blockchain technology, and the capabilities of mobile applications to offer full-fledged banking services available 24/7.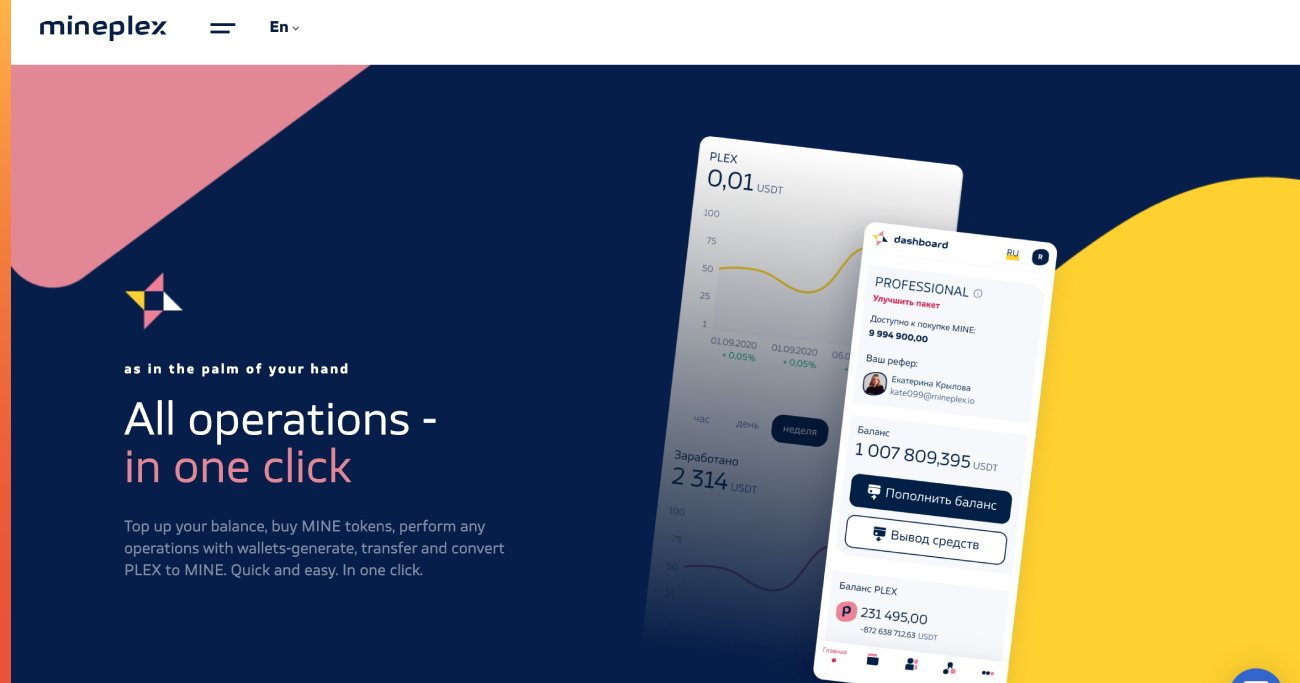 The MinePlex banking ecosystem offers fast payments at a low fee and services that allow the daily use of cryptocurrencies anywhere in the world. MinePlex services include a reliable and convenient mobile crypto bank available 24/7, with complete banking services, a crypto wallet, and crypto cards.
Read on to learn everything you need to know about the cryptobank MinePlex and the PLEX token, including where and how to purchase PLEX.
Let's get right to it!
Note that this content serves informational purposes only and should NOT be construed as financial advice, investment advice, or any other kind of advice.
Buying PLEX in 3 Quick Steps
Follow these quick steps to buy PLEX:
Make your first purchase of Bitcoin or Etherium at your chosen crypto exchange.
Transfer your newly purchased cryptocurrency to a specific exchange that supports PlexCoin currency.
Exchange Bitcoin or Etherium to PlexCoin.
Now, let's break the entire process down to a step-by-step guide below to help you buy the Plex token.
Step #1: Create an Exchange Account
You can open an account on one of the several mainstream exchanges, such as Crypto.com, Binance, Coinbase, etc., to start trading with digital assets. Let's see, for example, how to open a Coinbase account.
Sign Up to Coinbase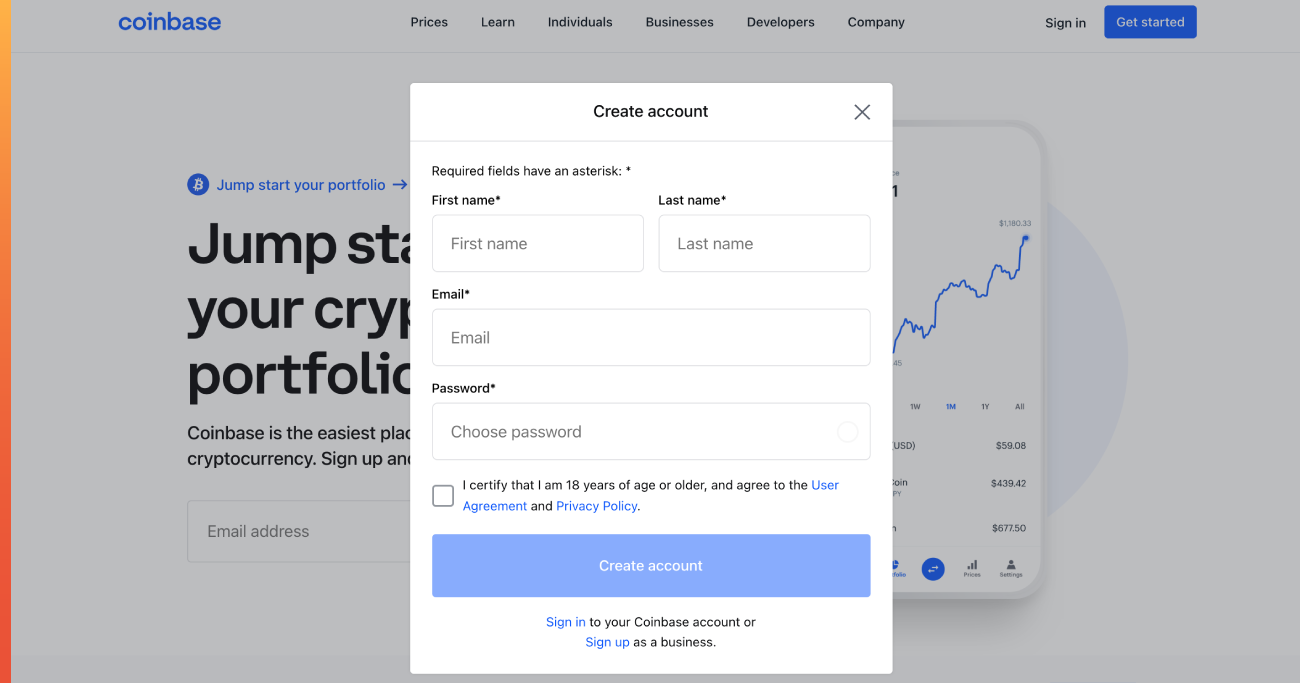 Registering a Coinbase account is a relatively straightforward process. You have the option to register as a business or an individual trader. If you choose to register as an individual, all you need to do is fill in your name, email address, choose a password, and confirm that you are 18 or older.
NOTE: It is essential to double-check the email address access, as you will have to confirm the registration. Moreover, providing you REAL NAME is in your best interest, as you might want to use two-factor authentication. Read on to find out more.
Allow Account Verification
Once you register a Coinbase account, you need to provide further details concerning your identity. For example, providing a valid mobile phone number will ensure you can use the benefits of two-factor authentication (2FA), making your account more secure.
The system will send you a text message any time there's any change in your Coinbase account.
Fill In Trading Details
To set up a trading account on any cryptocurrency exchange, including Coinbase, you must choose a payment method. Connecting your bank account to the exchange account is a viable option for making a wire transfer and depositing funds onto your account.
When you first open a Coinbase account, your wire transfers will be limited to $750 weekly.
NOTE: a bank transfer takes up to 4-5 business days to complete; while using a Credit Card, your fees might be higher, but the transaction will go through much faster.
Now you are one step closer to purchasing PLEX!
Step #2: Buy Bitcoin or Ethereum
Once your Coinbase account is set up and verified, you'll need to purchase leading cryptocurrencies like Bitcoin or Ethereum, which you will later exchange for PLEX tokens.
Go to the "Buy" page, choose the deposit source (for example, Credit Card) from the dropdown menu, and the deposit currency (for example, USD).
Now it's time to purchase Bitcoin or Ethereum! The menu will require you to choose the funding source and the amount of purchase. You can get a fraction of the BTC coin instead of the entire coin and complete the transaction.
MAKE SURE that you are getting your specific currency's wallet ID, as Bitcoins can only go into Bitcoin wallets, Ethereum can only go into Ethereum wallets.
NOTE: Double-check the amount you want to spend because undoing the damage might be impossible if you make a mistake.
Once you input the necessary details, the 2FA will require you to verify the transaction using your phone.
Step #3: Choose an Exchange That Accepts Plex and Make the Purchase
Now that you are the proud owner of some Bitcoin, it's time to take the next step and purchase PLEX. However, PLEX pairs are not available on Binance or Coinbase. That's why you'll need to register on an exchange that offers PLEX/BTC pairs.
Select a Crypto Exchange
Here are several crypto exchanges that support PLEX trading:
Select the one you prefer to start purchasing PLEX.
Register on the Exchange
While you can purchase PLEX on any of the exchanges listed above, for the sake of guiding you through the process, this time, we'll choose STEX as an example. According to CER.live, it's ranked #61 by security level.
STEX registration is very similar to the one on Coinbase described above. However, instead of connecting your exchange account to your bank accounts or credit card, you'll need to transfer the Bitcoin (BTC) you purchased on Coinbase to proceed with purchasing PLEX.
Step #4: Deposit Bitcoin on STEX
Once your desired amount of BTC is transferred to your STEX account, you're finally set to purchase the PLEX token.
Here's a step-by-step guide for trading MinePlex (PLEX)!
On the STEX website, click on the email address in the right upper corner.
Open the dropdown menu.
Click on "Profile."
Click on the search space and input BTC.
Then press "deposit" and paste the Deposit Address you copied from the Coinbase account.
Once you complete the actions above, it's time to transfer your Bitcoin:
Go back to Coinbase or Binance.
Click on the "wallet" button.
Go to "Deposit and Withdrawal."
Locate BTC in the list and click "withdraw."
Paste the STEX address onto the platform
Specify the amount you'd like to withdraw.
Confirm your decision by clicking "Submit."
The platform could request a 2FA before putting the transaction through.
After submitting, wait a few minutes.
You will receive a confirmation message on the phone and via email.
The process is quite simple, and most exchange websites are relatively intuitive and will guide you in the right direction.
Step #5: Purchase PLEX With Your BTC
Now you are finally ready to trade your BTC for PLEX. You have a choice between buying under the marker "Market" or "Limit." If you want to purchase MinePlex (PLEX) for its market price (current value on the market), click on "Market" and find the pair you want to trade (BTC/PLEX).
If you think the price will soon move in either direction, you can trade its limit price (short the asset or long it), and once the price hits your anticipated level, the transaction will go through. In detail, the limit price is a future prediction rather than a reflection of the real value. Shorting the asset means predicting a price decline, and longing means predicting an uptrend.
NOTE: We recommend conducting your own research before trading and being vigilant about the market climate and the asset's use cases.
Now you have purchased PLEX, and it's time to store the asset in a secure wallet. Keep in mind that CoinStats offers one of the most secure DeFi wallets on the market, which you can use to trade PLEX without transaction fees.
Step #6: Deposit the Purchased PLEX into a Secure Wallet
If you plan on holding your PLEX for extended periods, you should securely store it in a wallet. Some crypto exchanges offer their own crypto wallets, but a wallet proves to be a better option for many.
There are plenty of software wallets downloadable for free from the App Store or Google Play.
However, if you prefer a safer alternative, you need to purchase a cold wallet, also known as a hardware wallet. Hardware wallets store your private keys offline, thereby excluding the chances of a hack.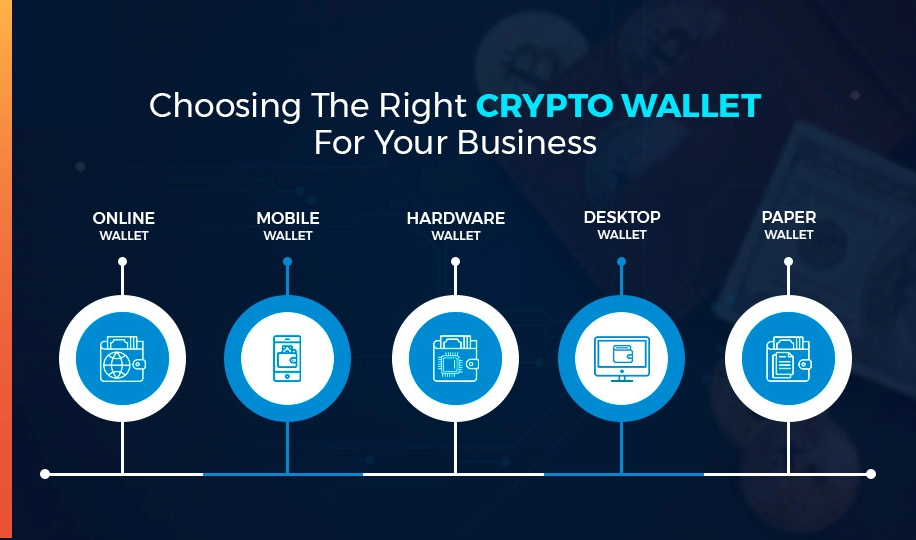 Now that you've chosen a wallet to store your PLEX, safely transfer digital assets into it, and you can consider yourself a proud MinePlex (PLEX) investor!
Now, let's discuss the MinePlex project and the issues it aims to solve.
What Is MinePlex, and How Does It Work
Blockchain technology provides a wide range of opportunities in many areas of life, including banking and shopping. It allows you to send interbank payments quicker, pay rent and utility bills, etc.
However, it's still not entirely accepted in the fiat economy. As a result, everyday consumers cannot spend their crypto savings with retailers or services, hurting both the consumer and the retailer.
The MinePlex team attempted to solve the issues mentioned above by developing processing solutions and providing basic banking services for the community. The company claims to be a new-generation mobile crypto bank that solves your banking needs right in the app.
The MinePlex team consists of more than 50 experts in various spheres of the financial and crypto industry, who create the company's products, develop processing solutions, and promote the project.
What Is PLEX Used For
MinePlex calls itself a CrossFi service that combines the best of both worlds: the liquidity and stability of the fiat market and the transparency of blockchain-based transactions. It's based on a Liquid Proof of Stake (LPoS) consensus mechanism.
The MinePLex network includes its own blockchain, a mobile crypto bank, contactless debit cards, a mobile app, an array of different wallets, and a P2P exchange.
The ecosystem has two main tokens: MINE and PLEX. MINE is used for internal transaction settlements, reward systems, and commission charging. MINE's USD value is fixed at 1 US dollar per token.

PLEX, on the other hand, is listed on several exchanges. Moreover, MINE ownership automatically grants PLEX mining rights. They are mined in the amount of 20% of the monthly deposit.
Frequently Asked Questions
Can I buy PLEX with cash?
The short answer is no. That's why we offered you the extra step of registering on an exchange like Coinbase or Binance, where you can purchase crypto with fiat money. Unfortunately, most of the exchanges featuring PLEX pairs support only crypto-to-crypto trading.
Can I use platforms other than Coinbase or Binance to buy the initial Bitcoin?
Yes, certainly. Various other exchanges offer fiat-to-crypto trading. As mentioned, we have chosen Coinbase as an example and a popular choice.
Can I purchase PLEX in Europe?
Yes, Europe is more lenient towards cryptocurrencies than the United States by and large. Additionally, online banks in Europe can facilitate the fiat-crypto trade and provide you with plenty of quick ways to make the initial crypto purchase.