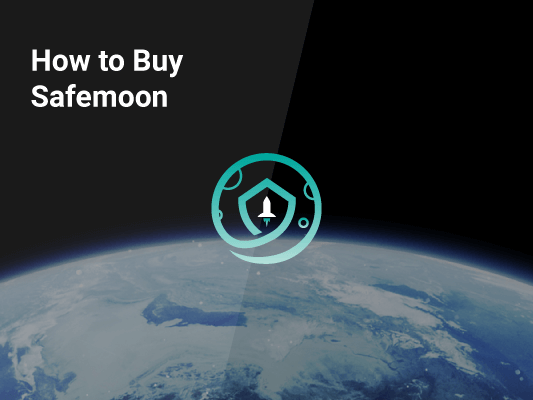 How to Buy SafeMoon | Where, How, and Why
<! -- End of the Reviewed by section -->
A lot of cryptocurrency investors are curious as to how to buy SafeMoon. With the recent spate of altcoins pouring into the crypto market, investors are spoilt for choice as it is. Recently, the high-profile endorsement of the crypto by Barstool Sports founder David Portnoy led to an unprecedented surge in the value of the cryptocurrency.
Having only launched in March 2021, the altcoin now has well over two million users and investors. With its growing popularity, questions now abound as to the nature of this new altcoin- where can one buy SafeMoon? How volatile is it? Is it advisable to buy SafeMoon? Since other altcoins are present in the blockchain industry, what is the logic behind the choice of SafeMoon over altcoins like Dogecoin, or even the industry standard, Bitcoin itself? Who is seriously buying SafeMoon at the moment? Where can one buy SafeMoon token? What is its value? And then, perhaps the most important question of all: is it a good investment?
Read on and discover the answers to these questions and some additional, juicy tidbits too!
What Is SafeMoon (History and Overview)
A lot of cryptocurrency investors ask this question often.
SafeMoon is an altcoin that launched in March 2021. Soon afterward, its popularity spread, with its value steadily gaining in value following endorsements from celebrities such as the aforementioned David Portnoy. Other celebrities like Lil' Yachty and Logan Paul subsequently influenced its popularity.
Since then, SafeMoon has been listed on multiple cryptocurrency exchanges, e.g., WhiteBit, HotBit, BitMart, ZBG, MXC, Burrency, and BitBns, since it was first listed on the PancakeSwap exchange on the 1st of March, 2021.
Despite SafeMoon's newness in the crypto market, it has appreciated greatly. Having begun trading at $0.000000001 per token, this value has more than quadrupled, reaching peaks of more than $0.000013.
SafeMoon is built on the Binance Smart Chain network, so it is subject to that system. It also has a rather large supply, with a low price. It was launched with 1000000000000000 tokens. Before its launch, however, 223 trillion tokens were burned by the developers.
What Is Unique About SafeMoon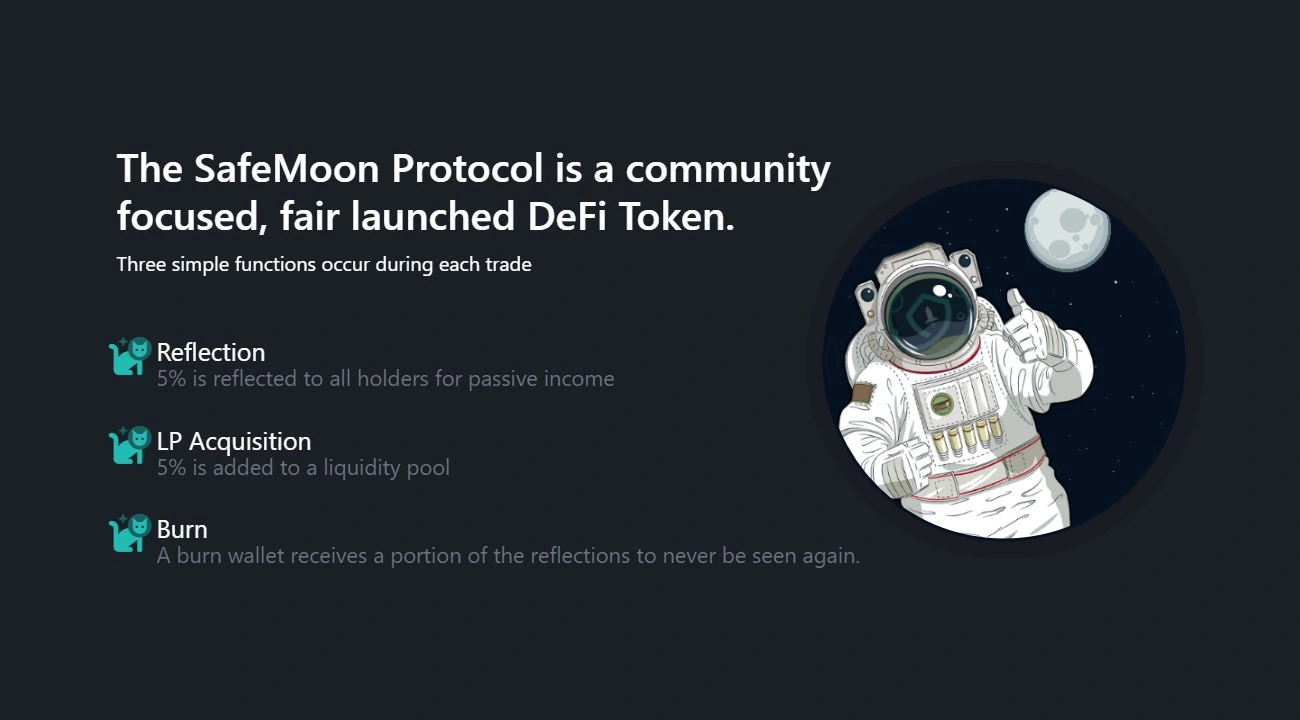 Out of all the cryptocurrencies and altcoins on the market, what makes SafeMoon unique? There are several altcoins out there, to be honest. All of which offer unique attributes that appeal to different categories of investors.
SafeMoon rewards its owners in the long term in a unique way. Investors who sell their SafeMoon token reserves have to pay a hefty exit fee of 10%. Half of this is then redistributed evenly among the remaining holders of SafeMoon. The other half is then burned. This burn strategy is highly rewarding to long-term investors and holders of the altcoin.
Over time, the developers of the altcoin will automatically see their holdings and stakes increase with the steady redistribution of the exit fee. On the other hand, the burn will ensure that the total amount of SafeMoon tokens in existence gradually decreases.
Purchasing SafeMoon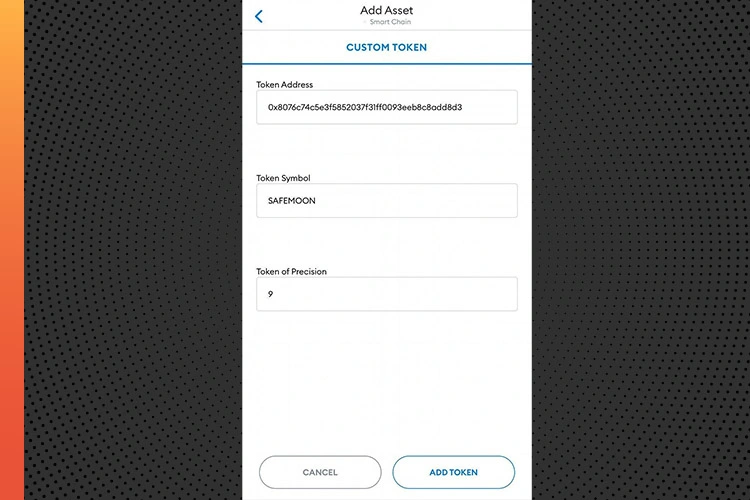 If you're seeking ways to buy SafeMoon, then you have come to the right place. There are many ways to buy SafeMoon. It is important to first create a crypto Wallet, however.
Any of the methods described below can be used. Read on:
How to Buy SafeMoon on CoinStats

Buying SafeMoon tokens on Coinstats is pretty easy.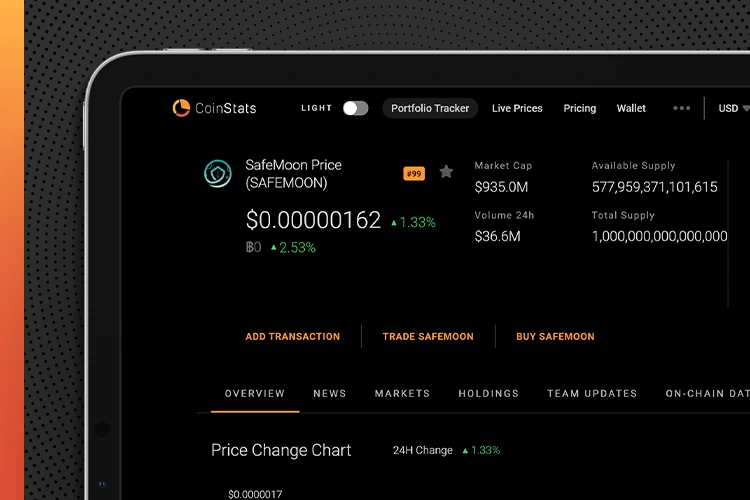 The first thing to do is to go to the Buy Crypto With Fiat section. You can use the search index to locate a token of your choosing.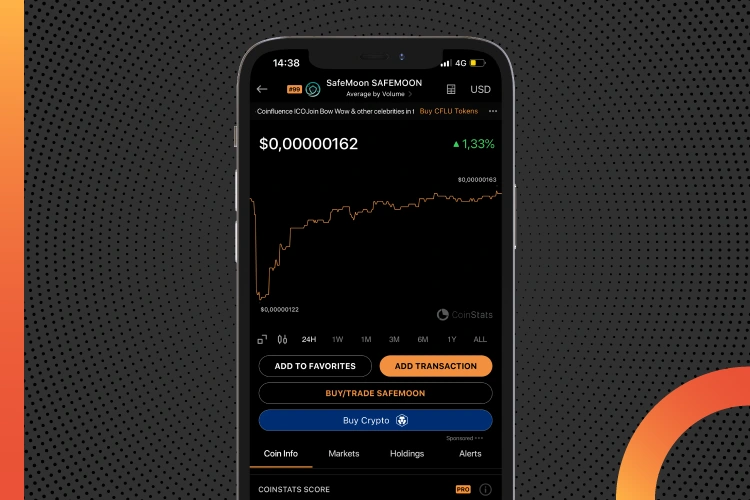 After finding the token, click on the name and go to Buy/Trade SafeMoon in the site dashboard (for mobile) or Buy SafeMoon (for web) option.
How to Buy SafeMoon Using Trust Wallet
Step #1: Wallet Creation
The first step is to download the Trust Wallet app to create your crypto Wallet. The app is available on the Google Play Store, the Apple Store, and PC/Windows. Care must be taken to keep your phrase completely secret. Sensitive as it is, it must be stored with the greatest discretion and secrecy. Then, you can copy the contract address that is highlighted below:
0x8076c74c5e3f5852037f31ff0093eeb8c8add8d3
Step #2: Add Safemoon to Trust Wallet
The next step is to click on the top-right-hand corner icon. Search for the term: SafeMoon and add it. If it is not present, you click on the option allowing you to add a custom token. Then click on Ethereum, switching it to the Smart Chain option.
You will then have to copy the above-highlighted contract address and paste it into the appropriate box (Contract Address). The name will be SafeMoon, with the symbol and decimal being SFM and 9, respectively. Finally, click on done to complete the addition of SafeMoon to your Wallet.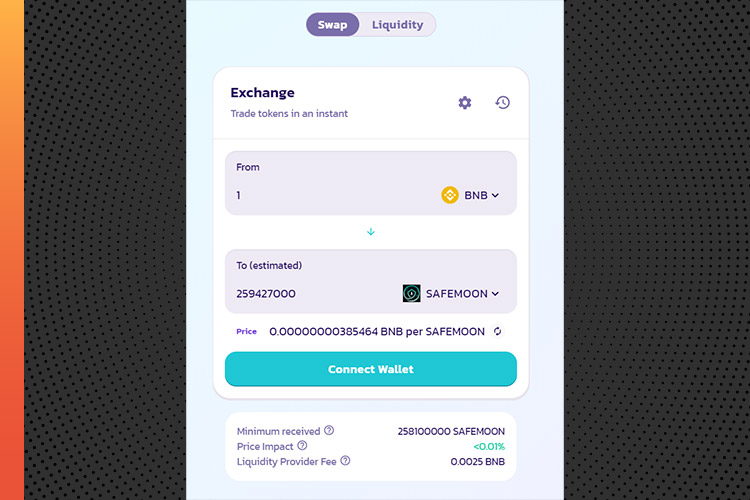 Step #3: Purchase the Binance Smart Chain (BSC)
While still in-app (Trust Wallet), click on Smart Chain, then click the top right corner on buy. You may also be required to do some additional KYC verification, so be ready with your various ID documents. Sometimes, your bank may deny you access if they do not allow international transactions. In that case, you will have to sort it out with them directly. After you make the purchase, a slight delay may persist in the processing of your transaction. Fret not, as it is completely normal.
Step #4: Initiate a BSC to SafeMoon Swap!
After the completion of your transaction (where you now have BSC in the Trust Wallet), navigate to DApps at the base of the screen, or navigate to your native device browser (for iPhones, open Safari) if you cannot see the browser button. You can then type in this URL trust://browser_enable, open the page and then navigate to PancakeSwap. You can then link it to your Trust Wallet. Scroll down to the Exchange section and ensure that the slippage is set to 12%. The default deadline has to be set to last 20 minutes.
After this, there is a need to set the BNB amount that you will be swapping for SafeMoon. Click on swap and wait for the transaction to process. Note that it will often take up to an hour if there is a lot of traffic.
How to Buy SafeMoon Using Other Crypto Wallets
The methods which you can use involve converting Binance smart chain to SafeMoon using a number of methods, some of which are discussed below:
Step #1: Create an Account on Binance
You will have to create a Binance account to enable you to make use of the decentralized exchange platform, i.e., PancakeSwap. Go ahead to purchase BNBs equivalent to the amount of SafeMoon tokens you want.
Step #2: Download Metamask
As you cannot use Pancakeswap without BSC-compatible software, you must ensure that Metamask is enabled to work on BSC before you proceed.
Step #3: Purchase a Hardware Wallet
This is actually optional. It should be noted that assets of the cryptographic nature are better stored in an exchange that is centralized. This is because software Wallets are susceptible to being hacked.
A hardware Wallet such as SadePal S1 is recommended. With a hardware wallet, all of your cryptocurrency assets can be safely stored offline.
Step #4: Purchase SafeMoon
After following the three steps highlighted above, you can then make your swap on PancakeSwap. PancakeSwap has low transaction fees compared to other decentralized exchanges on the Binance smart chain. In fact, chances are you'll only have to pay less than a dollar to process your transaction.
You should note that the slippage tolerance may require some adjusting if you want to process a trade. Slippage tolerance refers to the price elasticity of a cryptocurrency in relation to the time the trade was initiated or submitted and the time it was executed.
It is recommended that slippage tolerance with SafeMoon should be about 12%.
For better comprehension, here is a concise summary of how to buy SafeMoon:
Download and install a crypto Wallet, e.g. Trust Wallet (highly recommended)
Purchase BNBs
Visit a decentralised exchange, e.g. Pancake Swap
Enter the amount of BNBs equivalent to the amount of SafeMoon tokens that you want
Process your transaction.
How to See SafeMoon in Your Trust Wallet
If you have purchased some SafeMoons by following the steps listed above, but cannot see your SafeMoons, fear not.
All you have to do is adhere to the steps listed below:
Copy out the Contract Address of SafeMoon
0x8076c74c5e3f5852037f31ff0093eeb8c8add8d3
Go back to the main page of Trust Wallet, tap on the blue icon that is at the app's top-right corner. Then scroll down to the search bar.
Search for safe
Click on add custom token, switch the network to Smart Chain, and paste in the contract address.
Click on save. Now you can view your SafeMoon tokens!
Why Invest in SafeMoon
If you are a crypto investor looking for altcoins to invest in, it is important to get some financial advice before going ahead to invest. The price volatility can be a concern for some, while the straightforward process will appeal to others.
Summary
SafeMoon is a relatively new cryptocurrency that has a large supply. Its price is low, making it an attractive option for crypto investors. It has a 10% selling fee that encourages long-term participants and investment, as investors are discouraged from selling the currency. So far, over four hundred trillion SafeMoon tokens have been burned by the developers in a bid to increase their value. SafeMoon is based on the Binance Smart Chain and can be purchased using PancakeSwap to convert BNBs to SafeMoons.

If you want to invest in more coins go ahead check out our guides on "How to Buy UMA" and "How to Buy Bitcoin", before making the purchases.