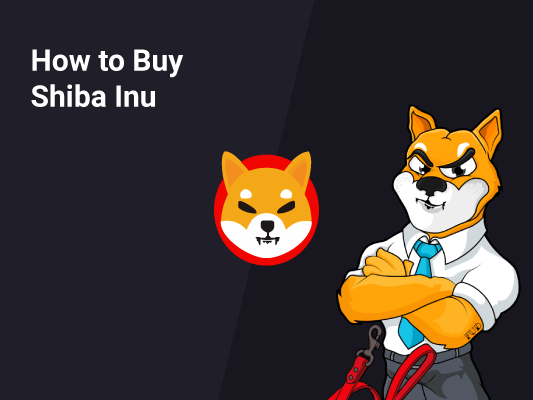 How to Buy Shiba Inu | Where, How and Why
<! -- End of the Reviewed by section -->
If you decided to dive into the sweet pool of meme-con rewards, but the swarming mass of different coins out there is too much to take, pace yourself and start with the obvious options. Consider the Shiba Inu coin, given its high yields throughout the year.
A completely secure and decentralized meme token, Shiba Inu SHIB was released on the Ethereum blockchain as an ERC-20 token. Shiba Inu (SHIB) combines all significant traits of Ethereum, Bitcoin, and Dogecoin. The rise of meme coins was mostly led by the incredibly popular Dogecoin (DOGE), and Shiba Inu was launched in August 2020 with a mission to be "the Dogecoin killer."
Since last year, the Shiba coin price has shown extensive growth, starting at $0.00000001. SHIB has been up more than 2 million percent since its inception. Several leading cryptocurrency exchanges announced the listing of a new SHIB token, and now it's trading on major exchanges like Binance, FTX, OKEx, and WazirX. Coinbase — one of the most popular cryptocurrency trading platforms — also now supports Shiba Inu.
The name of the digital coin relates to the mascot of a Japanese breed of dog called Shiba Inu and hence "SHIB." So, loyalty, an essential trait of the pet, comes tagged for all its investors. An Elon Musk tweet sparked the increase in Shiba Inu's price on October 4. The Tesla CEO posted the picture of his pet dog — a Shiba Inu breed — with the caption "Floki Frunkpuppy." SHIB jumped by more than 40% an hour after the tweet.
Another tweet by Elon Musk on October 18 has also sparked a rally for the Shina Inu token. An hour after the tweet, Shiba Inu saw a jump of 21%.
Read on to learn everything you need to know about Shiba Inu, including how to buy Shiba Inu coin or leash tokens, trade them, and much more.
Let's dive in!
Buying Shiba Inu in 4 Quick Steps
It's simple to buy Shib on several of the world's most popular cryptocurrency exchanges. The process for buying SHIB is similar to buying any other cryptocurrency listed on exchanges.
We distinguish between centralized and decentralized exchanges. eToro or Binance are among centralized exchanges, while Uniswap, SushiSwap, or Shibaswap are decentralized (DEX). From a user point of view, the difference is in the functionality, reputation, security, fees, and the availability of customer support.
Another way you can purchase Shiba is to use the Atomic Wallet app.
Consider that ShibaSwap has received an audit that revealed centralization risks where a developer had the authority to "withdraw all the ERC20 token boneToken to any arbitrary address" that they wished.
Additionally, exchanges differ in the number of trading pairs and tokens they offer. For example, SHIB tokens are available on many cryptocurrency exchanges, both centralized and decentralized.
Choose a cryptocurrency exchange that supports both fiat currency and digital coins to ease the process.
Follow these easy steps to start buying SHIB:
Step #1: Register and Create an Account
Registering on the exchange of your choice is easy enough. You will need to submit some personal information, for example, an email address, full name, etc.
Some crypto exchanges might require more detailed information through a KYC (know your customer) procedure. In this case, they will require identity verification through submitting a valid ID, photograph, and personal info, like address, phone number, etc., before you can start your crypto trading.
While a decentralized exchange might not bother with KYC, it's more common on regulated exchanges.
Step #2: Fund Your Account
Cryptocurrency exchanges will allow you to fund your account with fiat currencies such as EUR, USD to purchase Shiba Inu (SHIB). There are several ways to fund your account with fiat currency – from bank transfer to wire transfer and credit/debit card purchases. Check out the deposit methods for the exchange that you decide to use to buy SHIB.
Step #3: Buy SHIB
You will either be given an "instant buy" option or an exchange interface for trading currencies to buy Shiba. The instant buy option requires entering the transaction details, i.e., the amount of fiat currency and the currency you wish to purchase. The exchange interface gives you more control over orders and typically charges you less than the instant buy option.
Step #4: Choose a storage
Think about your future Shiba Inu coins in advance and prepare safe storage for them! The most convenient option is a SHIB wallet to give you more control over the assets you own.
Some platforms offer you a software wallet to store your Shiba Inu tokens. If not, don't despair. You can still use any free cryptocurrency wallet. Just download an app, and you're good to go. There's also a third option available. You can always store your precious Shiba Inu coins in a hardware wallet, which is very secure.
Since SHIB is an ERC20 token, it can be stored in any Ethereum wallet, such as MetaMask (browser wallet) or Trezor (hardware wallet).
Shiba Inu: Key Info to Know About the Token
History of Shiba Inu Coin
The meme-coin movement did start with the biggest Shiba Inu rival, Dogecoin, which was created in 2013 as a spoof on Bitcoin. However, things changed fast for the original meme coin, as it not only clawed its way up the ranks of cryptocurrencies (currently #9 by market cap) but also spawned a whole army of look-alikes, most of them inspired by the same Japanese dog breed – Shiba Inu.
The SHIB token was the most notable of the spinoff army. Created by an anonymous individual named Ryoshi, it was first listed on the biggest DEX Uniswap, and its starting value was virtually non-existent.
But while the biggest meme-coin proponent Elon Musk was preparing for his performance at SNL (Saturday Night Live) on May 8, the Shiba Inu community did some preparation too. They pumped the value over 300%.
When it comes to the total supply of Shiba Inu, Ryoshi locked 50% in Uniswap for liquidity purposes. At the same time, the other half was sent to Vitalik Buterin, the founder and CEO of Ethereum.
The latter claimed the Shiba Inu tokens were sent to him without his consent or knowledge, so he burnt most of it and donated the leftover to charities. The move tanked the SHIB price, but not for long.
Fast forward to the current state of affairs, Shiba Inu is gaining popularity. It has over 950,000 accounts, according to CoinMarketCap, and ranks #11 with a market cap worth of $30 billion as of publication. There are almost 400 trillion SHIB tokens in circulation, with a max supply of one quadrillion tokens.
Shiba Inu's website says that "SHIB is an experiment in decentralized spontaneous community building."
Shiba Inu Key Features
Shiba Inu coin is an ERC-20 token created on the Ethereum blockchain.
The maximum supply specified is one quadrillion.
The current circulating supply stands at 400 trillion.
The SHIB ecosystem has three tokens: SHIB, LEASH, and BONE.
SHIB is the ecosystem's fundamental currency; LEASH is the second token, with 107,646 tokens in circulation; and BONE is the third token, with a supply of 250,000,000 tokens.
The meme coin also features a DEX named ShibaSwap.
ShibaSwap has options for traders to "dig," i.e., provide liquidity, to "bury," or stake tokens, or to "fetch," meaning retrieve tokens from Uniswap or SushiSwap.
Shiba Inu Ecosystem
As mentioned above, the Shiba ecosystem consists of SHIB, LEASH, BONE tokens, and a decentralized exchange called ShibaSwap. SHIB is the central value token that fuels the ecosystem, and its contract number is 0x95ad61b0a150d79219dcf64e1e6cc01f0b64c4ce.
LEASH has utility in providing liquidity for ShibaSwap and connecting with BONE and SHIB. The low supply of LEASH tokens makes sure it can provide higher rewards for stakers. LEASH's contract number is 0x27c70cd1946795b66be9d954418546998b546634.
The BONE token gives users "full democratic power" in the community. BONE is a governance token and grants the holder the right to vote on all significant decisions in the Shiba Inu ecosystem. You can purchase BONE, but the ecosystem allows users to earn it by farming in ShibaSwap.
In hindsight, governance tokens are an essential part of the staking mechanism and support the assets' decentralized nature. Moreover, most rewards on ShibaSwap are given in BONE, and it was the last token to be released on the DEX. BONE's contract number is 0x9813037ee2218799597d83d4a5b6f3b6778218d9.
Staking on ShibaSwap
The question remains, how to practically earn rewards on ShibaSwap as a user? Simply follow these easy steps:
Go to the website and find the "BURY" tab in the right corner of the homepage; as the tab specifies, "Shibas love to bury what they find."
To stake tokens for rewards, connect your crypto wallet.
Click on BURY and choose the option to stake your tokens.
Choose the token you'd like to stake and click for approval.
Check out fees and choose the transaction speed, then approve the contract and start earning rewards.
Digging and Woofing Rewards
The process is quite similar to staking. Follow the website, which is quite intuitive, and after connecting your wallet, stake, dig and woof the returns. NOTE: check and double-check every transaction. When digging, check the pair you want to provide for liquidity.
Doggy DAO
Doggy DAO is the only part of the ecosystem that we haven't yet discussed. As SHIB was built on Ethereum, it often imitates certain traits of the leading DeFi platform. Doggy DAO (decentralized autonomous organization) is Shiba Inu's version of Ether DAO. It aims to make it easier for traders to invest in Shiba Inu anonymously, provide governance to BONE owners, and more.
Is Shiba Inu a Good Investment
Now that you know how to buy Shiba Inu, the question of whether you SHOULD buy it is still up for debate. Remember that cryptocurrency investment activities are subject to market risk. Each trader should do their own research and make an independent decision on any investment.
Shiba Inu stirred the crypto community, and it didn't rub everyone the right way. As a result, there is much hostility between SHIB supporters and the opposite camp, traders who deny it has any utility and fundamentals.
All that said, the Shiba Inu coin, like most of the alt coins, is highly volatile compared to mainstream cryptocurrencies like Bitcoin, Ethereum, or Binance coin. Moreover, it is susceptible to the hype created around it on social media. Most meme coins share this feature, as they are valuable for as long as enough people in the community find them valuable.
As a result, with the hype gone, so does the value. However, while meme coins might not be the number 1 choice for long-term investment, they are instrumental to boosting a portfolio, as the 2021 explosive uptrend showed.
Bear in mind both the advantages and disadvantages of each investment and make an informed decision!
This guide aims to provide an objective introductory guide for crypto investors new to the cryptocurrency space. This content and any information contained therein is being provided to you for informational purposes only, does not constitute a recommendation by CoinStats to buy, sell, or hold any security, financial product, or instrument referenced in the content, and does not constitute investment advice, financial advice, trading advice, or any other sort of advice.
Frequently Asked Questions
Will Shiba Inu Ever Hit 1 Cent
The prospect of Shiba Inu hitting one cent is rather unlikely, given the vast supply of the coin. Shiba Inu's market capitalization would overshadow all the cryptocurrencies combined if it ever came close to 1 cent.
Is Shiba Inu a Scam
It's not likely. Shiba Inu SHIB has been around long enough to pile on billions to its market cap. Scam tokens are typically short-lived, and the culprits take off as soon as they collect enough funds from "naive" investors.
Should I Invest in Shiba Inu
Unfortunately, there is no one answer for everyone. DYOR (do your own research) is the best advice in this case, as knowing what you are investing in is vital. Some traders favor Shiba Inu for its high rewards.
After all, the Shiba Inu coin gained over 650% quarter-to-date and a whopping 27 million percent year-to-date, helping early investors win tremendously. However, some experts believe that even if there are rallies ahead for Shiba Inu, they won't be as massive anymore.
So the decision remains yours. Do the research. Hopefully, this guide will help you make the right decision.
Conclusion
This guide was designed to provide you with enough information to make an informed decision on your future investment. Should Shiba Inu have a spot in your portfolio? We hope you have made up your mind by now.
Now you are all set to buy Shiba Inu coin on an exchange that best suits your purposes.