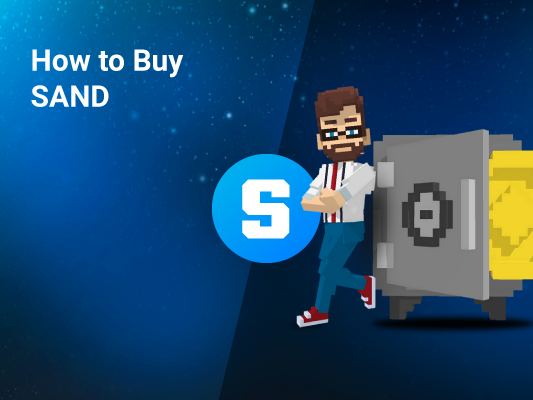 How to Buy Sandbox (SAND)
<! -- End of the Reviewed by section -->
SAND is the native token created by the publisher of The Sandbox, a play-to-earn blockchain game similar to the DeFi version of Minecraft and Roblox. SAND allows players to build a virtual world using non-fungible tokens (NFTs) on the Ethereum blockchain. Players can create their own NFTs to access the different games and hubs on The Sandbox metaverse.
Read on for our deep dive into the Sandbox Virtual World, the Sandbox SAND tokens, and learn how the world works and how to buy the Sandbox crypto.
1. Sign Up for a CoinStats Account
Sign up for a CoinStats account if you don't already have one, and verify your identity. Connect your digital wallet that supports Ethereum-based tokens, such as MetaMask or MyEtherWallet, to your CoinStats account.
2. Navigate to the CoinStats Swap
Navigate to the CoinStats Swap platform. After successfully linking your wallet, choose the token to swap by providing the data in either cryptocurrencies or USD/EUR.
3. Swap Sandbox
For example, we are swapping ETH for SAND. In the "From" field select the ETH token from your wallet, and in the "To" field, select "SAND."
Click on Advanced Options to change the slippage. When you're finished customizing, scroll down to the bottom of your screen and tap the "Submit Swap" button.
Confirm
After you submit your swap request, you'll be prompted to confirm it. To begin the swap, follow the instructions on the screen, review the information, and click "Confirm."
NOTE: You will be charged Network Transaction fees also known as gas fees. This refers to the charge necessary to complete a transaction on the blockchain. In essence, gas fees are paid in the network's native currency, i.e. ETH for the Ethereum network. CoinStats charges a small swap fee in addition to the gas fees.
Once the transaction is completed, your SAND will be credited to your digital wallet, and you can track your SAND holdings in your CoinStats account.
If you don't have any crypto yet, don't fret! You can buy any large-cap cryll be paid automatically via smart contracts.
Other Ways to Buy SAND
Step #1: Select a Crypto Exchange
Sandbox's SAND tokens are available on a growing number of cryptocurrency exchanges, including:
Visit the market page on CoinStats to view the exchange platforms supporting SAND. Compare the exchanges' security, user experience, fee structure, supported crypto assets, etc., to choose the one with the features you need, such as affordable transaction fees, top-notch security, high trading volume, an intuitive platform, round-the-clock customer service, etc. Also, consider whether the cryptocurrency exchange is regulated by the Financial Industry Regulatory Authority (FINRA) and allows you to buy crypto using your preferred payment method.
To trade cryptocurrencies, you must use a centralized or decentralized crypto exchange, so let's look into the details of each type below.
Centralized Exchange
A centralized crypto exchange or CEX, such as Coinbase, eToro, Binance, etc., functions as a middleman between buyers and sellers and charges specific fees for using their services. Most crypto transactions are conducted on centralized exchanges, allowing users to buy and sell cryptocurrencies for fiat currencies such as the US dollar or digital assets like BTC and ETH. Centralized exchanges require their users to follow KYC (know your customer) and AML (anti-money laundering) rules by providing some information and personal identification documents. However, the drawback of trading on a CEX is that it's highly vulnerable to hacking or cybersecurity threats.
Decentralized Exchange
On the other hand, a decentralized exchange (DEX), like Uniswap, SushiSwap, Shibaswap, etc., is a non-centralized alternative to a centralized exchange and isn't governed by any central authority. Instead, it operates over blockchain and charges no fee except for the gas fee applicable on a particular blockchain, i.e., on the Ethereum blockchain. Decentralized exchanges use smart contracts to let people trade crypto assets without needing regulatory authority. They deploy an automated market maker to remove any intermediaries and give users complete control over their funds. This method is safer since no security breach is possible. However, decentralized exchanges are less user-friendly in terms of interface and currency conversion. For instance, they don't always allow users to trade crypto with fiat currency; users have to either already own crypto or use a centralized exchange to get crypto. Another drawback of decentralized exchanges is that it has failed to achieve liquidity levels comparable to centralized exchanges. It also takes longer to find someone looking to trade with you as DEX engages in peer-to-peer trade, and if liquidity is low, you may have to accept concessions on price and quickly sell or buy low-volume crypto.
You can list anything on a DEX, which means you have access to new, in-demand assets while also taking on more risk.
Step #2: Create an Account
After you've chosen a cryptocurrency exchange that suits your investment needs, you must register with the exchange using a valid email or mobile number. A link will be sent to your address, and you must click it to verify your account. Once the account is activated, you must create an elaborate password, and you're good to go.
Some exchanges have strict KYC and AML requirements, and in order to get verified, you must provide personal information such as:
Full name
Residential address
Date of Birth
ID Document.
In some cases, you might also need to upload a selfie or undergo video verification to finalize the verification process.
Once your identity verification is complete, it's recommended to activate two-factor authentication (2FA) for an extra layer of security.
Step #3: Deposit Funds
The next step is to deposit funds into your account. Many crypto exchanges support fiat currencies like USD, EUR, etc. Simply select your preferred deposit method, such as a bank transfer, wire transfer, credit or debit cards, e-wallets, PayPal, etc., and the currency you wish to deposit. Tap on "Deposit Funds," enter the amount you want to deposit and click "Deposit."
Some deposit methods are extremely fast, while others, depending on the amount, require a confirmation from authorities. Remember to evaluate the fees of different deposit methods since some have larger fees than others.
Linking your debit card to your crypto account is advantageous as it lets you make instant or recurring purchases, but be aware that it attracts an additional fee.
It's usually free to make a bank transfer from your local bank accounts, but you should still double-check with your exchange.
SAND can be traded for another cryptocurrency or a stablecoin; the trading pairs vary between exchanges. So, you must search for SAND on the spot market to select a pair from the list of available trading pairs.
Step #4: Buy SAND
Follow the steps below to place a market order to buy SAND instantly at the current market price:
Click the search bar, enter SAND, and select "Buy SAND" or the equivalent.
Select a trading pair you wish to buy SAND against
Choose the payment method, the currency you wish to use, and input the amount of SAND or the fiat amount to be spent. Most exchanges will automatically convert the amount to show you how many SAND tokens you'll get.
Double-check the transaction details and click "Confirm."
The SAND tokens will be displayed in your balance once the transaction is processed.
You can also place a limit order indicating that you want to buy SAND at or below a specific price point. Your broker will ask you the number of coins you wish to acquire and the maximum price you're ready to pay for each once you've placed an order. The coins will only appear in your wallet if your broker fulfills your order at or below your requested pricing. The broker may cancel your order at the end of the day or leave it open if the price increases over your limit.
If you're planning to keep your newly purchased coins for an extended period, we highly recommend securely storing them in a hardware wallet.
To trade SAND on spot markets, go to the Trade page and search for the SAND pairs (SAND/USD or SAND/USDT). Select the trading pair and check the price chart. Click "Buy SAND," select the "Market," enter your amount or choose what portion of your deposit you'd like to spend by clicking on the percentage buttons. Confirm and click "Buy SAND."
Congratulations on adding SAND tokens to your crypto portfolio!
What You Need to Know About SAND?
The Sandbox (SAND) is a gaming platform and a virtual world built on the Ethereum blockchain that allows players to monetize their gaming experiences. Players create blockchain-based assets in the form of NFTs and use them to build unique gaming universes utilizing various features such as water, dirt, people, technology, etc. These items may be collected, traded on the internal market, swapped with other players, and used to entice others to play the game you've established on your property. Sandbox, in other words, provides a decentralized and straightforward platform to users to create rich voxel worlds and gaming experiences and also safely store, trade, and monetize the produced material. Sandbox has taken the gaming industry by storm, with more than 40 million downloads worldwide. It was initially launched in 2011 by Pixowl. In 2020, the co-founders Arthur Madrid and Sebastien Borget released the new Sandbox project, a 3D metaverse on the blockchain, to let users truly own their creations as NFTs and earn rewards while participating in the Sandbox ecosystem.
Where and How to Use SAND?
SAND serves as the medium of exchange in the Sandbox ecosystem and is essential for any purchases on the Sandbox marketplace.
The following items can be purchased with SAND:
LAND
ASSETs
gems and boosters
Avatar settings
What Is LAND
On The Sandbox platform, LAND is a virtual land or a piece of real estate. It's a one-of-a-kind ERC-721 token on the Ethereum blockchain. The Sandbox contains more than 160K LANDs, available for purchase using SAND and ether (ETH) via public LAND sales.
Players may monetize their game experience using LAND, i.e., charge other players who visit their LAND or play their games, receive SAND rewards by hosting content and events, and sell or rent their personalized LAND. Players may purchase LANDS and use the Game Maker tool to create their own versions of games utilizing ASSETS. They can also combine many LANDS to create an ESTATE.
What Are ASSETs
ASSETs are NFTs created by the user, i.e., voxel assets developed with VoxEdit and submitted to The Sandbox Marketplace, where they turn into NFTs and become available for purchase.
ASSETs can be used in various ways during the game, i.e., to customize the avatar's appearance by attaching clothing or weapons, etc. There are physical assets, such as a structure, a moving animal, or an automobile, and environmental assets.
ASSETs may be used to create one-of-a-kind gaming experiences for individuals who develop their games using the Game Maker.
SAND holders can participate in the governance of the Sandbox platform. To post their voxel works on The Sandbox and earn money, voxel artists will need SAND tokens. SAND is also used in staking. Users obtain high-level gems and game boosters in exchange for their participation.
Some of the games on the Sandbox platform are free (F2P). Game creators reserve the right to charge players a modest number of SAND tokens for every game at their discretion. By participating in games, players have the chance to gain SAND.
Depending on your needs, you can also use SAND to employ game designers and artists to work on projects or develop ASSETS for your project.
Some game developers may give away SAND as a reward for participating in contests hosted on their LAND.
Conclusion
The Sandbox is a compensation game that integrates blockchain technology, DeFi, and NFTs into a 3D metaverse. Its virtual world allows gamers to use free creative tools to develop and modify their games and digital materials. The content created by users can also be monetized as NFTs and sold on The Sandbox Marketplace for SAND tokens or used to enhance their gaming experience.
SAND tokens are required to purchase and sell non-fungible tokens (NFTs), such as LAND and ASSETs, on The Sandbox marketplace. SAND is also essential to engage in metaverse management.
There are various methods for obtaining SAND. The method you select should be based on the findings of your research. Before buying SAND, you should also consider your investment skills and goals, payment methods, types of wallets, accounts, etc.
This content should not be interpreted as investment advice. Cryptocurrency is a volatile market, do your independent research and only invest what you can afford to lose.