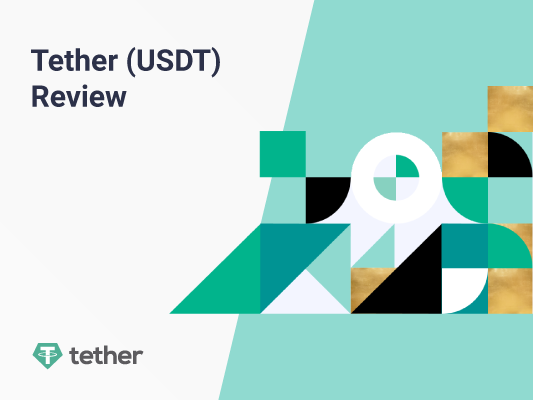 How to Buy Tether (USDT)
<! -- End of the Reviewed by section -->
Did you know that you can buy USDT directly on CoinStats? It's super quick and secure and allows you to buy crypto with your credit card right where you track and manage it. Here's how you can buy USDT on CoinStats on the web and mobile in a few simple steps. 
Head over to the CoinStats homepage
Navigate to the Cryptocurrencies tab in the menu bar above and pick your desired cryptocurrency
Click Buy Crypto
Select a portfolio or add a wallet address where the funds will be deposited
Choose MoonPay as the provider
Add the credentials of your payment method
Complete the payment
What Is Tether (USDT)?
Tether is a fiat-collateralized stablecoin, which means it is backed by a fiat currency such as the US dollar (USD), Canadian dollar (CAD), Australian dollar (AUD), or even Yen (JPY). Tether was developed to bridge the gap between fiat currencies and blockchain assets, while also providing USDT users with transparency, stability, and low cost. Tether is 1:1 tied to the US dollar. Tether Ltd. offers no guarantees regarding the ability to redeem or exchange Tether for USD. USDT cannot be exchanged for USD directly via Tether Ltd.
Tether operates on the Omni Layer, which is a platform built on top of the Bitcoin blockchain. This allows for fast and secure transfer of Tether between different addresses. Tether is also issued on other blockchains such as Ethereum, EOS, TRON, etc.
Tether (USDT) is a stablecoin that actively strives to preserve its value through market mechanisms. It's utilized by investors who wish to protect themselves from the inherent volatility of their cryptocurrency investments while still retaining value in the crypto market and is available to use.
How Does Tether Work?
Tether is a stablecoin, pegged to a fiat currency, in this case, the U.S. dollar (hence the acronym USDT). It was created to bridge the gap between fiat currencies and crypto assets while offering transparency, stability, and low fees for USDT users.
When someone wants to purchase Tether, they can do so by depositing US dollars into a Tether-enabled wallet or exchange. Tether Limited, the issuing company of Tether, will then mint new Tethers and send them to the buyer's wallet or exchange account. These newly minted Tethers are then backed by the corresponding US dollars that were deposited. This process is called "issuance."
When someone wants to redeem their Tethers for US dollars, they can do so by sending their Tethers to a Tether-enabled wallet or exchange. The Tether Limited will then burn the Tethers and send the corresponding US dollars to the redeemer's bank account. This process is called "redemption."
Tether operates on the Omni Layer, which is a platform built on top of the Bitcoin blockchain. This allows for fast and secure transfer of Tether between different addresses. Tether is also issued on other blockchains such as Ethereum, EOS, TRON, etc. This allows for the token to be easily transferred between different platforms and exchanges.
Tether uses Proof Of Reserves, which means that at any time, their reserves will be equal to or greater than the number of Tether in circulation. This can be verified via their website.
What Makes Tether Unique?
There are several stablecoins available, with many of them tethered to the US dollar. Although it technically provides the same service as its competitors, the popularity of Tether (and one of its primary competitors, USD Coin (CRYPTO: USDC)) distinguishes it.
Tether has the highest market capitalization of any stablecoin. It also has a substantially higher daily trading volume. Tether, in fact, has the biggest 24-hour trading volume of any cryptocurrency, and so plays a significant role in the digital token ecosystem.
The following are the most common uses for stablecoins like Tether:
Digitally transferring funds to a recipient across the globe
Transferring funds from one cryptocurrency exchange to another
Earn higher interest rates by lending out your stablecoins (some lending services offer more than 10%)
Storing funds on an exchange so that they can be used to rapidly swap for other cryptocurrencies.
Because of its popularity and significant trading volume, Tether is more user-friendly than other stablecoins. For example, whether you want to buy, sell, or trade Tether, most of the biggest crypto applications support it and given the trading activity, you should have no difficulty using your Tether.
Where to Buy Tether?
As the third-largest cryptocurrency by market cap ($68.6B) and the most popular stablecoin, Tether (USDT) is available on virtually all major exchange platforms.
Let's look into some of the top exchanges to buy Tether.
Binance 
Binance is the world's largest crypto exchange in terms of the trading volume. Its ease of use, lower fees compared to other exchanges, vibrant Peer-to-Peer (P2P) platform, and high liquidity make Binance popular amongst traders and investors. The platform allows you to trade over 600 cryptocurrencies, including USDT. If you're interested in purchasing Tether on Binance, you must register a Binance account first, deposit funds, and purchase the token.
Note: Tether is a stablecoin, i.e., its value is pegged to the U.S. dollar, so its price remains $1 at all times.
Coinbase
Coinbase is the largest exchange in the US, with over 98 million verified users in over 100 countries and approximately $256 billion in assets. Coinbase allows you to trade more than 130 types of cryptocurrency. The exchange is user-friendly, has professional customer support, and is one of the most secure cryptocurrency exchange platforms. Moreover, Coinbase has the distinguished honor of being the only major exchange platform to have never suffered a hack.
Coinbase transaction fees may be a bit of a hassle, but the platform makes it easy to purchase USDT. All you have to do is set up a trading account, submit the necessary identification documents for verification, and fund your account to purchase the token.
CoinStats
CoinStats is a leading crypto portfolio tracker that enables you to keep track of all your crypto investments from one platform at all times. It offers transaction analytics, charting tools, instant notifications, advanced search features, up-to-date news, an educational blog, and fast trading. CoinStats supports over 250 cryptocurrency exchanges and over 7,000 cryptocurrencies.
Here you can connect an unlimited number of wallets and exchanges within minutes for a  seamless purchase of cryptocurrencies, including Tether.  You can also monitor the profit, loss, and liquidity of Tether across several exchanges on CoinStats. Simply connect your crypto wallet to the platform or create a new CoinStats wallet to make an instant purchase of USDT.
How to Buy Tether (USDT) With Cash?
Some major crypto exchange platforms, including CoinStats, offer the option of purchasing USDT with fiat currency. All you have to do is deposit fiat into your wallet and make a swap.
Depending on the broker you choose, you must complete two-factor authentication to access this feature.
Why You Should Buy Tether?
The main reason to buy Tether is that it's a stablecoin that's not susceptible to volatility compared to other cryptocurrencies like Ethereum and Bitcoin. For additional information, you can visit the official website of the Tether platform.
Conclusion
The USDT token currently ranks 4th by market cap in the crypto market. It doesn't suffer from the extreme volatility of Bitcoin and other altcoins, making it a suitable choice for investment. Buying USDT is also quite easy, as many platforms support it. If you own USDT, make sure to track it in real time along with all your other crypto and DeFi assets on CoinStats.
We hope you enjoyed reading our article and found the information we've provided helpful. You might also enjoy other articles on cryptocurrencies and blockchain technology regularly posted on our blog. Check them out!
Investment Advice Disclaimer
The information contained on this website is provided to you solely for informational purposes and does not constitute a recommendation by CoinStats to buy, sell, or hold any securities, financial product, or instrument mentioned in the content. This guide is not an endorsement of cryptocurrency or any specific provider, service, or offer, nor does it constitute investment advice, financial advice, trading advice, or any other type of advice.
Cryptocurrency is a highly volatile market and is sensitive to secondary activity. You should be aware that you may lose a significant portion of your portfolio, so it is important to perform due diligence, obtain your own advice, and only invest what you can afford to lose. There are significant risks involved in trading CFDs, stocks, and cryptocurrencies. Between 74-89% of retail investor accounts lose money when trading CFDs. Performance is unpredictable, and past performance is no guarantee of future performance. You should consider your own circumstances and obtain your own advice before making any investment. You should also verify the nature of any product or service (including its legal status and relevant regulatory requirements) and consult the relevant regulators' websites before making any decision.