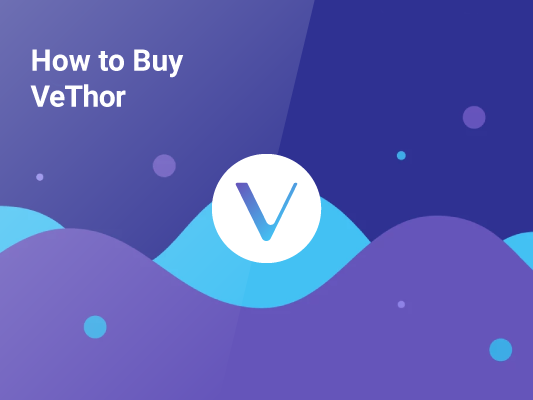 How to Buy VTHO (VeThor) | Where, How and Why
<! -- End of the Reviewed by section -->
If you're wondering how to buy VTHO, this comprehensive guide is a good place to start.
The VeChain Thor network is a Blockchain-as-a-Service platform that aims to make data actionable transparent and facilitate services for enterprise users that employ smart chips. The network is an intermediary for implementing NFC chips, QR codes, and RFID trackers for the enterprise Internet of Things on the blockchain.
The VeChain Thor blockchain is a dual-token system with VeChain Token (VET) and VeChainThor Energy (VTHO) tokens. VeThor Token (VTHO) plays an integral role in the functionality of the network and is used to power smart contract transactions.
Read on for our guide on the VeChain Thor network and the VeThor Token (VTHO) and learn how to buy VTHO in a few simple steps.
Let's dive right in!
VeChain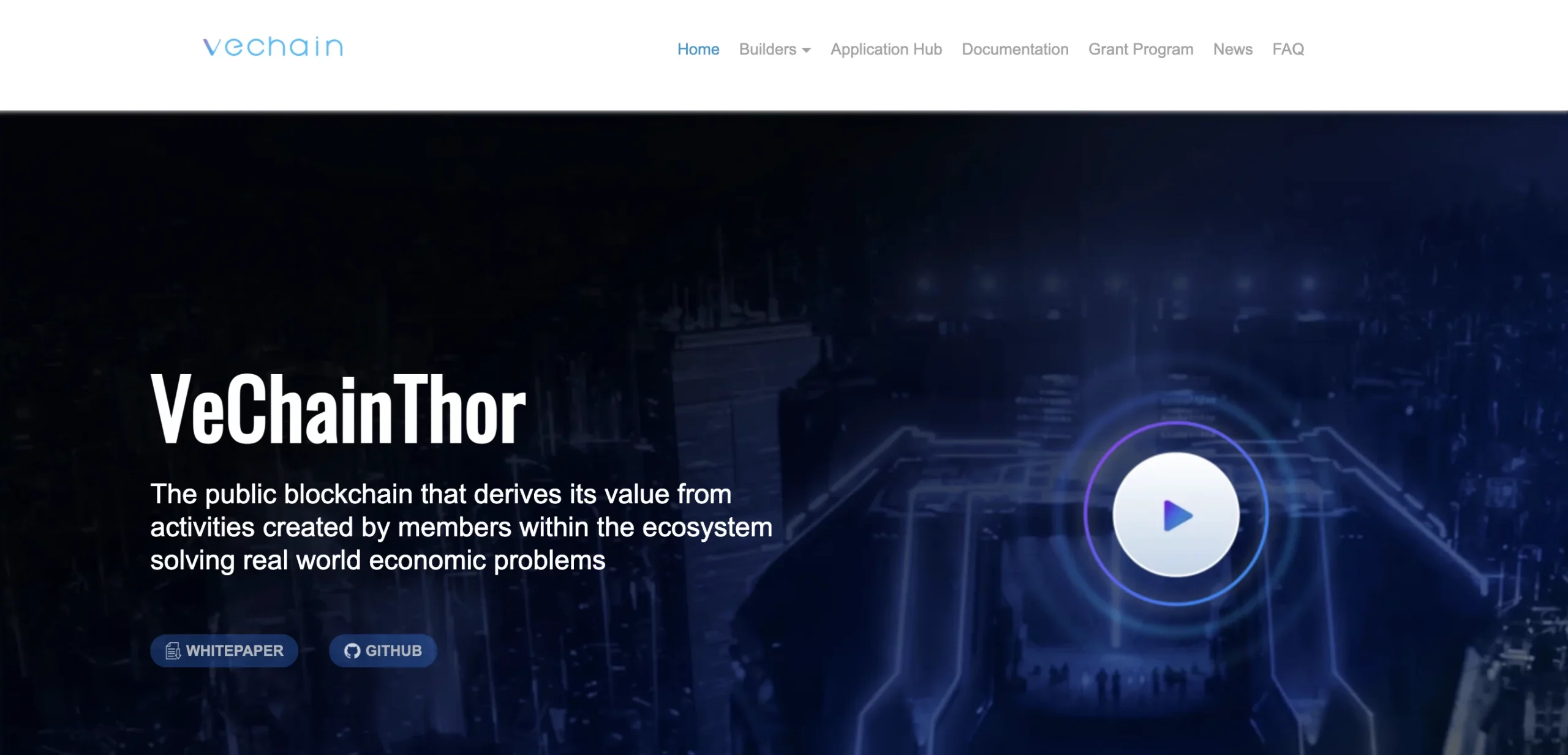 According to VeChain's white paper, it aims "to build a trust-free and distributed business ecosystem platform to enable transparent information flow, efficient collaboration, and high-speed value transfers" (Our VIsion: Whitepaper).
VeChain is a blockchain technology platform founded in 2015, designed to enhance business processes and supply chain management. Its objective is to streamline these processes and information flow for complex supply chains through (DLT) distributed ledger technology.
VeChain has two tokens: VET and VTHO. VET is the VeChain token used in transactions on dApps occurring on VeChain's blockchain.
The VTHO token, also known as VeThor Energy, is used to power transactions on VeChain and is equal to the cost of conducting transactions on its blockchain. This concept is similar to Ethereum's ether in that developers budget for a specific amount of underlying tokens (which are not exposed to the public) to conduct transactions for their decentralized applications.
In its present form, Ethereum doesn't have such a model because the price of ether, its native gas token, is extremely volatile. Developers have to estimate the amount of ether required to process a transaction, and if their estimate turns out to be incorrect, the transaction fails. VeChain's white paper outlines several technical improvements that its platform has made to solve this problem. For example, the VET blockchain allows (PoW) Proof of Work to be conducted for each transaction. This means that users conducting transactions can mine more VTHO if their original estimate is proven wrong.
Several industries worldwide have implemented VeChain to find that it has boosted their performance more than ever. Healthcare, carbon emission tracking, food safety, anti-counterfeiting, etc., use the VeChain platform to track quality, authenticity, storage temperature, transportation medium. The VeChain platform uses smart chips that broadcast key information onto the blockchain network that can be later tracked on the VeChainThor blockchain.
Vethor Token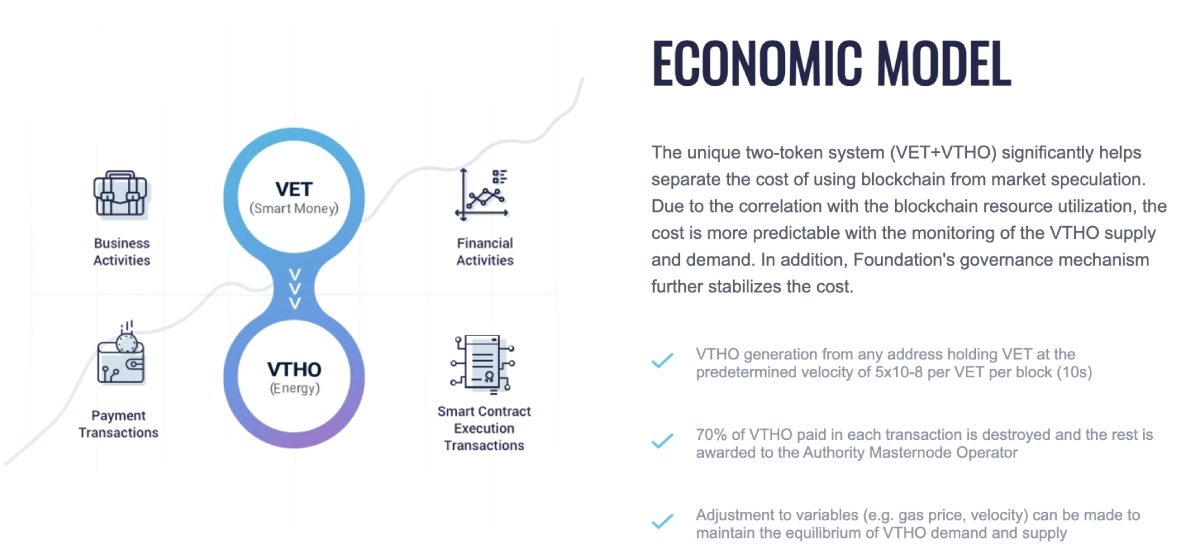 The VeChain platform consists of two tokens: VeChain Token (VET) and VeChainThor Energy (VTHO).
VET is the VeChain token used to transfer value or "smart money" from smart contracts. In other words, any transaction occurring on decentralized applications on VeChain's blockchain uses VET, and it's available for the general public to invest in it.
The VTHO token, also known as VeThor Energy or VeChainThor Energy, powers transactions on VeChain and amounts to the cost of performing a transaction on its blockchain.
The two tokens differ in their usage, even though they are used on the same platform. The more VET a user acquires, the higher preference he gets.
Conversely, the VTHO token is the primary payment method in the VeChain ecosystem, and it also represents the gas currency of the network. VTHO is required for every transaction made on the network, while it's also used for sending data to smart contracts. All transactions and smart contract operations are executed through the use of VeThor Token. In some way, the more VET tokens a user has, the more VTHO tokens he receives. VTHO is generated by holding VET, so you can earn VTHO by holding a VET balance.
As in cryptocurrencies like Bitcoin, VET transfers and stores value, while VTHO is considered an energy token.
VeThor Price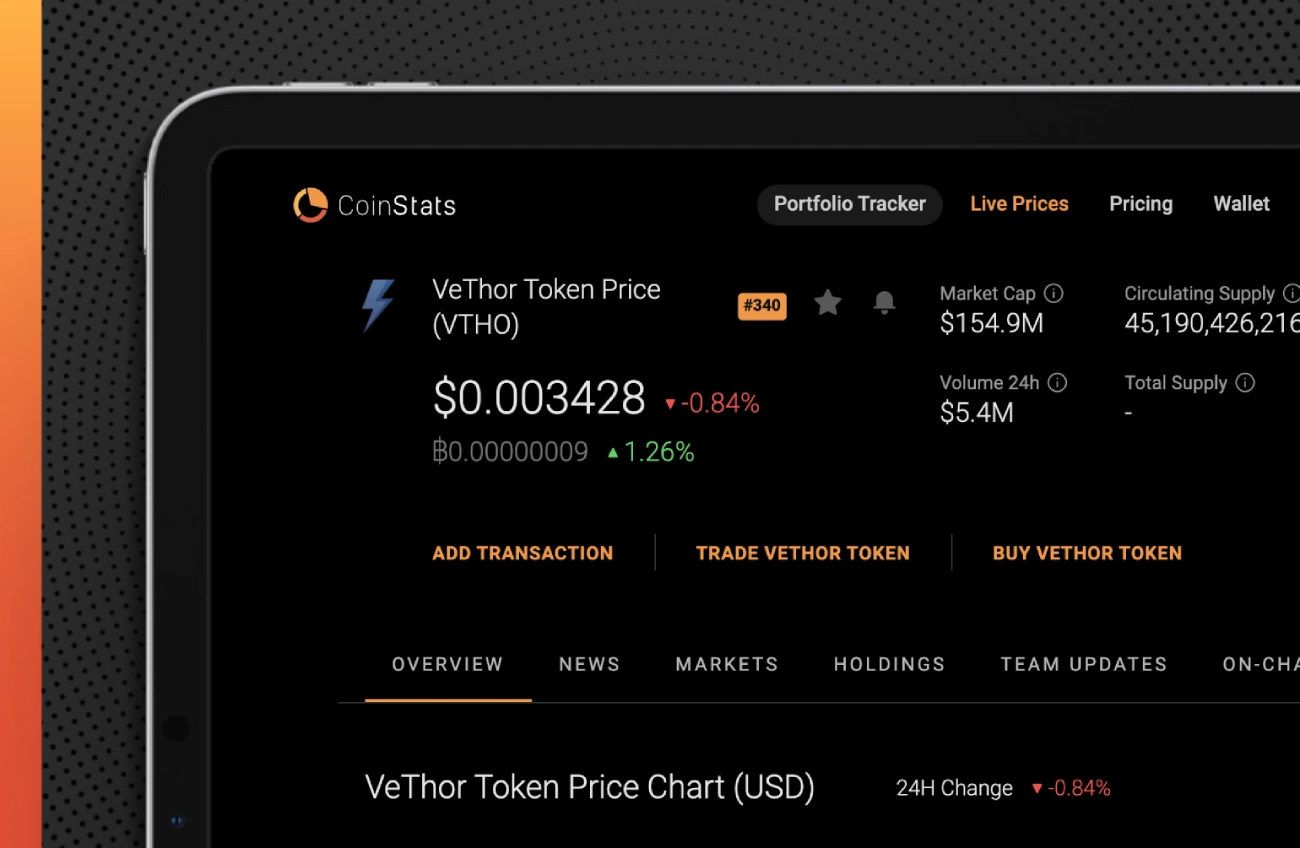 The tokens vary in price. Typically, one can have VTHO if he possesses VET, but an investor doesn't need VET to collect VTHO. The two tokens don't depend on each other, and that's another fact to consider. The user index impacts VET price as the token is required to conduct a transaction. Users can purchase the VeThor token for computational power. The amount of transactions occurring on the blockchain per active trading hours is the only thing that affects the price of VTHO.
Currently ranking at #340 on CoinStats, the VTHO token has a circulating supply of 45,190,426,216 VTHO coins. The live market cap is $154.9M, and the max supply is currently unavailable. You can check the VeThor current price, market cap, circulating supply, trading volume, historical statistics, etc., along with in-depth information on several of the biggest and fastest-growing cryptocurrencies on CoinStats, one of the best crypto platforms around.
How to Buy VeThor Token
Some cryptocurrencies are difficult to obtain, and the VeThor token is one of them. There are several ways to purchase the VeThor token.
Follow our step-by-step guide to start purchasing VeThor tokens right away!
Step #1: Find the Best Exchange for VTHO
VTHO is available on several cryptocurrency exchanges. You need to compare them to find one with the features you want, such as low fees, a user-friendly platform, or 24-hour customer support. You should also compare the security, reputation, deposit methods, supported fiat currencies of the platforms to choose the one that best suits your needs.
If you don't already own ETH, you'll need to purchase it through exchanges that accept bank transfers, debit, or credit cards. There is also the option of using BTC instead of ETH.
Here are some exchanges that trade the VeThor Token:
Binance
Binance is one of the largest exchanges by volume. Some of the benefits of purchasing the VeThor token (VTHO) on Binance are low exchange fees and increased liquidity enabling you to sell and buy digital assets quickly to take advantage of market opportunities.
Although US users are prohibited from purchasing VeThor token on this platform, it's best suited to Canada, Australia, the UK, Singapore, and international users.
Gate.io
Gate.io was established in 2013 and has grown into a major trading platform. Although it's not the most popular cryptocurrency platform, it provides beginners with a straightforward interface while maintaining advanced charts for various skill levels- including advanced traders.
Often the first to add new tokens, Gate.io boasts many altcoins, including VeThor (VTHO).
US residents, excluding New York and Washington state, can buy VeThor (VTHO) on this exchange.
Crypto.com
Founded in 2016, Crypto.com is a cryptocurrency exchange aiming to accelerate the world's transition to cryptocurrency. Crypto.com offers the option to purchase VTHO, but US residents are restricted from trading here.
Step #2: Create an Account
After choosing a reliable exchange, the next step is creating your account on the platform. The requirements differ depending on the platform and your choice of crypto.
Most exchanges will require personal information such as your full name, email address, home address, and a copy of your passport or government-issued ID. You need to provide this information to get verified and start trading.
Step #3: Fund Your Account
After verifying your account, you need to fund your account to buy the VeThor token and other cryptocurrencies. You can choose a payment method, i.e., bank transfer, credit or debit card, or deposit crypto from a crypto wallet to purchase VTHO. The payment method you choose to buy the VeThor token will depend on the platform, your location, and preference.
Step #4: Buy VeThor Token
After creating an account on your preferred cryptocurrency exchange and funding your account, you can now purchase VeThor token.
Bitcoin and Ethereum are the two widely accepted cryptocurrencies, making it easier for you to trade the VeThor Token.
On an exchange like Binance, there are two ways of buying VTHO – placing a limit order or a market buy. A limit order lets you fix the price you want to purchase VTHO for, while a market buy automatically fills your order at the best price available.
It may be helpful to use the percentage buttons below the input box – for example, selecting to exchange %50 of your Bitcoin for VTHO. Once you're happy with the amount, press the green button marked "buy VTHO" to complete your order. How much VTHO you buy depends on your investment strategy and personal finances.
You can also buy VTHO through CoinStats by clicking the "buy" button, redirecting you to supported exchanges for your purchase.
VeThor Token Wallet
You need to get a crypto wallet to store VeThor token and other digital assets. Several software wallets are available for free download from the App Store or Google Play. Consider the advantages of the CoinStats Wallet, which lets you buy or track your crypto from a single place. Although software wallets offer substantial protection, they're still vulnerable because they offer online storage.
A hardware wallet is a safer alternative. It's a secure form of storing your private keys offline, thereby reducing the chances of a hack. Remember that recovering your funds might be impossible if you lose your private key.
The official VeThor token wallet is a light mobile wallet for storing VTHO. It allows users to add hardware and desktop wallets to the app through the "observe wallet" feature.
Final Thoughts
VeThor token is an indispensable part of the VeChain Thor network that allows users to diversify their experience on the VeChain blockchain. As the network develops, VTHO is gaining more relevancy as a valuable asset in the crypto market and a crucial element in the VeChain Thor ecosystem. VTHO is required to cover the cost of using the network, while not a single operation on the blockchain can be performed without the VeThor Token.
The crypto market is complex, speculative, and involves significant risks. The performance of any crypto is unpredictable due to market volatility, and past performance is no guarantee to future performance.
You can also check out CoinStats blog for the VTHO current price and other articles, including on how to buy Dai and many other cryptocurrencies.