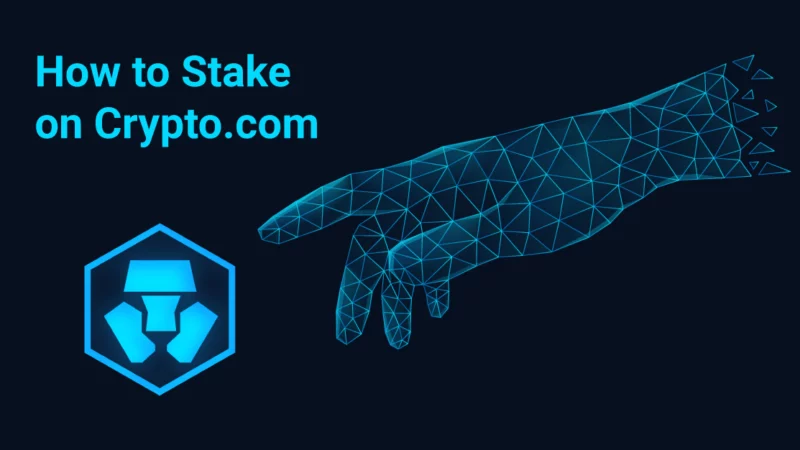 How to Stake on Crypto.com [The Ultimate Guide 2023]
Crypto.com is a leading crypto exchange with around $800 million daily transaction volume. Crypto.com Earn is a cryptocurrency staking solution in which users can simply stake cryptocurrency or make use of CRO, Crypto.com's native token, to enjoy generous CRO staking benefits.
In this guide, we'll look into Crypto.com Earn, the CRO staking mechanisms, and learn how to stake on Crypto.com to earn staking rewards.
What Is Crypto Staking
Staking is a popular way to generate passive income with your crypto assets if you plan to hold them for a specific period. It involves locking up your digital assets in your personal cryptocurrency wallet for a specific period to contribute to the performance and safety of the blockchain network and earn rewards on your staked tokens. Crypto staking also provides benefits such as voting rights to participate in the decision-making of the blockchain/exchange.
Cryptocurrencies are built on blockchains and use consensus mechanisms to process transactions. However, users can only stake crypto on PoS blockchains, using the Proof-of-Stake (PoS) consensus mechanism to validate transactions. You can stake assets in a PoS blockchain for an agreed-upon period to earn staking rewards and participate in validation, i.e., verify transactions as needed. When staking crypto on the blockchain, you verify transactions as a liquidity provider or a node and earn on-chain staking rewards in return.
Participants staking their crypto in a PoS blockchain for an agreed-upon 'staking period' to provide value to the network and earn interest in return are called validators. PoS involves allocating responsibility in maintaining the public ledger to validator nodes in proportion to the number of tokens they hold. Anyone holding a required number of coins can participate in validation, i.e., verify transactions and earn staking rewards.
A Proof-of-Stake blockchain is less power-consuming and, therefore, solves scalability issues faced by a Proof-of-Work (PoW) blockchain.
However, you can also stake through a third party or exchange, like Crypto.com's staking service, Crypto Earn, if you don't want to run a validator node to earn staking rewards.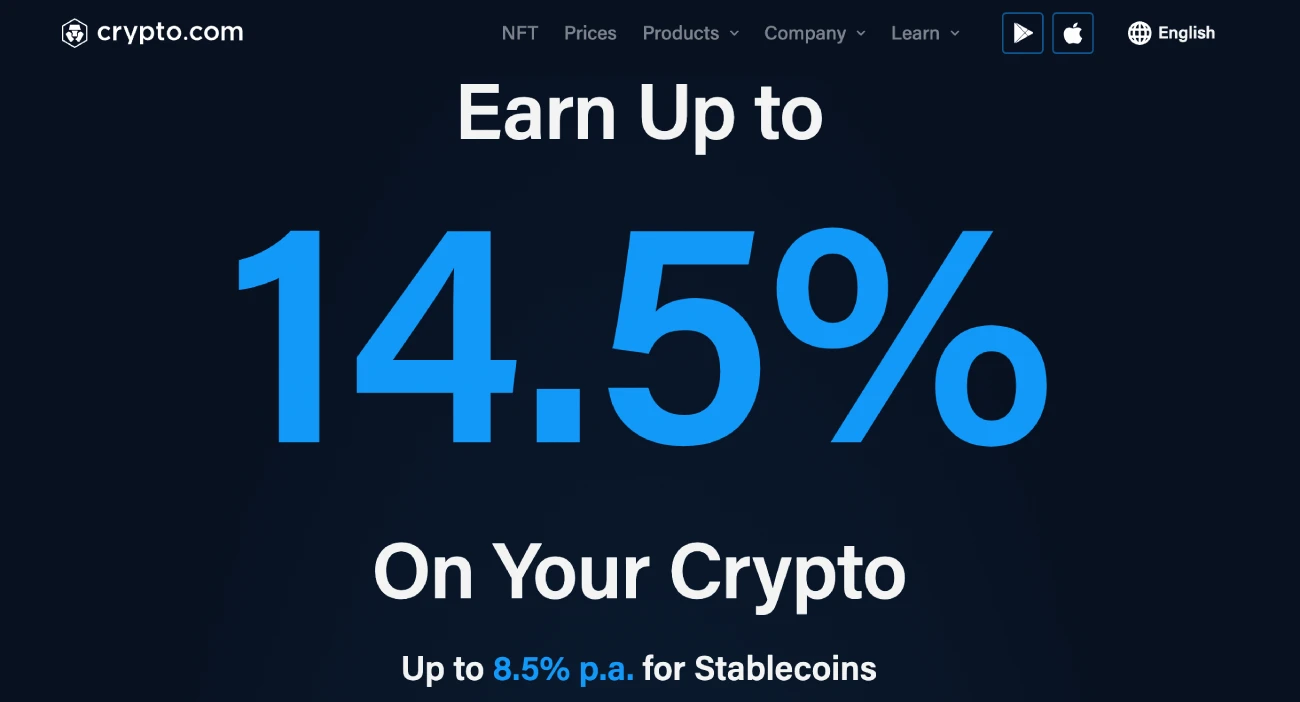 Getting Started on Crypto.com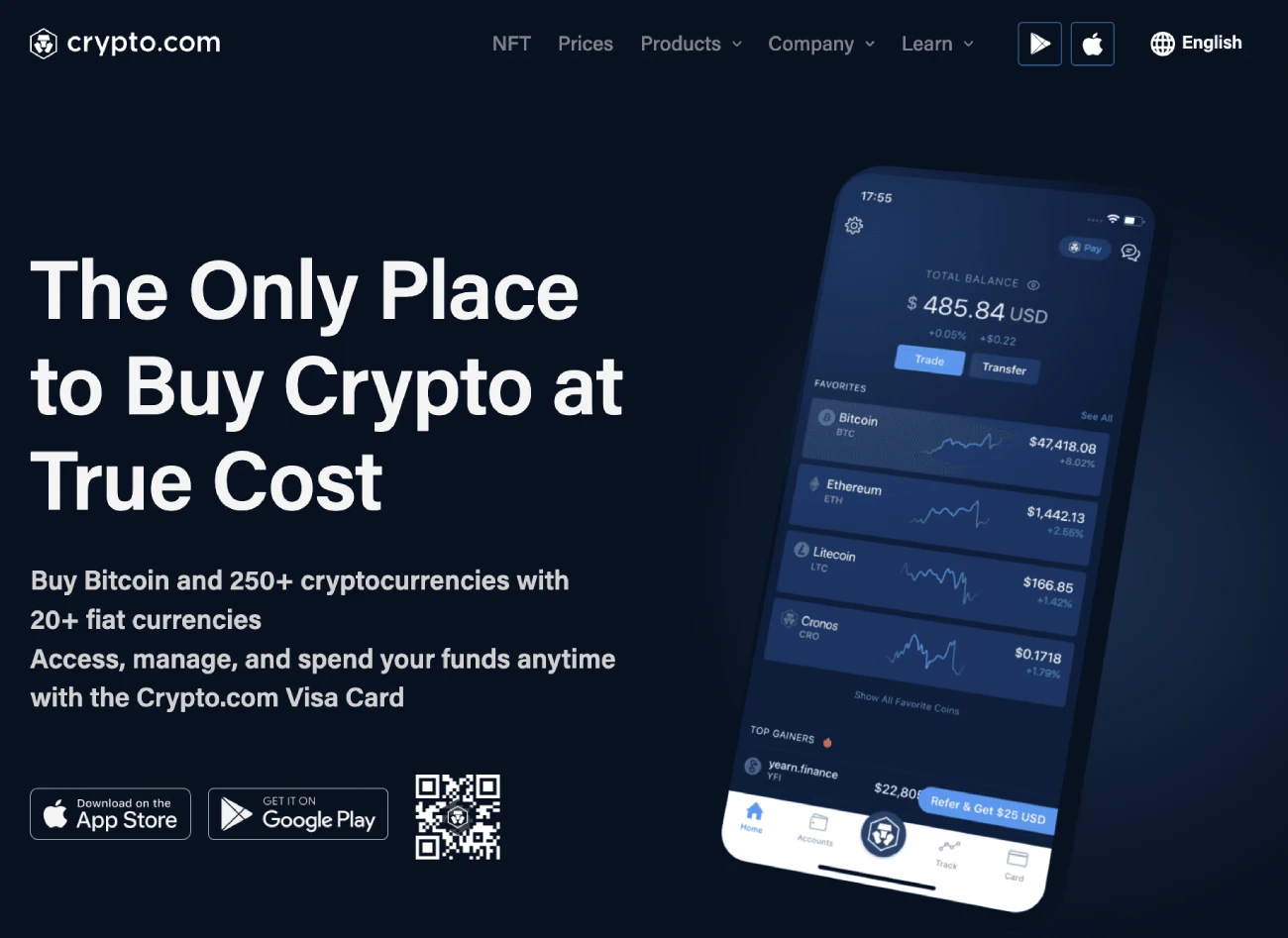 Crypto.com exchange is a popular staking platform allowing users to stake CRO, its native token, or several other cryptocurrencies on the platform to earn passive income. The exchange and its Cronos token are supported by the Ethereum blockchain. The platform uses Proof-of-Stake (PoS) consensus to verify transactions.
Before staking CRO or other digital assets, you must download the Crypto.com app. Next, work through the following steps:
Step #1: Register an Account
Users must provide their full name and email address to register an account. Next, set up a secure password and verify your email.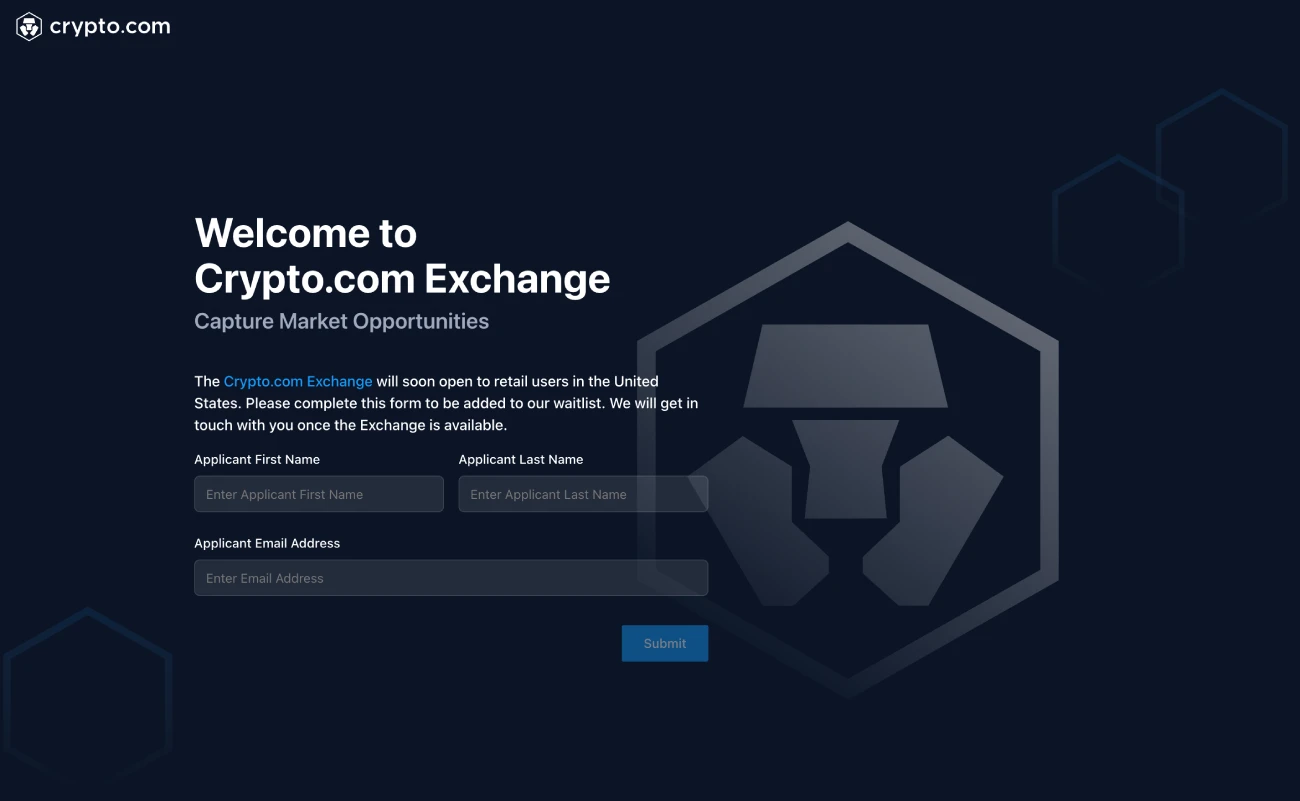 After entering all the required information, follow on-screen instructions and click "Submit." Once you've created an exchange account, you must deposit funds to begin staking.
Step#2: Deposit Funds
There are several ways to deposit funds into your Crypto.com exchange account. Users can connect their crypto wallet and deposit their crypto holdings into their accounts.
You can also deposit funds into your account using wire transfers in fiat currency or a master or visa card.
Crypto.com will pay the wire transfer fee on USD deposits. However, you must check with your bank to find out if there is any additional processing fee.
ACH
Wire
Minimum Transfer
$20 per transaction
$1,000 per transaction
Maximum Limit – Daily
$100,000 or 5 times per day
$1,000,000 or 5 times per day
Maximum Limit – Monthly
$1,000,000 or 30 times per month
$10,000,000 or 30 times per month
USD Fiat Wallet Balance Max Limit
3-5 business days
1-2 business days
USD Fiat Wallet Balance Max Limit
$10,000,000
$10,000,000
Eligibility
1. US users with U.S. Residential address (P.O boxes are not acceptable)
2. Social Security Number
1. US users with U.S. Residential address (P.O boxes are not acceptable)
2. Social Security Number
Requirement
– USD transfers only
– Transfers from U.S based bank account
No third party transfers
USD transfers only
Transfers from U.S based bank account
Fee
Crypto.com does not charge a fee for this service. Your bank may charge a separate fee.

Please check with your financial institution prior to initiating a transfer.
Crypto.com does not charge a fee for this service. Your bank may charge a separate fee.

Please check with your financial institution prior to initiating a transfer.
USD Deposit Methods on Crypto.com
You must then purchase the minimum staking quantity for the crypto you want to stake.
Crypto.com Staking
Follow the steps highlighted below to start staking:
On the Crypto.com app taskbar, click "Accounts," then "Crypto Earn."
Click "Start Earning Now."
Select the crypto you want to stake from the list and your desired staking term length.
Enter the staking amount, then click "Deposit."
Check the details and "Confirm."
Lastly, enter your password.
Crypto Earn
Crypto.com Earn allows you to stake over 40 different cryptocurrencies and tokens, including Polygon (MATIC), Decentraland (MANA), Polkadot (DOT), Litecoin (LTC), etc. You can even earn interest rewards by staking some cryptocurrencies that don't run on PoS blockchains, such as Bitcoin and Ethereum. Cryptocurrencies using the PoW consensus mechanisms yield comparatively lower interest rates than those using PoS. Bitcoin and Ethereum, for instance, yield at most 6% p.a., whereas Polkadot (DOT) staking could bring users up to 12.5% APY.
Rewards vary and are calculated based on factors like the token staking period, the amount of CRO staking tokens you've staked in your Crypto.com wallet, and the US dollar value of the crypto you want to stake. The longer and less flexible term you pick, the higher your returns will be. In the same way, the more tokens you stake, the higher the interest rate you get.
You can check the interest rate you'd get by using the Crypto.com Earn calculator. Select the token for staking, choose an amount in USD, the lock-up period, then the "CRO STAKE" in USD, and you'll see the potential earnings from the platform.

Additionally, the amount you can stake depends if you own a Crypto.com Visa card; for example, the Obsidian card of the highest tier allows you to stake $400,000.
Crypto.com CEO Kris Marszalek has recently announced that they "will offer a more balanced approach: 8% APY for Private Members (Obsidian, Icy White, and Frosted Rose Gold) 4% APY for Royal Indigo and Jade Green card holders."
CRO Staking
Cronos (CRO) is the utility token of Crypto.com's Cronos Chain.
CRO Staking through your Crypto.com account is rewarded with several benefits, like access to a premium Crypto.com Visa card, cashback from your online purchases, tier-based APR of up to 8%, trading fee benefits (zero maker fees and maker fee rebates from staking more than 50,000 CRO), and boosted returns from staking other cryptocurrencies. The yield increase varies for different coins and tokens, but it rises in proportion to the amount of staked CRO you have in your account.
Additionally, CRO staking earns you better APYs through Crypto Earn. The staking rewards for CRO are currently 10% APR for 5,000 CRO, and above; any amount less than 5,000 doesn't receive any APR interest. The rewards are distributed daily across 180 days, after which your staked funds will be unlocked. The formula that calculates the staking rewards is as follows: CRO x (APR/365).
Users with an existing stake (before June 1, 2022, 00:00 UTC) will still receive the 10%/12% rate until 180 day staking period is over. New staking rates (4%/8%) for private users will take effect once the staking period has matured or with any staking activity that changes your CRO staked amount.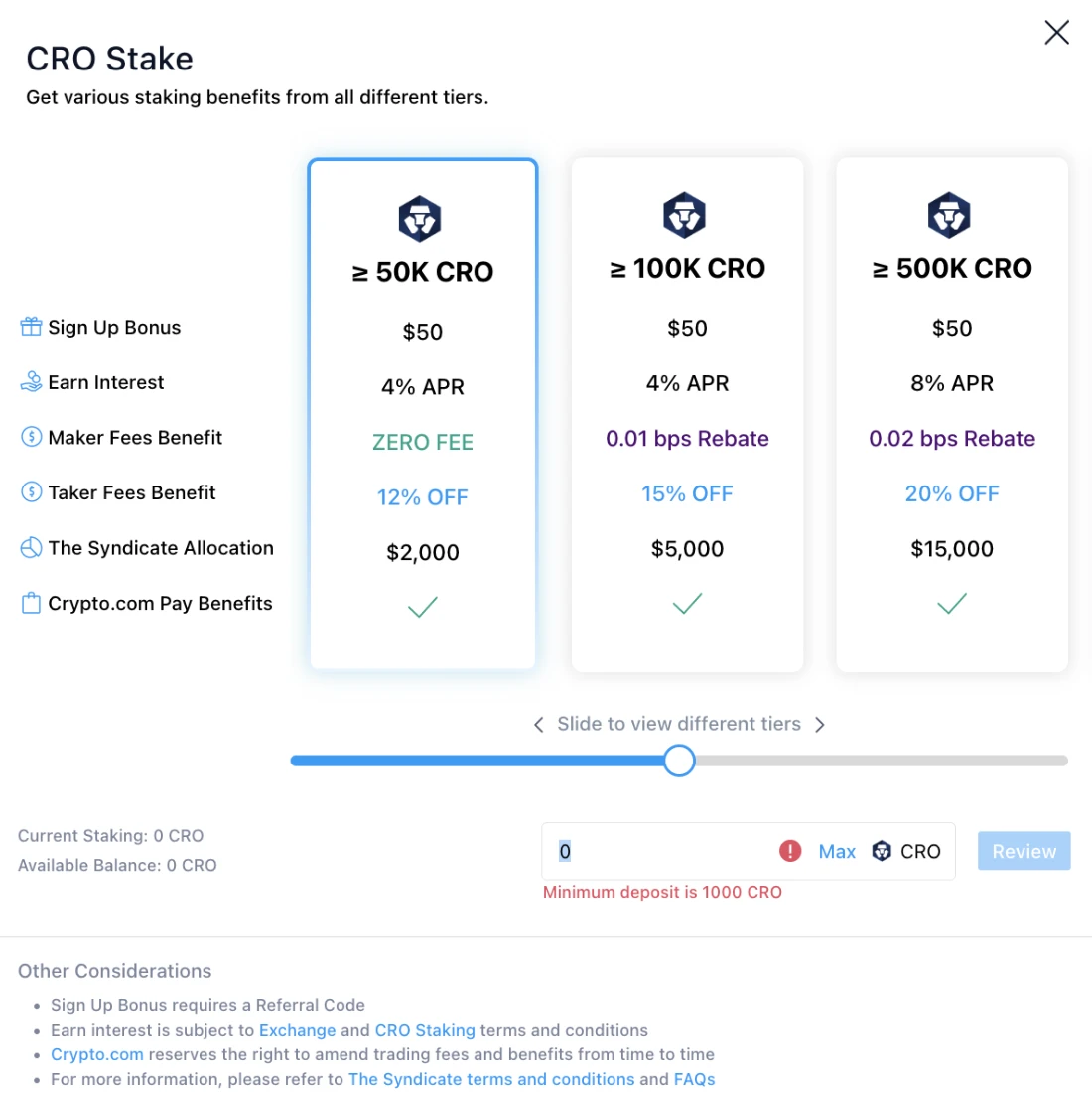 The minimum deposit amount for staking is 1,000 CRO. If you wish to stake more, you can top up your amount with another 1,000 CRO, or more, without waiting 180 days. The process takes a few seconds only.
| | | | | | |
| --- | --- | --- | --- | --- | --- |
| CRO Staked | Maker Fee Benefit | Taker Fee Benefit | Interest APR | Syndicate | Pay Benefits |
| ≥ 1,000 | 3% off | 3% off | 0% | ❌ | ❌ |
| ≥ 5,000 | 5% off | 5% off | 0% | ✔️ | ❌ |
| ≥ 10,000 | 8% off | 8% off | 0% | ✔️ | ✔️ |
| ≥ 50,000 | Zero | 12% off | 4% | ✔️ | ✔️ |
| ≥ 100,000 | 0.01 bps Rebate | 15% off | 4% | ✔️ | ✔️ |
| ≥ 500,000 | 0.02 bps Rebate | 20% off | 8% | ✔️ | ✔️ |
| ≥ 1,000,000 | 0.05 bps Rebate | 25% off | 8% | ✔️ | ✔️ |
| ≥ 5,000,000 | 0.10 bps Rebate | 30% off | 8% | ✔️ | ✔️ |
CRO Staking Benefits
The amount added to your staked CRO will restart the timer for another 180 days.
To receive interest, a minimum of 5,000 CRO is required. Once you have enough CRO tokens, follow the steps below:
Log in to Crypto.com Exchange
Navigate to Stake & Earn and then to CRO Staking
Click Stake CRO Now and enter the amount you wish to stake
Click Review Staking, and, once you've decided to start staking, select Confirm
Upon confirmation, you'll see the CRO amount staked and the remaining days until it can be withdrawn.
Note: CRO Staking lasts 180 days, and your staked amount can only be fully withdrawn once the period is over.
Staking CRO in the Crypto.com App
Once you have enough CRO tokens in your Crypto.com App for your selected Crypto.com Visa card:
Navigate to the Card page (bottom-right corner of the app)
Select your desired Crypto.com Visa card
Tap the Stake CRO button and follow the on-screen instructions.
Soft Staking
Unlike other exchanges, if you leave your funds unstaked in your Crypto.com account, they sometimes earn a little interest through "Soft Staking." Soft staking is another way to earn rewards on your crypto holdings by simply holding a balance in your Crypto.com Exchange wallet. It offers more flexibility and doesn't lock your assets, unlike CRO staking. However, it provides significantly lower rewards than fixed and flexible staking terms – between 0.25-2% interest and no benefits in return. Soft staking has a maximum limit of $100,000 in token equivalent and a requirement to hold a minimum of 1,350 CRO in your balance.
To soft stake, log in to your exchange account, navigate to Stake & Earn, and then to Soft Staking, where you can toggle the Earn Daily Interest on.
Staking Risks and Rewards
It's essential to weigh the pros and cons of staking CRO and other assets before making an investment decision. So, let's take a look at the principal risks and rewards.
Rewards
Here are several key advantages of staking CRO and other digital assets on Crytpo.com:
Staking Generates Passive Income
While storing crypto in a cold wallet is a valid option, it makes more sense for some traders to stake their crypto holdings to start earning rewards.
Quick and Straightforward
Staking is a quick and straightforward process. The starting amount can also be relatively small if a trader enters a staking pool instead of being a sole validator.
Risks
Crypto prices are highly volatile, and price fluctuations could erase your rewards and even lead to a loss of all staked digital assets. Using a crypto portfolio tracker, such as the CoinStats portfolio tracker, will help you keep up with the changing prices.
Typically, coins with small market caps offer higher APYs but also have higher volatility. In other words, while staking smaller cryptocurrencies, you adopt a high-risk/high-reward strategy that might not be acceptable for all traders.
The staking process requires locking your funds for a certain period. If the asset depreciates during this time, you won't be able to repair the damage.
Delegators are at risk of slashing in case of security or liveness faults on some protocols. So, it's highly recommended to do your due diligence before choosing a validator.
FAQ
Can I Unstake CRO Ahead of the 180 Days
Once you lock your CRO for staking, you cannot withdraw the amount within 180 days. To unstake your CRO after the staking period, go to your app's CRO wallet and tap "Unstake."
What Is the Annual Percentage Yield (APY), and How Is It Calculated
Annual Percentage Yield (APY) is the percentage you get on top of the account as a reward for staking your funds, calculated annually.
Each network employs its own reward system and its own APY. The latter also depends on the cryptocurrency you wish to stake, the staking period, and the amount of staked coins.
Where Can I See My Earnings From Both CRO Staking and Soft Staking
You can view your daily earnings in the Stake & Earn section under Earnings History.
Conclusion
Staking enables you to earn a certain amount of interest on your crypto holdings. Staking CRO or other crypto holdings on Crypto.com is straightforward, and the APYs are displayed in the app and on the website. Crypto.com offers relatively low transaction fees on deposits, a wide range of tokens, crypto credit cards of varying tiers, and high-interest rates.
Hopefully, this CoinStats guide helped you make a well-informed decision about staking your crypto to earn handsome rewards in no time!
You can also learn how to benefit from the decentralized finance system with articles like What Is DeFi.
Investment Advice Disclaimer: No part of the content that CoinStats provides constitutes financial advice, legal advice, or any other form of advice meant for your specific reliance for any purpose. No content on our Site is intended to be a solicitation or offer. Any use or reliance on our content is solely at your own risk and discretion. You should conduct your own research, review, analyze and verify our content before relying on them. Note that trading is a highly risky activity that can lead to major losses, and past returns are not a guarantee of future returns. Risk only assets that you are willing to lose.
Certain content is based on third-party sites not affiliated with CoinStats or any of its affiliates and doesn't necessarily reflect the official policy or position of CoinStats. CoinStats does not represent the accuracy, suitability, or validity of any information provided.