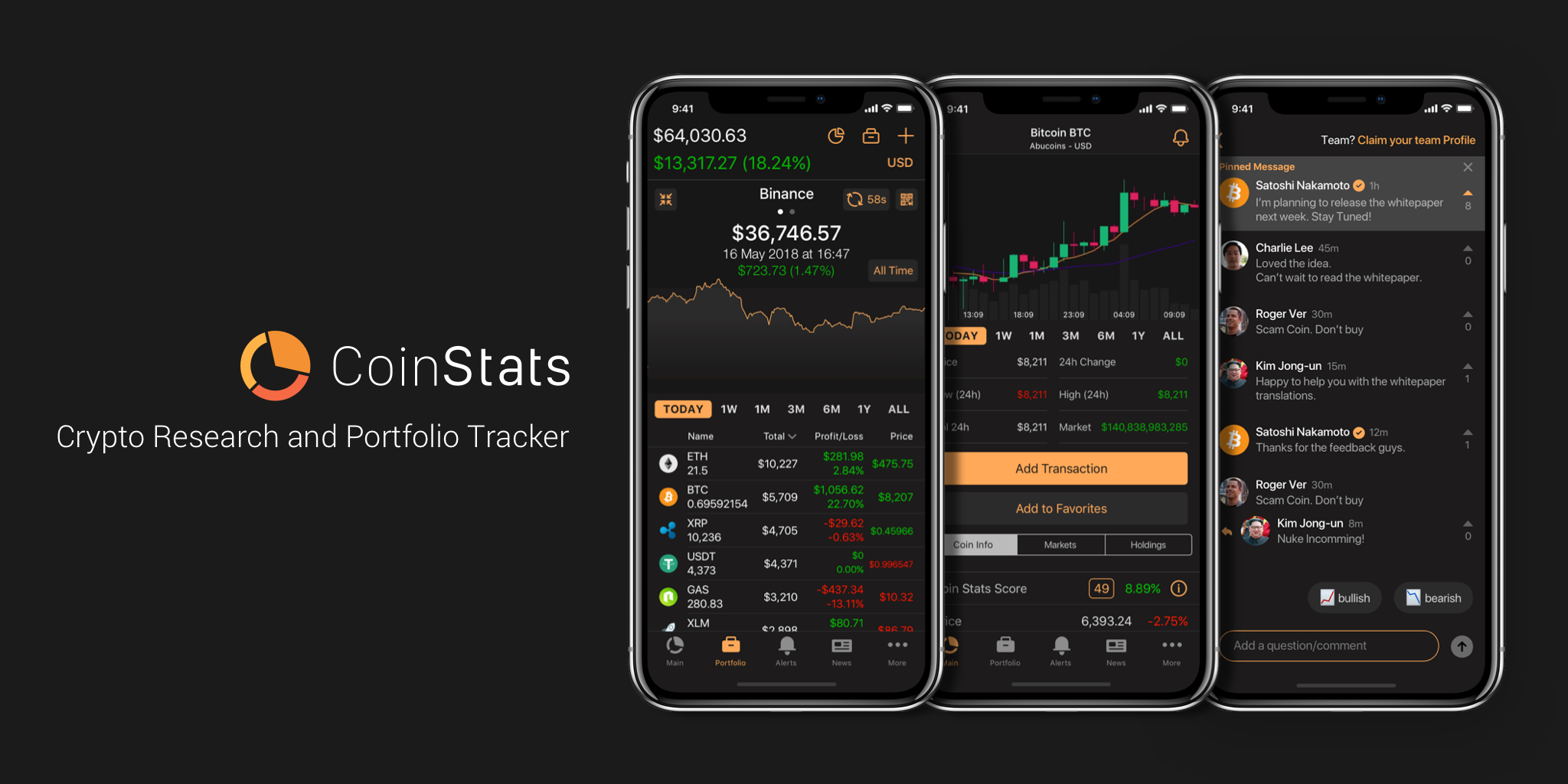 CoinStats Crypto Tracker App: 3 Reasons Why You Should Use It
<! -- End of the Reviewed by section -->
"Behind every successful trader is a great crypto tracker app." – CoinStats
That is because trading bitcoin – and other cryptocurrencies – is trickier than it appears. Any trader with a mere $1 in his pocket can start speculating on more than 5,000 digital assets available to trade across a total of 504 regulated and unregulated exchanges.
That $1 invested in a cryptocurrency can grow to become $2. Traders can then choose to spread the $2 capital between two cryptos. Similarly, traders could keep expanding their portfolio by adding more and more assets, reaching a point when they just can't track all at once.
It is both the beauty and the challenge of trading cryptocurrency tokens. Their higher risk-reward turns meager investments into riches overnight. But to ensure that the riches don't turn into serious losses, traders need more than just manually-managed excel spreadsheets to spot risks and opportunities.
For that reason, hundreds of thousand traders use the CoinStats' cryptocurrency tracking app to help solve the problem.
The personal finance software allows users to bring the details of all their investments on one intuitive and interactive page. It lets them set up personalized crypto portfolios that they can connect their cryptocurrency wallets and exchanges to them.
But that's just the beginning. CoinStats offers a plethora of features and services that make cryptocurrency trading a profitable venture even for the beginners. Listed below are six of those hallmarks.
#1 CoinStats App Interoperability
A trader may have multiple accounts spread across, say, four cryptocurrency exchanges, as well as nine software and two hardware wallets. To make the matter worse, every account may contain more than 10 crypto assets.
That is how a majority of day traders operate. It is not stupid but a necessity – having a diverse range of assets helps them contain investment risks. In a way, they deserve greater interoperability between their trading portals and cryptocurrency portfolio management software.
The CoinStats crypto tracker app allows traders to connect 20 leading crypto exchanges as well as cryptocurrency wallets directly to their portfolio. All the data comes together to reflect the overall trading performance, highlighted further by the positive/negative returns of each crypto asset.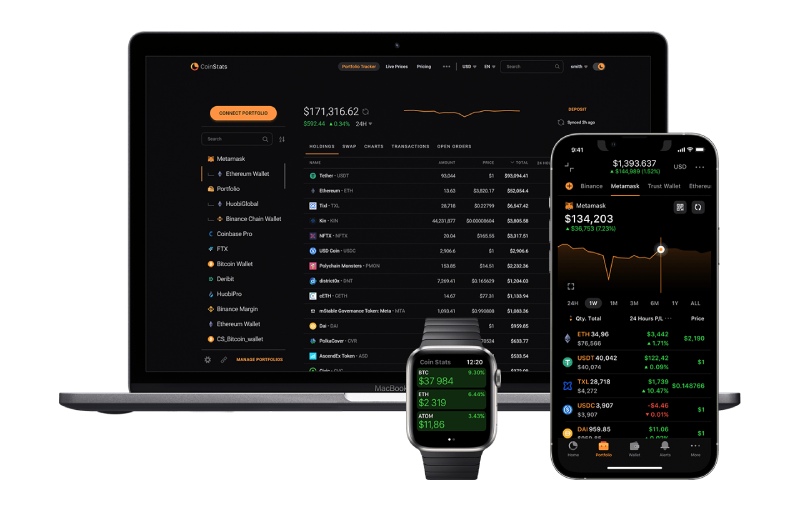 CoinStats supports Trezor, a popular cryptocurrency hardware wallet, making it one of the few crypto tracker apps that offer cold storage integrations.
Meanwhile, CoinStats also enables traders to compare buying and selling rates across seven crypto exchanges. They can also go ahead and trade crypto tokens right from the app.
Traders can also track their open orders across different exchanges right from their personalized CoinStats portfolio. The feature allows them to compare and strategize their position to reduce overall market risks.
#2 Cryptocurrency Analytics
Before a trader even gets to managing an investment portfolio, s/he has to decide which cryptocurrency suits him/her best. Let's admit that more than 95 percent of crypto assets are bad long-term investments – but their higher price volatility still offers attractive intraday trading opportunities.
A trader has to act quickly to spot profitable trading opportunities. But for that, s/he needs smart analytics tools.
CoinStats tends to be more than a crypto tracker app. It enables users to stalk the latest updates of every listed cryptocurrency via news feeds. A charting tool further lists the latest price, volume, and market dominance of an asset.
The app also includes insights tool that helps traders realize an asset's current demand, interim market bias, as well as where other traders hold the asset.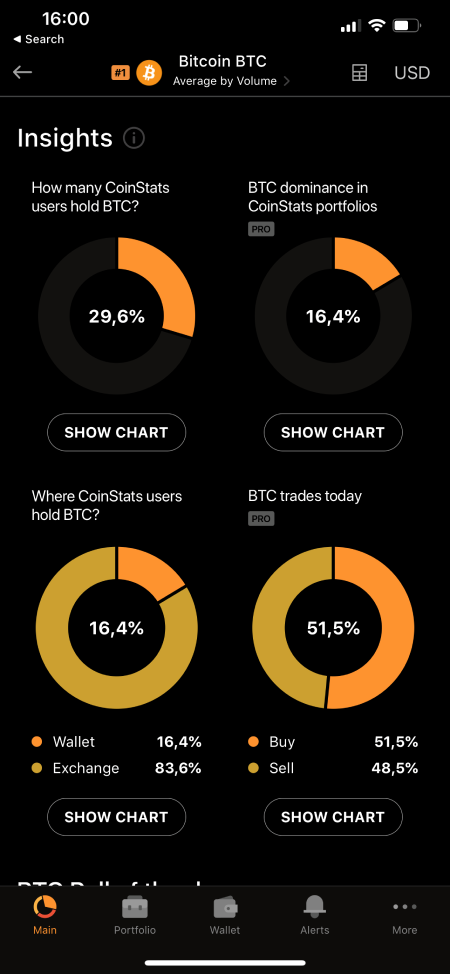 There is also a higher need to track the health of an investment portfolio. Traders need to stay updated with how their investments are doing in comparison to the rest of the market.
CoinStats has introduced a string of interactive features that enable users to compare their portfolios via color references…
…track their most profitable and non-profitable coins over different timeframes…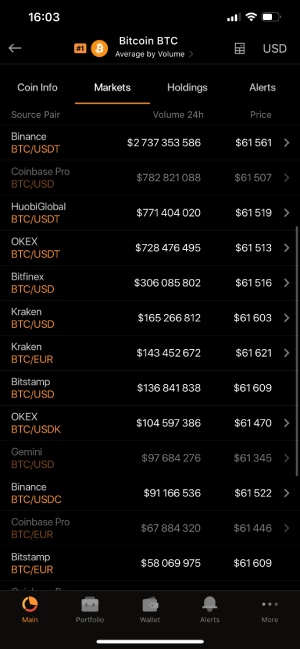 ….and realize the total fees, deposits, withdrawals they have processed since their first trade, as well as their most traded pairs and total trade counts.
Meanwhile, CoinStats features a special 24H page that lists all the major crypto updates that took place on a 24-hour timeframe. It gives information about the best and the worst-performing assets, cryptocurrencies with the highest daily volume, and a handpicked stream of most popular news curated by leading crypto portals.
A combination of both fundamental and technical cryptocurrency data analytics help traders become better investors. CoinStats strives to partner with the learning souls so they could easily manage their portfolio risks and opportunities.
#3 Margin and Futures Accounts Support
CoinStats is also an ideal platform for traders with higher risk appetites. People who are into trading bitcoin via margin and futures accounts can utilize the app to auto-sync their profiles.
Like spot, CoinStats allows margin and futures traders to track their derivatives portfolio, manage open orders, and place new positions alongside stop losses.
The tool came to surface in CoinStats' latest 2020 update after it noticed a rising interest in bitcoin derivatives products. The app spotted huge risks in trading via both margin and futures, wherein traders can lose more than they can bet owing to overleveraged positions.
CoinStats believe that including derivatives into the spot portfolios would allow users to better track the underlying assets' price movements. They can further use the live data to strategize their positions in the derivatives market.
All and all, CoinStats serves as a tool that alerts traders in spotting foreseeable losses and long- and short-term gains. The app even lets users share their entire portfolio with a link – ideal for professional traders looking to share insightful trading data with their paid clients.
Behind every successful trader is a great crypto tracker app.