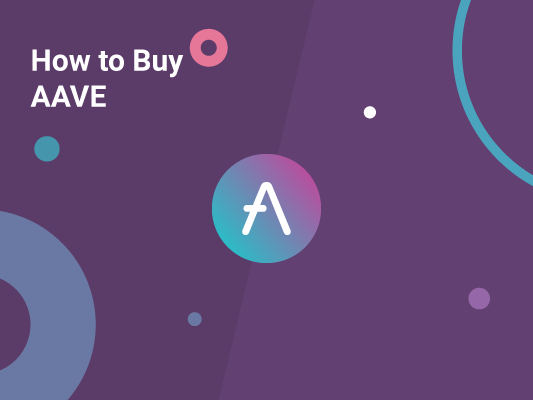 How to Buy Aave | Where, How, and Why
Cryptocurrency is gaining more popularity and becoming an actual potential competitor to banks. As a decentralized global digital currency, crypto is outside the control of banks, which have huge transaction fees and often slow transaction processing time.
Cryptocurrency's immunity to the old ways of government control and interference, along with the myriad of innovations provided by it, make it appealing to more and more people around the world.
With the unprecedented growth of the decentralized finance (DeFi) industry, Aave (AAVE) network is becoming a market leader and occupies a prime position in the cryptocurrency lending and borrowing sector.
Read on to learn everything you need to know about Aave, the most trending DeFi Protocol, trading around $330 with over $4 billion market capitalization. We will discuss how Aave works, its advantages over other protocols, and where and how to buy Aave tokens or borrow in Aave.
Brief History of AAVE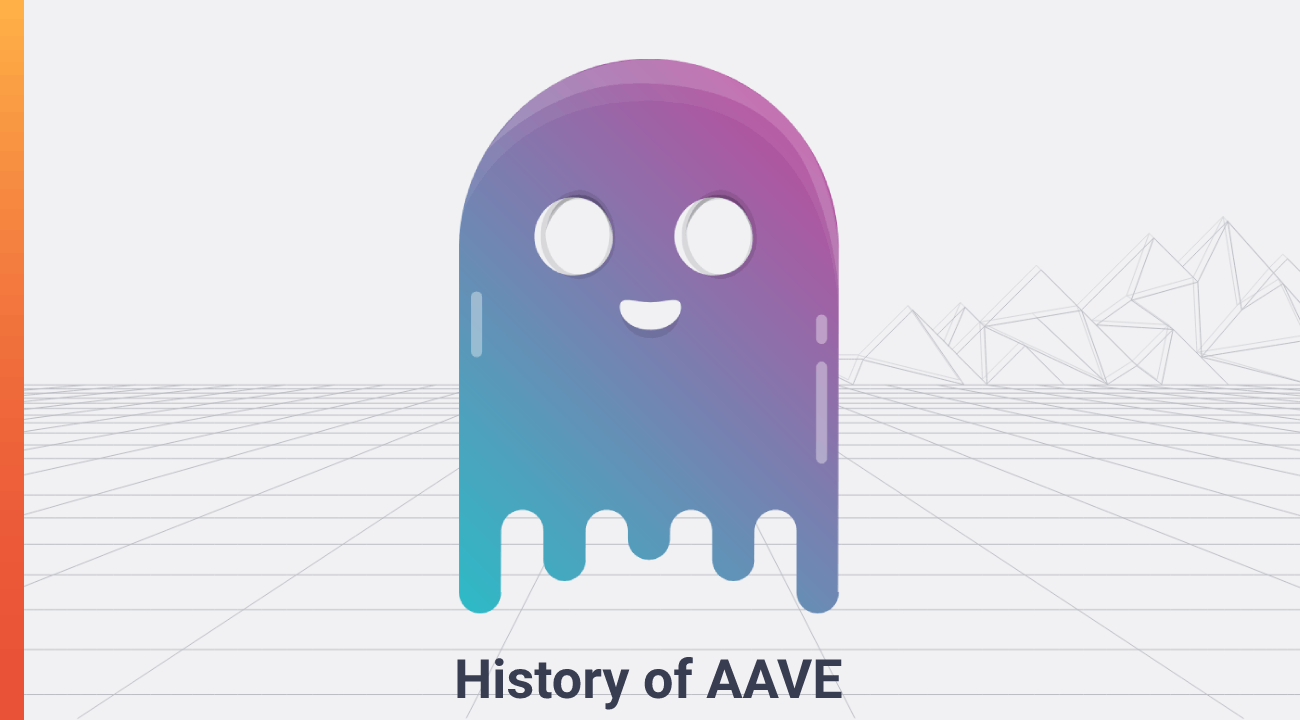 Aave was established in November 2017 by developer Stani Kulechov who originally launched Aave as ETHLend, with the native token LEND, after an initial coin offering (ICO) raised $16.2 million. The Crypto-backed peer-to-peer platform ETHLend would connect cryptocurrency lenders and borrowers, making it possible to borrow assets and for lenders to earn interest.
ETHLend was later adjusted and rebranded as Aave. The Aave Protocol officially launched on the Ethereum blockchain on 9 January 2020, offering instant-access 'flash loans' to users without the need for collateral.
Aave Protocol has been described as a "decentralized, open-source, and non-custodial money market protocol" where depositors can earn interest by providing liquidity to lending pools. The key difference was Aave's algorithmic money market function versus ETHLend's individually matching borrowers with suitable lenders. In Aave's liquidity pool system, crypto loan assets are pooled together, and interest rates are determined algorithmically. If assets are in short supply, interest rates are set higher; conversely, interest is set lower if there is a plentiful supply of an asset.
Aave introduced new digital products and services, i.e., Aave Pocket, Aave Lending (SaaS), Aave Gaming, Aave Custody, and Aave Clearing.
How Does AAVE Work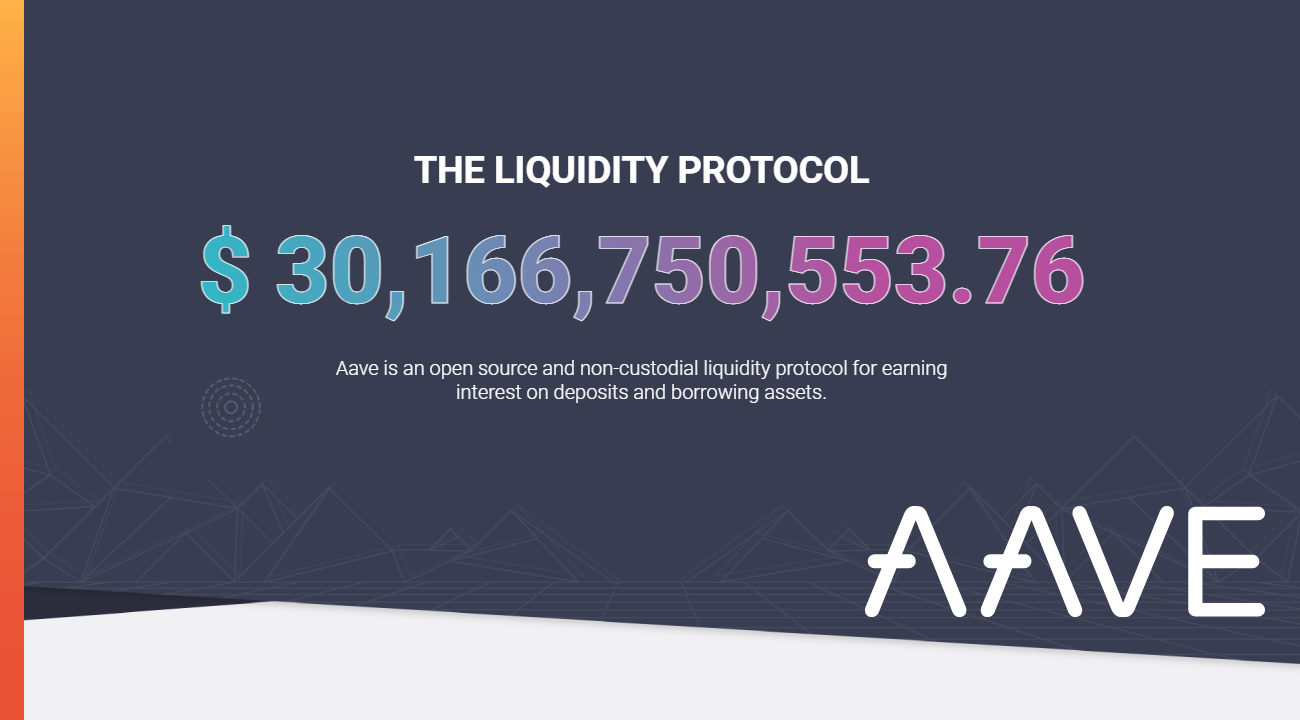 As an open-source no custodial lending protocol, Aave facilitates loans in a variety of cryptocurrencies. Under the system's requirement, lenders have to deposit their funds into liquidity pools, and borrowers can borrow from such liquidity pools. The borrowers, however, must deposit a collateral amount greater than the amount they borrow in another cryptocurrency. The Aave protocol has an algorithm that automatically liquidates a borrower's collateral if its value falls below a specified ratio to safeguard against volatility.
Aave provides uncollateralized loans, i.e., flash loans, enabling you to borrow instantly and easily, without collateral, provided that the liquidity is returned to the pool within one transaction block. As Aave spokesperson explains: "Flash loans enable a customized smart contract to borrow assets from our reserve pools within one transaction on the condition that the liquidity is returned to the pool before the transaction ends. If this does not happen, the transaction is reversed to effectively undo the actions executed until that point, guaranteeing the safety of the funds in the reserve pool."
Aave is audited and secured – each loan on the network is managed by a smart contract, verified by third-party auditors. Lenders and borrowers can interact with the user interface client, API, or directly with the smart contracts on the Ethereum network. The interest rates are flexible and are freely agreed upon by both parties due to the degree of trust afforded.
Tokens: AAVE and aTokens
Aave's AAVE token offers discounts on transaction fees to users who submit AAVE as collateral, while users who borrow AAVE are not charged a fee. AAVE holders also gain governance rights over the Aave network.
The second type of Aave protocol's tokens is aToken. The Aave protocol allows users to earn interest in real-time because deposits are tokenized as aTokens, issued at a 1:1 ratio upon the deposit of assets into Aave's liquidity pool. Interest is also paid in aTokens, but they are converted back to the asset when lenders withdraw their funds.
How To Buy AAVE
Now that you know how the protocol and the tokens work, let's take a quick look at how you can buy AAVE. Follow this easy step-by-step guide on buying Aave!
Step 1: Create an Account
As with all other cryptocurrencies, the first step to buying tokens is to create an account with a crypto exchange platform that supports AAVE based on your location. The cryptocurrency exchange will serve as a trading platform to buy and sell different tokens, i.e., BNB, Safemoon, Bitcoin, etc., for a transaction fee. Choose an exchange platform that supports AAVE and a range of cryptocurrencies you're interested in investing in.
Step 2: Acquire a Wallet
This step is optional. You might need a cryptocurrency wallet to store your public and private keys safely. It also provides an easy-to-use interface to manage your crypto balances and allows you to transfer cryptocurrencies through the blockchain. Some wallets also allow users to buy and sell their crypto assets, and so on. Aave is a platform built on top of Ethereum, meaning AAVE can be stored in an Ethereum wallet, of which there are many.
You can choose between a software or a hardware wallet.
Step 3: Purchase Aave
Now you are all set to buy Aave. First, choose an order type: a market order, limit order, stop sell order, buy stop order, stop-limit order, or a trailing stop-loss order. Your choice of order type will determine when your order is filled and the price for each coin. Then, specify the amount of Aave tokens you want to purchase. Place your order: depending on your type of order, you might need to specify a maximum price you're willing to pay per token, as well as the number of tokens you'd like to purchase. Wait for your broker to fill your order. When your order is complete, you'll see your tokens in your cryptocurrency wallet. If your broker cannot fill your order, they may cancel it at the end of the trading day or leave it open.
Where to Buy Aave (Kraken Recommendation)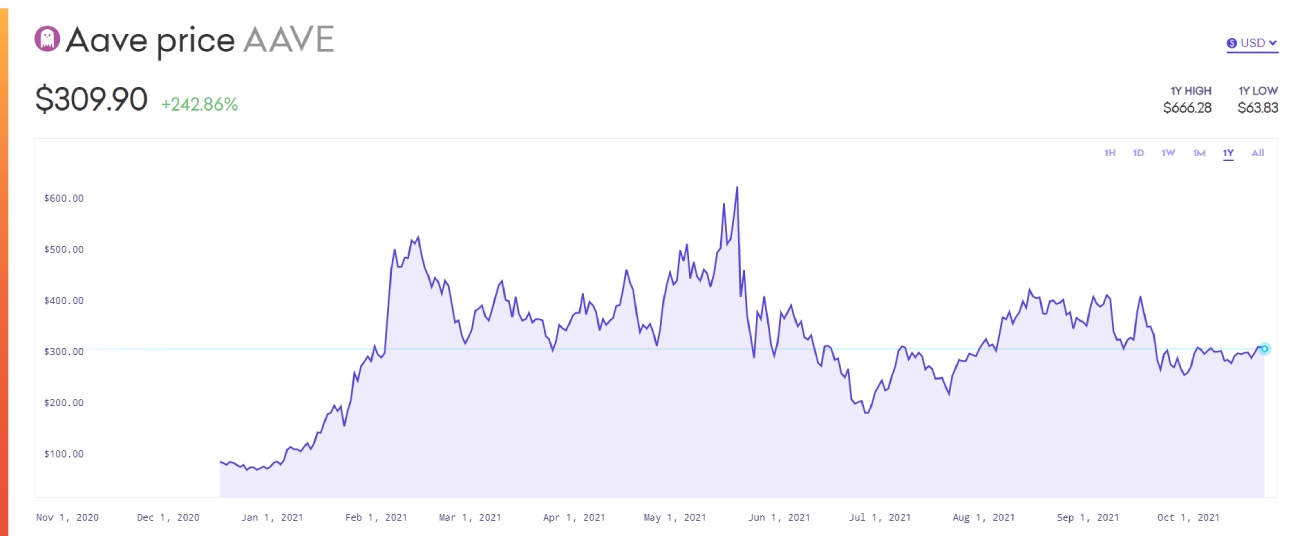 There are several ways to buy Aave.
Kraken is highly recommended due to the lowest transaction fees among all of the crypto exchanges. Kraken is also rated one of the most secure and trusted crypto exchanges in the world.
The protocols are rigorously tested and are specifically designed to provide maximum security to your digital assets.
To purchase Aave using Kraken, simply follow the steps described in the previous chapter. You can fund your account using fiat currency.
How to buy AAVE Using CoinStats
CoinStats is another great way to buy Aave. All you have to do is create an account with CoinStats. You can log in to your Coinbase account or create a new profile altogether. Search for Aave and click on Trade Aave. It should be noted that you can Trade Aave after linking your CoinStats profile to your Binance Smart Chain Wallet.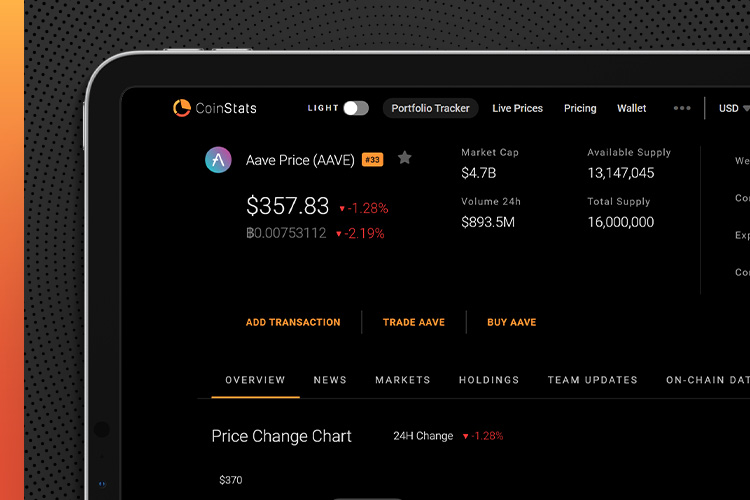 You also have the option of making payments through fiat currency; however, this option is presently limited to US users.
Things to Note When Trading Aave
After completing your purchase, you can begin trading right away or hold on to your token reserves. As the market is volatile, with crypto values changing now and then, you might be inclined to take advantage of the price fluctuations in the short term.
You can also convert the additional Aave tokens you have gained as profit into a stablecoin such as USD Coin and Tether. In addition, some brokers allow converting your Aave profits directly to fiat currency such as US Dollars and Euros.
While trading, especially if you execute multiple trades per day, it's important to choose a broker with relatively low transaction fees.
Finally, you should make sure to use stablecoins as collateral due to the volatility of crypto. If the value of your collateral drops drastically (beyond the given threshold), it can lead to liquidation and added fees.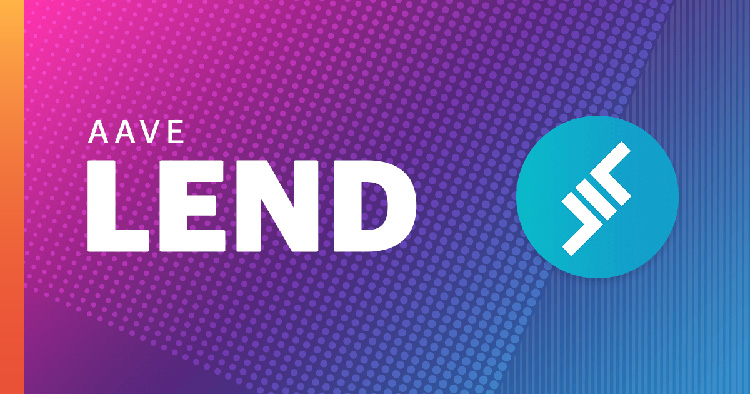 Exchanges Where You Can Buy Aave
Check out our list of cryptocurrency exchanges to buy and sell Aave:
Things to Consider When Choosing an Exchange to Buy Aave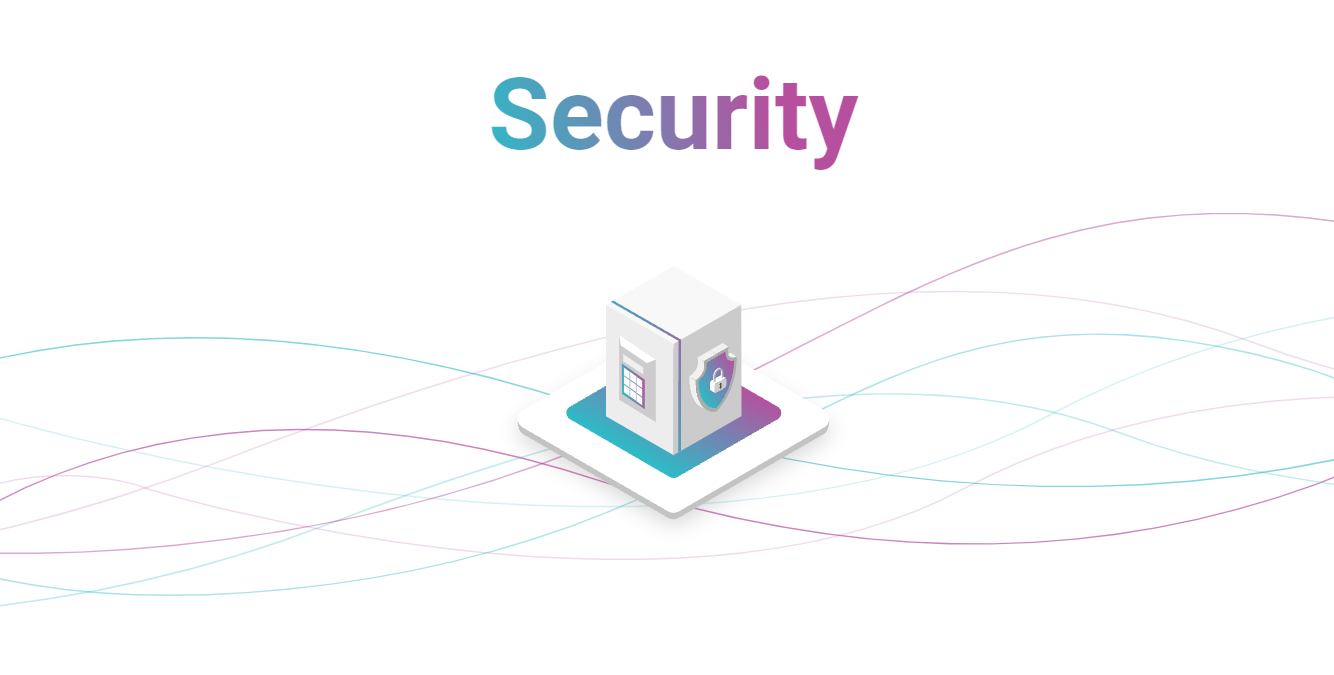 There are a few things to consider while choosing among cryptocurrency exchanges:
Reputation: This is perhaps the most important factor to consider. Exchange platforms are usually appreciated for their reputation, e.g., Binance.
Liquidity: You should also consider liquidity – how easily Aave is converted into cash or other coins. High liquidity will mean few fluctuations in price.
Transaction Fees: As discussed in the previous chapter, you should consider exchanges with low transaction fees, such as Kraken, to make profitable transactions.
Wash Trading: Beware of wash trading on the platform.
User Reviews: User reviews are extremely valuable sources of information about products and services. The same applies to crypto exchange platforms. Consider platforms with positive customer experiences and ratings.
Conclusion
While there is a wide selection of cryptocurrencies out there, not all of them are profitable. There is considerable risk involved in any form of cryptocurrency investment.
Aave, however, has several advantages to be considered while thinking about investing. Among its key advantages are:
Aave is a decentralized lending system that allows clients to borrow, lend and earn interests on their crypto assets without intermediaries.
The entire platform is highly secure. It operates based on a Safety Module protocol, preventing the system from experiencing a capital shortage. When there aren't sufficient assets to pay back lender deposits, AAVE tokens saved in the safety module are sold to cover the deficit.
Aave has a great range of inventive decentralized finance products, i.e., flash loans, rate switching, etc.
It has a wide range of cryptocurrencies to lend/borrow from.
Aave has competitive rates.
The main purpose of the AAVE token is governance. Stakeholders can vote on requested changes and whether new cryptocurrencies should be added to the platform for lending and borrowing. To vote, you need to have AAVE tokens or stkAAVE (Staked AAVE) tokens. The tokens themselves represent a financial share of AAVE.