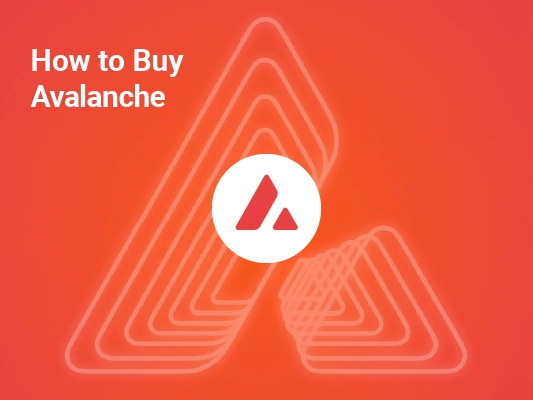 How to Buy Avalanche [The Ultimate Guide 2023]
<! -- End of the Reviewed by section -->
Avalanche is an open-source platform for launching decentralized finance applications and enterprise blockchain deployments in one highly scalable ecosystem. It's a heterogeneous network of many blockchains and sets of validators, aiming to simplify access to financial markets for many users and integrate various blockchains into a single connected ecosystem.
Avalanche is often referred to as an "Ethereum alternative" and is the first smart contracts platform to achieve greater scalability than Ethereum via a high transaction throughput of 4,500 transactions per second (TPS). It supports the entirety of the Ethereum development toolkit and enables millions of independent validators to participate as full block producers.
AVAX is the Avalanche ecosystem's native token used for processing transactions, collecting fees, creating subnets and blockchains, and staking.
Avalanche has been one of the best-performing cryptocurrencies recently. In 2021, the AVAX token recorded a 4,500% growth, outperforming major cryptocurrencies like Bitcoin and Ethereum.
In this article, we'll dive deep into the Avalanche ecosystem, explore the fundamental structure of the Avalanche blockchain network, and discuss the several use cases of the AVAX token.
Moreover, we'll look into why, where, and how to buy Avalanche and what makes Avalanche an excellent investment for crypto investors.
Let's get right to it!
What Is Avalanche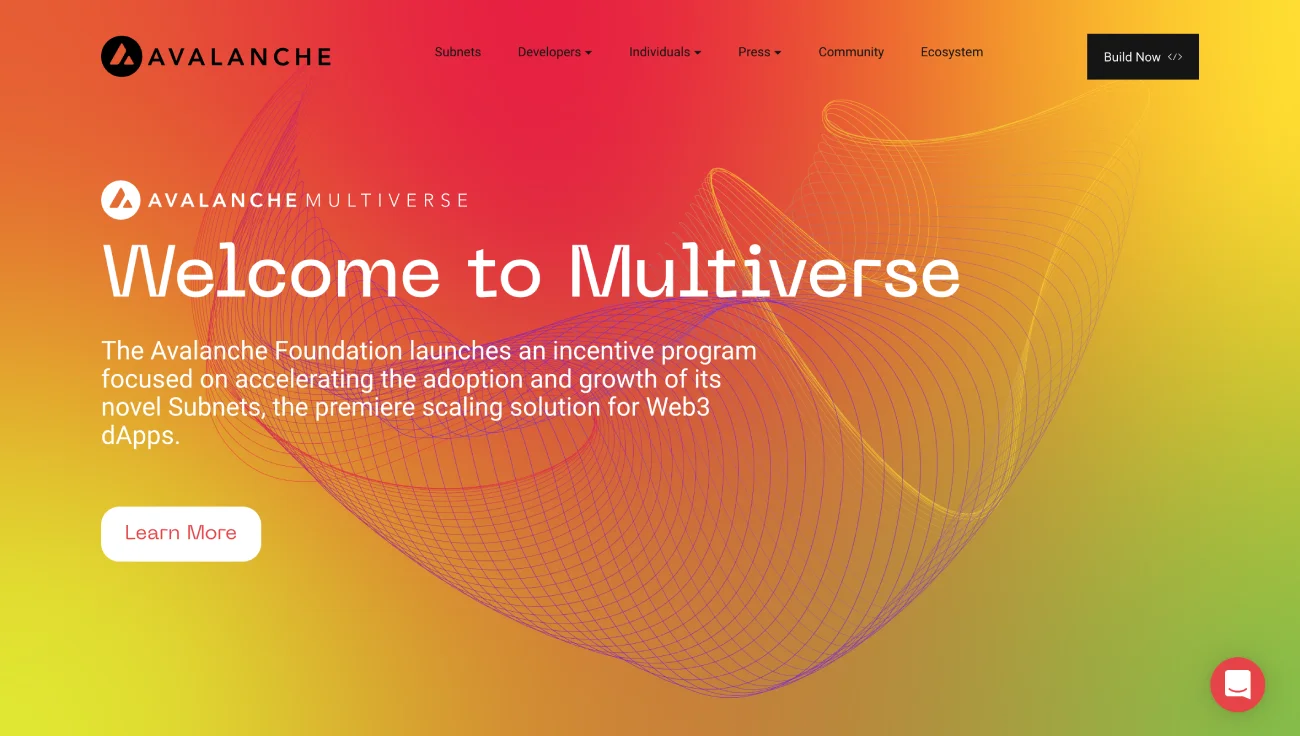 Avalanche is an open-source platform for launching decentralized finance applications and enterprise blockchain deployments in one highly scalable ecosystem. It's designed to speed up and scale the operations run on blockchain by offering high throughput, low latency, and resistance to attacks. Unlike legacy networks, which have only one blockchain and one set of validators, Avalanche is a heterogeneous network of many blockchains and sets of validators. With each blockchain taking on different roles, Avalanche improves speed and scalability compared to running all processes on just one chain. The developers have combined this aspect with two different consensus mechanisms tailored to the needs of each blockchain.
Avalanche aims to bring the power of decentralized finance to everyone and integrate various blockchains into a single connected ecosystem. The platform has built-in support for creating powerful, reliable, secure applications and custom blockchain networks with complex rulesets. Avalanche allows users to build on existing private or public subnets and get their desired functionality.
Avalanche Virtual Machines (AVMs) allow developers to easily launch blockchains with a wide array of application-specific features. Developers can write VMs in Go rather than limited languages like Solidity.
Avalanche History and Founders
Avalanche was launched on 21 September 2020, but the project has been in development since 2018 as the "Internet of finance." It was founded as AVA Labs by three founders: Avalanche CEO Emin Gün Sirer, Kevin Sekniqi, and Maofan "Ted" Yin. The AVA team has developed several innovative features on the platform. AVA Labs has strived to make Avalanche the fastest and most secure smart contracts platform, and as a result, Avalanche became the first smart contracts network that claims to offer transaction finalization in under one second as a standard.
Emin Gün Sirer, a professor at Cornell University, has a very long history of involvement in Bitcoin and decentralized networks. Kevin Sekniqi and Maofan "Ted" Yin are also affiliated with Cornell University.
How Does Avalanche Work
The Avalanche network is well-optimized for security, speed, and flexibility due to its three interoperable blockchains: a Platform Chain, a Contract Chain, and an Exchange Chain.
The Exchange Chain, or X-Chain, helps create and trade new crypto assets. The Contract Chain, or C-Chain, enables the creation of smart contracts. Finally, the Platform Chain, P-Chain, tracks and creates subnets and coordinates validators.
Avalanche uses a dual system of consensus protocols called Avalanche and Snowman. This system plays a crucial role in the network's improved scalability and transaction processing speed.
The Snowman mechanism secures the C-Chain and P-Chain, enabling smart contracts with high throughput and irreversible finality in under 2 seconds.
The DAG-optimized Avalanche consensus secures the X-Chain. The Avalanche consensus protocol allows transaction finality in just a few seconds. It uses a random parallel checking mechanism to probabilistically determine if a validator's transaction confirmation is true or not.
AVAX, the Avalanche network native token, is used to pay transaction fees and collect user fees on the platform. Users can earn AVAX tokens to generate passive income by staking them or setting up a validator. AVAX is also required to create sub-networks and digital assets.
Avalanche is built on the Proof-of-Stake mechanism that works on a validator model. Nodes have a financial stake in the cryptocurrency to secure transactions on the blockchain. The result is secure transactions and reduced power consumption.
The AVAX token has a limited supply. The limited supply and constant burning of commissions keep the price of the AVAX token stable.
What Makes Avalanche Platform Unique

The Avalanche blockchain is unique in its interoperability across multiple blockchain networks, scalability, and low fees compared to other smart contract blockchain projects, such as Ethereum. Its two features, Avalanche Consensus and Subnets, ensure that Avalanche has the security, flexibility, reliability, speed, and scalability needed for developing large-scale Web 3 applications. The Avalanche network differs from other networks in the following ways:
AVA labs has ensured that Avalanche is the fastest smart contracts-based platform, with transaction finalization in under one second as a standard. The transactions are processed within microseconds, and you don't have to wait for funds to arrive in your account. This is possible due to the Avalanche Consensus, one of the most significant breakthroughs in blockchain technology since Bitcoin was introduced. Avalanche's "Snow" family of protocols allows all chains in the ecosystem to conduct thousands of transactions per second. In addition, these protocols permit transactions to be completed in a few seconds, while some other systems can take an hour or more. The result is secure transactions with reduced power consumption.
The Avalanche Subnets are customizable blockchains that can be modified by institutions building on Avalanche according to their needs and requirements. These subnets are app-specific Avalanche blockchains, and the developers building on them can scale them infinitely and adjust the gas fees according to their needs.
Subnets also allow developers to easily launch their products. Subnets can be launched in as little as 12 hours, and developers can build their products accordingly.
Now that we've covered all there is about Avalanche, its history, structure, and what makes it unique, let's look into the process of trading Avalanche.
Avalanche Tokenomics and Markets
Avalanche network's native token AVAX has a limited supply of 406,317,544 tokens and a circulating supply of 282,225,005 tokens. The AVAX all-time high was USD 136.8 on 21 November 2021.
Check the AVAX current price on CoinStats here: Avalanche price to decide if you want to make AVAX a part of your investment portfolio.
Avalanche Markets
Most major centralized and decentralized cryptocurrency exchanges, such as Binance, Coinbase, Kucoin, FTX, Kraken, Huobi Global, Uniswap, etc., support AVAX trading. You can place an 'instant buy' order to buy AVAX – this is the most common way to purchase cryptocurrency. You must compare crypto platforms in terms of reputation, security, features, trading fees, etc., to choose the cryptocurrency exchange suitable for your investment needs.
In this article, we'll give you a step-by-step guide on how to buy Avalanche on Binance and Coinbase, the two most popular crypto exchanges worldwide that support AVAX.
How to Buy Avalanche on Binance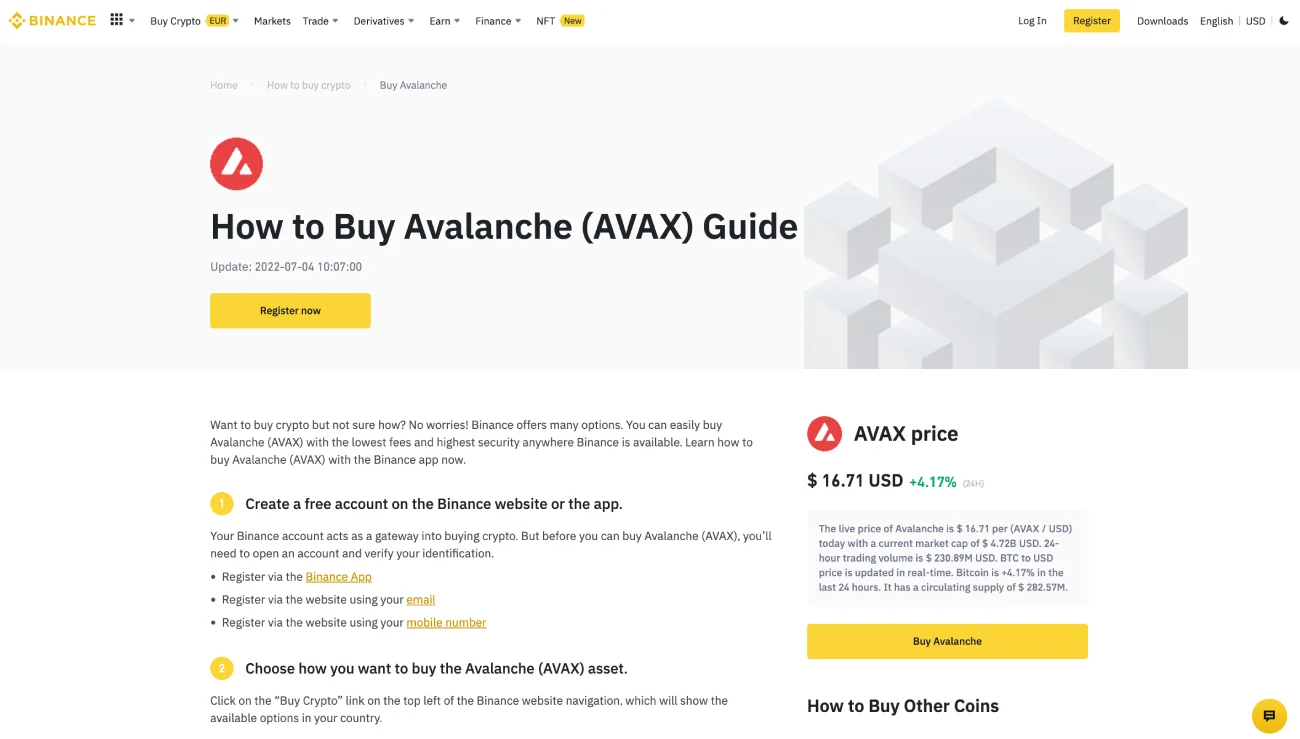 Binance is the world's largest crypto exchange in terms of trading volume. Its ease of use, lower fees compared to other exchanges, and high liquidity are what make Binance so popular amongst traders and investors. So, if you wish to buy Avalanche, follow these easy steps:
1. Create a Binance Account
To buy Avalanche (AVAX) tokens, you must create an account on Binance. You only need a valid email address and phone number to register your Binance account. Once you verify your email address, the phone number is used to create a two-factor authentication. Once you've created an account, you'll need to complete your KYC verification which usually takes a few minutes. For KYC, you need a valid ID and a live photo. A user residing in the US can provide their social security number. The KYC process takes a few minutes, after which you're set to trade AVAX or any other cryptocurrencies of your choice.
2. Deposit Funds
The next step is to deposit funds into your Binance account. You can choose from many fiat currencies, including USD, EUR, INR, GBP, AUD, etc. Binance supports different deposit methods, including a bank transfer, credit/debit cards, third-party payments, peer-to-peer transactions, etc. You can also deposit cryptocurrency directly into your Binance wallet. Once you've deposited enough funds into your Binance wallet, you're one step closer to buying AVAX.
3. Purchase AVAX
The AVAX coin is available on Binance in multiple trading pairs, among them AVAX/USDT, AVAX/BTC, AVAX/EUR, AVAX/GBP, etc. You can select any pair to buy AVAX tokens. Suppose you wish to trade AVAX/USDT pair, then you must first exchange the fiat currency you deposited into your wallet for USDT. Once you have a sufficient amount of USDT in your Spot Account, go to AVAX/USDT and place an order for the amount you wish to buy AVAX tokens. The order will be filled instantly, and the tokens would reflect in your Spot Wallet.
How to Buy Avalanche on Coinbase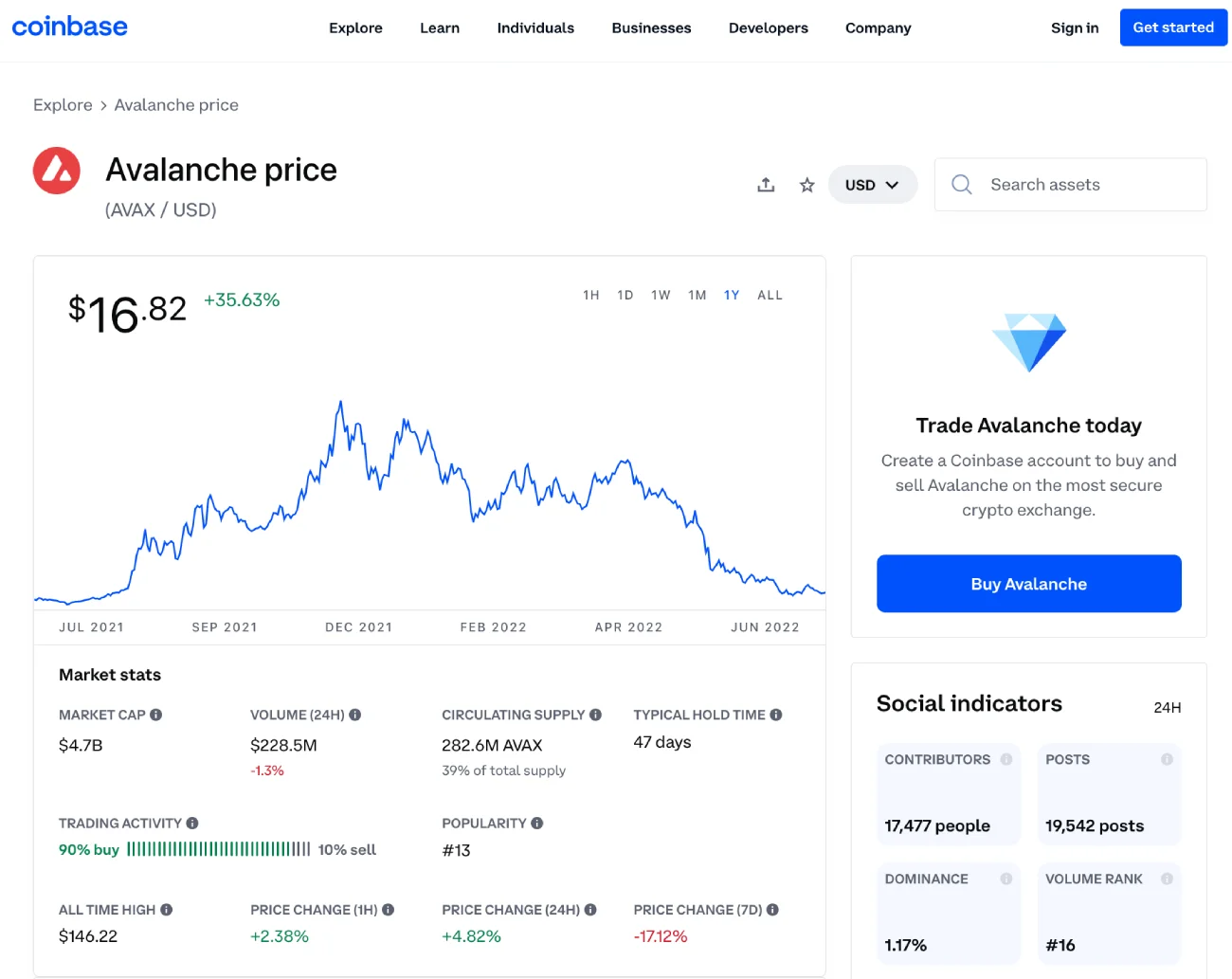 Coinbase is the largest exchange in the US and the second-largest in the world by transaction volume, after Binance. The exchange has more than 98 million verified users in over 100 countries and maintains approximately $256 billion in assets. Coinbase allows you to trade more than 130 types of cryptocurrency. You can access Coinbase for buying AVAX through the website and the Coinbase App.
1. Create a Coinbase Account
To buy crypto, you need to create an account on the platform's website or the Coinbase app that can be downloaded from Apple and Android stores.
Creating a Coinbase account is pretty straightforward. You must navigate to the sign-up page and fill in the basic details like your name and email address. To complete the process, you must verify your email address by clicking the verification link sent to your email.
Coinbase requires you to enable two-factor authentication (2FA) using your email address or phone number.
Coinbase complies with Anti-Money Laundering and KYC regulations. In line with the regulations, Coinbase users must verify their identities by submitting a government-issued passport, driver's license, or a national identity card.
2. Link a Payment Method
After creating and verifying your account, you need to fund your account to buy AVAX on Coinbase. Coinbase supports a wide range of funding options, including direct transfers from your bank account, debit cards, PayPal, and wire transfers, depending on your location.
Funding your Coinbase account using debit cards is ideal for small purchases, while wire transfers are preferable for larger amounts, over $25,000. Before choosing a deposit method, consider the fees and limits associated with it. You can also user cryptocurrencies to fund your account by transferring them to your Coinbase wallet. Coinbase fees can be confusing, and some variations exist depending on your region.
3. Purchase AVAX
Once you've added sufficient funds to your Coinbase account, you must click "withdraw" and enter the amount you wish to buy AVAX for. Now click on "Trade" and select the market. Suppose you want to purchase AVAX-USD, then enter the amount of USD for which you need to buy AVAX. After that, click on "Purchase," your order will be fulfilled in no time, and the AVAX tokens will be reflected in your Coinbase Wallet.
You can sell AVAX on the same exchange you purchased it by following the same steps.
Store Your Avalanche Tokens
Once you've completed your AVAX purchase, the following step is to choose a secure wallet to store your AVAX tokens. Your coins can be kept in your brokerage exchange wallet, but they will be vulnerable to attacks by online hackers. So, we strongly advise you to hold crypto assets in a private wallet with your own private and public keys. You can choose between software wallets and hardware wallets based on your investing preferences.
You can store your AVAX in the Avalanche Wallet, an easy-to-setup, secure, non-custodial wallet.
Types of Wallets
Cryptocurrency wallets are mainly divided into two categories:
The strength of software wallets lies in their flexibility and ease of use. A software wallet is the most easy-to-set-up crypto wallet. It lets you interact with several decentralized finance (DeFi) applications quite easily.
However, these wallets are vulnerable to security leaks because they're hosted online—like your bank accounts. So, if you want to keep your private keys in software wallets, conduct due diligence before choosing a wallet to avoid security issues. We recommend a platform that offers 2-factor authentication as an extra layer of security.
CoinStats Wallet is one of the best software wallets for managing all your DeFi and crypto in one place – a single crypto wallet for buying, selling, swapping, tracking, and earning on your crypto!
Another example of a software wallet is Metamask, available as a browser extension and a mobile application.
A hardware wallet is a device that stores the private keys you need to receive or send crypto. Hardware wallets are usually considered the safest way to store your cryptocurrencies as they offer offline storage, thereby significantly reducing the risks of a hack. They are secured by a pin and will erase all information after many failed attempts, preventing physical theft. Hardware wallets also let you sign and confirm transactions on the blockchain, giving you an extra layer of protection against cyber attacks.
Ledger hardware wallets are arguably the most secure hardware wallets letting you securely manage your CRO tokens. They come in two models:
The Nano S is designed for crypto beginners and offers only a few features.
The Nano X is more suitable for advanced crypto traders and provides storage for a wider variety of assets.
You can choose any of these crypto wallets depending on your preference and how often you wish to trade your tokens.
Conclusion
Avalanche is one of the most innovative projects in the crypto space. Avalanche network aims to revolutionize the blockchain industry in particular and the financial industry in general. For this reason, AVAX could be a good investment, and there might be no better time for purchasing Avalanche than in a bear market with low prices.
However, as with all crypto projects, the risks involved are also high, as seen in the recent LUNA crash. For that reason, financial experts recommend that crypto investments should only make up a small portion of your overall investment portfolio.
Discover a broader perspective on decentralized finance and how it aims to empower people with What Is DeFi on the CoinStats blog. To learn more about portfolio trackers, visit Crypto Portfolio Trackers.
Investment Advice Disclaimer: The information contained on this website is provided to you solely for informational purposes and does not constitute a recommendation by CoinStats to buy, sell, or hold any securities, financial product, or instrument mentioned in the content, nor does it constitute investment advice, financial advice, trading advice, or any other type of advice.
Cryptocurrency is a highly volatile market, do your independent research and only invest what you can afford to lose. Performance is unpredictable, and the past performance of CELO is no guarantee of its future performance.
There are significant risks involved in trading CFDs, stocks, and cryptocurrencies. Between 74-89% of retail investor accounts lose money when trading CFDs. You should consider your own circumstances and take the time to explore all your options before making any investment.