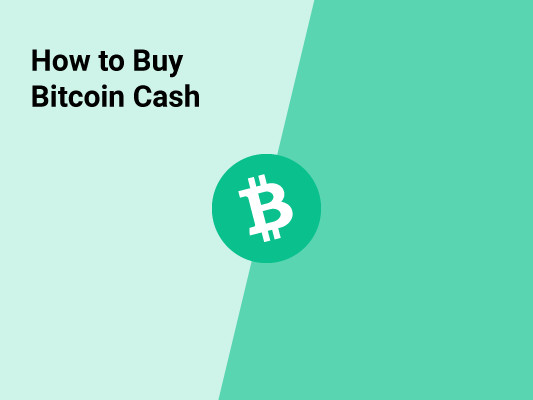 How to Buy Bitcoin Cash (BCH) | Where, How and Why
<! -- End of the Reviewed by section -->
Meet another cousin of Bitcoin: Bitcoin Cash (BCH), a cryptocurrency created in August 2017 from a fork of Bitcoin.

So, you want to know how to buy BCH? Well, we've got everything you need to get you started on your crypto journey.

Bitcoin Cash was designed to accommodate a larger block size than Bitcoin, thereby outperforming the original Bitcoin's transaction speed. The ecosystem's mission statement has attracted investors worldwide.
History of Bitcoin Cash
As Bitcoin's popularity rose, problems of scalability became an issue too. To prevent such a situation, the size of a block on Bitcoin's blockchain was limited to 1 MB, resulting in less reliable transactions and higher fees.
Developers proposed two solutions to solve the problem:

To increase the average block size resulting in more transactions per block
To keep the 1MB block sizes and work on off-chain settlement layers, excluding certain parts of a transaction to fit more data into the blockchain.

This resulted in a hard fork of the Bitcoin blockchain to increase the block size. The new chain had 8MB blocks and was called Bitcoin Cash. The other prong of the fork became Bitcoin Core. This deviates from the original Bitcoin concept due to slow transactions.

Bitcoin Cash was designed by an economic minority, led by Haipo Yang of ViaBTC at block height 478559. A new chain, with a permanent incompatible rule change against the original Bitcoin network, was created. And a new crypto asset was founded.

Each Bitcoin holder received an equivalent amount of Bitcoin Cash, thereby multiplying the number of coins in existence. Initially, BCH had an impressive price of $900. However, Coinbase, a major cryptocurrency exchange, boycotted Bitcoin Cash and did not list it on their exchanges.

In contrast, it received vital support from Bitmain, the world's biggest cryptocurrency mining platform. At the height of cryptocurrency mania, Bitcoin Cash's price skyrocketed to $4,091 in December 2017.
How Can You Claim Bitcoin Cash
You could claim your Bitcoin Cash if you held Bitcoin in your wallet before the first of August, 2017, when the Bitcoin Cash hard fork happened. UTC should have an equivalent amount of BCH attributed to their Bitcoin private keys.
There are different ways of claiming your BCH tokens, with the methods varying in accordance with the type of crypto wallet used. For instance, you can use your existing hardware wallet, where you hold BTC. Otherwise, you use a full node wallet, like Bitcoin Core or Bitcoin Knots.

These wallets store your private keys in a dedicated folder on your computer. You can make a backup of this folder using the menu in your wallet and select: "Backup wallet." Once you've done this, you should be able to import this backup into a Bitcoin Cash full node, like Bitcoin ABC.
Bitcoin Cash: Major Blockchain Features
Bitcoin Cash, as earlier stated, is a hard fork of the original Bitcoin. However, several features distinguish it from its predecessor:
Block Size
Compared to Bitcoin, which allowed a maximum block size of 1MB, Bitcoin Cash has a larger limit of 8MB per block.
Transaction Volume
BCH can process about two million transactions every day.
Scalability
Bitcoin cash has its own blockchain and has a block size of 8 MB. (BCH) has improved scalability by allowing more transactions to be processed.
Block Processing Time
Bitcoin has an average block processing time of 10 minutes. With BCH, on the other hand, the speeds are adjusted automatically and appropriately.
Bitcoin Cash vs. Bitcoin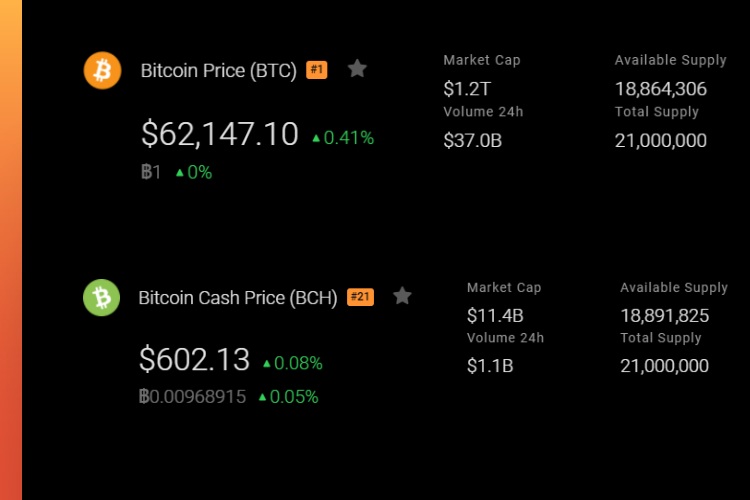 While the fundamental technologies for both are the same, their underlying philosophies differ markedly.
BCH has its own blockchain and specifications, including one significant distinction from Bitcoin. The maximum block size of Bitcoin Cash is 32MB as opposed to that of Bitcoin, which is 1MB. This makes the cryptocurrency more scalable and enables it to execute more transactions per second.
Another difference is that compared to Bitcoin, Bitcoin Cash adopts a different hash algorithm that dismisses the possibility of any replay among the two blockchains. The algorithm has set up a replay and wipeout safety mechanism to prepare for the possibility of the BCH splitting in the future.
While Bitcoin does not support smart contracts, BCH has started using smart contract languages like Cashscript to enable more complex functions.
For issuing tokens through the Bitcoin blockchain, the projects have to use the Omni layer, while in the case of Bitcoin Cash, the Simple Ledger Protocol (SLP) is adopted. The protocol enables developers to issue tokens through BTC, similar to how tokens are issued on the Ethereum blockchain. The SLP protocol also supports non-fungible tokens (NFTs), which can be differentiated from each other.
Replace-by-fee (RBF) is a feature on the Bitcoin network that allows unconfirmed transactions to be canceled or double-spent. The BCH protocol's clearing away this feature enables the cryptocurrency to become more secure since the unconfirmed transactions are irreversible.
The use and popularity of Bitcoin keep expanding at a steady rate. Bitcoin supporters value decentralization and censorship-resistance more than they value a higher transaction throughput.
Bitcoin Cash as peer-to-peer electronic cash is a preferable option for low transaction fees and faster speeds.
Exchanges on Which to Buy Bitcoin Cash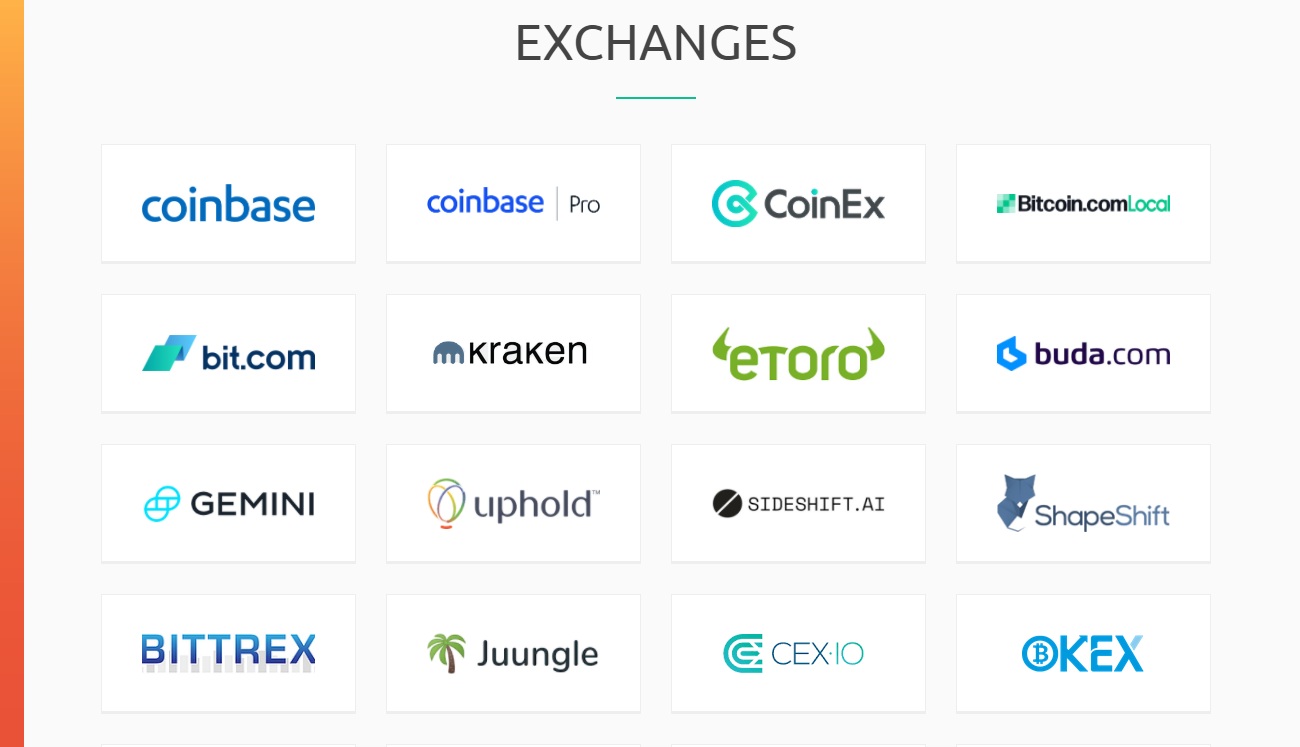 Bitcoin Cash is not listed on most major crypto exchanges, despite it being one of the largest cryptos by market volume.
Only Kraken, Cex.io, and GDAX make it possible for traders and investors to purchase Bitcoin Cash using fiat currencies.
On exchanges like Bittrex, you can only trade Bitcoin Cash using cryptos like Bitcoin and Tether. If you want to find out the actual trading pairs supported by an exchange platform, you can always visit the FAQ or About section of the website.
Most crypto exchanges require thorough and sometimes cumbersome registration processes before you are allowed to begin trading coins. You might need to link your bank account to the exchange platform to withdraw or deposit funds. The verification procedure and overall process sometimes take several days.
For security reasons, the bulk of exchange platforms worldwide only allow withdrawals and deposits through bank transfers, which are usually slow, often taking up to a week to complete. Other platforms enable the use of a credit or debit card as a payment option. In rare circumstances, PayPal is allowed.
The transaction processing fees vary from platform to platform.
How to Buy Bitcoin Cash via Peer-to-Peer Trading
Peer-to-peer (P2P) implies direct buying and selling of cryptocurrencies with another person. Its core advantages include lower transaction costs and faster settlements.
An excellent platform for peer-to-peer trading is LocalBitcoinCash. You can place your order and wait for another user to respond to your request. BCH can be traded here using fiat currencies, with the platform holding funds in escrow until both parties fulfill terms.
While this method is widely considered the most secure and fastest way to buy BCH tokens, there have been instances where scammers exploit the chargeback (payment dispute) feature to claim the transferred amount from the platform wrongfully. Therefore, both parties must double-check the amounts, along with the wallet addresses and actual exchange rate.
Finally, you can choose to set up a real-life meeting and trade the old-fashioned way.
You can also contribute to the ecosystem by mining BCH tokens, which involve confirming and legitimizing transactions on the blockchain.
How to Buy Bitcoin Cash
Now you are all set to buy BCH. Scroll down for our step-by-step guide on how to get started investing today.
Open an online account. If you don't already have a cryptocurrency exchange account, you'll need to open one to buy Bitcoin Cash. As an investor in digital assets, you should choose an exchange with top-tier security.
Buy a hardware wallet (optional). While you don't need a cryptocurrency wallet to buy Bitcoin Cash, it's a good idea to use a crypto wallet for enhanced security. Software wallets are free to use, but hardware wallets offer the best security by storing your digital assets offline and making it impossible for your funds to be stolen by online hackers. Wallets like TREZOR and Ledger both support BCH and come with added functionality to help you claim Bitcoin automatically as per the conditions of the BCH hard fork. Software wallets like Exodus have excellent UX. Others, like Edge, are available on Android and iOS and support various cryptos.
Make your purchase. To buy BCH, simply place a market or limit order on the exchange of your choice. Market orders will purchase your BCH immediately at market price, whereas limit orders will allow you to purchase BCH at or below a specified price, allowing you to control how much you pay.
How to Buy Bitcoin Cash on CoinStats
CoinStats helps investors to identify coin trends globally and make better decisions on crypto trading.
To purchase Bitcoin Cash on CoinStats, all you have to do is register an account on the platform and begin trading. You can also check out our guide information on how to buy Bitcoin.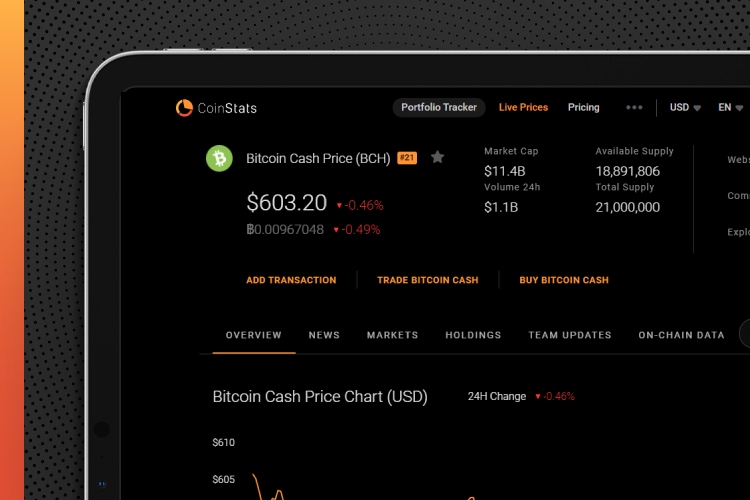 Conclusion
Bitcoin Cash remains in the shadows of its more successful twin, Bitcoin. It is second to Bitcoin in terms of usage and financial value. Nevertheless, Bitcoin Cash has succeeded in being the first major hard fork in the blockchain industry.
Moreover, BCH's focus on scalability means that it will continue to gain popularity in the future.