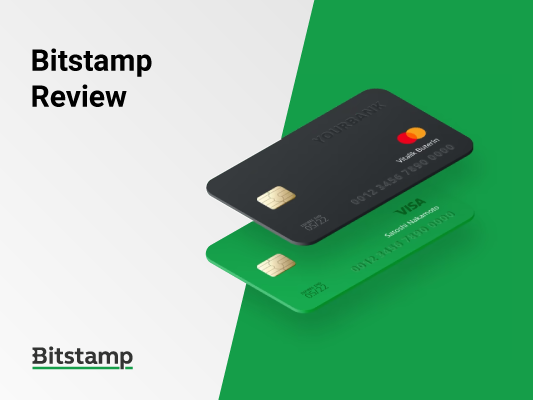 The Ultimate Bitstamp Review [For 2023]
<! -- End of the Reviewed by section -->
You've probably interested in Bitstamp, so we've covered everything you need to know about Bitstamp and its features. Let's dive in!
Bitstamp is a cryptocurrency exchange that was one of the first platforms for making transactions with virtual currencies. The company was founded in 2011 by Damijan Merlak and Nejc Kodrič and is one of the leading cryptocurrency exchanges in Luxemburg.
Bitstamp emphasizes quality over quantity and provides a positive user experience. It's among the best choices for users from the E.U. looking to trade Bitcoin, Ethereum, Ripple, Litecoin, or Bitcoin Cash.
Bitstamp Overview: An Introduction
The platform allows buying cryptocurrencies using fiat currencies such as USD and EUR. It offers an array of crypto services both for individuals and institutions through high liquidity, reliable order execution, and constant uptime. Bitstamp also allows you to withdraw or deposit funds in USD, EUR, Bitcoin, Ethereum, Litecoin, Ripple, Bitcoin Cash, SEPA, and international bank transfer. With Bitstamp, you can buy cryptocurrency with credit or debit cards or your bank account. Bitstamp fees are usually 0.5% but can be reduced to 0.15% depending on the sales figure.
Read on for our Bitstamp Review to know all the pros and cons of this exchange platform.
The Origin of Bitstamp
Bitstamp exchange was founded in 2011 by two friends, Nejc Kodrič and Damijan Merlak, in their native Slovenia. Bitstamp was among the first platforms to compete with Mt. Gox, the largest cryptocurrency exchange in the industry's early days. It did, however, have security issues – Mt. Gox was hacked in June 2011 and was bankrupt in 2014.
Kodric and Merlak aimed to establish a safe and reliable exchange. Cryptocurrencies and the blockchain technology on which they are based are highly secure. The exchanges that trade them, on the other hand, aren't necessarily trustworthy. So, Bitstamp's founders intended to correct this.
In 2013, Bitstamp moved some of its operations to London. Kodric and Merlak wanted their exchange to be in the heart of European banking. However, the U.K. didn't have the regulations needed for the sale of cryptocurrency.
According to the duo, one of the significant issues with cryptocurrency trading was that it wasn't well-regulated. This indicated that there were insufficient regulations in place for crypto trading platforms to follow. Customers have faith in companies that follow the rules. So, Bitstamp looked for a country that had rules.
David Marcus, the former head of PayPal, advised Bitstamp to consider Luxembourg. Merlak and Kodric had meetings with Luxembourg's government in early 2016. So, by April, Bitstamp had become the world's first nationally licensed crypto exchange. This meant that Bitstamp would follow Luxembourg's financial laws. It also meant that Bitstamp was now licensed in 28 countries in the European Union.
Bitstamp has since formed partnerships with financial institutions worldwide, among them Swissquote, Crédit Agricole, and the Chicago Mercantile Exchange. It has grown to become one of the largest, most popular, and well-respected crypto exchanges on the market.
Popularity of Bitstamp
Bitstamp is the 11th best and largest crypto exchange and makes up about 1% of all crypto trading. Bitstamp operates in over 60 countries, including New Zealand, Brazil, the U.S., South Korea, and much more.
Now, let's talk about how Bitstamp exchange works.
Some Outstanding Bitstamp Features
Instant deposit: Bitstamp enables instant deposits, saving you both time and money. You can instantly deposit money into your account with your credit card and begin trading.
Transaction confirmations: Bitstamp provides push notifications that alert you the instant a transaction goes through, thereby ensuring that you remain up-to-date with your digital asset portfolio. You can receive updates through the mobile app, text message, or email.
Assets stored safely online: Bitstamp provides a "pretty good privacy" (PGP) data encryption policy to ensure that your assets are stored safely and securely online. Data encryption masks your information in a series of numbers and letters that require a unique PGP encryption key to unlock the data.
Whitelisting: The platform secures your information with robust whitelisting capabilities. It enables you to create a list of trusted recipients to who you can send assets, so the service will only transfer them to those parties, protecting your funds from hackers.
Customizations: Bitstamp enables you to customize the program to suit your business needs with API capabilities that allow you to alter the product's source code and establish integrations with external software services for a more unified work experience.
Crypto Exchanges Supported by Bitstamp
Some of the crypto exchanges include:
Binance
Bitfinex
bitFlyer
Bithumb
BitMEX
Bitso
Bitstamp
BTCC
Here are some common cryptocurrencies supported on Bitstamp. You can also get the complete list of cryptocurrencies on the Bitstamp website.
Bitcoin
Litecoin
XRP (Ripple)
Ethereum
Bitcoin Cash
XLM
ALGO
Link
USD Coin
OMG Network
PAX
The trading pairs offered by Bitstamp include:
XRP/EUR
BCH/BTC
XRP/BTC
LTC/EUR
ETH/EUR
ETH/BTC
LTC/BTC
BTC/USD
BTC/EUR
BCH/USD
BCH/EUR
XRP/USD
LTC/USD
ETH/USD
Bitstamp Trading Fees
Bitstamp can be downloaded and used for free; it then charges a fee on every transaction and withdrawal that crypto traders perform using the product. Bitstamp fees for trading, deposits, and withdrawing funds vary. They also change depending on which payment method you're using and where you live, so let's have a look:
Credit card purchases: For every credit card purchase, a fee of 5% is charged.
Debit card Withdrawal fee: For withdrawing funds using a debit card, a fee of at least $10 is charged.
SEPA Fees: For anyone who lives in the European Union and uses Euros, there are SEPA (Single Euros Payment Area) fees. Deposits in the SEPA are free. Withdrawals are charged a 3 EUR fee.
International Wire Transfer: The deposit fee for international wire transfer is just 0.05%, which is pretty low. A fee of 0,1% is charged for withdrawing funds using an international wire transfer.
Trading Fees: All trades under $10,000 are charged a fee of 0,5%. For bigger trades, fees go down, i.e., trades bigger than $20,000,000 are only charged a fee of 0.1%.
Cryptocurrencies: Making deposits and withdrawals using the cryptocurrencies that Bitstamp offers are free of charge.
Advantages of Bitstamp Platform – Let Us Look at Some Positive Sides in This Bitstamp Review
Fiat Trading: With Bitstamp, you can buy cryptocurrencies with fiat currencies, such as the Russian Ruble (RUB), Chinese Yuan (CNY), the U.S. Dollar (USD), etc.
The fiat currencies you can trade with on Bitstamp are the U.S. Dollar (USD) and the Euro (EUR). You can also use Swiss Francs and British Pounds on Bitstamp, but you won't be able to trade with them. They will be converted into USD or EUR before you can trade with them.
Security: In 2015, Bitstamp was hacked, and 19000 Bitcoins (BTC) worth about 5 million USD were stolen. This made a lot of users ask: Is Bitstamp safe?
Hacking may happen to any trading platform. However, Bitstamp dealt with the hack very well -in the hack of 2015, no customer funds were lost, and the platform was rebuilt entirely to prevent it from happening again.
Bitstamp offers its users two-factor verification and text message alerts. Bitstamp also uses PGP (Pretty Good Privacy) to keep any information uploaded by its users private.
Finally, is Bitstamp legit? Bitstamp has worked hard to become one of the most secure exchanges on the market. Almost all of its funds are kept in cold storage. Bitstamp funds are also fully insured. Various Bitstamp reviews suggest that it is one of the most reliable and legit trading exchanges.
Payment Methods: With Bitstamp, you can deposit funds into your account using bank transfers and credit cards. Some platforms don't support credit card payments. So the choice of payment methods in Bitstamp makes trading much more convenient for users.
Bitstamp Customer Service: The Bitstamp customer support is pretty good. It responds to user emails within three days. Also, it has a UK-based helpline for emergencies. If you need to contact Bitstamp, you'll need to call the Bitstamp support team or email them. Furthermore, you can find a detailed FAQ page on Bitstamp's website.
Fees: Bitstamp fees are pretty low compared to other exchange platforms' fees. Also, they are easy to understand, which makes the newbies comfortable with the trading interface. As mentioned above, fees change based on your payment method (credit or debit card) and where you live. Bitstamp offers two account types, personal and corporate, that have different fee schedules. For individuals, trading fees are based on the 30 day USD volume and get lower as the trading volume increases.
Bitstamp Mobile App: Bitstamp app is evaluated 4.8 out of 5 on the Apple Store. A pretty excellent rating, right?
Reputation: Few other crypto exchanges have a better reputation than Bitstamp. Bitstamp exchange is reliable and professional. This platform has connections with various financial institutions worldwide. It is wholly licensed and has been audited by Ernst & Young, a Big Four accountancy company. Experienced traders actually love this.
Downsides of Bitstamp – Let Us Look at Some Negative Sides in This Bitstamp Review
User-friendliness: As Bitstamp is a professional trading exchange platform, it can be pretty confusing and difficult to use for some newbies. This platform is well-designed but can seem too advanced for them. This is why Coinbase is recommended instead of Bitstamp for users with no experience in crypto trading.
Coin Selection: Only five cryptocurrencies are available for trading on this platform. These include Bitcoin Cash (BCH), Bitcoin (BTC), Litecoin (LTC), Ripple (XRP), and Ethereum (ETH).
As a beginner, this isn't a problem, but advanced traders would prefer a better selection. Bitstamp only offers 11 trading pairs. To compare, the Binance exchange, for example, offers over 100.
Also, Bitstamp does not offer margin trading or leverage to trade with cryptocurrencies.
Now that you know the pros and cons of Bitstamp, you are all set for crypto trading.
Steps to Sign Up and Start Trading in Bitstamp
Follow our step-by-step guide below to start using Bitstamp:
Step #1: Create a Bitstamp account
On the Bitstamp homepage, click on register. Then, provide some personal information, such as your full legal name, email address, and country of residence. Make sure this information is correct because you will further need to prove your identity.
Step #2: Verify your email address
You'll need to validate your email address before moving on to the next step of the registration process. Go to your inbox and click the verification link sent by Bistamp. You'll be given your unique account I.D. once you've done so. Make a note of it and save it somewhere safe since you'll need it to log in to your Bitstamp account. You'll also need to create a secure password.
Step #3: Boost your account's security
You can now boost the security of your Bitstamp account by enabling two-factor authentication (2FA). Every time you log in or withdraw funds, you will be asked to enter a unique code sent to your cell phone. You'd have to download Google authenticator and add the key. To further increase account security, you can also activate the email confirmation.
Step #4: Confirm your identity
Bitstamp has one of the easiest verification processes, but before you begin, make sure you have all the relevant documents (a government-issued photo I.D., such as a passport or driver's license, a copy of your proof of residence. A utility bill with your address on it or a bank statement would also suffice.)
To begin, log into your Bistsamp account and select "verify account." Unless you are a business client, choose personal account verification.
You'll have to wait for Bitstamp to confirm your documents after you've completed the verification steps. You can make a fiat currency deposit when you receive an email saying that your account has been validated.
Step #5: Make a deposit
Click 'deposit' on the top of the screen and select a payment method.
Enter the desired deposit amount, and click 'confirm.' If you pay with a debit or credit card, your Bitstamp account should be credited immediately.
Step #6: Invest in cryptocurrency.
The easiest way to make your first crypto trade is with a credit card. All you have to do is select the Buy/Sell icon and then choose Credit Card Purchases. Once you're on the trading page for the cryptocurrency you want to buy, simply enter the amount you wish to trade, and choose whether you want to purchase or sell.
Is Bitstamp a Regulated Exchange
Bitstamp has been granted a payment institution license by the Commission de Surveillance du Secteur Financier (CSSF) in Luxemburg.
Cold Storage of Bitstamp
You'll need to be able to access your cryptocurrency now that you've purchased it. The codes used to access cryptocurrencies are stored in wallets. Bitstamp is a crypto exchange that can be used as a wallet. Bitstamp offers both hot and cold storage.
A combination of hot and cold storage is best. Using a hardware wallet is also recommended. Consider using the Ledger Nano S, a popular hardware wallet.
Note: A wallet has public and private keys. You can give your public key to anyone, and they can send you cryptocurrency. Your private keys should never be shown to anyone.
Bitstamp Works Best For
Bitstamp is a secure and trustworthy platform with millions of satisfied customers. Beginners, on the other hand, may find it challenging to use. Bitstamp's professional design and functionality are great for more experienced users, but they might be confusing for newbies.
However, if you're a beginner who likes challenges and learning new things, then Bitstamp could be a great place to start your crypto adventure.
Bitstamp offers fiat trading and credit card purchases. This makes getting started quick and easy.
Conclusion
Bitstamp is an intuitive and secure platform that allows users to trade a variety of cryptocurrency coins. It makes it easy to buy coins with your credit card directly on the platform and safeguards your investments with robust data encryption and whitelisting. If you are looking for a cryptocurrency exchange software product that comes fully customizable with API support, Bitstamp could also be right for you.
However, while Bitstamp is one of the popular cryptocurrency exchanges, you need to answer for yourself if it's the right platform for you.