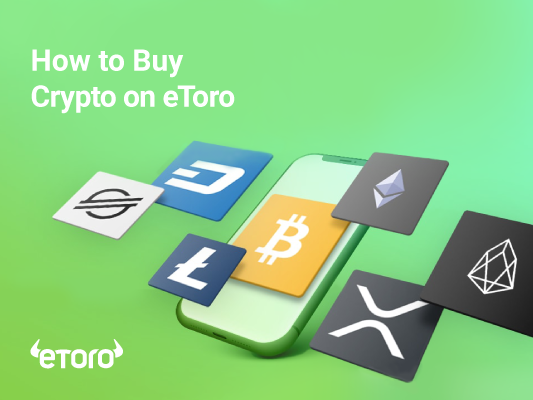 How to Buy Crypto on eToro [The Ultimate Guide 2023]
<! -- End of the Reviewed by section -->
eToro is a leading multi-asset social investment platform, providing financial and copy-trading services globally. It offers a unique social trading feature, letting traders copy the experienced investors' trades or share their own trading strategies to receive exclusive perks.
Launched in 2007, Toro has developed from trades in foreign exchange to commodities, indices, stocks, etc. Today, eToro is a highly competitive cryptocurrency exchange with the crypto trading platform eToroX and a crypto wallet.
Read on to learn everything you need to know about the key features of eToro, its pros and cons, and how to buy cryptocurrency on eToro in a few simple steps.
Let's jump right in!
Introduction to eToro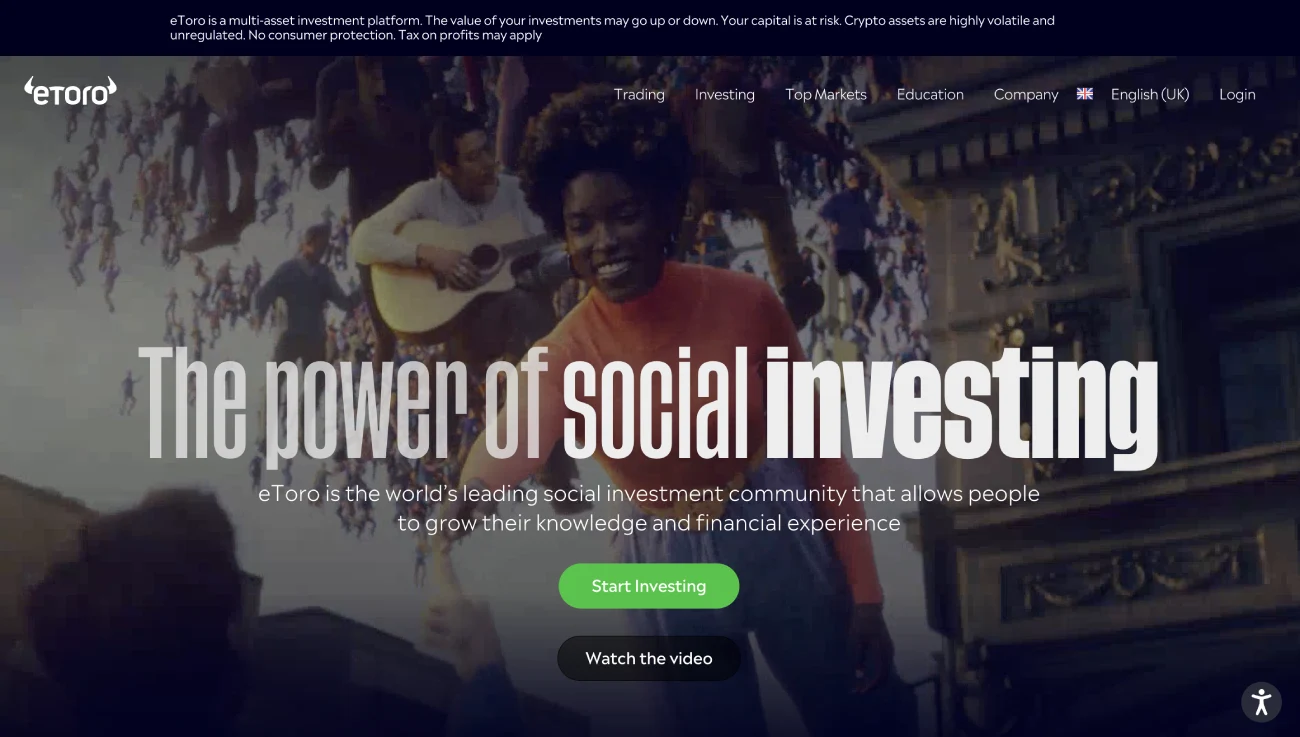 eToro was founded by Yoni Assia, Ronen Assia, and David Ring in 2007 in Tel Aviv, Israel, with offices in Cyprus, the United Kingdom, the United States, and Australia. Assia is still the company's CEO.
eToro, the world's leading social investment platform with innovative trading and investment tools, lets millions of users in 140 countries trade currencies, commodities, crypto-assets, stocks, and indices. It offers a USD investment option with mobile and web trading services in 21 languages.
How eToro Works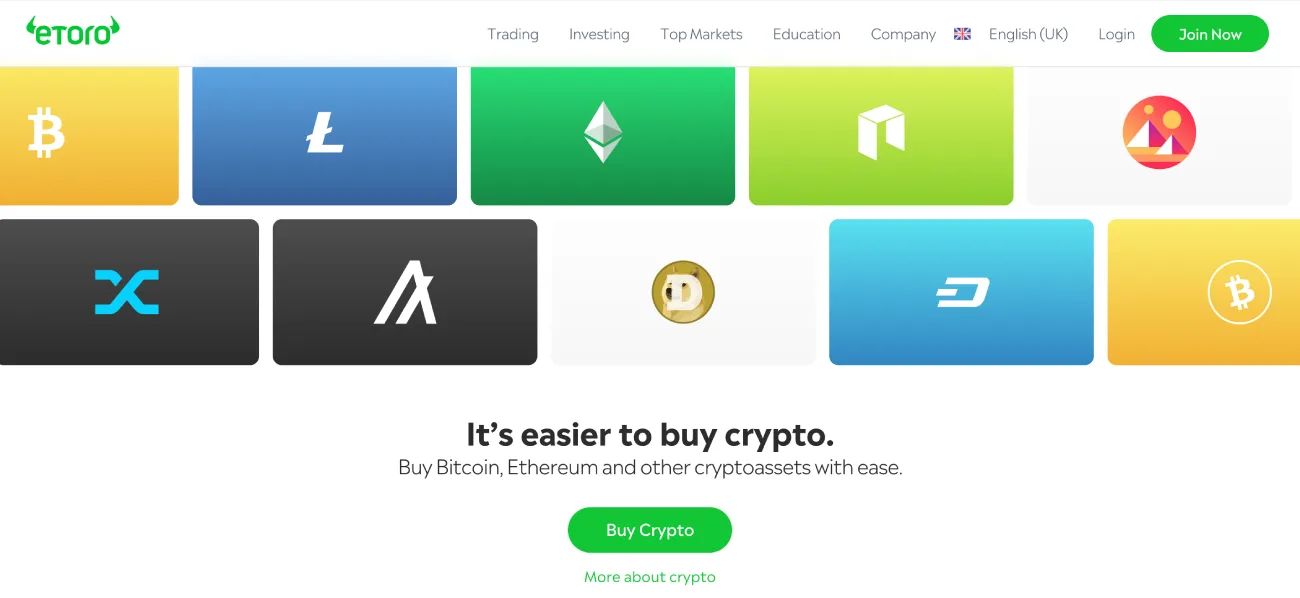 The eToro trading platform has a straightforward pricing structure and offers a wide selection of digital assets that can be combined in the same account as stock investing. It lets users build a portfolio of cryptocurrencies, commodities, EFTs, CFDs, etc.
eToro offers a user-friendly interface with beginner-friendly tools and extensive capabilities for more experienced traders. Users can trade on the web version or the mobile app once they set up an account.
However, the platform's added features like CopyTrade and user interaction set it apart from its competitors.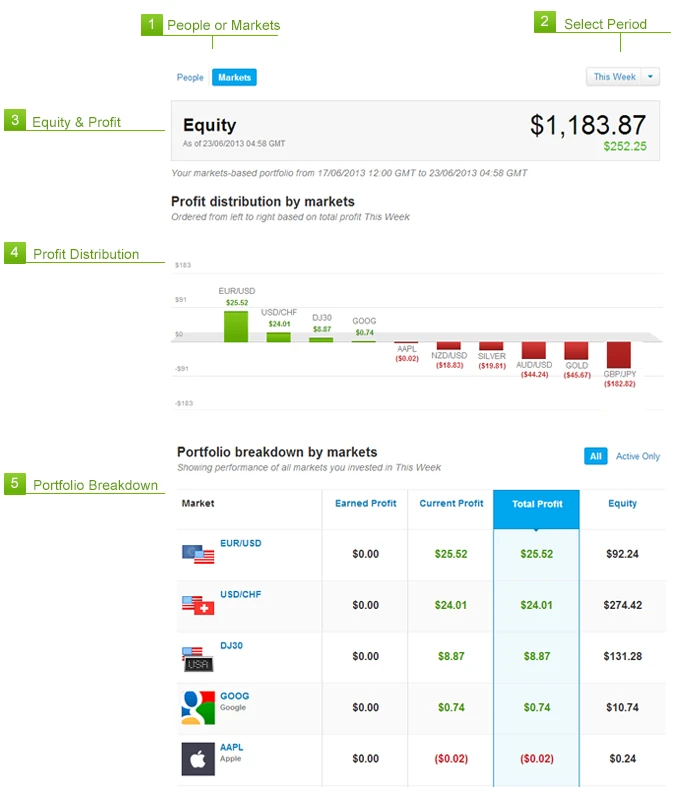 How to Buy Crypto on eToro
Users can deposit fiat currency from a debit card or bank account to start trading through eToro's web-based platform and mobile app.
The guidelines below will explain the process of purchasing cryptocurrency on eToro.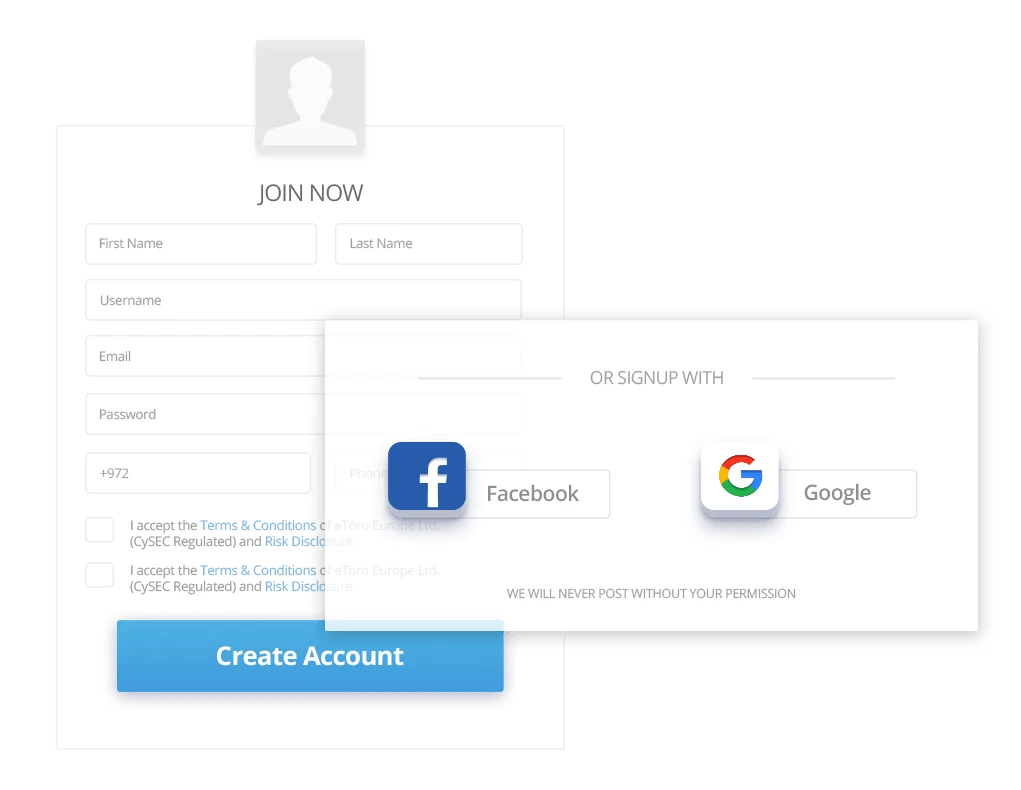 Step #1: Signing Up
Go to eToro.com and click "Join Now" to create your eToro account and start investing in cryptocurrency. On the next page, choose an email ID, create a strong password, and fill in your personal information, such as your name, zip code, birthday, and phone number.
You must then verify your account by uploading proof of identity and proof of address.
Step #2: Verification
Upload proof of address and identity to authenticate your account. Your proof of address can be any bill, bank statement, government tax letter, or government-issued social insurance statement. Your proof of identity can be any government-issued ID card or passport that displays your full name, date of birth, and photograph, with a valid expiry date.
The eToro staff will complete the account verification procedure within 24 hours.
Step #3: Deposit Funds
eToro requires a minimum deposit of $10 when you open a new eToro account. You can pay by credit or debit card (Visa or Mastercard), PayPal, Neteller, Skrill, Rapid Transfer, Klarna, Przelewy 24, POLi, or iDeaL. You can also pay by bank transfer if you deposit at least $500.
Step #4: Create Your Crypto Wallet
You can save your newly purchased coins in your eToro account or move them to a more secure personal wallet. eToro wallet is available for free download for IOS and Android smartphones. To link your eToro crypto wallet to your account, download the app and log in with your eToro credentials.
You can also choose a hardware wallet, also known as cold storage. Hardware wallets are usually considered the most secure wallets to store your digital assets as they offer offline storage, thereby significantly reducing the risk of hacks.
Whichever wallet you choose, always remember to keep your private keys safe and never share them with anyone.
Step #5: Buy Crypto
Look for the search bar towards the top of the screen on eToro's dashboard. Enter the crypto you would like to purchase and click "Trade," or buy it through the "Trade Market" tab. Enter the quantity of crypto you want to buy in USD. When you are ready, click "Open Trade" to make your purchase.
Also Read: How to buy crypto on Webull
How to Sell Crypto on eToro
The selling process is relatively easy. Follow these easy steps to sell your purchased currency from your eToro account.
Log in to your eToro account.
Select "Portfolio" from the left-hand menu.
Select the cryptocurrency you want to sell from your portfolio's list of investments.
To close the trade and sell your cryptocurrency, click on the red cross icon at the right of the screen.
The selling process takes place during market hours.
How to Transfer Crypto Assets From eToro Trading Platform to eToro Crypto Wallet
The eToro trading platform is linked to an external wallet via eToro Money, a mobile app available for iOS and Android devices. You need to use the same username and password you use for your trading account for the eToro Money app.
Once you have installed and registered with the eToro Money app, you can withdraw supported crypto assets from there. The option to move crypto to your crypto wallet will show in the eToro trading platform if the transactions meet the transfer conditions.
You will need to go to the portfolio's "Edit Trade" window to transfer coins. Eligible users will have the option to transfer under "Invested."
You can send Bitcoin (BTC), Bitcoin Cash (BHC), Ethereum (ETH), Litecoin (LTC), Stellar Lumens (XLM), Tron, and Ripple (XRP) to your eToro Money crypto wallet.
Users can transfer any amount of crypto to their crypto wallet. However, if you are a new eToro user, your residual equity (total equity minus the transfer amount) must equal or exceed the total deposits made with one or more payment methods. This restriction is determined by your payment method and eToro Club level and is only valid for a fixed number of days after initially depositing to eToro.
Market Risk
The eToro USA LLC investments are subject to market risk, including the possible loss of principal.
Cryptocurrencies' prices can fluctuate by 20% in a single day. As a result, traders and investors may find many opportunities in the asset class, but they must objectively analyze the risks involved in trading rather than blindly follow any investment advice. Also, one must not invest more than one is prepared to lose.
Trading Fees
eToro is free to sign up for and has relatively low fees. There is no eToro deposit fee, and it doesn't take a commission on stocks. Fees may differ depending on your location.
eToro makes its money based on the spread, which is the difference between cryptocurrencies' buy and sell prices.
eToro offers some of the most competitive Bitcoin purchase rates of any major cryptocurrency exchange. While buying Bitcoin or any other cryptocurrency on eToro, you will pay a charge of 1% of your total transaction. eToro doesn't charge extra fees for using a credit or debit card. When you purchase Bitcoin or send Bitcoin from your eToro account to your eToro wallet, you will be charged a $5 transaction fee.
When you buy through eToro, you will only be charged once for each asset, rather than twice when you buy and sell. eToro also charges a $10 inactivity fee per month for accounts that have been inactive for over one year.
Also See: How to buy Bitcoin
Supported Cryptocurrencies
eToro supports more than 40 different crypto assets.
In 2014, eToro added support for BTC, letting users purchase and sell CFDs (to non-U.S. users). Four years later, Ethereum (ETH) and Ripple (XRP) became available on the platform, and more digital assets were added in the following years.
In 2018, the launch of the eToro crypto wallet and eToroX in the US made trading more accessible. The most widely traded crypto assets on eToro are Bitcoin (BTC), Bitcoin Cash (BHC), Cardano (ADA), Dash (DASH), DogeCoin (DOGE), Ethereum (ETH), Litecoin (LTC), Polkadot (DOT), Polygon, Solana (SOL), and Stellar Lumens (XLM).
There's a $25 minimum for buying any cryptocurrency on eToro, but you'll also need to fund your account with at least $50 to get started (this is also the minimum for any deposits you want to make later). There are no fees for withdrawing your funds from your eToro account, but there is a $30 withdrawal minimum.
Trading Platforms
eToro supports mobile and web trading services in 21 languages, including English, French, Spanish, Italian, Chinese, Dutch, Arabic, etc. You can select the preferred language on the web version through settings.
Designed with beginners in mind, eToro is available for iOS and Android devices and offers the same functionality as a web trader.
Features
eToro's account-opening process is fast and seamless. It provides the following innovative features:
A social trading platform where users copy other traders' strategies.
A virtual portfolio that allows you to practice without investing real money.
An easy process for depositing money.
A user-friendly and well-designed mobile and web trading platform.
CopyTrader
You can follow or mirror the moves of experienced crypto traders or investors on the platform to help you make trading decisions. Click on a successful trader's profile and click "copy" when that person trades.
The cost of copying a user's trades is $200, and users can track up to 100 traders simultaneously. Users can access millions of other traders' portfolios, metrics, and risk scores even if they're not using the CopyTrader. While they have complete access to all public profiles worldwide, US clients can only copy other US users.
Despite the availability of the option, you need to remember that the past performance of a trader is not an indication of future results.
Security
eToro takes account safety very seriously – it employs cutting-edge security technologies for top-notch protection of your assets and personal data.
To protect users' funds, eToro uses warm storage and cold storage. Warm storage is the online wallet, while cold storage is the physical hardware where eToro stores crypto offline, protecting it from hackers. No one at eToro has the authority to transfer cryptocurrency from the cold storage system.
Furthermore, eToro employs cutting-edge monitoring systems to detect and prevent frauds like money laundering and duplicate spending.
To protect your eToro account and your personal and financial information (e.g., login attempts), eToro uses advanced encryption, masking methods, and rate-limiting on account operations. You can also use the two-factor authentication (2FA) feature to add an extra degree of security to your account.
Regulation
eToro is a regulated trading platform with operations in London, Tel Aviv, Israel, and Cyprus operations. It adheres to the legal and regulatory requirements put forth by leading regulatory organizations like:
The Financial Industry Regulatory Authority (FINRA) and Financial Crimes Enforcement Network (FinCEN) for eToro USA LLC. eToro USA Securities Inc is a FINRA member.
The Financial Conduct Authority (FCA) in the UK.
The Cyprus Securities and Exchange Commission (CySEC) in the European Union.
The Australian Securities and Investments Commission (ASIC) in Australia. eToro Australia may function as the principal and hence issuer of the financial product or as your agent, depending on the financial instrument you choose
Virtual Portfolio
eToro offers a free $100,000 virtual portfolio for you to try all of its trading platform features before investing real money. It lets you get a taste of cryptocurrency's volatility and understand the risks involved in trading before committing.
Copy Portfolio
You can invest in one of four crypto portfolios designed by eToro and regularly rebalanced: Crypto Portfolio Copy Portfolio, CryptoCurrency Copy Portfolio, Crypto Equal Copy Portfolio, Crypto Takeover Copy Portfolio, in addition to buying and trading specific cryptocurrencies.
Investing in these portfolios involves a risk because you need to invest in crypto other than Bitcoin and Ethereum, with a considerable investment of $2,000-$5,000. These high minimums can impede many investors, especially newcomers because experts recommend only spending 5% or less of your whole portfolio on cryptocurrency.
Insurance
eToro provides free insurance from Lloyd's of London with coverage of up to 1 million euros, pounds (GBP), or Australian dollars (AUD). All eToro customers are protected with no need for a special registration. The insurance covers cash, all CFD positions, and securities.
Note that the insurance doesn't cover crypto-asset parts.
User Interaction
Content on eToro's social trading platform is generated by members of the collaborative trading community eToro. You can connect with investors on eToro and learn from them by commenting on their articles, interacting with them, and copying their investment methods and portfolios.
But remember that these investors give investment advice based on their experience, and investing entails risk, so don't follow them blindly — conduct your independent research first, then invest.
You can also use the CoinStats crypto portfolio tracker to track the progress of all your crypto assets from one place.
eToro Pros
eToro has an active community and is an excellent choice for cryptocurrency trading. With unique features, eToro provides real-time insights and tiered membership options for advanced users.
CopyTrader, letting users copy trading done by other investors.
Straightforward fee structure.
Offers educational materials in multiple formats – written instructions, videos, webinars, podcasts, and in-person and online training courses are available through eToro academy.
Desktop and mobile trading options. It's even easier with the user-friendly app letting you trade on the go from anywhere, at any time.
eToro practice account. You can try all features on eToro's trading platform risk-free with $100000 in a virtual portfolio before investing real money.
Easy to register with low account funding requirements in most countries.
Regulated by top-tier financial agencies such as the FCA (Financial Conduct Authority), ASIC (Australian Securities and Investments Commission), and CySEC (Cyprus Securities and Exchange Commission).
eToro Cons
Despite offering many advantages, eToro has a few drawbacks as well. From providing limited services and charging higher spreads than other cryptocurrency exchanges to its below-average customer service.
Not available in all states. It's confined to only 43 US states. Limited service is a significant drawback as you can't trade crypto using eToro if you don't belong to a state where eToro functions.
Spreads for some alternative cryptocurrencies can be substantially higher, ranging from 1.9 -to 5%. (However, eToro's spread is not too bad if you sell or purchase Bitcoin.)
In the US, there is no direct crypto-to-crypto trade for Bitcoin, Litecoin, Bitcoin Cash, Ethereum, and Litecoin (LTC).
Customer service is mainly available via web-based tickets and might take a while. The live chat is only available for Club members.
High non-trading fees -$10 per month after one year of inactivity.
Frequently Asked Questions
Why Choose eToro
When it comes to crypto trading, eToro is a fantastic option. The UI is simple, with unique features that make trading straightforward, hassle-free, and secure.
Is Money Safe on eToro
eToro is entirely secure; it uses two-factor authentication (2fA), powerful SSL encryption, and masking techniques to protect your account.
It's regulated by top-tier financial regulators such as the FCA, ASIC, and CySEC and insures users' funds.
However, don't disclose any personal information or your login credentials, and always look for security signs on your browser.
What Methods Can Be Used to Buy Crypto
The exchange offers the option to buy crypto with a debit card, credit card, or bank transfer. If you don't want to use these methods, you can opt for PayPal, Skrill, Neteller, Rapid Transfer, Klarna, Przelewy 24, POLi, and iDeaL.
Which Cryptocurrency Does eToro Support
eToro supports almost 40+ world's popular cryptocurrencies, including Bitcoin ((BTC), Ethereum (ETH), Cardano (ADH), Bitcoin Cash (BHC), Stellar Lumens (XLM), etc.
What Are Spreads
Each product on the platform has two prices: a buy and a sell price. Spread is the difference in price between these two options.
Selling an asset is often known as "short selling," either entering into a contract with a broker or simply investing in an asset that you predict will decrease value.
Buying an asset is called "BUY" on the eToro platform; it suggests investing in something you think will grow in value.
Conclusion
With innovative investment tools and a collaborative trading community, eToro empowers millions of users in over 140 countries to quickly and securely trade and invest in cryptocurrencies, commodities, stocks, etc.
eToro makes buying cryptocurrency trading easy and fulfilling, with more than 40 cryptocurrencies to choose from. The account opening process is swift and straightforward.
eToro provides several unique features, such as social trading, letting you copy other traders to help you get started. It also offers a mobile version, allowing you to trade anytime and anywhere. It provides insurance, a virtual portfolio to test the waters before plunging in, and some of the lowest fees to buy Bitcoin.
However, you should remember that cryptocurrency trading is highly risky, so do your research before investing. References to the earlier performance of a financial instrument, index, or packaged investment product should not be considered reliable indicators of future results.
You can also visit our CoinStats blog to learn more about wallets, cryptocurrency exchanges, portfolio trackers, tokens, etc., and explore our in-depth guides on buying various cryptocurrencies, such as How to Buy Bitcoin, What Is DeFi, How to Buy cryptocurrency, etc.
Investment Advice Disclaimer: This information is for educational purposes only and should not be taken as investment advice, personal recommendation, or an offer of, or solicitation to buy or sell, any financial instruments. CoinStats makes no representation and assumes no liability as to the accuracy or completeness of the content of this guide. Make sure you understand the risks involved in trading before committing any capital. Never risk more than you are prepared to lose.
This material has been prepared without regard to any particular investment objectives or financial situation and has not been prepared in accordance with the legal and regulatory requirements to promote independent research. Any references to past performance of a financial instrument, index, or a packaged investment product are not and should not be taken as a reliable indicator of future results.