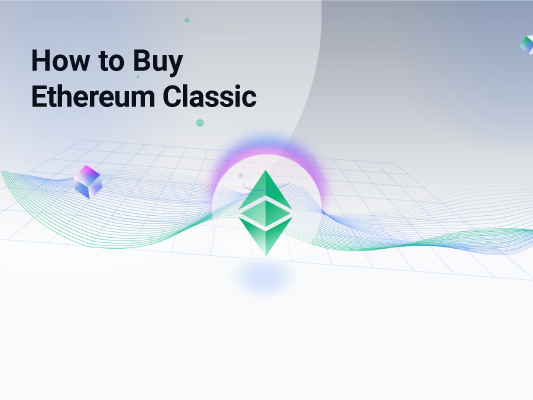 How to Buy Ethereum Classic | Where, How and Why
<! -- End of the Reviewed by section -->
Ethereum Classic is a decentralized and censorship-resistant blockchain with the same goal as Ethereum. Both projects aim to let developers run smart contracts and decentralized applications (DApps) on the Ethereum blockchain network.
Ethereum Classic is a hard fork of the Ethereum network that happened in 2016 after the hack of the Ethereum-based Decentralized Autonomous Organization (DAO). After the disagreements between the mining community and the developers, the project split into Ethereum (ETH) and Ethereum Classic.
Ethereum Classic (ETC) is one of two main Ethereum coins. Check the real-time Ethereum Classic price on CoinStats!
Read on to learn all you need to know about Ethereum Classic, its origin, Pros and Cons, and how to buy ETC in a few easy steps.
Let's jump right in!
Pros
A fully decentralized global network of nodes.
Chooses to remain immutable.
Supports smart contracts and DApps and maintains its own Ethereum Classic tokens.
Lowe cost compared to ETH.
More interoperable with Ethereum due to ETC's Phoenix hard fork, completed in 2020.
Cons
Not Backward Compatible With Ethereum.
Lacks developer activity and high community interest.
Suffered several major attacks in the past.
Dodgy image.
Now let's look into buying Ethereum Classic in 4 quick steps.
How to Buy Ethereum Classic in 4 Quick Steps
Ethereum Classic is one of the most accessible cryptocurrencies on the market. Some of the most active cryptocurrency exchanges include Coinbase, Kraken, and Binance. As of March 2022, Ethereum Classic has jumped more than 80% in the past week.
Follow our step-by-step guide below to start buying Ethereum Classic right away:
Step #1: Choose a Crypto Exchange
Several cryptocurrency exchanges allow you to buy Ethereum Classic online. You'll have to compare them to choose the one that has the features you want, such as low transaction fees, an easy-to-use platform, and 24-hour customer support. Also, consider if the crypto exchange allows buying Ethereum Classic with your preferred payment methods, such as a credit or debit card, another cryptocurrency, or a bank transfer.
Cryptocurrency exchanges are divided into two main categories: Centralized Crypto Exchanges (CEXs) and Decentralized Crypto Exchanges (DEXs). Let's look into some of the advantages and disadvantages of each to help you get started.
Centralized vs. Decentralized Exchanges
A centralized crypto exchange or CEX is like a traditional exchange for buying crypto. CEXs are governed by a centralized system and charge specific fees for using their services. The bulk of crypto trading takes place on centralized exchanges, which allow users to buy coins directly with fiat currencies like the euro or dollars. However, a CEX holds your digital assets on its platform while trades go through – raising the risk of hackers stealing the assets.
Centralized exchanges require their users to follow KYC (know your customer) and AML (anti-money laundering) rules by providing some information and personal identification documents. They are also pickier when it comes to listing new tokens.
On the other hand, a decentralized exchange (DEX) is not governed by any central authority; instead, it operates over blockchain and charges no fee except for the gas fee applicable on a particular blockchain, i.e., on the Ethereum blockchain. Decentralized exchanges use smart contracts to let people trade in crypto assets without the need for a regulatory authority. They deploy an automated market maker to remove any intermediaries and give complete control over the funds to users. Decentralized exchanges are less user-friendly from an interface standpoint and also in terms of currency conversion. For instance, they don't always allow users to deposit fiat money in exchange for crypto; users have to either already own crypto or use a centralized exchange to get crypto. It also takes longer to find someone looking to trade with you as DEX engages in peer-to-peer trade, and if liquidity is low, you may have to accept concessions on price and quickly sell or buy low-volume crypto.
There are no overarching authorities to authenticate tokens on DEXs, which could potentially increase the risk of rug pulls or fraud.
Each crypto platform type has its advantages and disadvantages regarding the listing process, security, and anonymity. So carefully consider the pros and cons of each before making a final decision.
Additionally, Ethereum Classic tokens are available on an array of centralized and decentralized platforms.
We'll continue introducing the process by bringing Binance as an example and drawing parallels with DEXs to give you a better picture.
Step #2: Registration
Once you've selected a reliable cryptocurrency exchange, you can move on to creating your account to buy Ethereum Classic. The requirements differ depending on the platform you pick. Personal information such as your name, contact number, e-mail address, home address, social security number, and a copy of your driver's license, passport, or government-issued ID will be required for most transactions. You might also need to identify yourself through a webcam or smartphone in compliance with Know Your Customer (KYC) rules if you plan to deposit fiat money from your bank account to purchase the ETC token.
After verifying your ID, you may want to enable the two-factor authentication system (2FA) to add an extra layer of security to your account.
Hopefully, advanced traders already have a crypto wallet and can skip the registration step.
Step #3: Deposit Funds
After setting up your account, the next step would involve depositing funds to purchase Ethereum Classic ETC and other cryptocurrencies. You can use your bank account, debit/credit card, or crypto coins from a different crypto wallet. The payment method you use will be determined by the platform, location, and preferences.
Linking your debit card to your crypto account is advantageous as it lets you make instant or recurring purchases, but be aware that it may involve an additional fee. In the case of a local bank account, transfers are generally free, but you may want to double-check with the platform you are using.
ETC can also be traded for other cryptocurrencies like Bitcoin, Ethereum, or stablecoins.
Binance lets you buy Ethereum Classic using a bank account, credit/debit card, or exchange it for another crypto. So, if you still don't own a crypto wallet, you can purchase Ethereum Classic directly through a wire transfer.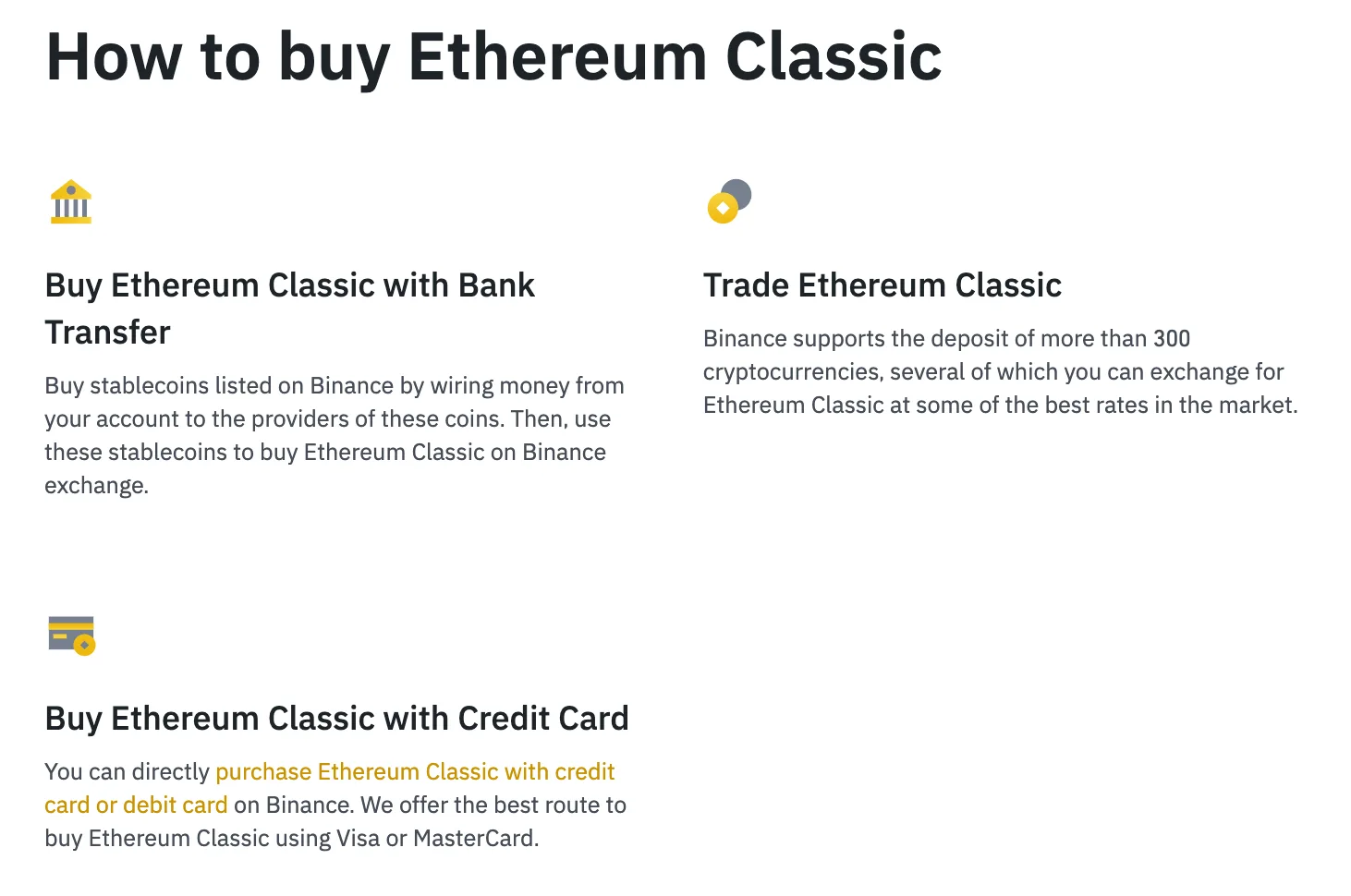 Bank Transfer
Bank transfer is a valid method if you're willing to link your bank account to Binance. However, remember that not all fiat currencies are available for buying Ethereum Classic. It's usually free to make a bank transfer from your local bank accounts, but you should still double-check with your exchange.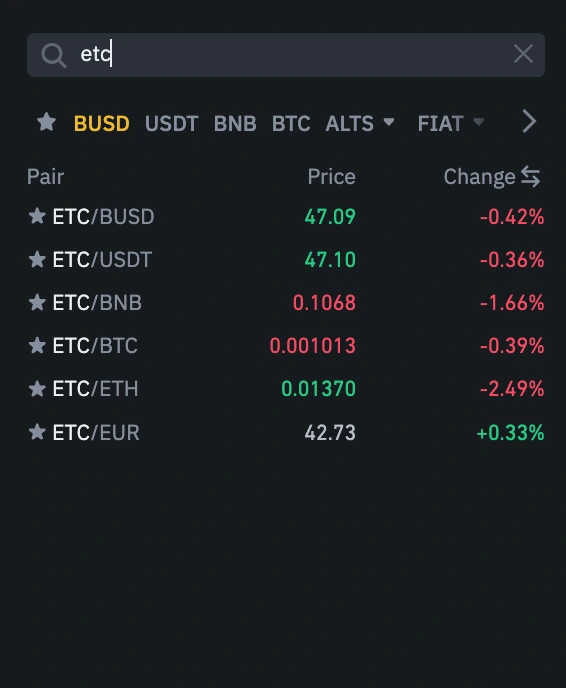 Additionally, if you are a U.S.-based trader, some exclusions might apply. For example, Connecticut, Hawaii, New York, Texas, Vermont, Idaho, and Louisiana residents cannot trade on Binance. You might then register a Coinbase account instead of Binance, as the former is the largest crypto exchange in the country.
Credit or Debit Card
Another option is to buy Ethereum Classic ETC using a credit or debit card.
Linking your debit card to your crypto account is advantageous as it lets you make instant or recurring purchases, but be aware that it attracts an additional fee.
Cryptocurrency
Ethereum Classic can be traded for another currency like the original Ethereum or Bitcoin; the trading pairs vary between exchanges, and you will need to search for ETC on the spot market to select a pair from the list of available currencies.
Step #4: Buy Ethereum Classic ETC
Once your account is funded, you can buy Ethereum Classic ETC. Most centralized and decentralized exchanges offer an "instant buy" option that lets you purchase ETC easily for a set price. An alternative way involves opening a trade in the spot market and setting your own price. Although the "instant buy" method is relatively straightforward, it tends to be more expensive than the spot market option. It's also good to check the market conditions and recent performance to see if it's the appropriate time to buy Ethereum Classic before going ahead with your purchase.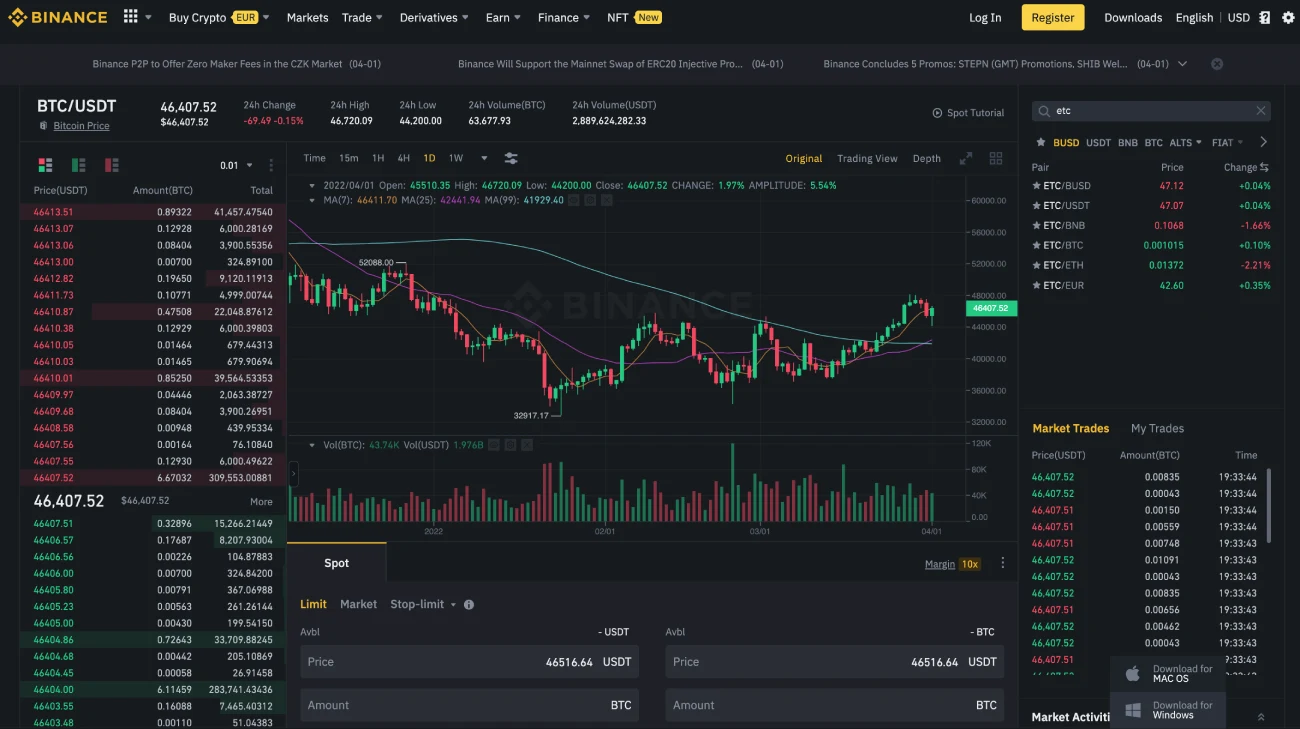 What to Do With Your ETC After Purchase
Congratulations, you're a proud owner of Ethereum Classic! So what do you do with it? Luckily, there are plenty of options to choose from when it comes to ETC. We highly recommend creating an Ethereum Classic wallet with your own set of keys and complete ownership over your crypto assets.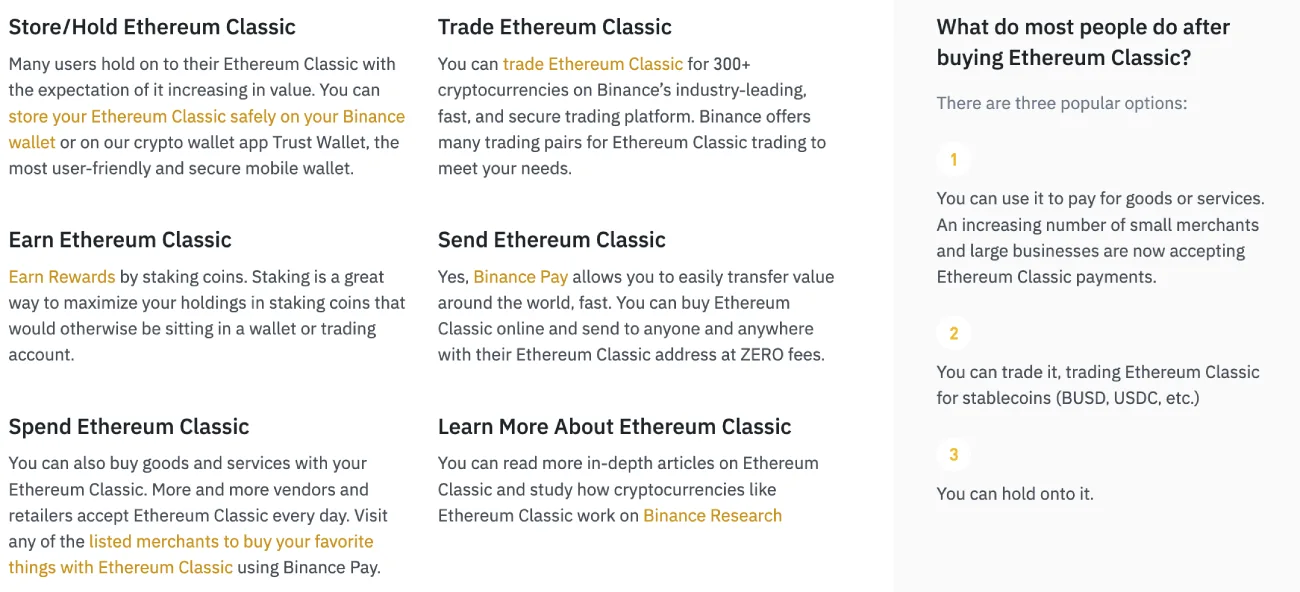 Store ETC
If you believe your Ethereum Classic coins are a profitable store of value, you can store them in your personal wallet as long-term investments. While you have the option to keep them on the trading platform, most traders choose to store their digital assets in a hardware wallet.
A hardware wallet, also known as cold storage, is a physical device, much like an HDD or an SSD. It's usually considered the most secure wallet to store your digital assets as it offers offline storage, thereby significantly reducing the risks of hacks. Hardware wallets are secured by a pin and will erase all information after many failed attempts, preventing physical theft. They also let you sign and confirm transactions on the blockchain, giving you an extra layer of protection against cyber attacks. Simply install the wallet on your laptop or desktop and manage your assets safely.
A hardware wallet can work with multiple blockchains simultaneously, which allows you to manage ERC-20 tokens (like Ethereum Classic, Bitcoin, etc.), all on the same device.
Stake Your Ethereum Classic
While holding on to your coins is a valid option, you can easily earn rewards by making Ethereum Classic coins work for you instead of idly storing them. Ethereum Classic is a Proof-of-Stake Network, so staking is supported on the ETC network.
You can temporarily lock your tokens on Ethereum Classic to earn rewards for participating in the consensus mechanism. However, the ETC price is volatile, and staking could be risky. So, watch the changing price on various crypto price trackers, such as CoinStats, CoinMarketCap, CoinGecko, or Messari.
Spend Ethereum Classic
Naturally, you can sell Ethereum Classic whenever you feel like it. Additionally, unlike many other cryptocurrencies, you can directly spend your ETC coins to purchase goods and services. An increasing number of vendors and retailers accept Ethereum Classic.
Now that you have plenty of options to choose from, we are confident that your newly purchased Ethereum Classic coins will serve you well.
Now, let's discuss the digital asset itself and its connection to the Ethereum Network.
What Is Ethereum Classic
Ethereum Classic was formed in 2016 due to a hack of the network. The original Ethereum Network was compromised, and hackers withdrew 11.5 million Ether coins. After the disagreements between the mining community and the developers, the project split into Ethereum (ETH) and Ethereum Classic. Camp 1 (the one that became the modern-day Ethereum) proposed to "roll back" and reverse the transaction.
However, camp 2 (which grew into Ethereum Classic) rejected the reversal, as in their view, it compromised the founding principle of decentralization: "Code is Law." They believed that the immutable nature of the blockchain technology behind Ethereum meant that nothing should be done.
As the network decided to go ahead and reverse anyway, the opposing crew forked into Ethereum Classic.
Ethereum Classic ETC has value as a speculative digital asset that investors can trade, stake, and store. However, Ethereum ETH is the second most popular cryptocurrency after Bitcoin.
How Is Ethereum Classic Different From ETH
Ethereum Classic is a Proof-of-Work network, whereas Ethereum's consensus mechanism is still in a transitional state. However, the investing community still views ETH as the more legitimate version.
We can determine how the investment community views ETC versus ETH by analyzing how much capital or investment dollars are invested into the two currencies. When comparing the two cryptos' market caps, ETH is the clear winner.
As of late March 2022, ETC has a market capitalization of $6.3 billion, while ETH has a market cap of nearly $400 billion. However, the blockchains might be ready to cooperate and move closer, setting aside their differences in principles and past rivalry.
Conclusion
Ethereum Classic has taken a path different from Ethereum over the last five years since splitting. Ethereum positions itself for continued development, aiming to get adopted at a larger scale and improve the network.
Ethereum Classic, on the other hand, aims to preserve the systems in the classic state without any significant changes by providing a permissionless way to manage digital assets and enabling money transfer by smart contracts.
Ethereum is the preferred blockchain for buying, selling, and creating NFTs. However, Ethereum Classic is still one of the top 30 cryptos by market cap, with over 1 billion daily trading volume. It's available on leading crypto exchanges and smaller platforms, both centralized and decentralized.
Investment Advice Disclaimer: The information contained on this website is provided to you solely for informational purposes and does not constitute a recommendation by CoinStats to buy, sell, or hold any securities, financial product, or instrument mentioned in the content, nor does it constitute investment advice, financial advice, trading advice, or any other type of advice.
Investments are subject to market risk, including the possible loss of principal. Cryptocurrency is a highly volatile market and sensitive to secondary activity, do your independent research, obtain your own advice, and only invest what you can afford to lose. There are significant risks involved in trading CFDs, stocks, and cryptocurrencies. Between 74-89% of retail investor accounts lose money when trading CFDs. You should consider your circumstances and obtain your advice before making any investment. You should also verify the nature of any product or service (including its legal status and relevant regulatory requirements) and consult the relevant regulators' websites before making any decision.
FAQ
Is Ethereum Classic the Same as Ethereum
The two were originally one blockchain, but the ETC network was created as a result of a hack. They do, however, have the same base.
Is Ethereum Classic Available in the US
Yes. While some platforms may have limitations, the token is available on large and small DEXs and CEXs, so anyone can access ETC through the platform they choose.
Do I Need a Prior Crypto Wallet
No, you can buy Ethereum Classic directly with fiat currency on several major trading platforms. However, having a wallet simplifies the purchase.