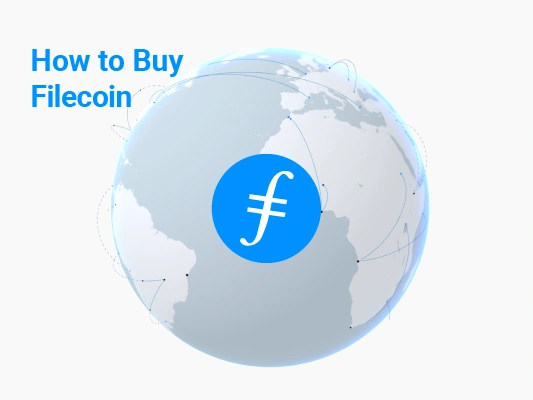 How to Buy Filecoin [The Ultimate Guide 2023]
<! -- End of the Reviewed by section -->
Filecoin (FIL) is a global decentralized storage system striving to become the faster, most secure, and most affordable way to store data on the internet. Filecoin aims to disrupt the dominance of a few centralized players in the cloud storage space like Amazon, Google, Microsoft, etc. The network offers a crypto-incentivized decentralized cloud storage solution by providing economic incentives to storage providers to ensure that files are stored reliably over time.
Clients can access the decentralized cloud storage with the Filecoin FIL token, the native token of the Filecoin network.
In this article, we're going to dive deep into the Filecoin network, explore the use cases of the FIL token, and learn how to buy Filecoin in a few simple steps.
Let's get right to it!
What Is Filecoin (FIL)
Filecoin (FIL) is a decentralized peer-to-peer network for storing files on the internet using the Filecoin blockchain, which records each transaction with a storage unit.
The network helps in monetizing unused storage available on computer systems worldwide. Anyone with extra space on their computer can become a storage provider and make money in the form of FIL tokens for storing the data reliably.
Filecoin was launched in 2017 on top of the Interplanetary File System (IPFS) protocol, ensuring file storage and sharing in a distributed network, invented by Juan Benet. Protocol Labs, founded by Benet in 2014, is behind the Filecoin network and IPFS.
Filecoin attempts to solve two of the biggest problems associated with centralized storage providers – control over data and the cost of storing data.
Firstly, the control of data in centralized storage facilities lies in the hands of the company providing the service. For example, clients lose access to their own data when a platform like Amazon Web Services is hit by a bug or suffers a breakdown. In contrast, Filecoin clients have complete control over the data stored on the network and can access and retrieve their data at any point as per their convenience.
Secondly, the centralized storage providers have complete control over the storage costs the clients have to pay, and these are non-negotiable. In contrast, Filecoin allows end users and storage providers to negotiate a mutually beneficial storage rate.
These two factors have helped the network emerge
as the go-to platform for users looking to store their sensitive files safely.
Who Can Use Filecoin Storage
Filecoin can be used for storing large data sets and is suitable for websites, private data, public datasets, contract data, company files, private data, video, app websites, podcast data, security archives, and personal files. The network uses cryptographic storage proofs and content addressing to ensure that the data is stored securely and correctly over a period decided by clients.
Filecoin provides a foundation for critically important public data such as open access public data, Creative Commons media, historical archives, etc. It stores treasured data archives like Wikipedia, OpenStreetMap, gnomAD, Project Gutenberg, and OpenAQ.
The demand for decentralized file storage has come from both Web2 and Web3 use cases. The network has already achieved a storage capacity of $16,000 PiB, equivalent to approximately 65,000 copies of Wikipedia.
FIL Token Use Cases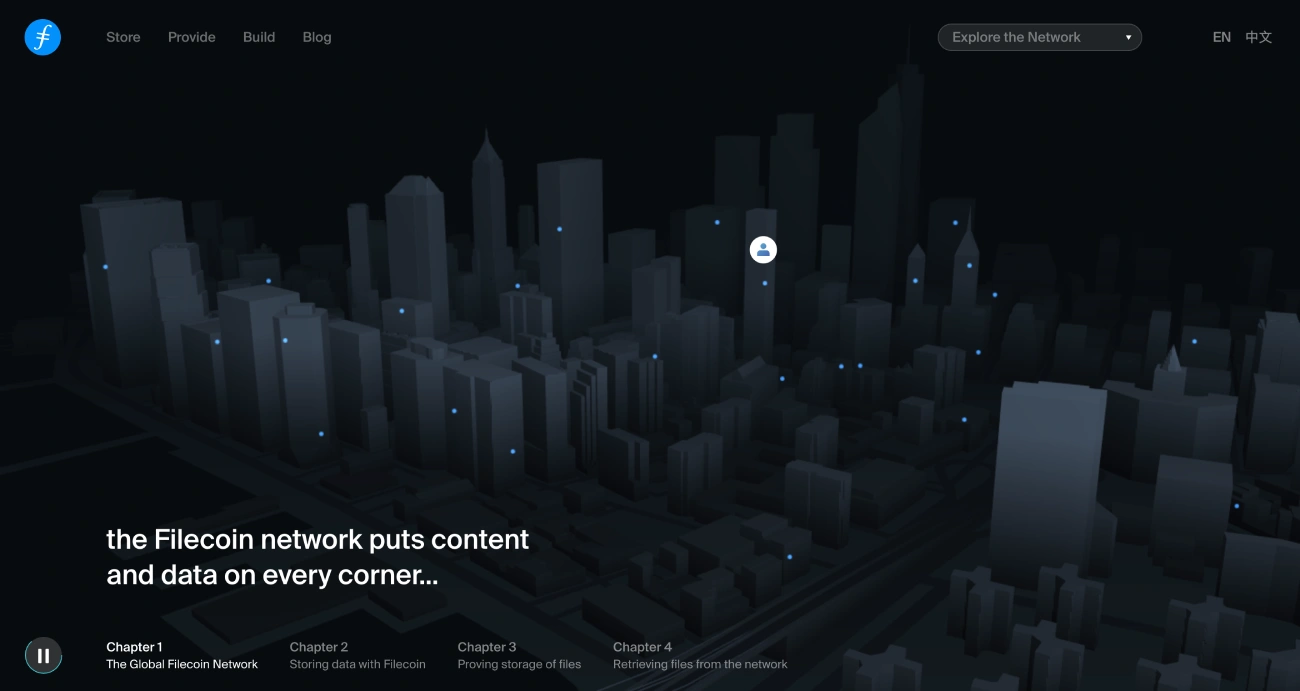 Transactions on the Filecoin blockchain require FIL tokens. The digital asset is needed for storing files on the network. FIL tokens are also distributed to storage providers (miners) and retrievers as an economic incentive to ensure the safety of files. Miners earn FIL tokens as a reward even if the storage they provide remains unused. This helps ensure the availability of free storage on the network at any given time.
Storage providers can hold the FIL token as collateral for future uses. FIL tokens are used as the payment method for the negotiated contracts between storage providers and clients in the open market. The FIL token is also required for settling several micro-transactions on the network.
Filecoin Pros
Filecoin has several advantages:
Passive Income
Filecoin (FIL) makes it easy for anyone with extra storage on their computer to earn passive income by renting the space to clients on the network. This feature has led to the creation of a vast community network in just a few years.
Affordable Storage and Retrieval
The network allows clients to negotiate storage rent with miners in an open market to ensure the storage cost is not arbitrarily fixed. Retrieving data on Filecoin is also cheap because of the competitive pricing in the open market.
Scalability
Filecoin is a highly scalable platform that brings millions of computers with unused storage across the world together. The network aims to increase its storage capacity by 1000x in under 20 years.
Decentralization
Filecoin provides decentralized storage, ensuring files are stored in a trustless manner over the peer-to-peer network. Moreover, the power of making decisions on the network is not limited to any one single player.
Single Protocol
Applications implementing Filecoin can store their data on any storage provider using the same protocol. There isn't a different API to implement for each provider.
Filecoin Cons
Although there are multiple advantages to using Filecoin, there are also certain risks or disadvantages that users should consider:
Market Risks
The price of Filecoin tokens is subject to market risks and volatility that can affect the storage providers' and token holders' earning potential. While their income can increase manifold when the markets are green, they may also witness sharp losses in a bear market.
Competition
Filecoin is still a small challenger to large competitors like Amazon and Google in the cloud storage segment. Moreover, the network has competitors like Arweave, Sia, and Storj in the decentralized blockchain-based storage space.
Security Risks
The reliability of storage provided by Filecoin is heavily dependent on the crypto-economic incentives given to miners. The network may not operate at its full potential if the miners are disinterested in these incentives.
Entry Barriers
Non-crypto users cannot use Filecoin, as FIL tokens are required to complete transactions on the network. With global uncertainties around crypto regulations, a large section of the population is not yet interested in crypto and crypto-related services.
Inflationary Token
FIL is an inflationary cryptocurrency developed as a utility token for use within the Filecoin network. It may not have a long-term speculative value, as opposed to Bitcoin.
How to Buy Filecoin
Buying Filecoin is pretty straightforward. Users can buy Filecoin FIL on several crypto exchanges, such as Coinbase, Gemini,Crypto.com, and Binance.
To purchase Fil on CoinStats, you must connect your wallet and swap your existing tokens for Filecoin. CoinStats supports over 250 cryptocurrency exchanges and over 7,000 cryptocurrencies. You can use the CoinStats Wallet, Ethereum Wallet, Trust Wallet, Bitcoin Wallet, etc.
Follow our step-by-step guide to buying FIL on CoinStats:

Step #1: Log in to CoinStats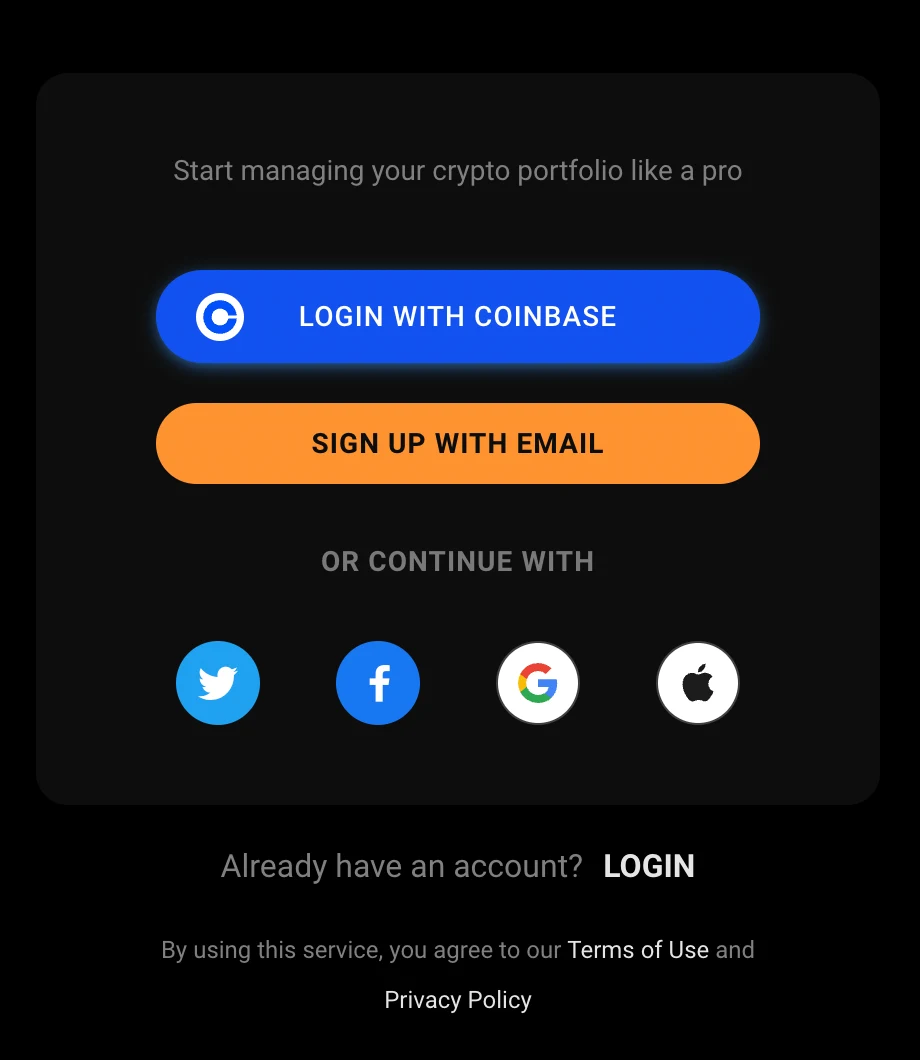 To buy FIL, users need to have some major crypto tokens like Bitcoin, Ethereum, etc., in their crypto wallet. After that, you need to log in or create an account on the coinstats.app and search for Filecoin in the search bar to buy FIL.
Step #2: Click Buy FIL

In the next step, click on the "Buy FIL" link available in the upper right corner of the page.
Step #3: Connect Your Wallet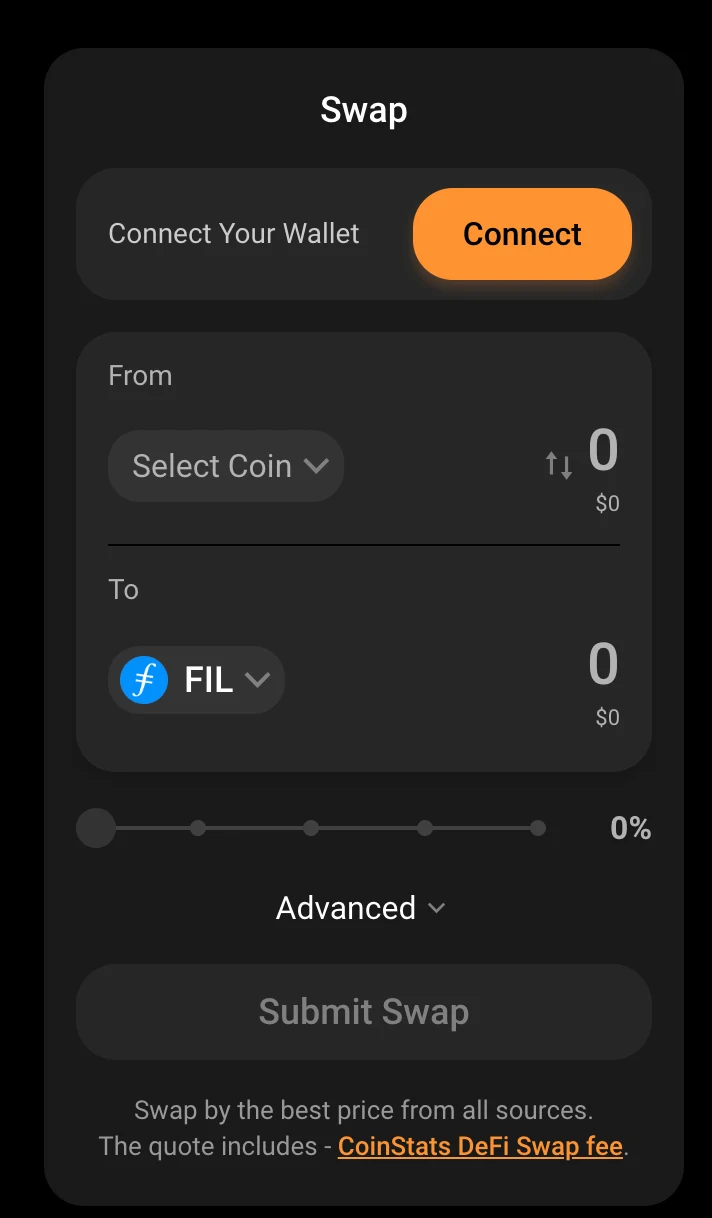 Scroll down to the "swap" feature and connect the wallet where you store your ETH or BTC tokens. Once you click on the "Connect" button, you'll see various wallet choices offered by CoinStats. Search for your wallet and connect it. You can also connect it by scanning the QR Code via WalletConnect or manually adding the Blockchain/Crypto and Wallet address in your web or mobile application.
Step #4: Select the Token
After successfully linking your wallet, choose the token you want to swap by providing the data either in cryptocurrencies or USD/EUR.
For example, we are swapping ETH for FIL or buying Filecoin with ETH. In the "From" field, select the ETH token from your wallet, and in the "To" field, select "FIL."
Step #5: Swap Crypto
Click on Advanced Options to change the slippage and gas settings. When you're finished customizing, scroll down to the bottom of your screen and click the "Submit Swap" button.
After you've submitted your swap request, you'll be prompted to confirm it. To begin the swap, review the information displayed on your web or mobile app screen, and click the "Confirm" button.
Your transaction is now being processed. The pace of your transaction will vary depending on the gas parameters you select. You can trace your transaction from the loader at the bottom right corner of the wallet's home page.
NOTE: You'll be charged Network Transaction fees, also known as gas fees. This refers to the charge necessary to complete a transaction on the blockchain. In essence, gas fees are paid in the native currency of the network, i.e., Ethereum for the Ethereum network. CoinStats also charges a small swap fee in addition to the gas fees.
How to Buy FIL on Cryptocurrency Exchanges
Here's our guide on how to buy Filecoin (FIL) on crypto exchanges:
Step #1: Select an Exchange
You can purchase FIL tokens on several exchanges. You'll have to compare them to choose the one with the features you want, such as low transaction fees, an easy-to-use platform, and 24-hour customer support. Also, consider if the cryptocurrency exchange is regulated by the Financial Industry Regulatory Authority (FINRA), etc., and allows buying FIL with your preferred payment methods, such as a credit or debit card, another cryptocurrency, or a bank transfer.
Step #2: Login or Create an Account
After selecting a cryptocurrency exchange that ticks all the boxes, the next step is to create an account on the exchange with your email or mobile number. The requirements differ depending on the platform you pick. You must enter the verification code sent to your email or mobile phone to get verified and start trading.
Some exchanges might require stringent KYC and AML procedures, and you must provide personal information like your name, contact number, email address, home address, social security number, and a copy of your driver's license, passport, or government-issued ID to get verified. You must provide this information to be authenticated if you plan to deposit fiat currency from your bank account to purchase the FIL token.
It's advisable to enable two-factor authentication (2FA) to keep your funds safe once you've verified your identity.
Note: Existing users can simply log in to buy Filecoin (FIL).
Step #3: Deposit Funds
The next step is to deposit funds into your account. Many exchanges will allow you to use fiat currency like USD or EUR to fund your account. Simply choose your preferred method, such as a bank transfer, Master and Visa credit/debit cards, e-wallets, wire transfer, PayPal, etc. The payment method used to buy FIL coins will be determined by the platform, location, and preferences.
Some deposit methods are almost instantaneous, while others require a confirmation from authorities depending on the amount. Remember also to check the costs associated with different deposit methods because some attract higher fees than others.
Step #4: Buy FIL
The process of purchasing Filecoin is similar across all exchanges. Search for Filecoin FIL in the search bar, select it, and click on "Buy FIL" or its equivalent. Input the amount of FIL or the fiat amount to be spent. Most exchanges will automatically convert the amount to let you know how much you'll spend and how much FIL will be obtained. Before making your purchase, double-check the details and confirm.
You can place a market order to buy Filecoin (FIL) tokens immediately at the current market price. Otherwise, you can place a limit order indicating that you want to buy FIL at or below a specific price point. The coins will only appear in your wallet if your broker fulfills your order at or below your requested pricing.
Some cryptocurrency exchanges provide peer-to-peer (P2P) platforms to let users buy FIL from other users directly. Users must select Filecoin FIL, a seller, and a payment method. After making selections, users must click the "buy" button, confirm the transaction, and the seller will release the FIL tokens to the buyer.
FIL Tokenomics
The FIL tokens' total supply is capped at 2 billion, with 223 million tokens currently in circulation. The token was launched in 2017 at an initial price of $0.75 per token. Of the total FIL supply, 70% of tokens have been allocated to miners/storage providers, and the remaining 600 million tokens were pre-allocated with varying vesting periods in the following way:
770 million FIL tokens will be released over 20 years. 97% of 330 million FIL tokens will be released in around 30 years.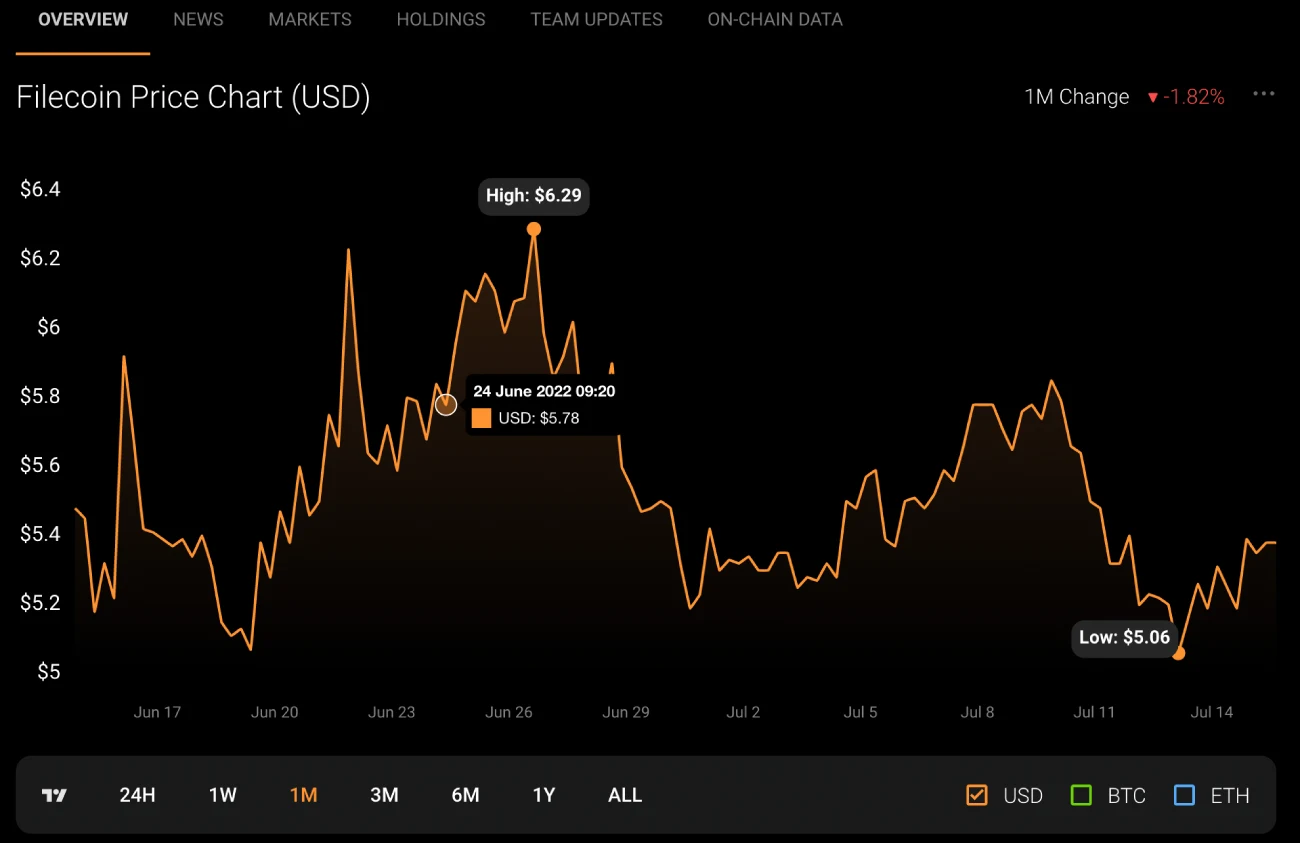 FIL token reached its all-time high (ATH) of $237 on April 1, 2021. The token fell to its all-time low of $1.83 on August 29, 2019. Its current price is 187% more than the all-time low.
How to Sell or Exchange FIL
Users can easily sell and exchange their FIL tokens on a cryptocurrency exchange. Follow these steps to sell or exchange your FIL tokens easily:
Step 1: Log in to your account.
Step 2: Select FIL from your portfolio's list of assets and choose how many Filecoin you want to trade.
Step 3: Complete the token sale or exchange process as instructed by crypto exchanges.
How to Store FIL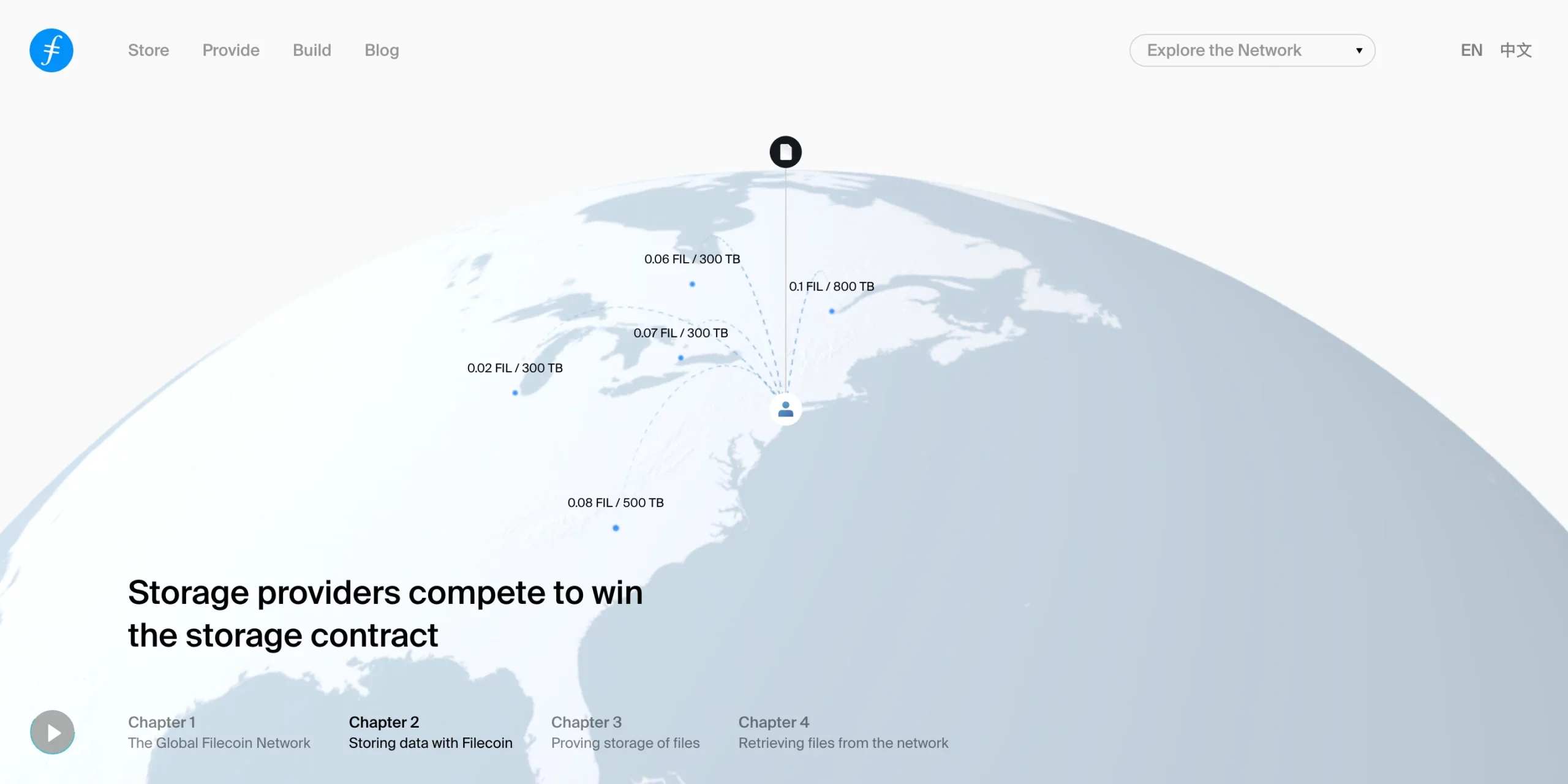 After buying a digital asset, it's essential to securely store it in a crypto wallet. While you can leave your tokens on your exchange wallet, this leaves you more vulnerable should the platform be hacked, so we highly recommend creating a private wallet with your own set of keys. There are 2 major storage options to store your Filecoin FIL tokens off the exchange wallets: a Software Wallet (Hot Wallet) and a Hardware Wallet (Cold Wallet).
The supported wallets for storing FIL include the CoinStats wallet, Trust Wallet, Filfox wallet, FilSnap, Metamask, Plugin, FilWallet, FoxWallet, Glif Web Wallet, ImToken, MathWallet, Brave Browser Wallet, etc. Some of these wallets are approved by Financial Crimes Enforcement Network (FinCEN).
"Not your keys, not your coins" is an often quoted saying for crypto investors. Giving away your private keys to online exchanges and wallets may put your digital assets at risk and make them vulnerable to cyber attacks or suspension of withdrawal by exchanges, as witnessed during the ongoing market downturn. Storing your keys in cold or hardware wallets is, therefore, the safest way to store FIL.
Should You Buy Filecoin
The Filecoin token has registered instant success on its launch but failed to keep up to its reputation. In the bull run of 2021, the token's price increased to $237; however, the FIL price has been on a downward trajectory since last year. The current decrease in FIL price may also be attributed to the overall downturn in crypto and general financial markets across the globe.

However, when it comes to crypto investment, one should always look for the long-term potential of digital assets. Decisions based on current prices often lead to disappointment.
Filecoin has a promising future, but it needs to become a major competitor to traditional Web 2 cloud players, earn the clients' trust, and ensure a smooth user experience for all stakeholders like clients and storage providers.
Before purchasing Filecoin or any other cryptocurrency, it's also vital for investors to do their own research and seek investment advice from professional financial advisors.
Final Thoughts
FIL is one of the few highly rated crypto assets with real-world use cases. The popularity of decentralized file storage solutions among crypto enthusiasts contributes to the network's growth, irrespective of the market conditions. The global cloud storage market is predicted to grow manifold in the coming years, and the Filecoin ecosystem could capture a significant portion of the market if it lives up to its promise.
The Filecoin network also provides a decentralized cloud storage system for the Web 3 ecosystem, including storage solutions for NFTs, the metaverse space, music, video streaming, and gaming. If Web 3 manages to grow as projected, Filecoin may also develop.
Lastly, the Web 3 ecosystem is expanding rapidly, and a new player can quickly emerge and disrupt existing platforms. So, Filecoin must remain ahead of other blockchain-based file-sharing protocols by providing a better user experience and earning opportunities to storage providers. The network should also be wary of the existing centralized storage providers and the rapidly evolving crypto regulations worldwide. The network's unique model puts it in a sweet spot, but the company may have to do more to experience massive growth in the coming years.
Note: Before buying FIL, users should always seek professional investment advice and do their own research.