How to Buy Kadena [The Ultimate Guide 2023]
<! -- End of the Reviewed by section -->
Interest in Web 3.0, a decentralized web built upon blockchain technology, including digital identity, smart contracts, decentralized applications (DApps), etc., has skyrocketed recently. Web 3.0 incorporates more artificial intelligence and virtual reality into the internet experience and also fundamentally works with cryptocurrency,
Some of the best crypto opportunities for the years ahead are metaverse coins, NFTs, and Web 3.0 coins. KDA is a Web 3.0 coin used to process transactions on Kadena's blockchain, a hybrid open-source blockchain platform that delivers high speed, security, scalability, and ease of use.
This article will dive deep into one of the most innovative, profitable, and scalable blockchains and crypto projects, Kadena. Also, we'll explore why, where, and how to buy Kadena KDA to support Web 3.0 and, at the same time, give yourself a chance to make a profit.
Let's get right to it!
What Is Kadena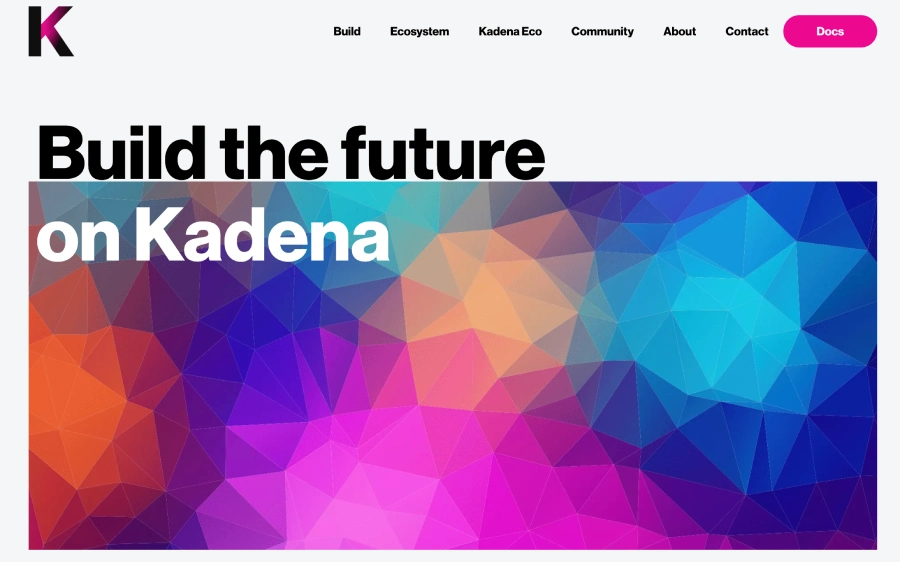 Kadena is the only scalable Layer 1 Proof-of-Work (PoW) blockchain protocol that offers both public and private networks. Kadena uses a public Layer 1 chain architecture called Chainweb to provide the security of Bitcoin along with no-cost transactions, complex smart contracts, and high throughput.
Kadena's unique infrastructure is decentralized and built for mass adoption because of its multi-chain approach. Kadena promises industrial scalability that can support global financial systems and can be scaled as necessary. It provides safer smart contracts, innovative energy efficiency, and PoS security. Unlike other platforms, such as Bitcoin, which use more energy as network demand increases, Kadena vows to remain energy-efficient at scale and deliver more transactions with the same energy input. Using braided chains, the protocol can process up to 480,000 transactions per second (TPS).
The protocol lets developers build smart contracts through its smart contract language, Pact, allowing effortless writing directly on the blockchain. Pact is different from other smart contract programming languages as it is designed for correct, transactional execution on a high-performance blockchain. It is turing incomplete, human-readable, and supports upgradable contracts and formal verification to make high-performant and secure smart contracts. Another key element of Kadena is a private layer-2 network, Kuro, that developers can use to develop scalable, secure, and private decentralized applications (DApps).
The mission of Kadena is to expand blockchain mass adoption by delivering tools that meet the needs of developers and organizations.
The protocol's native token Kadena(KDA) is used to cover costs on the Kadena blockchain and reward miners for producing blocks.
Kadena History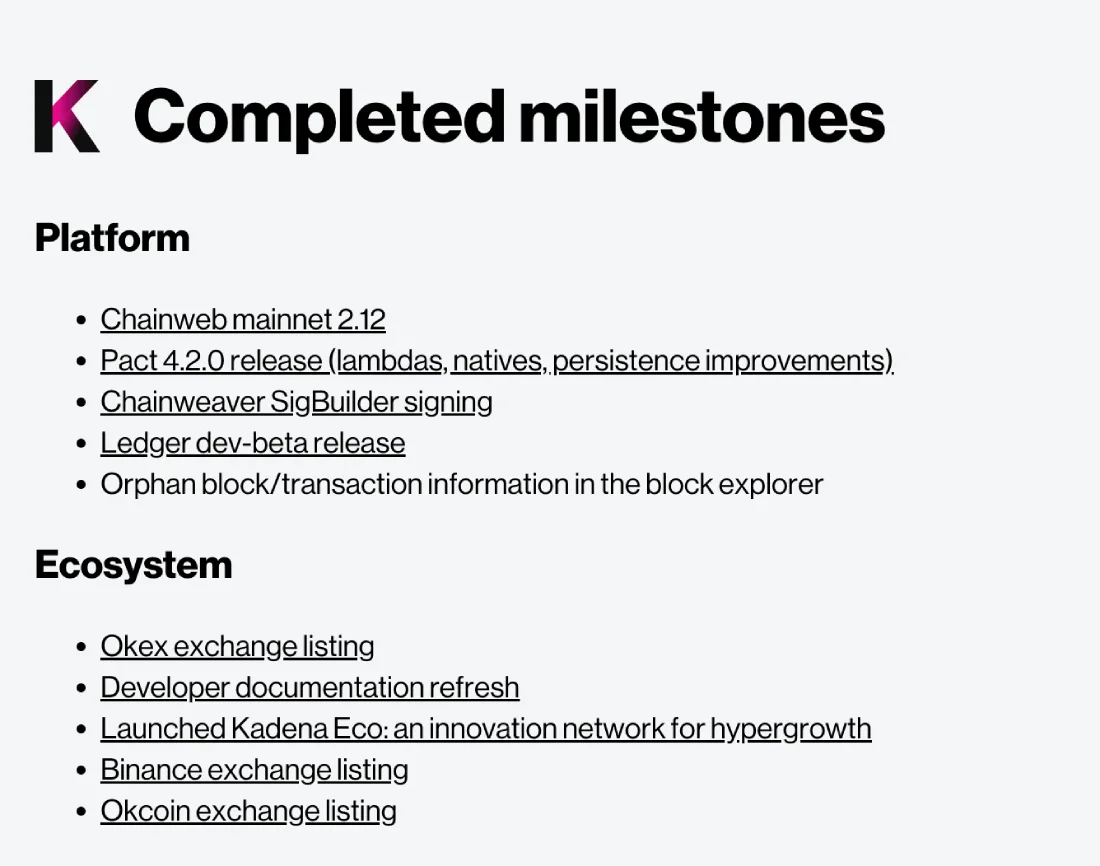 Kadena was founded by Will Martino and Stuart Popejoy, former members of the JPMorgan blockchain development team, in June 2016.
Stuart Popejoy led JPMorgan's Emerging Blockchain group before founding Kadena and has 15 years of experience building trading systems and infrastructure in finance. He designed and developed transformative technologies, including blockchain and smart contracts. Before JPMorgan, Stuart worked as a programmer, analyst, and researcher at different companies.
Will Martino is the CEO of the company. Previously, he worked as Fintech Manager at JPMorgan and was the Lead Engineer for JPMorgan's blockchain prototype Juno. He also led the Securities and Exchange Committee's Cryptocurrency Steering Committee and Qualitative Analytics Unit.
Another prominent founder of Kadena is Dr. Stuart Haber, the co-inventor of blockchain technology and the most cited author in Satoshi Nakamoto's Bitcoin whitepaper.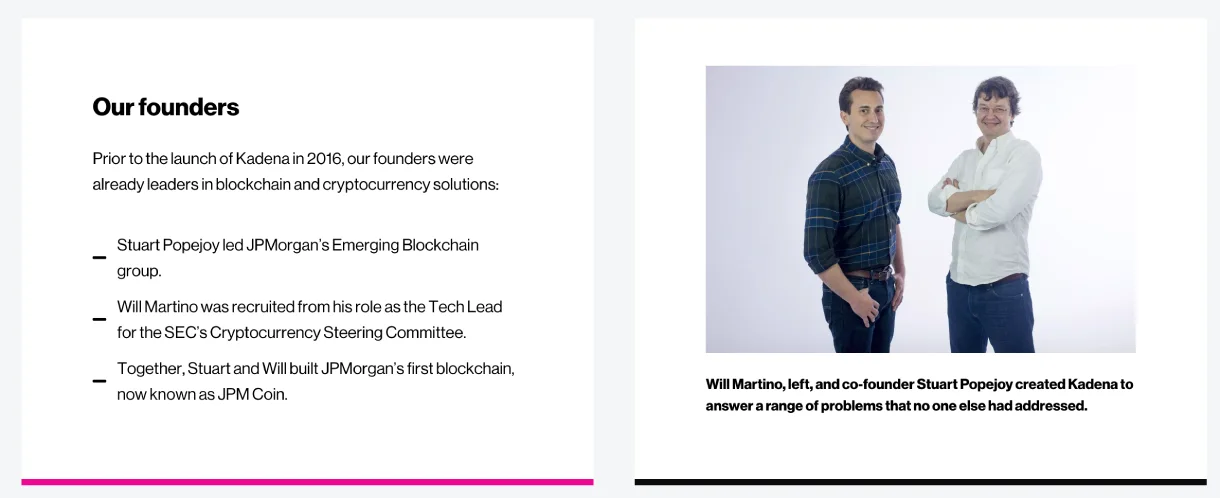 Kadena has raised more than USD 25 million through private token sales. The first round of the private token sale took place in January 2018 and raised USD 2.25 million for 4.5 million KDA tokens. The second round was held in April 2018 and raised USD 12 million for 17.2 million KDA. Kadena raised USD 20 million for the third round in November 2019 through another token sale. Kadena launched its mainnet in December 2019.
Additionally, Kadena raised capital from several crypto venture capitalists like Multicoin Capital, CoinFund, Amino Capital, etc.
How Does Kadena Work
Kadena is a hybrid blockchain consisting of Layer 1 public chain protocol Chainweb and a layer 2 protocol Kuro. The smart contract language Pact ensures interoperability between the two layers.
In simple terms, Kadena achieves unparalleled throughput by braiding chains together, meaning it offers 20 separate blockchains working simultaneously to validate transactions. This allows Kadena to mint multiple blocks simultaneously, thus increasing its throughput.
Kadena claims that the DAG mechanism (Directed Acrylic Graph) it uses allows scaling from one PoW blockchain to a theoretically unlimited amount. However, its DAG structure is fixed, and multi-channel, meaning Kadena's blockchains only communicate with three peer chains' blocks instead of randomly confirming transactions. This improves real-world performance and scalability, making the Kadena blockchain usable for enterprises and entrepreneurs.
Kuro is Kadena's private blockchain, optimized for enterprise-grade use cases. Developers can use the network to build and deploy scalable, secure, and private DApps. Initially, Kuro editions were available via Microsoft Azure and Amazon Web Services (AWS), but in 2020 the project became completely open-sourced.
Kadena's smart contract language, Pact, enables smart contract execution between private and public networks.
Kadena's user-friendly interface allows anyone without any prior technical knowledge to develop and integrate DApps on the blockchain.
Moreover, Kadena offers crypto gas stations, which allow businesses to pay for their customers' gas fees and facilitate adopting blockchains for business.
How Is Kadena Network Secured
Kadena uses a public Layer 1 chain architecture called Chainweb to combine its several Proof-of-Work blockchains. Each chain confirms its three peer chains' blocks, thereby increasing throughput linearly with the addition of new chains. This also increases security as Kadena chains achieve a single view of transaction history across chains. An attacker would have to fork not one chain but all the running chains to attack just one.
Kadena (KDA) Tokenomics
KDA tokens' total supply is 1 billion. KDA tokens are used to pay gas fees and reward miners. Kadena pre-mined several rounds of KDA. The Kadena token distribution roadmap is as follows:
700 million KDA tokens will be mined over the next 100+ years.
200 million will be given to the Kadena platform over the next 9 years.
90 million KDA tokens have been distributed among investors, contributors, and Kadena's strategic reserve.
10 million KDA tokens were burnt at the launch.
The Kadena price reached its all-time high of USD 24.22 on 11th November 2021. You can check the current Kadena price, circulating supply, market cap, 24-hour trading volume, etc., on the CoinStats page, Kadena price.
Kadena Markets
Kadena is one of the fastest-growing blockchain protocols in the crypto industry and is available for trade on almost all major cryptocurrency exchanges worldwide. Some popular crypto exchanges include Binance, Kucoin, WazirX, Gate.io, Hotbit, Bittrex, etc.
How to Buy Kadena (KDA) on Binance
Binance is one of the major cryptocurrency exchanges in terms of trading volume. Low fees and high liquidity are among the advantages of buying Kadena on Binance, allowing you to quickly buy and sell digital assets to take advantage of market opportunities. If you wish to buy Kadena on Binance, follow the steps described below:
Create an Account on Binance
If you don't have a Binance account already, you can create one by providing your valid email address and a phone number. Once you verify your email address, the phone number is used to create a two-factor authentication. You'll then need to complete your KYC verification which usually takes a few minutes. For KYC, you need a valid ID and a live photo. A user residing in the US can provide their social security number. The KYC process takes a few minutes, after which you're set to trade Kadena or any other cryptocurrencies of your choice.
Deposit Funds
The next step is to deposit funds into your Binance account. You can choose a fiat currency, including USD, EUR, INR, GBP, AUD, etc. Binance cryptocurrency exchange supports different deposit methods, including bank transfer, third-party transfer, credit or debit card, third-party payments, peer-to-peer transactions, etc. You can also deposit cryptocurrency directly into your Binance wallet. Once you've deposited enough funds through a payment method of your choice into your Binance wallet, you're one step closer to buying Kadena.
Choose a Trading Pair
Binance has three trading pairs for KDA: KDA/BTC, KDA/USDT, and KDA/BUSD. If you wish to trade KDA/USDT, you must buy USDT with the fiat currency you've deposited. Once you get USDT in your Spot Wallet, go to Markets and search for KDA/USDT.
Purchase KDA

In the Spot trading section, select the KDA/USDT market and enter the amount of USDT you wish to buy KDA for. After that, click on buy. The order will be filled within seconds, and the KDA tokens will be reflected in your exchange wallet.
Buy Kadena (KDA) on Kucoin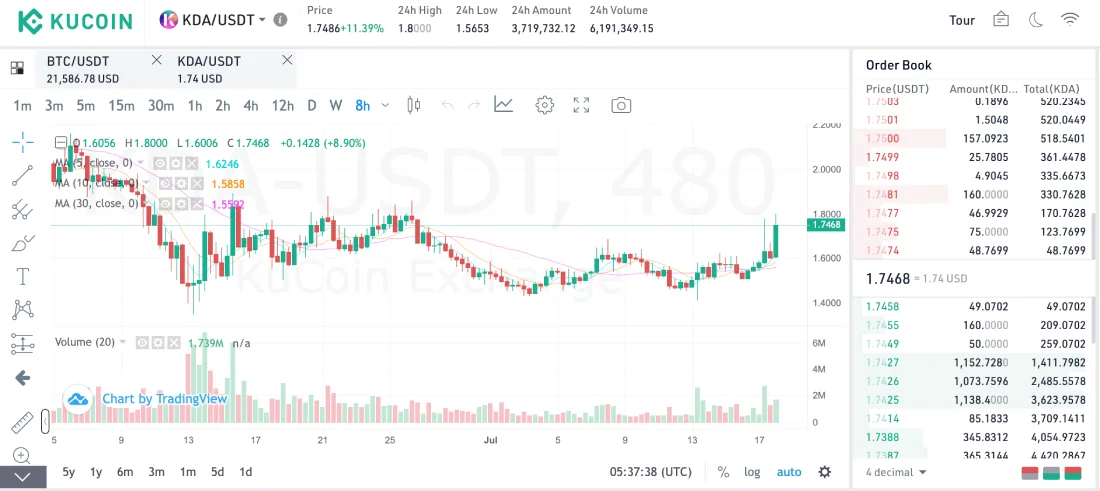 KuCoin is one of the fastest-growing crypto exchanges. To purchase KDA on Kucoin, follow the steps given below:
Create an account on Kucoin and perform KYC verification to unlock the exchange's full features.
Go to "Buy Crypto" and select "Fast Buy" in the drop-down menu.
Enter the fiat currency of your choice; the exchange will tell you how much USDT you'll receive.
On the next page, select "Bank Card," enter your card details, and complete the transaction.
The USDT coins you've just purchased will be reflected in your wallet.
Now, go to "Trade," select "Spot Trading" from the drop-down menu, and search for KDA/USDT.
Place an order to buy Kadena for the amount of USDT you wish to spend.
Your order will be filled within seconds, and KDA tokens will be reflected in your wallet.
Storing Kadena
Once you've managed to buy Kadena, the following step is to choose a secure wallet to store KDA tokens securely. Your coins can be kept in your exchange wallets, but in this case, they'll become vulnerable to attacks by online hackers. So, we strongly advise you to hold crypto assets in a private wallet with your own private and public keys. Based on your investing preferences, you can choose between a software wallet, such as the CoinStats Wallet, and a hardware wallet like Ledger Nano.
Conclusion
Kadena is one of the most innovative projects in the crypto market. Although the Kadena Price has decreased drastically in recent months due to general market trends and the global situation, Kadena KDA is an excellent investment in the long run.
Check out our CoinStats guide, "What Is DeFi," to gain a fundamental understanding of Decentralized Finance. And see our "Crypto Portfolio Trackers" to learn more about the best crypto portfolio trackers in the market.
Investment Advice Disclaimer: The information contained on this website is provided to you solely for informational purposes and does not constitute a recommendation by CoinStats to buy, sell, or hold any securities, financial product, or instrument mentioned in the content, nor does it constitute investment advice, financial advice, trading advice, or any other type of advice.
Cryptocurrency is a highly volatile market, do your independent research and only invest what you can afford to lose. Performance is unpredictable, and the past performance of Kadena is no guarantee of its future performance.