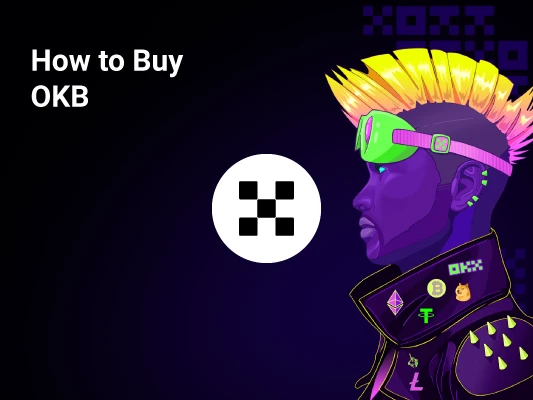 How to Buy OKB Token
<! -- End of the Reviewed by section -->
OKB tokens are the native tokens of the OKX cryptocurrency exchange, one of the best platforms to purchase OKB. OKX charges low trading fees and offers high-interest staking opportunities and reduced fees for users holding OKB or staking OKB tokens. The exchange charges low trading fees and makes it easy to buy currencies in a few clicks with a credit or debit card, bank account transfer, Apple Pay, Google Pay, etc. However, it should be noted that OKX is currently unavailable to US users.
Since its launch in 2017, the OKX (formerly OKEx) cryptocurrency exchange and derivatives exchange has been consistently listed among the top crypto exchanges by trading volume and liquidity. OKX allows users to easily buy, sell, or trade cryptocurrencies and provides a wide selection of trading pairs, its own cloud mining service, spot, derivative trading, etc.
OKB is the OKX exchange's native utility token used to pay trading fees, grant users access to voting and governance on the platform, and reward users for holding OKB.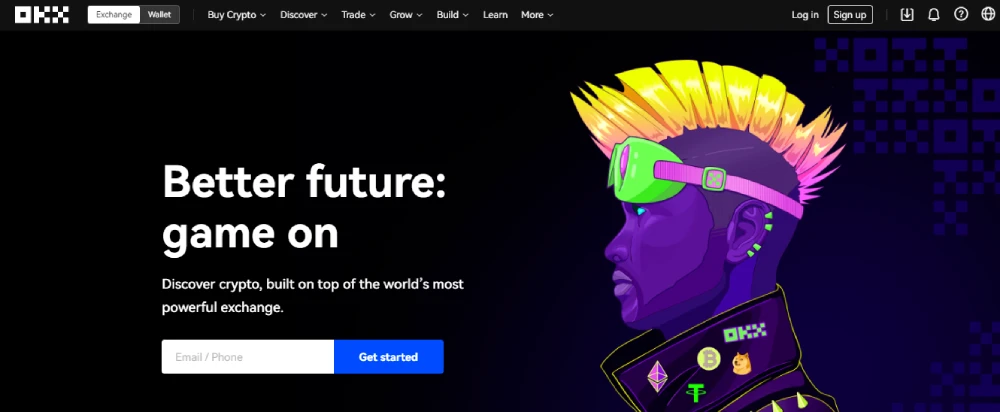 Read on to learn everything you need to know about the OKB token, and follow our detailed guide on where, why, and how to buy OKB coins.
Follow our step-by-step guide on buying OKB tokens on the OKX exchange highlighted below:
Create an Account
To create an account on OKX, you must provide a valid email address or a mobile number and create a solid password. However, to fully access the exchange's features, you must complete a KYC verification by providing your government-issued ID and undergoing facial recognition. Each account level has different withdrawal limits indicated on the exchange's official website.
Choose a Buying Method
Once you've completed your verification, you must select one of three options to buy or sell cryptocurrencies, namely:
Express: It's the easiest way to buy cryptocurrencies using credit or debit cards. Enter the amount of USD you wish to buy OKB for, click "Buy," and enter your details to complete the transaction.
P2P Trade: You can also buy crypto on OKX in a peer-to-peer manner.
Third-Party Payments: OKX also supports third-party payments such as Banxa, Simplex, etc.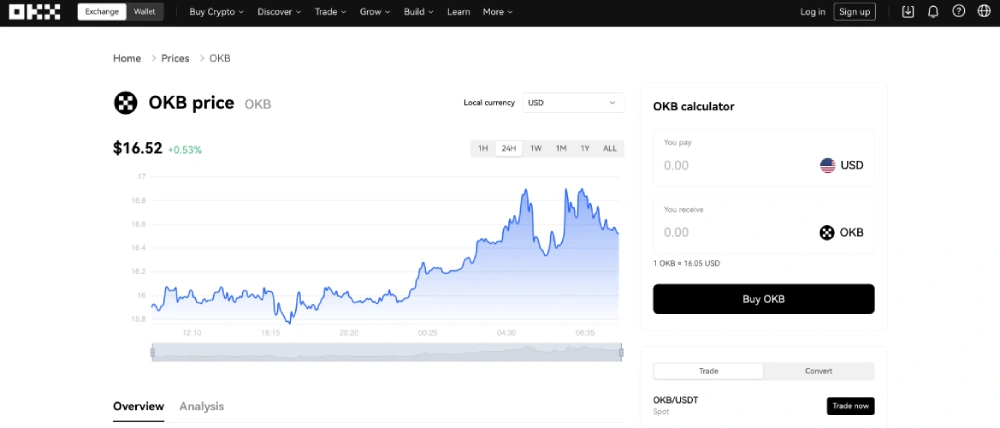 You can also deposit crypto into your OKX wallet and swap them for OKB tokens. OKB is available in multiple trading pairs on OKX, such as OKB/USDT, OKB/BTC, OKB/USDC, OKB/ETH, OKB/ETC, OKB/ETC, and OKB/XRP.
Where to Buy OKB Tokens?
The easiest way to buy OKB tokens is via the OKX exchange. However, you can also purchase or trade the token on many other cryptocurrency exchanges, including FTX, Gate.io, Uniswap (V2), HitBTC, BiONE, LBank, Hotcoin Global, Coin Ex, ProBit Global, Hotbit, BitMart, MEXC, etc.
In this article, we'll provide a step-by-step guide on how to buy OKB on OKX and FTX cryptocurrency exchanges.
How to Buy OKB on CoinStats?
Did you know that you can buy OKB directly on CoinStats with 0 additional fees? It's super quick and secure and allows you to buy crypto with your credit card right where you track and manage it. Here's how you can buy OKB on CoinStats on web and mobile in a few simple steps.
Head over to the CoinStats homepage
Navigate to the Cryptocurrencies tab in the menu bar above and pick your desired cryptocurrency.
Click Buy Crypto
Select a portfolio or add a wallet address where the funds will be deposited
Choose MoonPay as the provider
Add the credentials of your payment method
Complete the payment
Store OKB Tokens
While your newly purchased tokens can be stored in the cryptocurrency wallet provided by your exchange, experts highly recommend storing your precious coins away from exchange wallets, as those might be susceptible to hacks and interference.
We highly recommend creating a personal wallet with your own set of keys. Depending on your investing preferences, you might choose between software and hardware wallets:
Software Wallet: If you're looking to trade OKB regularly, software or hot wallets provided by your selected crypto exchange will suit you. The strength of software wallets lies in their flexibility and ease of use. A software wallet is the most easy-to-set-up crypto wallet and lets you easily interact with several decentralized finance (DeFi) applications. However, these wallets are vulnerable to security leaks because they're hosted online. So, if you want to keep your private keys in a software wallet, conduct due diligence before choosing one to avoid security issues. We recommend a platform that offers 2-factor authentication as an extra layer of security.
Examples of software wallets include CoinStats Wallet, MetaMask, Coinbase Wallet, Trust Wallet, and Edge Wallet, amongst others.
Hardware Wallet: Hardware or cold wallets are usually considered the safest way to store your cryptocurrencies as they offer offline storage, thereby significantly reducing the risks of a hack. They are secured by a pin and will erase all information after many failed attempts, preventing physical theft. Hardware wallets also let you sign and confirm transactions on the blockchain, giving you an extra layer of protection against cyber attacks. These are more suitable for experienced users who own large amounts of tokens.
Ledger hardware wallets are arguably the most secure hardware wallets letting you securely manage your digital assets. The Nano X is designed for advanced users and offers more storage space and advanced features than Ledger Nano S, designed for crypto beginners.Examples of cold wallets are Trezor Model T, Ledger Nano X, CoolWallet Pro, KeepKey, Ellipal Titan, and SafePal S1, amongst others.
Track OKB Tokens
The crypto market is volatile, and managing your portfolio could get tricky if you hold multiple assets. Utilizing a portfolio tracker will help you keep track of your OKB coins and all your crypto investments from one platform at all times.
You can also monitor the profit, loss, and liquidity of OKB across several exchanges on CoinStats.
CoinStats supports over 250 cryptocurrency exchanges and over 7,000 cryptocurrencies. It offers charting tools, analytical data, advanced search features, and up-to-date news. Here you have the opportunity to connect an unlimited number of portfolios (wallets and exchanges), including:
Binance
MetaMask
Trust Wallet
Coinbase
Kraken
Kucoin
Bitstamp and 500 others.
To connect, go to the CoinStats Portfolio Tracker page and:
Click Add Portfolio and Connect Wallet.
Click the wallet you want to connect to (e.g., Ethereum Wallet).
Input the wallet address and press Submit.
What Is OKB Token?
OKEx, or OKX, is a cryptocurrency exchange established in 2017 by the OK Group, with headquarters in Seychelles and additional offices worldwide. OKX supports such advanced trading tools as spot trading, margin trading, futures, perpetual swap, and options. The exchange provides the OKX mining pool, the OKX Cloud, and its EARN initiative, enabling users to stake and save on the platform.
OKB token is the global utility token of the OK Blockchain Foundation and OKX exchange. It's an ERC-20 token that relies on a Proof-of-Stake (PoS) consensus. OKB operated on the Ethereum blockchain, but later the company moved to its own blockchain — the OKExChain.
The OKB token is used to calculate and pay fees and grants users access to governance and voting rights on the platform. Moreover, users holding OKB can get up to 40 percent discount on transaction fees and earn passive income through OKX Earn on the platform.
OKB Tokenomics
The OKB total supply is 300,000,000, with a circulating supply of 251,627,612 tokens. The tokens are burned every three months, and all the data about the burn is available transparently on the website. The price of OKB reached an all-time high of USD 41.64 in May 2021, and since then, the OKB price has come down significantly. Nonetheless, the data suggests that while many coins have lost around 90 percent of their value, the OKB price has stood firm in the bear market we're facing. As more users enter crypto markets and adoption picks up, OKB price is poised to go to the moon.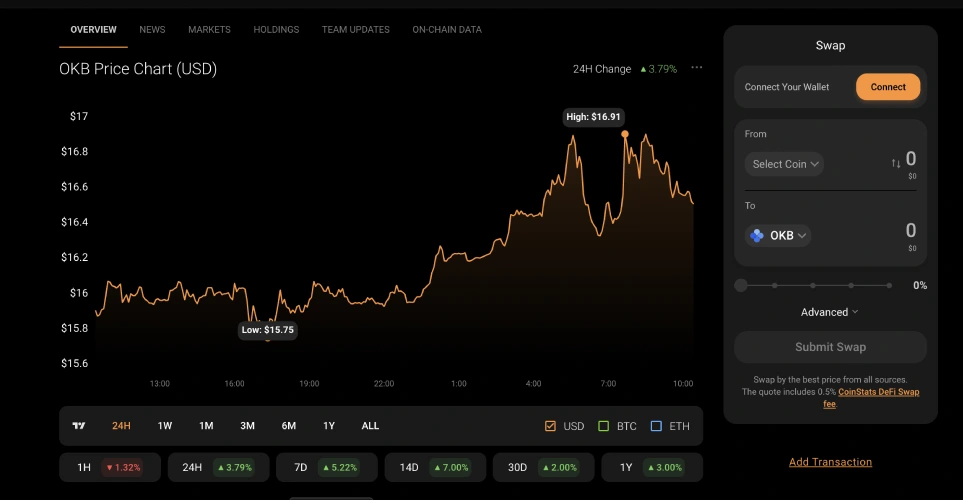 Get started by checking the live OKB price.
Final Thoughts
Bear markets are considered the best time to invest in assets like stocks, bonds, or crypto. So, buying OKB and other crypto assets right now can be the investment that changes your life for the better and brings you financial freedom shortly.
Disclaimer: Nothing in this article is a piece of financial advice, and you should make your own decision before investing in assets as risky and unregulated as cryptocurrencies.