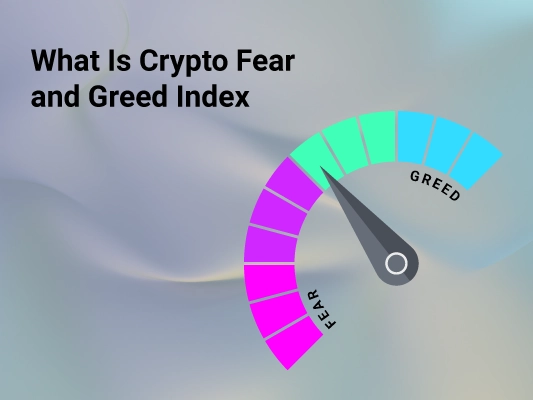 What Is Crypto Fear and Greed Index
<! -- End of the Reviewed by section -->
Market sentiment drives the cryptocurrency market trends. There are two simple assumptions – most investors get greedy when the market is bullish, while fear results in bearish trends, making them panic sell when the value of crypto assets (primarily Bitcoin's price) drops sharply.
The Crypto Fear and Greed Index aim to take human psychology into account and analyze the crypto market behavior to help crypto investors forecast the course of the price action and make informed trading decisions by putting the general market sentiments into perspective.
If people behave the same way in certain contexts, is it possible to profit by being "fearful when others are greedy and greedy when others are fearful," as quoted by world-renowned investor Warren Buffet?
The Fear and Greed Index was created to answer this question by providing insights into the general sentiments of the crypto markets.
Let's get right to it!
What Is Crypto Fear and Greed Index
The Fear and Greed Index was created by CNNMoney for the US Stock Market as an analytical tool to evaluate market sentiment. It generates a single value between 1 and 100. If the index lies between 0 and 24, extreme fear rises, and investors experience severe fear and sell their holdings in an irrational reaction. A general rule of thumb is that when the index value is at 1, prices are low, which generally correlates to a buying opportunity before high prices crash. Anything above 24 and under 50 represents fear, and the value of 50 means neutrality in the market.
When the value of the index lies between 51 and 74, it's an indication of a greedy market; however, if the value is 75 or above, it means traders are experiencing extreme greed (i.e., buying more assets), pointing to market greed prevailing. Extreme greed in the market could be interpreted as an end of the predominant bullish market; therefore, selling your digital assets at that point is generally a good idea.
This technical indicator can be a valuable tool for investors, and the data quality is crucial to obtaining a meaningful result.
Why Do We Need Crypto Fear and Greed Index
So why measure Fear and Greed?
The crypto market behavior is very emotional, and many crypto investors make investment decisions based on emotions. People tend to get greedy when the market is rising, which results in FOMO (Fear of missing out) and traders buying crypto for an all-time high price. For example, people FOMO-ed into Dogecoin when its price was at an all-time high, as you can see in this chart on Dogecoin Price.
Similarly, traders often sell their coins in the irrational reaction of seeing red numbers.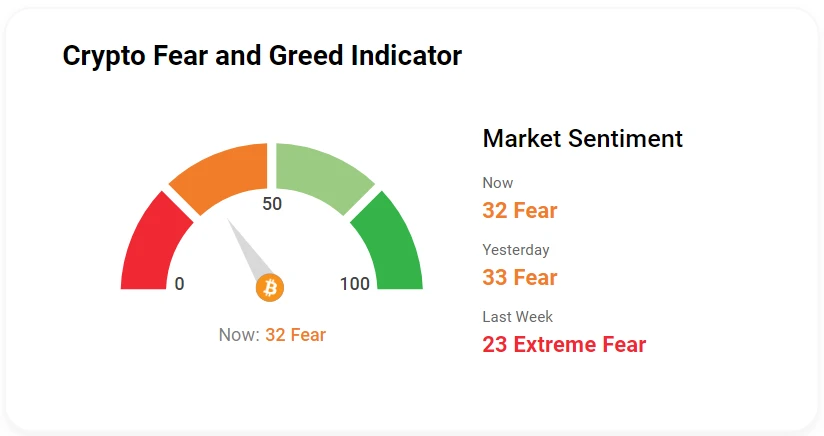 Therefore, the crypto Fear and Greed Index, analyzing the current sentiment of crypto markets, is an excellent tool for traders because it tells them to acquire more crypto during a fearful market and sell their holdings in a euphoric market.
How Does Crypto Fear and Greed Index Work
The Fear and Greed Index is determined by multiple factors, including the volatility of the crypto market, social media, market volume, and Bitcoin's dominance.

It analyzes the current market conditions and sentiments of Bitcoin and other large cryptocurrencies and puts it in a simple meter ranging from 0 to 100. On top of that, the Fear and Greed Index is color coded, i.e., when it's close to zero, the color is "Red," and when it's closer to 100, the color is "Green."
This is how the Fear & Greed Index is measured:
0–24 = Extreme Fear
25–49 = Fear
50–74 = Greed
75–100 = Extreme Greed
Data sources are assembled from several sources, and the index chart is refreshed every 8 hours from 00:00, 08:00, and 16:00 UTC.
How Is the Fear and Greed Index Calculated
The rating of the Fear and Greed Index for the Bitcoin market is composed of the following factors:
Volatility (25%)
The Fear and Greed Index considers the current Bitcoin price compared to the averages of the last 30 and 90 days. Unusual and strong volatility directly affects the price and can be viewed as a sign of uncertainty and extreme fear in the market among investors.
Market Momentum and Trading Volume (25%)
Bitcoin's current trading volume and market momentum are compared to the last 30 and 90-day average values and then put together. The market momentum can go in an upward or downward trend, which can be further confirmed by changes in trading volume. High daily buying volumes can be considered a bullish or greedy market.
Social Media (15%)
It uses a text processing algorithm to evaluate the number of Twitter tweets tagged under specific hashtags (primarily #Bitcoin) and the rate at which users tweet using that hashtag to analyze the mood accurately. A consistent and unusual rise in interaction is usually a sign of a grown public interest in the coin and corresponds to greedy market behavior.
The Index creators are currently experimenting with adding a Reddit sentiment analysis using a similar text processing algorithm.
Surveys (15%)
Surveys (currently paused) combine data from a large public polling platform of around 2000-3000 voters. Weekly crypto polls ask people how they see the market to get a picture of the market sentiment of crypto investors.
Bitcoin Dominance (10%)
Bitcoin dominance resembles the market cap share of the entire crypto market. Historically, it has been observed that whenever Bitcoin dominance rises, it's caused by a fear of altcoin investments and the possible reallocation of it into Bitcoin since Bitcoin is increasingly becoming the safe haven of crypto.
Google Trends (10%)
The Google Trends data for Bitcoin-related search queries are also analyzed and considered, with more people searching for "Bitcoin price manipulation," signifying extreme fear in the market.
Conclusion
You must use all the resources and tools available for successful crypto investing. The crypto Fear and Greed Index is a metric designed to measure the dominant market sentiment. Along with technical analysis and fundamental analysis, it can help you make well-informed investment decisions.
For further information, check the CoinStats guides on "How to Buy Dogecoin," "How to Buy Shiba Inu," "Coinbase Exchange," and "Coinbase Review." Read our CoinStats guide, "What Is DeFi," to gain a fundamental understanding of Decentralized Finance, and see our "Crypto Portfolio Trackers" to learn more about the best crypto portfolio trackers in the market.
Investment Advice Disclaimer: The information contained on this website is provided to you solely for informational purposes and does not constitute a recommendation by CoinStats to buy, sell, or hold any securities, financial product, or instrument mentioned in the content, nor does it constitute investment advice, financial advice, trading advice, or any other type of advice. Any use or reliance on our content is solely at your own risk and discretion.
Cryptocurrency is a highly volatile market, do your own research, consult your financial advisor, and only invest the money you can afford to lose. Performance is unpredictable, and the past performance of Mobox is no guarantee of its future performance.