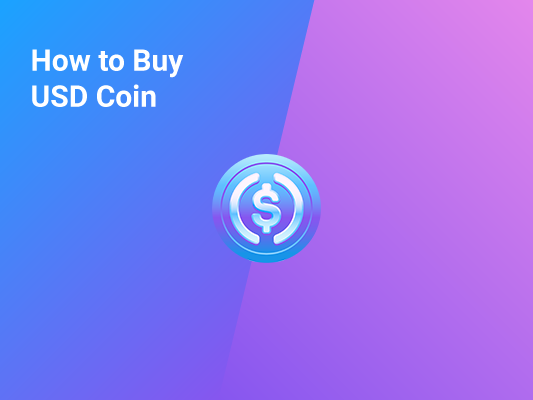 How to Buy USD Coin: Where, How, and Why
<! -- End of the Reviewed by section -->
US Dollar Coin (USDC) is a stablecoin – a cryptocurrency token pegged to the value of a real-world asset, the U.S. Dollar.
The stablecoin market is one of the most interesting ecosystems in the cryptocurrency space, and stablecoins have become a trendy asset class. They are backed by fiat currencies, and most prominently, the dollar. Their stable value has made stablecoins attractive to investors.
Read on to learn everything you need to know about USDC and how to buy USD coin (USDC).
How to Buy USDC on CoinStats?
Did you know that you can buy USDC directly on CoinStats with 0 additional fees? It's super quick and secure and allows you to buy crypto with your credit card right where you track and manage it. Here's how you can buy USDC on CoinStats on web and mobile in a few simple steps.
Head over to the CoinStats homepage
Navigate to the Cryptocurrencies tab in the menu bar above and pick your desired cryptocurrency.
Click Buy Crypto
Select a portfolio or add a wallet address where the funds will be deposited
Choose MoonPay as the provider
Add the credentials of your payment method
Complete the payment
Where to Buy USDC?
Visit the market page on CoinStats to view the exchange platforms supporting USDC. Since USD Coin (USDC) is among the world's top stablecoins and top 10 cryptocurrencies, you can buy USDC on a large number of crypto exchanges such as:
Coinbase
Kraken
Crypto.com
Kucoin
Uniswap (V2)
Gemini
Binance.us, etc.
This article will give you a step-by-step guide on how to buy USD Coin (USDC) on Coinbase.
How to Buy USD Coin (USDC) on Coinbase?
Coinbase is the largest exchange in the US, with over 98 million verified users in over 100 countries and approximately $256 billion in assets. Coinbase allows you to trade more than 130 types of cryptocurrency. The exchange is user-friendly, has professional customer support, and is one of the most secure cryptocurrency exchange platforms. Moreover, Coinbase has partnered with Circle to launch the USDC stablecoin, which is fully collateralized by U.S. dollars and available for trading. This makes Coinbase one of the best places to buy USDC. Coinbase doesn't charge any fees for purchasing USDC with USD and gives you an equivalent amount of USDC for your USD.
Follow the steps below to learn how to buy USDC on Coinbase:
Create a Coinbase Account
To buy USDC on Coinbase, you must create an account on the platform's website or the Coinbase app that can be downloaded from Apple and Android stores.
Creating a Coinbase account is pretty straightforward. You must navigate to the sign-up page and fill in the basic details like your name and email address. To complete the process, you must verify your email address by clicking the verification link sent to your email.
Coinbase requires you to enable two-factor authentication (2FA) using your email address or phone number.
Coinbase complies with Anti-Money Laundering and KYC regulations. In line with the regulations, Coinbase users must verify their identities by submitting a government-issued passport, driver's license, or national identity card.
Deposit Funds
After creating and verifying your account, you must fund your account to buy USDC on Coinbase. Coinbase supports a wide range of funding options, including direct transfers from your bank account, debit cards, PayPal, and wire transfers, depending on your location. Bank transfers are free of charge but the tokens bought using this method are locked up for 5 days.
Funding your Coinbase account using debit cards is ideal for small purchases, while wire transfers are preferable for more significant amounts over $25,000. Before choosing a deposit method, consider the fees and limits associated with it. You can also use cryptocurrencies to fund your account by transferring them to your Coinbase wallet. Coinbase fees can be confusing, and some variations exist depending on your region.
You can't deposit dollars to Coinbase, but you can buy Bitcoin worth the amount you want to deposit and then trade Bitcoin for USDC instead.
Buy USD Coin (USDC)
After creating, verifying, and funding your account, you're all set to buy USDC on Coinbase. Click on the Trade panel and choose USDC from the list of cryptocurrencies. You will see a chart, the asset's brief description, and other metrics like its market cap, transaction volume over 24 hours, total supply, etc.
Scroll down to submit a buy order for USDC, input the amount used to purchase USDC, and Coinbase's algorithm will automatically calculate the number of USDC you'll get based on its current trading value.
Double-check and confirm the details before you click the submit button. Upon submission, the order will be processed immediately.
Coinbase supports swapping your cryptocurrencies for USDC. Users should navigate to the order box and select the convert button. Select the cryptocurrency you want to swap for USDC, and enter the amount in US dollars. Confirm the details and click submit.
Congratulations on buying USDC on Coinbase!
What Is USD Coin (USDC)?
The U.S. Dollar Coin is a stablecoin and dollar-denominated cryptocurrency that runs on the Ethereum blockchain. USDC is issued by regulated financial institutions, backed by fully reserved assets, and redeemable on a 1:1 basis for U.S. dollars.
Each USDC is backed by one U.S. dollar, which is held in a bank account. A publicly available monthly audit by Grant Thornton LLP allows buyers to verify that USD Coin (USDC) is fully backed by USD and always 100% redeemable for dollars.
Unlike other USD stablecoins, USDC is governed by Centre, a membership-based consortium that sets technical, policy, and financial standards for stablecoins. Powered by Ethereum USD Coin is an Ethereum token and has expanded to the Algorand and Solana blockchains.
Here are some of the USDC key features:
Regulated: USDC's parent company is a registered Money Service Business in the United States. It's regulated by the government's Financial Crimes Enforcement Network (FinCEN), which combats money laundering.
Audited: USDC is audited by Grant Thornton, one of the top 10 accounting firms in the world.
Fast: USDC offers fast transactions with the stability of the U.S. dollar.
Liquidity: Another advantage of the USD Coin being tied to the U.S. Dollar is its high liquidity.
The U.S. Dollar Coin isn't mined. It's available as Ethereum ERC-20, Algorand ASA, and Solana SPL tokens that can be purchased using U.S. Dollars on several major exchanges.
The History of the USD Coin
Created by Centre Consortium, USD coin was a joint venture between Circle and the popular exchange Coinbase. Circle is backed by several high-profile companies, including Goldman Sachs. The Centre consortium also sets technical policy and financial standards for the stablecoin.
Circle started in 2013 as a way to send money easily and quickly. Since then, it has expanded into cryptocurrency—raising millions in venture capital and acquiring the crypto exchange Poloniex.
USDC aims to solve two major issues: high volatility of digital assets and convertibility between fiat currencies and cryptocurrencies. The project introduced a fiat-backed stablecoin with strong governance and transparency, in contrast to Tether. USDC publishes a monthly public attestation of 100% reserves of fiat tokens on CENTRE.io and provides clear rules and guidelines for CENTRE members regarding USDC issuance and redemption. To become an issuer within the CENTRE consortium, members must follow key rules, including licensing, compliance, technology & operations, accounting, and custody of fiat reserves.
USDC is supported on major exchanges as an alternative to fiat currencies.
The USD coin market was created in 2018. Since then, its capitalization has risen from $200 million to above $25 billion.
Even though the USD coin has a stable price, its number has increased significantly.
The Best Wallet for USD Coin (USDC)
You can store your USD coins in a software wallet, like Coinbase or CoinStats. Coinbase has a dedicated wallet application that's great for storing your cryptocurrency. You can store Bitcoin, Ethereum, USDC, and several other assets on the wallet's mobile app, free to download. Global transactions USD Coin is designed to let dollars move globally from your crypto wallet to other exchanges, businesses, and people.
Otherwise, you can use a more secure hardware wallet, like Ledger.
The Ledger Nano S is a multicurrency wallet so that you can store all your cryptocurrencies in one place.
Trading and Converting Your USD Coin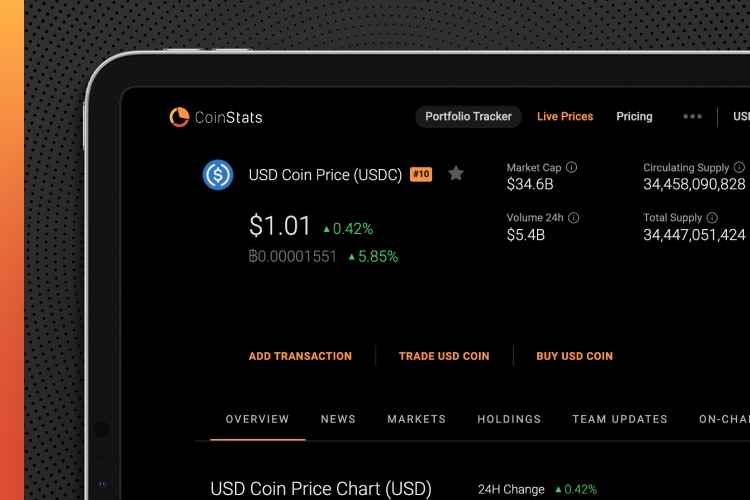 Redeeming your USD Coin for fiat cash is straightforward:
Firstly, a user sends a request to redeem their USDC for USD.
The issuer uses the USDC smart contract to exchange the tokens for USD and takes the equivalent amount of tokens out of circulation.
The user's bank account is then deposited with the requested amount of USD directly from the reserves. The user will receive the equivalent amount of USD Coin requested, minus any fees that have been incurred.
Coinbase is not the only exchange where users can buy and trade USDC. The currency is now widely supported on other exchanges such as Binance (paired with BTC, BNB) and Poloniex (paired with BTC, ETH, XRP, BHC, STR, LTC, ZEC, XMR, DOGE).
Which Is Better, USDC or U.S. Dollar Bank Account
One of the significant advantages of USDC is that, unlike regular U.S. dollars, it does not require a bank account and isn't limited to a particular geography.
Another advantage of USDC is that it can be transferred anywhere in the world in minutes and is much cheaper to use.
Among the key reasons for holding USDC is its rand hedge properties. You can also earn interest on your USD coins.
The bottom line is that USDC is beneficial for all crypto users, as it has a stable dollar-linked value combined with the advantages of blockchain technology.
How Can I Use USDC?
As a programmable dollar, USDC unlocks new applications and businesses, making lending faster, cheaper, and a lot more transparent, and payments quicker and more affordable. Developers can create accounts to store money with a single line of code. Here are some of USDC's most popular uses case:
Payouts Solution
With USDC's Payouts solution, USDC can be used as a payment or reward system for internal consumption or to reward staff members, partners, or other affiliates.
Hedge Against Crypto Volatility
Stablecoins can be used as a hedge against crypto assets' high volatility, which stands as an obstacle to mainstream crypto adoption.
Reduce Fees
You can leverage USDC to reduce fees when selling or purchasing other cryptocurrencies since many exchanges don't impose a fee for conversion to or from stablecoins.
International Money Transfer
Stablecoins like USDC, etc., can be used to send funds globally cheaply and almost instantly without a traditional bank account and earn rewards on USDC held in a Coinbase account.
Access to Decentralized Finance
Stablecoins are commonly used for passive-income-generating activities like crypto lending and staking. By locking up stablecoins within a specific network or protocol, holders can earn higher interest rates than traditional bank interest. You can earn yields ranging from 10 to 14 percent per annum by lending your USDC via various decentralized finance (or DeFi) applications without facing price volatility. You can also use them for lending, borrowing, or as deposits for derivatives trading.
Where Can I Trade USDC?
USD Coin (USDC) is compatible with 14 blockchains, including Ethereum, Avalanche, Algorand, Hedera, Polygon, Solana, Stellar, Tron, etc., and can be used across all these blockchains. When sent from one blockchain to another, it's burnt on the parent blockchain and minted on the new one, bringing about a wide range of interoperability across blockchains.
Conclusion
USDC is a highly audited stablecoin. Every USDC unit is backed up by US$1 held in reserve, in a mix of cash and short-term U.S. Treasury bonds.
Investing in a stablecoin like USD Coin (USDC) in a bear market can be one of the smartest decisions you can make in your crypto journey. It can be your gateway to DeFi and help keep your portfolio safe from the crypto market's volatility.
Disclaimer: This article is purely meant for educational purposes, and nothing in this article should be taken as a piece of financial advice.
FAQs
How Much Is USDC?
The price of one USDC is one U.S. dollar, which is always redeemable on a ratio of 1:1.
How Do I Buy USD Coin?
You can buy USDC from Uniswap, Coinbase, Binance, and with the steps described above.
How Do I Store USDC?
You can store your USDC on any Ethereum wallet, like CoinStats Wallet or Coinbase wallet. Otherwise, you can use a more secure hardware wallet, like Ledger.