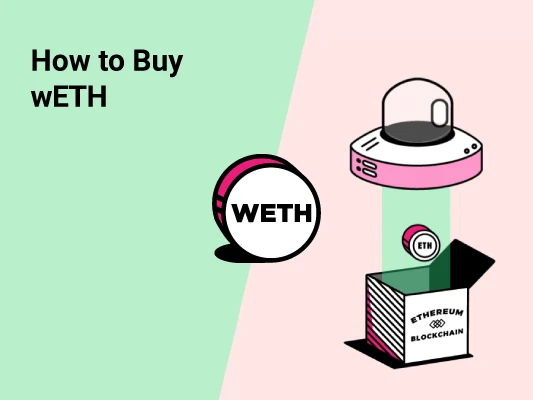 How To Buy WETH | Where, How, and Why
<! -- End of the Reviewed by section -->
WETH or Wrapped Ethereum is the tokenized version of Ether, hosted in the ETH blockchain and pegged to the value of the original coin. WETH is the compatible version of Ether with ERC-20 standards allowing you to trade ETH for other ERC-20 tokens without recurring to third parties.
The popularity of wETH in Ethereum's DeFi ecosystem has grown due to its use cases in DeFi protocols, including staking, investing, NFTs trading, providing liquidity to liquidity pools, and crypto lending.
Read on to learn everything you need to know about wETH and learn how to buy WETH in a few easy steps.
Let's jump right in!
What Is Wrapped Ethereum (WETH)
WETH or Wrapped Ethereum is the compatible version of Ether with ERC-20 standards. A wrapped coin is a prototype token pegged to the original coin's value that can be unwrapped at any point. Almost every major blockchain has a wrapped version of its native cryptocurrency, i.e., think of Wrapped Bitcoin that has the same value as BTC. A smart contract reproduces the price of an ETH in real-time for the Wrapped Ether. So you can always trade Wrapped ETH with Ether at a 1:1 ratio. Similarly, all other wrapped coins such as WBTC, etc., can be redeemed for the original asset at any time.
Wrapped coins were invented to promote interoperability between different networks, blockchains, and digital assets in the crypto space. For example, Wrapped Ether (WETH) was designed to increase interoperability between blockchains and make Ether usable in decentralized applications (DApps). Ether cannot be traded directly with Ethereum based tokens because Ether was created long before the ERC-20 standard was developed. As a result, trading ETH on a decentralized exchange or lending ETH on a decentralized lending platform is impossible. WETH was designed to solve these limitations by enabling Ether to be exchanged with other Ethereum based tokens and comply with the ERC-20 standard. Wrapped ETH offers a wider variety of applications than ETH and is particularly popular in the Decentralized Finance (DeFi) ecosystem. Wrapped ETH is supported by MetaMask, TrustWallet, and virtually every Ethereum wallet.
Why Do You Need WETH
Some coins or tokens can't be easily used outside their respective blockchains, preventing users from benefiting from the added functionalities of another blockchain. Wrapped tokens were designed to overcome this limitation by allowing interoperability. They act as a bridge between blockchains allowing users from one network to use their crypto coins on another network. Wrapped tokens are sometimes referred to as derivatives in traditional finance since they mirror the underlying asset's price. While they don't have all of the characteristics of traditional derivatives, they do provide an extra layer of interoperability for ecosystem users.
WETH provides an ERC-20 compliant crypto token allowed to access DeFi protocols, as opposed to the native ETH. It thereby unlocks multiple possibilities for transacting, i.e., staking and trading their wrapped tokens for other altcoins.
Ethereum Vs. Wrapped Ethereum
Wrapped ETH adheres to the ERC-20 standard, as opposed to ETH. WETH is simply the tradeable version of Ether, which cannot be traded directly with Ethereum based tokens. Instead, WETH can be easily used across a wide range of DApps requiring their users to convert from ETH to WETH because of the interoperability. This conversion unlocks multiple possibilities for transacting.
WETH provides an ERC-20 compliant crypto token for trading on the Ethereum blockchain. While WETH is allowed to access DeFi protocols, the native ETH isn't.
With WETH, investors can stake their tokens to DeFi protocols and trade their wrapped tokens for other Ethereum-based altcoins. One of the essential characteristics of an ERC-20 token is that it is fungible, which means that one token of the same value can always be exchanged for another of the same value. Also, you don't have to mint new WETH; instead, you exchange ETH for WETH in a trade, either through a smart contract or a digital wallet such as Metamask.
How to Buy WETH From Exchanges
WETH can be purchased on several cryptocurrency exchanges. However, like with most other cryptos, you can only buy WETH on decentralized exchanges with another cryptocurrency. To buy the WETH token, you'll need first to purchase Ethereum (ETH) or Bitcoin (BTC) and then use them to buy WETH. In doing so, you'll need a cryptocurrency exchange that allows you to buy Bitcoin or Ethereum with a bank account or credit card. Here are some simple steps to guide you in purchasing and storing WETH.
Step #1: Select an Exchange
To get started, you'll need to purchase one of the major cryptocurrencies, in this instance, Ethereum (ETH). You'll have to compare cryptocurrency exchanges to choose the one that supports WETH and has the features you want, such as low transaction fees, an easy-to-use platform, and 24-hour customer support. Also, consider if the cryptocurrency exchange allows buying WETH with your preferred payment method, such as a credit or debit card, another cryptocurrency, or a bank transfer.
Binance

The Malta-based cryptocurrency exchange, founded in China in 2017, has grown to become one of the world's largest platforms in trading volume. With low fees, various deposit and payment methods, more currencies, and trading pairs than 99% of its competitors, Binance has become the go-to exchange for millions of individuals.
Coinbase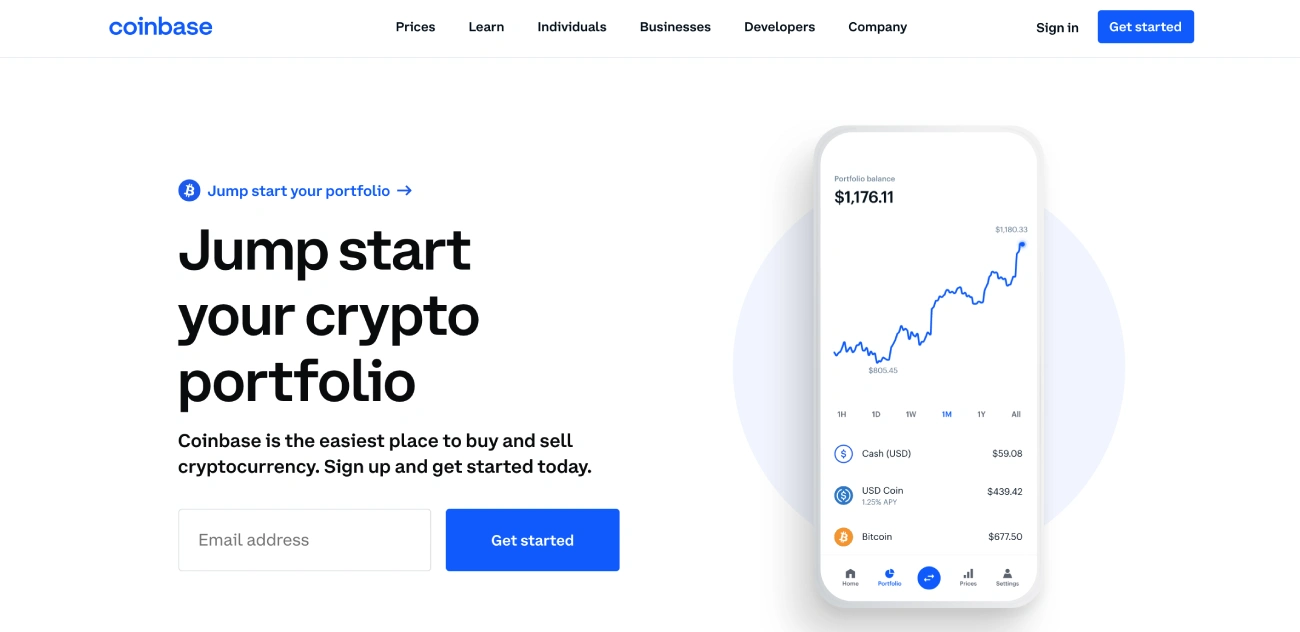 Coinbase is the largest cryptocurrency exchange in the United States, with over 100 coins supported. Coinbase fees, on the other hand, are baffling and higher than those of some of its competitors. While the security aspects of Coinbase are enticing, bitcoin trading is quite volatile, so be sure to weigh the risks.
Residents of the United States, except Hawaii, are now permitted to trade on this exchange.
Step #2: Register and Fund Your Account
After you've decided on an exchange, you'll need to proceed to their account creation page to create an account and go through KYC verification to start trading. To purchase Ether and other cryptocurrencies, you must deposit fiat currency (USD, EUR, etc.) or another cryptocurrency. You can use a bank account, credit or debit card, or crypto from a cryptocurrency wallet to buy ETH.
Step #3: Buy ETH
As you can only purchase WETH against ETH, you need first to buy ETH tokens. You simply need to purchase ETH through your Coinbase or Binance account. Firstly, select the 'Buy Crypto' tab, then search for ETH, and click on 'Buy ETH.' The platform will now take you to the payment gateway and request to add funds from your bank account or credit/debit card.
Once the transaction is complete, you need to transfer these ETH tokens to a different exchange wallet that supports WETH.
Step #4: WETH Wallet
The next step is to obtain a WETH-compatible wallet to convert ETH to WETH. You can visit the Metamask website to download the browser extension for Chrome or the Metamask app for Android or iOS.
Step #5: Buy WETH
You can now directly purchase WETH with your Metamask wallet. You can use a decentralized exchange aggregator to compare the prices of several decentralized exchanges on Ethereum and discover the best price for the cryptocurrency.
Step #6: Store WETH Securely In a Hardware Wallet
If you intend to keep your Wrapped ETH for a lengthy period, you need to store them in a wallet securely. You should pick a wallet based on how much WETH you have and what you want to do with it. We distinguish between Software Wallets (Hot Wallets) and Hardware Wallets (Cold Wallets). Hardware wallets or cold wallets, like Trezor or Ledger, are the most reliable options, as they come with safe offline storage and backup features.
Can You Buy WETH on Binance
The answer is Yes; you must first buy either Bitcoin (BTC) or Ethereum (ETH) for trading purposes to buy wrapped ETH. Binance lets you buy cryptocurrency with a credit card or a bank account. Follow these easy steps to buy WETH on Binance
Step #1: Create a Binance Account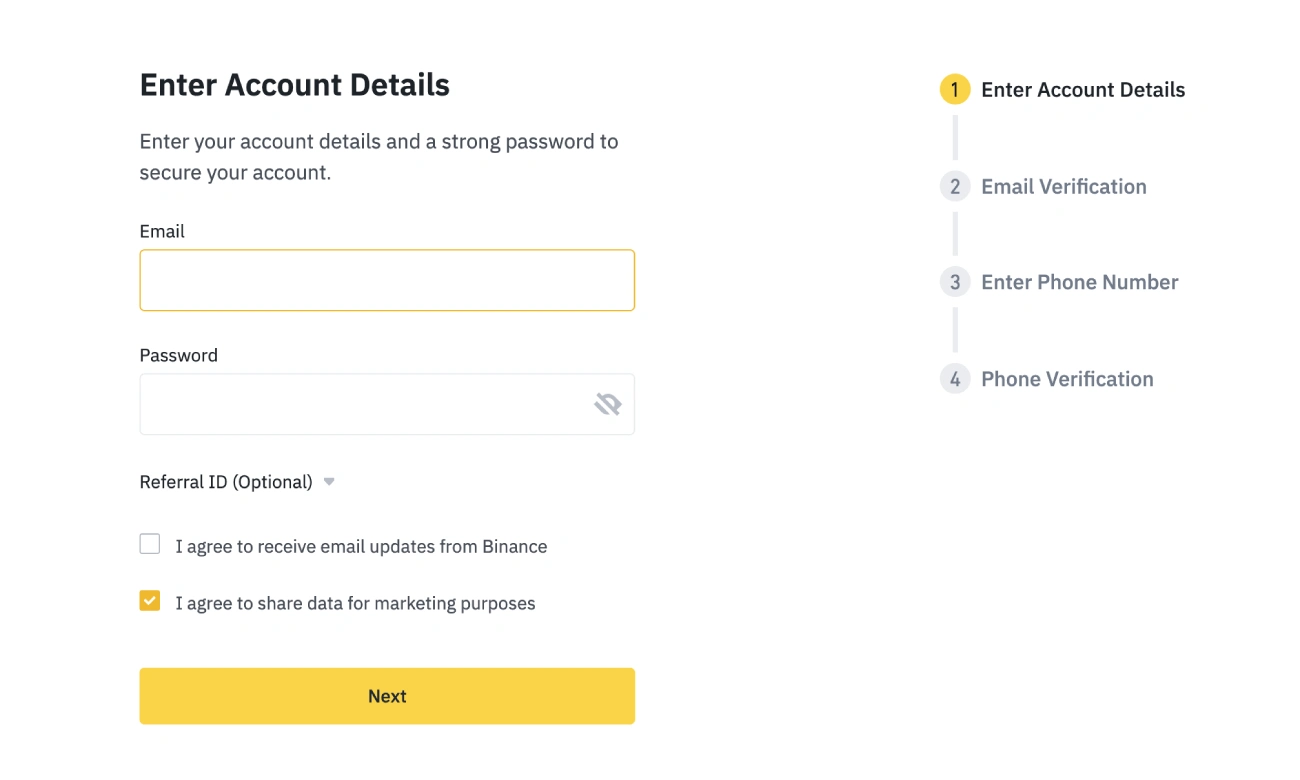 You need to open a retail investor account and provide identification proof documents for KYC verification. Once your account has been verified, you can buy Bitcoin, Ethereum, or any other cryptocurrencies of your choice.
Step #2: Buy Your First Cryptocurrency
We recommend buying Ethereum first and trading it for the desired quantity of wrapped ETH. Then, transfer ETH from your Binance exchange account to your Ethereum-compatible wallet.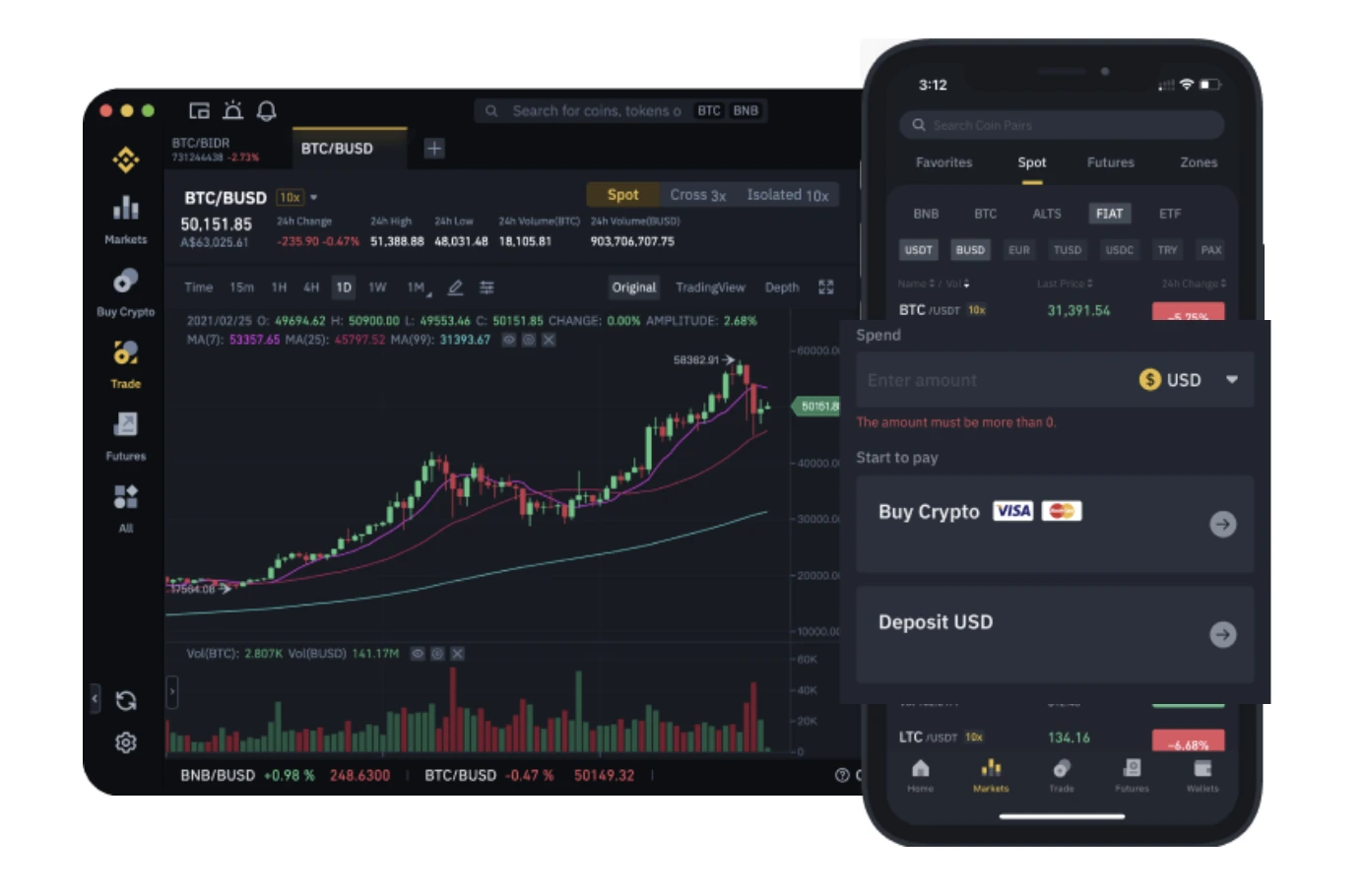 Step 3: Create a Metamask Account
In your default browser's search box, type https://metamask.io or "Metamask extension." Once you've located it, just click "Install Metamask for Chrome" to add MetaMask as a Google Chrome extension.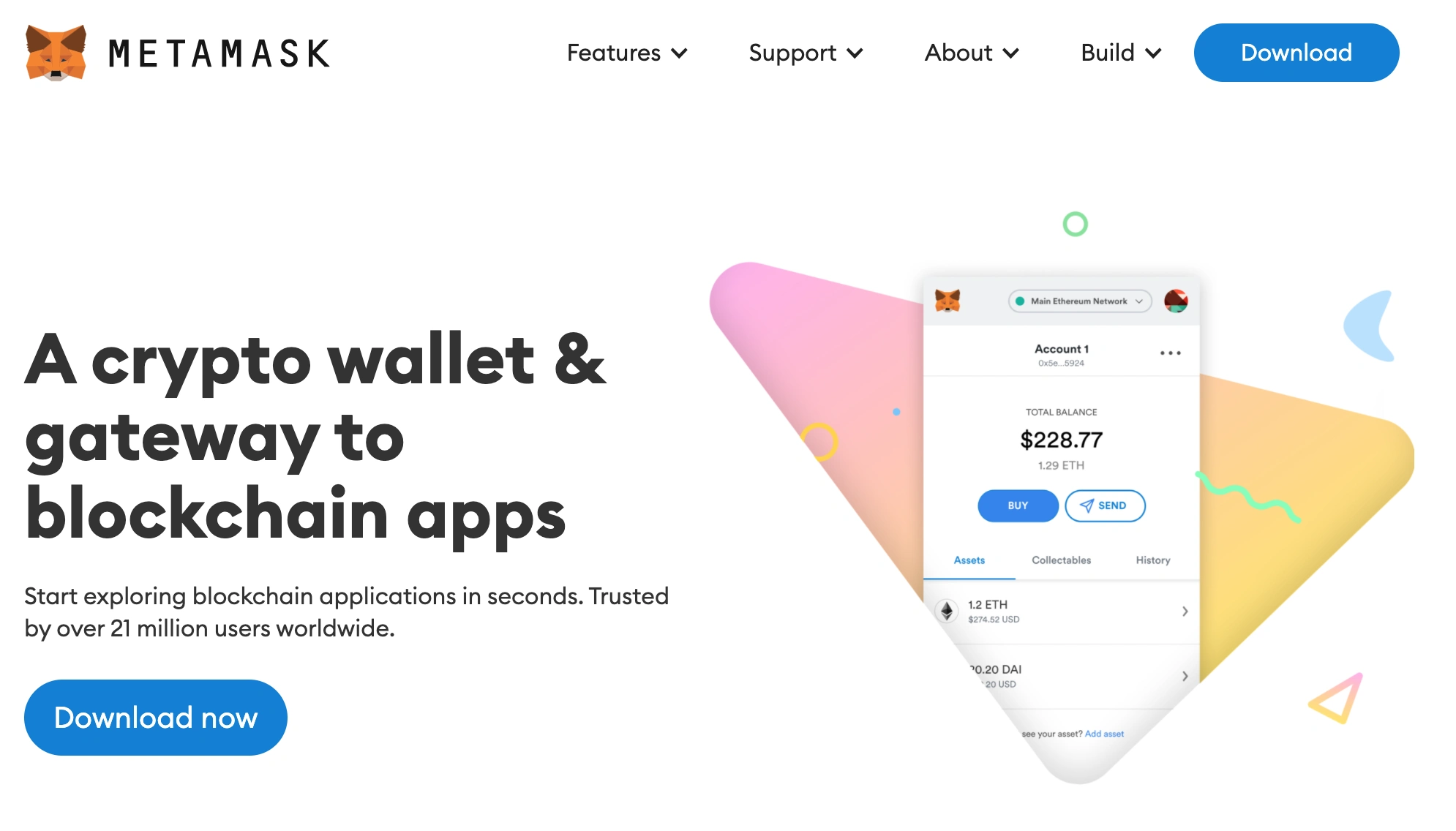 Once you've installed your MetaMask Extension, create your wallet account by clicking "Create a Wallet." You'll see a seed phrase of 12 words that you should securely store as a file. Now, you have successfully created a MetaMask account with a new wallet address!
Step 4: Deposit Ethereum Into Your Metamask Wallet
Look for "Copy to clipboard" at the top of the window and click on the account name to copy your address.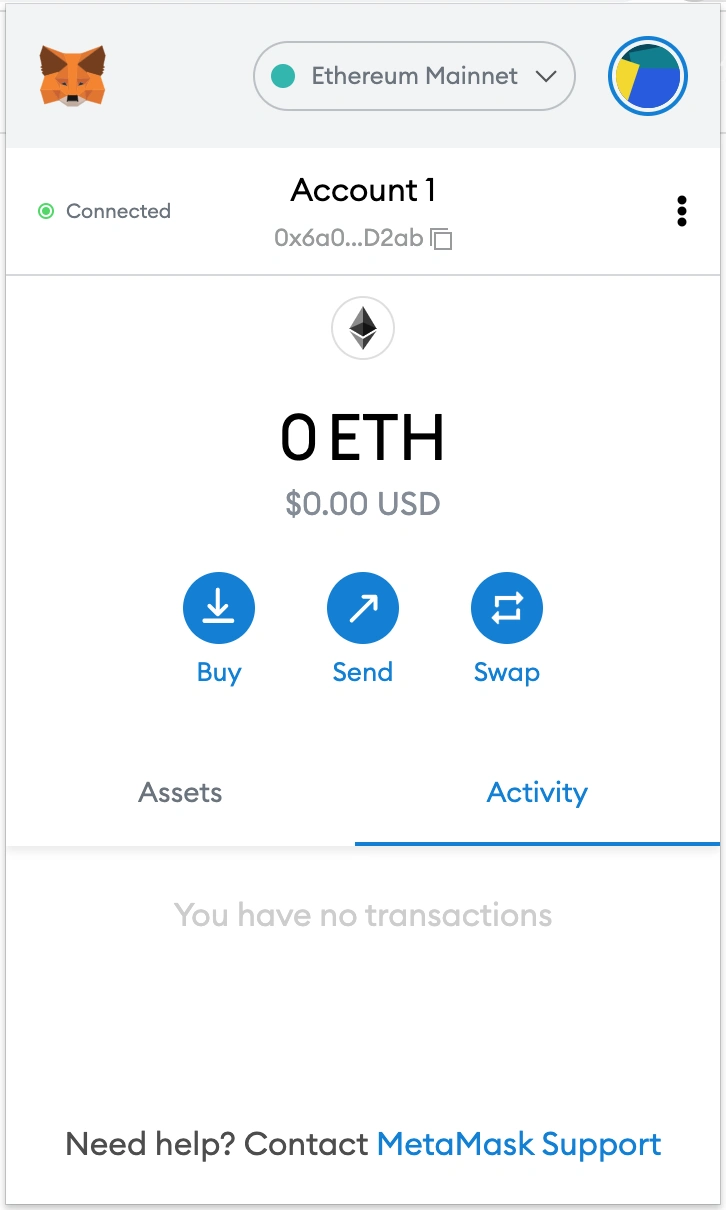 Then, paste your address in the "receiver" field in the app where you are transferring your ETH or tokens. Choose the amount you wish to move, then submit the transaction (make sure to choose the transfer network "Ethereum (ETH) ERC20").
Step 5: Start Trading on Uniswap
Visit the Uniswap V2 exchange platform, click on the 'Connect Wallet' button in the top right corner to connect your wallet.

Log in with our MetaMask wallet, choose ETH, the token to be exchanged and search for WETH, the token you want to buy in the bottom section, or choose it from the drop-down menu. Now, you're all set to place your order. Enter the amount you want to buy in the bottom box to see how much WETH you'll get in the bottom field. If you're happy with the amount, click the 'Swap' button and confirm the trade. After completing all of these steps, your Wrapped ETH will show in your ERC-20 wallet.
Can You Buy WETH on Coinbase
Some cryptocurrencies, such as Wrapped ETH, can only be acquired on decentralized exchanges with another cryptocurrency. To purchase WETH, you must first buy Ethereum (ETH). You'll need a self-custody wallet. Here's how to proceed with a Coinbase account:
Can You Buy WETH on MetaMask
MetaMask is an Ethereum wallet and your entry point to the DeFi ecosystem. It's accessible as an Android and iOS app and an extension with Chrome, Firefox, Brave, Edge, etc., and lets you trade and store ERC-20 and non-fungible tokens (NFTs).
Frequently Asked Questions
Is It Possible to Buy WETH With Cash
As of writing, there is no way to buy WETH with cash directly. However, you can use markets such as LocalBitcoins first to purchase Bitcoin with cash, and then complete the process by moving your bitcoin to a corresponding AltCoin exchange.
Can I Use Alternative Platforms to Purchase WETH or Bitcoin With Credit Cards
Yes, you can; all you have to do is go to Changelly, a simple trading platform with a basic user interface and easy-to-follow instructions for buying Bitcoin with credit cards. It's an automated cryptocurrency exchange, allowing users to purchase cryptocurrencies with a credit card and quickly swap them.
Which Is the Best Payment Method to Use
Purchasing Ethereum with a bank account (or WETH directly with a bank account) and then swapping ETH for WETH is the most cost-effective method. Buying WETH with a credit card is the fastest way; however, you'll be charged higher fees.
Conclusion
Ethereum is one of the most established and well-developed DApp ecosystems. This necessitates the use of WETH, as many ETH holders wish to spend their ETH in DeFi initiatives. If you want to try out WETH, we recommend purchasing it with ETH or other tokens rather than dealing with wrapping smart contracts.
Check out our CoinStats blog for more information on wallets, crypto portfolio trackers, and learn how to purchase different cryptocurrencies.
Disclaimer
This website's content is provided solely for educational purposes and does not constitute a recommendation by CoinStats to buy, sell, or hold any security, financial product, or instrument mentioned in the content, nor does it constitute investment advice, financial advice, trading advice, or any other type of advice.