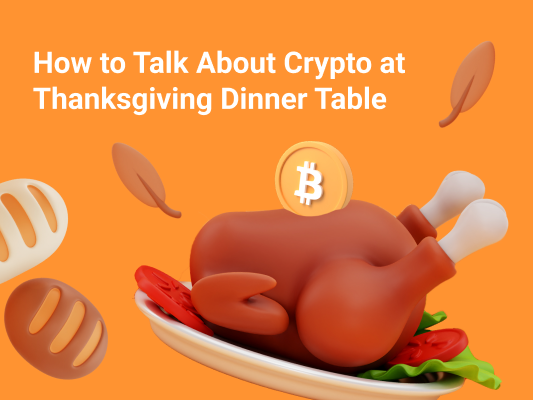 How to Talk About Cryptocurrency at Thanksgiving Dinner Table
<! -- End of the Reviewed by section -->
When you think of the Thanksgiving holiday, you might envision a tasty bottle of wine, a mouthwatering herb-roasted turkey, and a stunningly styled tablescape with warm shades of red, orange, and yellow foliage to set the festive mood. And it's a universally acknowledged truth that conversation is best had over the holiday table. Moreover, while we're all entitled to our political views, holiday dinners are all about connecting with loved ones and a great way to bring in discussions about crypto. Bitcoin has been considered a dinner-table mainstay since its big bang in 2017.
Last year's Thanksgiving dinners were all about the holiday menu, personal achievements, relationships, and also, most notably, about Bitcoin, meme-coins, NFTs, and the Metaverse. With the rise of retail investing after lockdowns during the pandemic, more people started investing in crypto. While crypto discussions were much easier as the markets were bullish and huge profits were expected, with the Bitcoin price at its peak, things have changed drastically since then. Crypto conversations have become a sensitive subject during the dark bear market of 2022, with some investors trying to avoid the topic altogether.
To help you steer crypto talk in a safe direction this Thanksgiving and get from the turkey through the pumpkin pie sans spats, we've prepared a detailed guide on discussing crypto in a bear market while avoiding that awkward silence.
Let's get started!
Key Takeaways
Inform people about the huge potential the markets have and how bear markets are the right time to buy.
Teach them important principles like always taking profits and investing what they can afford to lose.
Tell them about not just trading but different avenues like staking, yield farming, etc.
Why Talk to Family Members About Crypto at Thanksgiving?
The important question to ask yourself is whether to follow the old advice to keep politics, elbows, and updated crypto off the dinner table this year. The crypto markets have been in turmoil lately, and if you could brag during last year's Thanksgiving feast about your new crypto investment, it's likely to be a sore subject this year.
Due to the bear market of 2022, Bitcoin price is down 70% from its November 2021 all-time high price of $69,000, and crypto investors worldwide have faced massive losses this year. Altcoins are no better, with Cardano (ADA) and Solana (SOL) shedding more than 70% and 55% of their value. Moreover, the crypto market cap is below $1 trillion, down about 55% from $2.2 trillion at the beginning of the year.
However, if you're a crypto veteran or have studied the limited but wild history of crypto, you probably know that with max pain in the industry comes an opportunity to bounce back higher. Do you think your loved ones can benefit from short-term price drops and weather the storm by investing in valuable assets that will survive the bear market? Then you should make the most of this year's Thanksgiving holiday and discuss crypto investment advantages with your family members as long as they remain curious and open to the conversation.
By investing in crypto during the 2022 bear market, they have the opportunity to make life-changing money, achieve financial freedom, or earn passive income.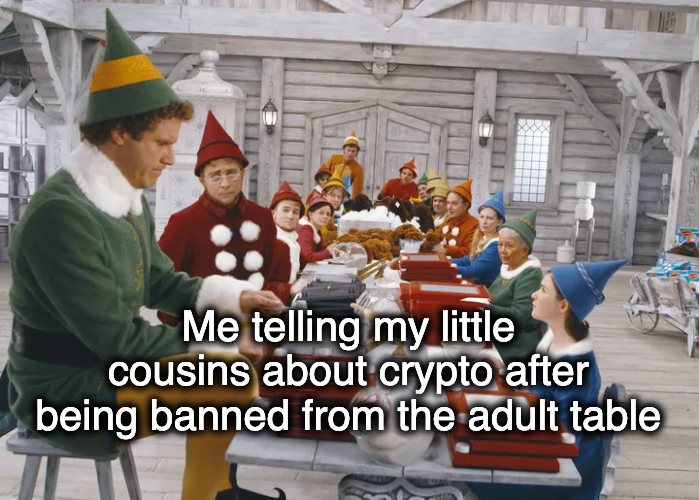 How to Make It a Crypto Thanksgiving?
Now that we know why we must talk crypto during the holiday season, let's learn how to engage in polite and productive conversations with our family members or friends. We'll discuss the two most likely scenarios that might occur when you talk about crypto around the holiday week or during Thanksgiving dinner. So, follow along and get ready to have some fun and maybe stressful conversations.
First Scenario: The Interest in Crypto Markets Is Already There
The best scenario for you is when everyone around is aware of you have been investing or trading cryptocurrencies for some time now. While they've stayed away from the topic, they're currently interested in how the bear market has affected your investments. People will directly reach out to you and ask questions about your assets in the crypto market and how the drop in crypto prices has affected you. Now that they've come to you, it's the right time to tell them how they can benefit from the bear market and make life-changing money. You can introduce them to the best projects other than Bitcoin, Ethereum, or the popular NFTs and tell them it might be the right time to invest by bringing examples of investors who've made millions of dollars from investing when crypto prices were down.
Ensure they understand the crypto industry's highly volatile nature and introduce them to the rule of investing what you can afford to lose. Tell them about the importance of using the right tools while investing in crypto, and you're done. You've set them up on the path to achieving financial freedom or establishing a passive income.
Pro Tip
Do not force anyone to invest if they don't want to, and always give them the resources to do their own research.
Second Scenario: There's Opposition Against Crypto
The worst scenario if you want to talk about crypto this Thanksgiving is that people around you have always been skeptical of the industry and the technology. They've heard of all the scams and collapses that happened in crypto, especially in 2022, starting with Luna, 3AC, Voyager, Celcius, and, more recently, FTX. They bring about data from the past year to demonstrate how much money people have lost. If you try to bring up NFTs and how almost every celebrity or big multinational corporation is getting into them, they counter it with the recent fall in NFT prices. What should you do in such a situation?
The answer is simple. Just ask them to zoom out and look at how much investors in Bitcoin or other major projects have gained in the last 5 years. Introduce them to the concept of always investing during a bear market to sell later at the right time to earn huge profits.
You can also tell them about the benefits of staking, yield farming, liquidity pools, airdrops, etc. Consider that many people opposing crypto are unaware of these and only look at the charts and the prices. Another way to convince them is by demonstrating how companies like Meta are pivoting towards the decentralized Metaverse built using blockchain technology. Even if they don't listen to you, data of big companies making huge bets on crypto will make them consider crypto investment opportunities.
Final Word
Talking about crypto during holidays is slowly becoming a tradition. As Meltem Demirors, chief strategy officer at digital-asset firm CoinShares, says, "Everyone's going to be talking about crypto—what else is there to talk about? Are you going to talk about movies? Are you going to talk about sports? Are you going to talk about the weather?"
Now you're an expert on how to talk about cryptocurrency this festive season. So, ensure to introduce your loved ones to a once-in-a-lifetime opportunity during the Thanksgiving dinner or after the dinner when your family gathers in the cozy living room to lounge and digest.