What Is ApeSwap: Deep Dive Into the One-Stop DeFi Hub
<! -- End of the Reviewed by section -->
The irregularities and lack of trust characterizing centralized exchanges (CEX) have irritated many developers into creating fully decentralized exchanges (DEX) that compete with CEXs and establish the proper code of decentralization.
ApeSwap is one of those decentralized exchanges, and this article will introduce you to a complete guide to what ApeSwap is, how it works, what it offers, and much more. Let's get started.
Executive Summary
ApeSwap is a decentralized exchange on BNB Chain.
ApeSwap provides a full toolkit for DeFi applications, including buying tokens that trade against BANANA, token swaps, offering liquidity, staking, lending and borrowing, IDOs, and margin trading.
With BANANA and GNANA serving as the two main utility tokens, ApeSwap operates on a dual-token paradigm. GNANA compensates users with access to governance and special perks, while BANANA tokens are used to reward liquidity providers.
DeFi Yield, Certik, and BSC Gemz have audited ApeSwap in 2021 and 2022, respectively. No serious flaws were discovered.
To encourage customers to trade their tokens, ApeSwap allows partners to publish tokens on the exchange, set up staking pools, and run yield farms.
What Is ApeSwap?
ApeSwap is a decentralized exchange (DEX) on the BNB Chain that provides a complete toolkit for DeFi applications, including access to all sorts of financial services like token swaps, liquidity provision, alternative savings, staking, lending and borrowing, IDOs, tokenized assets, and margin trading.
The ApeSwap decentralized exchange is one of the largest in the Binance ecosystem and has partnerships with prestigious projects like KAI, LUNR, FRAX, and Animoca Brands. ApeSwap seeks to "provide accessible financial opportunities for the (crypto) masses through transparency, security, and support."
Why Was ApeSwap Created?
DeFi is the most popular trend in the crypto industry. The ApeSwap platform focuses heavily on decentralizing every facet of the conventional financial sector and providing access to services like loans, insurance, etc., to all members of society, especially those who haven't always had access to these services or coming from less developed countries.
ApeSwap thrives on empowering over 1.7 billion unbanked individuals globally to access essential financial services by employing blockchain protocols and cryptocurrency tokens to decentralize traditional financial services.
ApeSwap's goal is to establish a sustainable, neighborhood-driven decentralized autonomous organization (DAO) that aims to decentralize conventional finance and establish a just economy.
ApeSwap attempts to address issues faced by its centralized competitors, such as the risk of hacking, mismanagement, and arbitrary fees, and eliminate the need for centralized intermediaries in financial applications such as derivatives, insurance, and loans.
The great opportunities to benefit from what was impossible before contributed to ApeSwap's growing popularity among the general public.
Who Founded Apesawap?
ApeSwap was founded by a group of people deeply experienced in cryptocurrency trading, farming, and other crypto initiatives in 2021. After participating in the DeFi ecosystem for a while, they were united to introduce a more equitable, open, and community-driven decentralized exchange. The project was given the hasty name "ApeSwap "— created by DeFi apes for DeFi apes.
The ApeSwap team consists of 15 members who remain anonymous and present themselves through avatars like Donkey Kong or Harambe. The complete list of co-founders includes:
ApeGuru — highly experienced full-stack developer
ApeTastic — highly experienced smart contract developer
Harambe Nakamoto — expert on tokenomics, analytics, and engineering
DK — business development and marketing guru
Obie Dobo — expert community manager (King of the community jungle)
While all profiles are anonymous, they are quite extensive in the ApeSwap team document. The entire crew has been working on the project for about a year, vastly reducing the chances of ApeSwap being a scam.
What Makes ApeSwap Unique?

The ApeSwap decentralized exchange enables users to trade over 150 tokens on BNB and Polygon chains and provides the standard toolkit for DeFi applications. ApeSwap charges 0.2% trading fees on token swaps. A portion of the fees goes to the ApeSwap Treasury, while the rest is distributed to liquidity providers. ApeSwap also introduced leverage trading in Q1 of 2022.
ApeSwap's other significant offering is its yield farms, encouraging users to contribute to liquidity by staking APE-LP tokens. It provides auto-compounding vaults, where tokens are automatically staked to produce farming yields, to anyone looking for passive income. Additionally, Burning Vaults use a high percentage of farming profits to buy BANANA tokens and burn them. IDOs at ApeSwap are Initial Ape Offerings (IAOs) that can either be official IAOs (approved and certified by ApeSwap ) or self-serve IAOs (unapproved projects).
Additionally, 1,000 "non-fungible apes" were made available by ApeSwap for trading at its NFA Auction House. The exchange also intends to work with its partner, Liquid Collectibles, to produce a collection of "non-fungible bananas."
What Is ApeSwap (BANANA) Token?
BANANA is the native utility token in the ApeSwap ecosystem. The protocol uses BANANA to reward liquidity providers and incentivize markets on the ApeSwap Lending Network.
Users can buy BANANA on the Exchange's Swap tab page using BNB Chain, Polygon, or Ethereum tokens. Users can provide liquidity to the ApeSwap DEX through the Exchange's Liquidity tab and stake their liquidity provider (LP) tokens in any available Yield Farms or BANANA Maximizers to earn BANANA. Additionally, they can lend or borrow crypto assets on ApeSwap's lending network to receive BANANA rewards.
Every Thursday, ApeSwap burns BANANA tokens to remove them from circulation and ease inflationary pressure in order to manage the protocol's return on emissions.
What Can I Do With BANANA?
Find BANANA use cases below: 
To earn more BANANA or tokens from partner projects, stake your BANANA tokens in ApeSwap's staking pools.
Acquire GNANA on the Golden BANANA page.
To create liquidity provider tokens (APE-LP tokens) on the Exchange page, combine BANANA with BNB or BUSD. The BANANA/BNB liquidity pair earns trading fees and can be staked in yield farms or BANANA maximizers to generate passive revenue.
To earn BANANA, purchase Treasury Bills with APE-LP tokens during a predetermined vesting time.
To earn interest, lend BANANA through the lending network.
Borrow against your BANANA on the lending network.
BANANA Tokenomics – Hard Cap
Voters in ApeSwap DAO accepted Governance Proposal 22 to impose a hard cap of 420,000,000 BANANA on August 31, 2022. This indicates that there will never be more BANANA tokens produced (i.e., the sum of all BANANA in circulation, including those burned).
How Many ApeSwap (BANANA) Tokens Are in Circulation?
BANANA and GNANA are ApeSwap's two primary utility tokens. Four major use cases have been pre-established for the BANANA token:
Staking it to earn more BANANA.
Buying GNANA with it.
Lending BANANA on the lending platform for rewards.
Swapping it for other tokens.
BANANA has an unlimited total supply and is an inflationary coin. As it stands, 316,800 bananas are released per day and distributed as follows:
Yield Farms (BNB Chain): 39.5%
BANANA Pool: 22.7%
Lending Network (Ola): 9.09%
Yield Farms (Polygon): 9.09%
Bonds: 9.09%
Dev Wallet: 6.36%
Burned: 2.73%
$GNANA Pool: 1.36%
BANANA as a Deflationary Token:
Eventually, BANANA will turn into a deflationary token. As a result, ApeSwap has put into place the following deflationary mechanics:
Quarterly buyback and burn: 50% of trade commissions go toward BANANA buybacks and burns.
Weekly Thursday burns
IDO-generated GNANA is used to purchase back and burn BANANA.
Projects partnering with ApeSwap burning BANANA
Burning Vaults uses 10% of the fees it receives to purchase stablecoins and store them permanently in vaults. These vaults' rewards are used to purchase and burn $BANANA.
What Gives ApeSwap (BANANA) Value?
ApeSwap (BANANA) gets its value from the utility. The more people hold, buy, and swap BANANA, the more value is ascribed to the ApeSwap platform. The range of swap options with the BANANA token makes it easier to generate liquidity. In simple terms, the more BANANA finds utility, the higher its value. Therefore, its current value is a reflection of its current utility status.
How Does ApewSwap Work?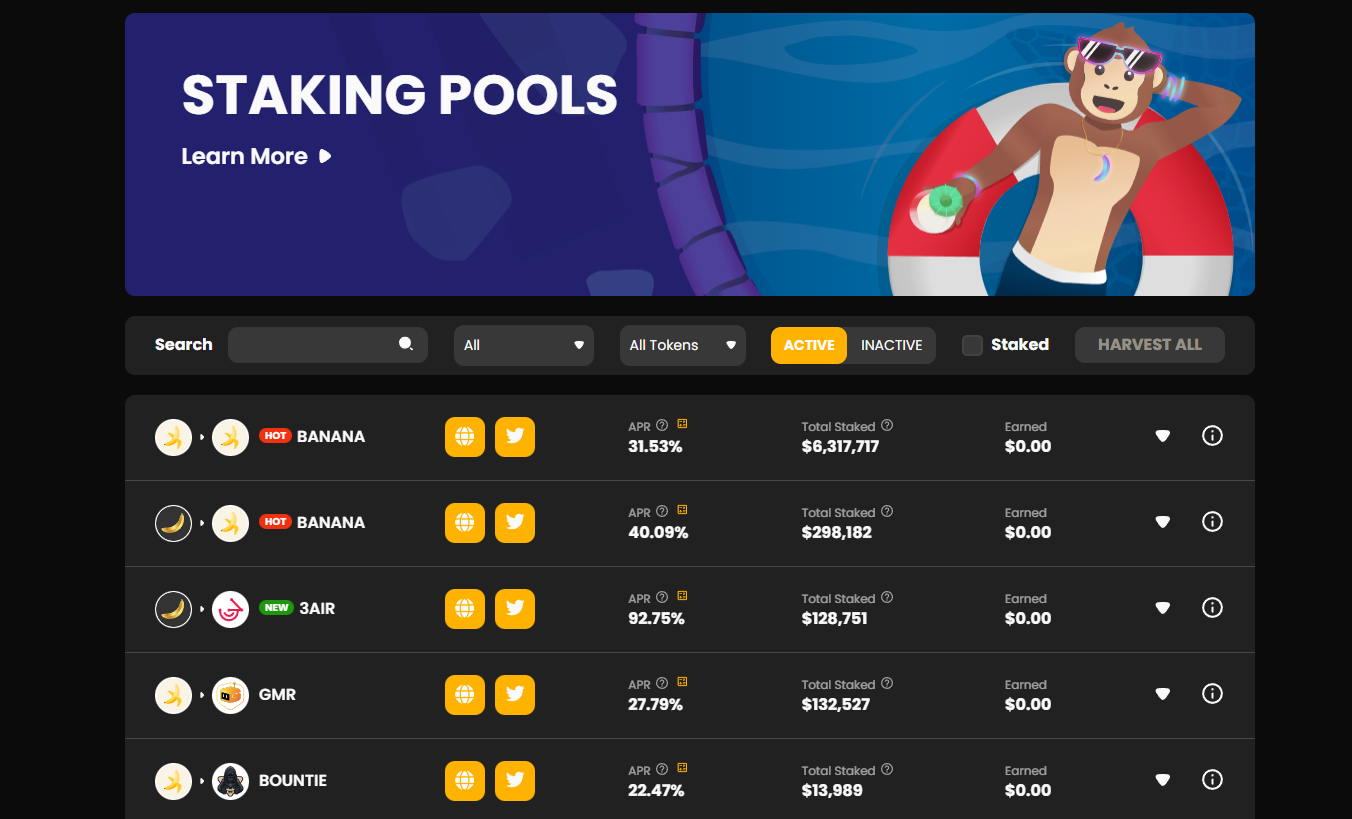 Users can purchase BANANA and GNANA tokens by linking their crypto wallet to the exchange and swapping another token. ApeSwap provides token swaps between different tokens and has generated more than $16 billion in total transaction volume and more than $200 million in TVL.
Users can add liquidity by connecting their wallets to the ApeSwap DEX. In exchange, users get LP tokens, which they can stake to get a piece of the BANANA emissions as a reward.
Additionally, users can stake their BANANA in the ApeSwap Burning Vaults to increase their portion of the available BANANA supply. ApeSwap currently offers 69% APY on staked BANANA and 87% APY on the BANANA-BUSD liquidity pair.
Users can farm yield on a wide range of trading pairs. Special farm multipliers on BANANA farms control the dispersed emitted Banana to the farms. Users are encouraged to add more liquidity to farms with higher multipliers since they offer more significant BANANA incentives.
Users can get trading commissions and BANANA rewards by staking their LP tokens in yield farms. Jungle Farms also enable partner projects to enhance their liquidity by paying out their tokens. Farmers who provide the highest yields earn the partner token rather than BANANA tokens.
Treasury Bills and Initial Ape Offerings (IAOs) are two of the fundraising options provided by ApeSwap.
Initial Ape Offerings (IAO)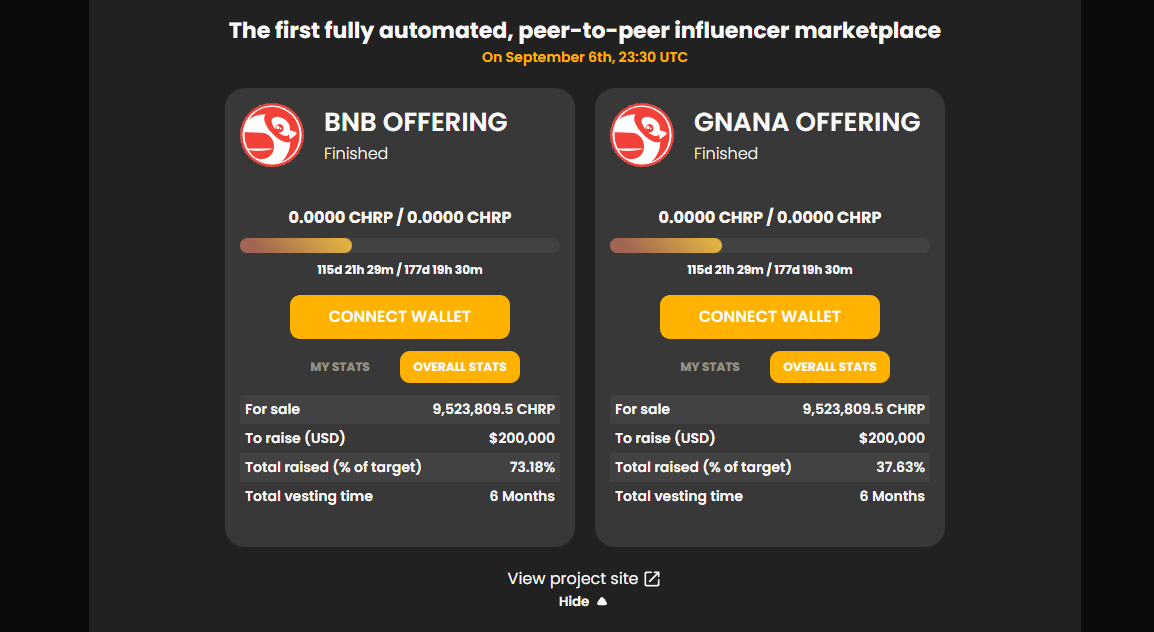 Users can participate in new and upcoming projects through Initial Ape Offerings. Initial Ape Offerings (IAO) are fundraising activities that ApeSwap users can join to launch new tokens and increase liquidity.
IAOs come in two varieties: official and self-serve. ApeSwap audits projects in official IAOs from a list of official IAO partner applicants, gives them marketing assistance, and grants them access to the raised BNB. Participants can pay with BNB or GNANA, and there is a higher purchasing power with GNANA, which will incentivize and reward its holders.
With self-serve IAOs, cryptocurrency projects can launch their crowdfunding campaign and generate their own ApeSwap DEX liquidity. However, neither ApeSwap nor the platform provides marketing assistance to these IAOs.
Treasury Bills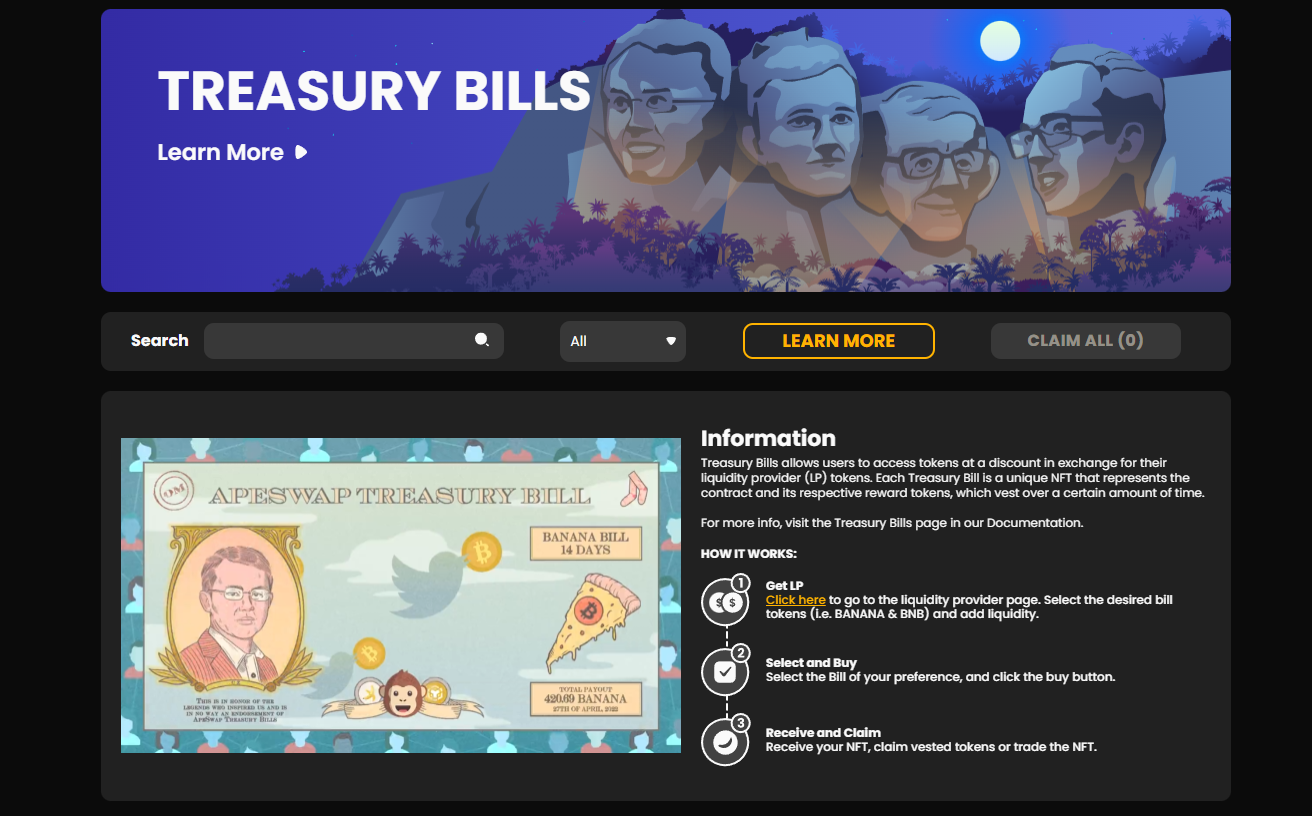 Registered as the first yield-generating NFT product on the exchange, Treasury Bills are a new endeavor to safeguard ApeSwap's long-term viability. In exchange for providing liquidity, users can get BANANA Bills or Jungle Bills. This creates protocol-owned liquidity for ApeSwap. While Jungle Bills create partner tokens and give these protocols access to their protocol-owned liquidity, BANANA bills provide BANANA tokens at a discount.
The ApeSwap Lending Network allows users to lend and borrow money. A token's collateral factor determines the amount that can be borrowed. As an illustration, WBTC has a 70% collateral component, which allows users to borrow up to 70% of the value of their WBTC. Users who lend money will get a distribution APY in BANANA tokens and a supply APY in the currency they invested (WBTC if they lend WBTC).
What Does ApeSwap Offer?
DeFi Lending and Borrowing
ApeSwap offers users a variety of options to invest and profit from participating in several activities. Most activities reward users in BANANA. Through the ApeSwap platform, any investor can purchase the native BANANA token in addition to lending and borrowing other cryptocurrencies, like DAI, ETH, USDC, ZRX, USDT, WBTC, BAT, REP, and SAI.
As DeFi lending has attracted customers' attention, ApeSwap has developed solutions to provide loans to interested people or enterprises without intermediaries. The protocol facilitates cryptocurrency lending and borrowing and allows all parties to gain interest. As investors no longer have to spend time, effort, and money interacting with conventional financial industry intermediaries, such services have grown increasingly.
DeFi Rewards and Earning
The provision of possible rewards has substantially enhanced the lives of many investors and keeps luring individuals to the DeFi industry, thereby accelerating the widespread adoption of DeFi technologies.
ApeSwap protocol provides investors several ways to make money and receive rewards on the platform, including staking and locking tokens in its liquidity pool. Yield farming is a profitable activity in which participants deposit cryptocurrency into the ApeSwap liquidity pool for a predetermined amount of time in exchange for rewards.
Investors can stake any asset they own to any preferred liquidity pool for rewards using ApeSwap's native token (BANANA). ApeSwap has turned it into a straightforward task, and they only need to convert their cryptocurrency into the BANANA token or purchase BANANA on the project's official website to stake it wherever they like.
The ApeSwap platform advises users on where to stake for the best returns and other top investing opportunities. Such recommendations are fairly accurate because they are data-driven and employ sophisticated algorithms.
DeFi Insurance
The interest rates generated via staking and yield farming far exceed those provided by traditional finance organizations like banks. However, because of the substantial risk associated with significant returns, the ApeSwap platform aids customers in hedging against potential risks associated with smart contracts. Along with safeguarding against hackers and bug exploitation, ApeSwap safeguards investors' assets from depreciating when farmed or staked.
ApeSwap Unique Features
Partnerships
ApeSwap describes itself as the "most connected and most supporting DEX in crypto." It has 200+ partners from several blockchain-related industries, including NFT, GameFi, DeFi, bridge, launchpads, incubators, etc. The list of its partners is included In its ApeSwap Jungle. ApeSwap can offer marketing as a service to other protocols due to its position as a DeFi hub with all the required solutions for users.
A Variety of Use Cases
ApeSwap provides all the typical services of a decentralized exchange, including token swaps, lending, and borrowing, yield farming, staking, etc.; however, it goes further than that, offering additional valuable services to investors and protocols.
Its Treasury Bills, for instance, enable ApeSwap and other protocols to produce protocol-owned liquidity, while its Initial Ape Offerings serve as a launchpad. In addition to providing protocols with a mechanism to kickstart liquidity and benefit from ApeSwap's marketing expertise, they also allow users to invest in new protocols.
Community
ApeSwap is run as a DAO and seeks to be open about how it generates and uses money. ApeSwap reserves governance for its most crucial long-term community members—GNANA holders. It also exposes protocol revenue and burn mechanics on its Financials page.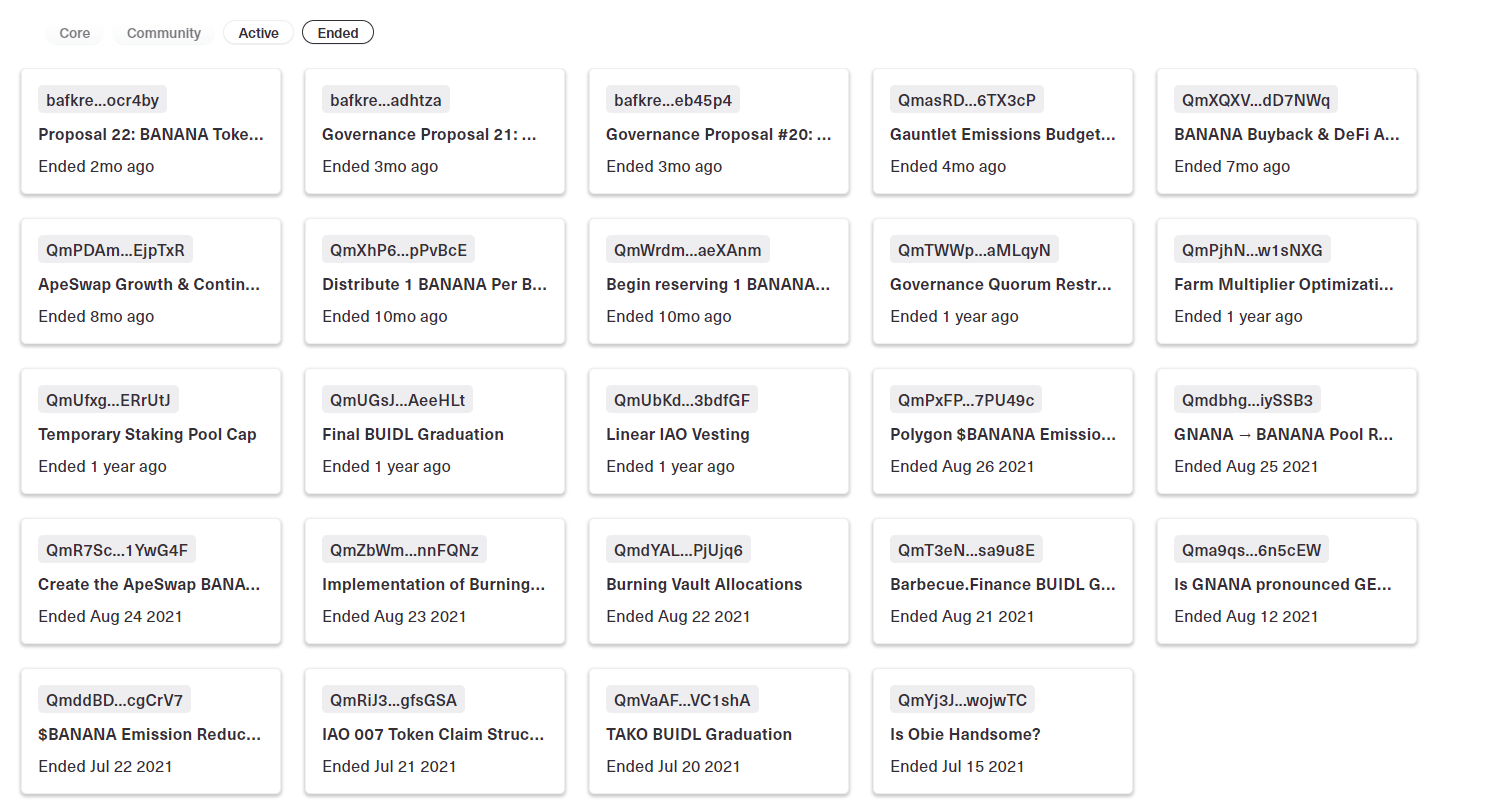 Getting Started With ApeSwap
Your journey with ApeSwap includes the following: 
Engaging with the community by utilizing the DeFi platform and purchasing the BANANA and GNANA native utility tokens.
Utilizing the DEX to trade cryptocurrency tokens on BNB Chain, Polygon, and Ethereum.
Creating liquidity between cryptocurrency token pairs and using reward liquidity provider (LP) tokens to earn trading fees and stake in yield farms or maximizers to generate BANANA.
Earning tokens from related projects by staking BANANA or GNANA in staking pools.
Utilizing the ApeSwap Lending Network to lend and borrow cryptocurrency assets.
Participating in Initial Ape Offerings for brand-new cryptocurrency projects.
Buying Treasury Bills with LPs to get cheap BANANA or partner tokens that vest over time.
ApeSwap partner crypto projects are empowered with the following:
Advertise their cryptocurrency on the decentralized exchange.
Get advice from the team.
Interact with the thriving partnership environment.
Co-market with the team to attract new customers.
Offer Yield Farms to encourage users to increase the liquidity of their tokens on the exchange.
Utilize Initial Ape Offerings and Jungle to raise money.
Conclusion
The blockchain sector and the global market at large have greatly benefited from DeFi. ApeSwap provides decentralized financial services to guarantee simple transactions and maximize investors' returns in addition to acting as a decentralized store of value.
ApeSwap is easy-to-use and user-friendly. Due to the platform's use of BNB Chain and low trading fees, swapping and staking on the platform have become even more convenient and advantageous.
In other words, ApeSwap constantly pushes boundaries to develop novel and effective user engagement strategies. The innovative platform is increasingly emerging as the ideal option for investors wishing to optimize their investments.