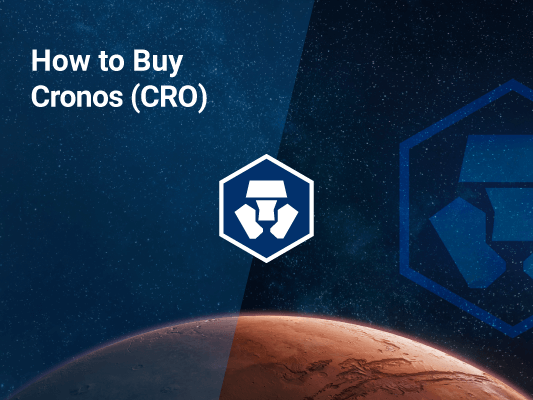 How to Buy CRO | Where, How, and Why
<! -- End of the Reviewed by section -->
Interested in how to buy CRO, but you can't figure out how and where to start? Our guide will help you with all you need to know about CRONOS, why, and how to purchase CRO in a few simple steps.
Launched by Crypto.com in November 2021, Cronos is a blockchain network compatible with Ethereum Virtual Machine. This means that it can easily incorporate Metaverse, DeFi, and GameFi applications that run on Ethereum into its protocol while simultaneously building new ones.
Cronos also features interoperability with the Cosmos ecosystem via inter Blockchain Communication (IBC).
Cronos chains is one of crypto.com's lineups of solutions intended to accelerate the global adoption of digital assets and cryptocurrencies as a means of protecting users' identities, safeguarding user data, and increasing personal control over money.
Cronos aims to deliver faster and dramatically cheaper transactions that rival Level 1 blockchains, bringing more users to smart contracts and decentralized applications (DApps).
The Cronos blockchain also supports the rapid porting of smart contracts and DApps from Ethereum and other Ethereum Virtual Machine compatible chains (EVM).
User adoption has driven up the growth of Cronos. About 120 decentralized applications have been built on the blockchain, and over 350,000 unique wallets are connected to it.
Cronos aims to be one of the top five public blockchain networks by total value locked (TVL) by the end of the year.
Similar to what Binance did with BNB, the rebranding of the token name is unlikely to have any significant effect, adverse or otherwise, on the price action of the token; the move only disassociates Crypto.com from the token.
Cronos aims to provide a more accessible and affordable way to pay for online purchases using virtual assets while simultaneously offering solutions to the traditional Bitcoin scaling.
Scalability is the capability of a blockchain to cope with a large number of transactions that occur simultaneously on the blockchain. Users who initiate transactions beyond the threshold of the blockchain will remain in a queue if the blockchain isn't optimized for scalability; only those who paid the largest amount in commission retain a first place on the queue.
Scaling is a major problem that prevents a wider integration of blockchain technology which Cronos aims to solve by offering instant payment confirmation while increasing the number of transactions to support scaling.
The target confirmation time of the crypto.com chain is less than 1 second; the platform promises to support more than fifty thousand transactions per second when the implementation of the test net is finalized.
Cronos enables purchasing CRO and other cryptocurrencies with over 20 fiat currencies using a credit or debit card and wire or bank transfer.
Cronos History and Founders
Crypto.com launched Cronos as part of its vision of "putting cryptocurrency in every wallet."
The company offers an exchange, a crypto.com app, a DeFi wallet, crypto lending, a visa card, and several other services.
Crypto.com and the crypto.com coin were founded as "Monaco Technologies GmbH" in June 2016, Rafael Melo, Bobby Bao, Gary Or, and Kris Marszalek.
Rafael Melo has worked with several major companies in Asia in his 15 long years in a career in finance. He earned his bachelor's degree in engineering from the PUC-Rio and has helped secure over 50 million AUD in funding for the Ensogo social commerce website.
Bobby Bao worked in the M&A department of the china resistance investment bank before helping launch crypto.com. He studied at the University of Melbourne, College of William and Mary, NYU Stern School of Business.
Gary Or worked as a platform architect at Ensogo before co-founding crypto.com. He is also a co-founder of the mobile app development firm Foris.
Gary Or received his bachelor's degree in engineering computer science from Hong Kong University and has over nine years of full-stack engineering experience.
Kris Marszalek is an alum of the Polish Adam Mickiewicz University who, before starting crypto.com, founded and headed three companies: e-commerce firm BEECRAZY, location-based service mobile app and platform YIYI, and Starline Polska, a consumer electronics design and manufacturing business.
CRO
CRO is the native token that powers the Cronos blockchain.
CRO was initially developed as an ERC-20 token built using the Ethereum network.
The native token of Crypto.com Chain, crypto.com coin (CRO), was rebranded into Cronos (CRO) to indicate the decentralized nature of the CRO token while also highlighting the explosive growth of the Cronos ecosystem.
Because the crypto.com chain launched its own open-source, public blockchain Cronos, if you previously owned the Cros erc-20 variant crypto.com coin, a token migration web tool is provided by the crypto.com chain to allow you to transfer your current erc-20 tokens onto the new chain.
The Cronos blockchain is powered by CRO, which allows you to use cryptocurrencies to pay more online merchants and settle transaction fees on the crypto.com blockchain.
CRO holders with sufficient balance in the app wallet are offered an exclusive metal visa card. With CRO, users can unlock features within the non-custodial DeFi wallet.
CRO is also used to improve staking rewards. Providing liquidity on the DeFi swap boost bonus yields.
Acting as an intermediary currency, CRO allows you to convert cryptocurrency and digital assets into fiat currency at a reduced cost. Users on the chain will need to use CRO to fund block transaction fees and earn token rewards for verifying and processing transactions on the network.
CRO has a 24 hours trading volume of $49.3M, and it's currently ranked #18. CRO has a live market cap of $10,187,987,272 USD, a circulating supply of 25,263,013,691 CRO coins and a total supply of 30,263,013,692.
The current price of CRO is $0.400303. The CRO price performance has been good despite the 2022 crashing market.
Market conditions, volatility, and traditional factors like the broader economy and crypto markets sentiment may influence the price of CRO.
By using crypto portfolio trackers, you can track and manage your crypto assets in real-time to make trading decisions as soon as possible.
Crypto Assets
Crypto assets are digital assets that prove ownership using public ledgers over the internet. Crypto assets use distributed ledger technology (DLT), such as blockchain, peer-to-peer networks, and cryptography to create, verify, and secure transactions.
Crypto assets have different characteristics and functions: they may be used for business purposes, as a medium of exchange, or to store value.
Crypto assets typically operate independently of financial institutions, government, central authority, or a central bank.
Some of the more familiar types of crypto assets you may come across are:
Cryptocurrency
Cryptocurrency is most likely the most well-known type of crypto asset today. Cryptocurrency is a virtual or digital medium of exchange or currency that users can use to:
Exchange for services or products, like fiat currencies such as the u.s or Canadian dollars.
As a store of value
For trading on a cryptocurrency exchange.
Cryptocurrencies' perceived value is largely based on their demand and supply in the market. Some examples are Bitcoin, Dogecoin, Ethereum.
Suppose you're looking into how to buy cryptocurrency. In that case, one of the things you should know is that they are typically not considered securities and are, therefore, not subject to securities law.
Utility Tokens
A utility token uses a blockchain platform or distributed ledger to provide access rights to a service or product – potentially one still in development-or to be used to purchase specific services or products.
The provider of the service or product usually issues the tokens, which can only be used within the issuers' network.
Security Tokens
Security tokens are often auctioned or sold in an ICO (Initial coin offering) or an ITO (initial token offering) that allows businesses to raise money to fund a business model or an idea.
The business offers security tokens in exchange for other crypto-assets or fiat money. The security token often comes with a stake in the project, with additional benefits such as dividends, profit sharing, or voting rights. However, investors should remember that the project may not succeed, and their funds support an idea, not a fully-realized service or product.
Non-fungible Tokens (NFTs)
Non-fungible tokens or NFTs exist on a blockchain or a distributed ledger, which records ownership of a unique intangible or tangible object such as designer clothing, a digital image, a song, a video, etc.
When something is non-fungible, investors for another, which makes it unique. Even for crypto assets, non-fungible tokens are relatively new, and the marketplace and regulatory scheme for NFTs are swiftly evolving.
Why You Should Buy the CRO Token
The Cronos blockchain and its native token aim to fix several issues traditionally associated with general blockchain implementation, including:
Enhanced merchants support
The developers behind crypto.com have taken significant steps to make CRO blockchain integration easier. Crypto.com recently released its dedicated SDK (software development kit) for merchants to integrate the CRO blockchain solutions with a lower bar of prerequisite technical knowledge.
2. Lower fees and instant transactions
The primary goal of CRO is to support a faster payment network by introducing scaling solutions that increase as transaction load increases.
In its final form, the Cronos chain intends to support about 50,000 transactions per second; this is significantly more transactions than is comfortably attainable on the Bitcoin blockchain.
3. Decentralized technology
Like several emergent solutions in the decentralized finance (DeFi) realm, CRO verifies transactions by spreading confirmations across a network of computers to avoid using a single point of failure. This method makes CRO significantly more difficult to target in theft attempts and hacks than payment systems that rely on centralized third parties.
How to Buy CRO
Now that you know how CRO works and why you should buy and trade cro. Here's our simple step-by-step guide to help you purchase cro right away!
You can purchase the CRO token using the same method as you would use to buy any other cryptocurrency.
Step 1#: Find the Best Exchange for CRO
Several cryptocurrency exchanges trade cro. You should find and compare the best exchange for cro available in your region.
Cryptocurrency Exchanges
A cryptocurrency exchange is a marketplace for selling and buying crypto like Bitcoin.
These exchanges provide you with accounts to create different order types to sell, buy or speculate in the crypto market.
Although they are less commonly available to users based in the US, some exchanges support advanced trading features like futures trading and margin accounts. Others have features like crypto loans and crypto staking that allow you to earn interest on your crypto holdings.
Types of crypto exchanges
There are two main categories of exchanges, each with advantages and disadvantages.
Centralized crypto exchange
A centralized crypto exchange or CEX is managed by one organization. The bulk of crypto trading takes place on centralized exchanges. They make it easy to start trading cryptocurrencies by allowing users to convert their fiat currencies like the euro or dollars directly into crypto.
Centralized exchanges require their users to follow KYC (know your customer) rules, similar to when you apply for an account in a bank; users are required to divulge their identities, to combat fraud and laundering.
A concern with centralized exchanges is the risk of hacking. A CEX holds your digital assets on its platform while the trades go through; this increases the risk of hackers stealing assets.
Decentralized crypto exchange
Decentralized exchanges distribute the responsibility for verifying and facilitating crypto trades.
Much like the way cryptocurrency blockchains work, anyone can certify transactions once they're willing to join a decentralized exchange network; this helps increase transparency and accountability, ensuring the exchange can keep running irrespective of the company's state that created it.
Decentralized exchanges are much less user-friendly from an interface standpoint and also in terms of currency conversion. For instance, they don't always allow users to deposit fiat money in exchange for crypto; users have to either already own crypto or use a centralized exchange to get crypto.
It also takes longer to find someone looking to trade with you as dex engages in peer-to-peer trade, and if liquidity is low, you may have to accept concessions on price and quickly sell or buy low-volume crypto.
CRO coins are available on multiple exchanges like:
Crypto.com
Coinbase
Huobi Global
Gate.io
Some factors to consider before choosing an exchange are fees, user reviews, available coins, supported deposit modes, customer support.
Step #2: Create an Account and verify your identity
The next step after choosing an exchange is creating an account on the platform.
The requirements differ depending on the platform.
Most platforms would require you to verify your identity before starting trading Cronos. This KYC (know your customer) process usually requires personal information such as a photo ID, a copy of your government-issued ID or passport, and to prove your address by uploading an insurance or utility bill.
Other exchanges bypass KYC and allow you to trade cryptocurrencies, but you cant transfer fiat currency from your bank account. If you plan to purchase the CRO token with US dollars, you must pass KYC.
It is advisable to enable two-factor authentication (2FA) once you've verified your identity; this will help keep your funds safe.
Increasing your account's security helps as certain computer malware can alter the content of your clipboard when you're trading into another wallet address, essentially sending your funds to another person.
Step #3: Fund your account
You can proceed to fund your account once you've completed the verification process.
You can fund your account through:
You can connect a debit card to your account, but be aware that it attracts an additional fee. Linking your card is advantageous as you can use a debit card to make instant or recurring purchases.
It is usually free to make a bank transfer from local bank accounts, but you should double-check with the crypto
the exchange you choose.
A platform like CoinStats will help you track the current CRO price and access blog posts with additional informative articles about crypto exchanges, wallets, and tokens, including how to buy Polkadot, what is DeFi, and other crypto and digital assets.
CRO can be purchased by trading it for another currency like Ethereum or a stable coin like Binance USD (BUSD); this varies between exchanges, and you will need to search for CRO on the spot market to see what currencies you can trade it for.
Step #4: Buy CRO
After funding your account, the easiest way to purchase CRO is by using the 'instant buy' feature to acquire it for a set price; not every exchange offers this feature.
Alternatively, you can set the amount you like by opening a trade in the spot market. A spot market is the most common way to buy cryptocurrency; although the instant buy feature is straightforward, it is usually more expensive than a spot market.
Step #5: Storing your Cronos (CRO)
You can store your CRO on the cryptocurrency exchange you purchased it on or move it to a personal wallet.
Some investors prefer to use their wallets with other applications like DeFi services or guarantee total ownership over their assets.
There are two different kinds of wallets you can store your CRO token on a hardware wallet and a software wallet.
Hardware wallets
Hardware wallets are devices that store the private keys you need to receive or send crypto.
Hardware wallets are usually considered the Safest type of cryptocurrency wallet, as their physical nature enhances security in several ways.
Hardware wallets offer offline storage, thereby significantly reducing the risks of a hack.
Hardware wallets are secured by a pin and will erase all information after many failed attempts, preventing physical theft.
Hardware wallets also let you physically sign off on transactions, which is a further layer of security on your transactions.
Ledger hardware wallets are arguably the most secure hardware wallet.
You can manage and secure your CRO tokens with the ledger hardware wallets.
Ledger hardware wallets currently come in two models:
The Nano S, meant for crypto beginners, offers only a few features.
The Nano X is more suitable for advanced crypto traders and storage for a wider variety of assets.
A hardware wallet is advantageous because it:
Thieves can't hack it
Gives direct control over your crypto
Safer
Offers long-term storage
Some disadvantages of a hardware wallet include:
Cost- a hardware wallet is expensive
A hardware wallet is difficult for beginners to use
A hardware wallet is less convenient for daily transactions
Crypto will always entice thieves and hackers, but using a hardware wallet will reduce these risks.
Software wallets
Software wallets offer online storage to users; users can hold their private keys and have access to their crypto.
Software wallets are less protected than hardware wallets, but they are much easier to use
Advantages of software wallets
Ease of use
Control of private keys, if you don't use the wallet hosted by an exchange
Fast transactions
Disadvantages of software wallets
Lack of direct control when using a third party wallet
Online security risks like viruses and hacks
Potential loss of assets if your device is damaged or lost
There are many software wallets available for download online. The CoinStats Wallet is one wallet you can trade your assets with.
Conclusion
Cronos (CRO) included, cryptocurrencies are complex, speculative, and sensitive to secondary activities. Seek investment advice and consider your financial circumstances before trading crypto.
Cryptocurrency performance is unpredictable, and future performance is not reliant on past performance.
Investors should be aware of the risks, including but not limited to the high volatility of trading with cryptocurrencies.