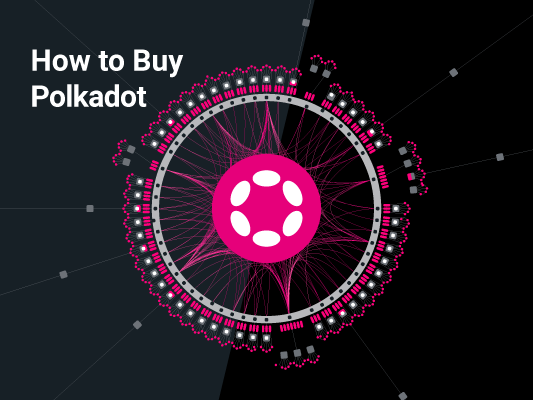 How to Buy Polkadot | Where, How and Why
<! -- End of the Reviewed by section -->
Polkadot is a next-generation blockchain network that is secure, scalable, decentralized, and multi-chain. It connects blockchains, facilitating the exchange of data and value between previously incompatible networks (i.e., Bitcoin and Ethereum) in a trustless way.
Its innovative concepts for scalability, interoperability, governance and blockchain code update have earned Polkadot the nickname the "Ethereum killer."
The Polkadot ecosystem is powered by the DOT token, the network's native coin used for payments, network governance, staking, reward incentives, transaction fees, etc. The DOT token is supported by several cryptocurrency exchanges. Check the current DOT price, along with in-depth information on several of the biggest and fastest-growing cryptocurrencies on CoinStats, one of the best crypto platforms around.
Read on for our deep dive into the Polkadot protocol and the DOT token, and learn how and where to buy Polkadot instantly.
Let's jump right in!
Pros and Cons
Pros
Well-developed blockchain technology
Active community
Wide availability on various platforms
Secure platform
Staking opportunities.
Cons
Elaborate consensus system
Confusing for beginners
High competition with other layer-1 platforms.
Let's discuss the Polkadot purchase process first before looking into the Polkadot Network and its difference from other layer-1 blockchains.
How to Buy Polkadot DOT in 4 Quick Steps
Polkadot DOT is one of the leading crypto assets on the market. So, there should be no problem buying Polkadot on any major cryptocurrency exchange through other cryptocurrency or fiat currency. All exchanges charge a fee or a spread to finance their operations, and fees can differ significantly among exchanges, so be aware of any additional fees that may apply.
Step #1: Choose a Crypto Exchange
To buy DOT, you first need to choose a suitable exchange for your investment needs. You need to consider its reputation, trading fees, customer service, etc. Here are two major categories to choose from: decentralized exchanges (DEXs) and centralized exchanges (CEXs).
The decentralization degree plays an essential role in how the exchanges conduct their transactions. Additionally, it affects their crypto variety, the support of wire transfers, the extent of risks, etc.
Centralized vs. Decentralized Exchanges
A Centralized Exchange, like Coinbase or Binance, acts as a third party between the sender and the recipient of a transaction in contrast to peer-to-peer trades executed on decentralized ones.
Moreover, there's a substantial difference in the listing process, which evokes several security concerns to be considered before trading on any exchange.
Exchange Security
When choosing a cryptocurrency exchange, security plays a significant role. Decentralized exchanges allow investors to choose from many tokens, as their listing process is quite simple. As a result, the chances of running into a scam project are generally higher than with CEXs.
On the other hand, tokens must satisfy several requirements to get listed on a CEX, including legal standards, security protocols, and trading activity. As a result, many traders feel constricted by the rules that apply to mainstream CEX investments, as opposed to DEXs, which are better at maintaining your freedom of choice.
Polkadot is available on a wide array of platforms like Binance, Coinbase, and other exchanges. Let's take the Binance exchange as an example and demonstrate the further steps for buying Dot.
Step #2: Registration
Congratulations, you've completed Step one and chosen the exchange. The registration process is typically quick and painless – you just need to provide an email address or a phone number, whip up a secure password, and you are on your way to owning Polkadot (DOT).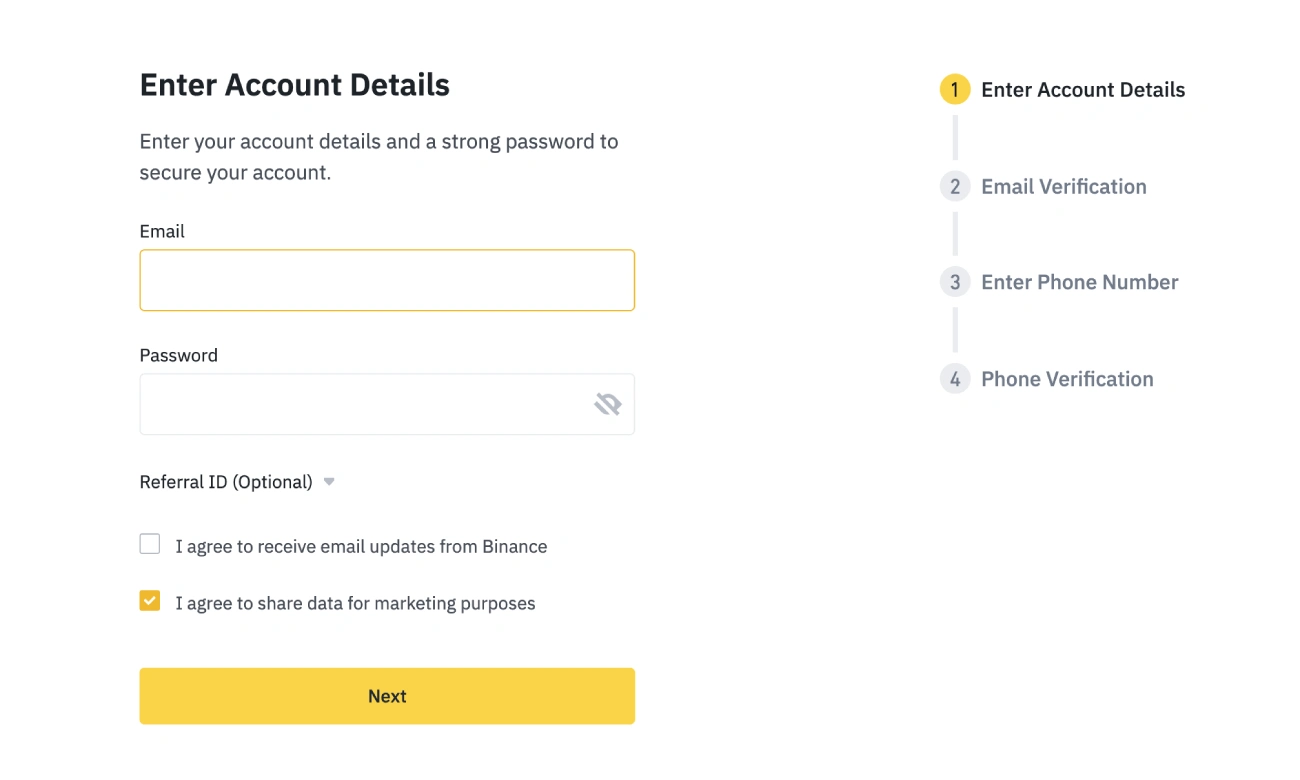 Once you complete the quick registration, you can deposit funds and start buying DOT. However, trading will be limited for new investors unless they are willing to go through the KYC (know your customer) procedure. Traders wishing to use their finance account to its total capacity will need to undergo identity verification by submitting a valid ID, personal info, photograph, current address, etc.
DEXs don't require clients to go through KYC and give them more privacy. However, the procedure is quite standard for CEXs like Binance or Coinbase. Once traders complete the KYC, trading, withdrawal, and deposit limits increase.
Now that your account is set up and good to go, let's move on to the next step.
Step #3: Fund Deposit
The next essential step is to deposit funds onto your exchange account. This process differs, depending on the chosen trading platform. For example, if you don't yet own a crypto wallet or other cryptocurrencies, you might want to consider trading DOT with fiat currency.
DEXs don't typically accept fiat deposits, so if you choose to purchase DOT on a DEX, you might have to purchase Bitcoin on a platform that allows fiat-BTC pairs, then transfer the BTC to the decentralized exchange and trade Bitcoin for DOT.
As we chose Binance exchange as our example, let's look into all the deposit options available on the platform.
Bank Account
You can choose to buy Polkadot on Binance through a bank transfer by depositing USD. A wire transfer from your bank account will allow you to purchase a stablecoin listed on Binance; then, you can swap the stablecoin for altcoins to buy DOT.
This payment method is quick and easy and shouldn't create additional questions, as the interface is relatively straightforward.
It's important to double-check the deposit amount before confirmation. Also, consider that linking a credit or debit card or a bank account to a crypto exchange carries several risks.
Credit/Debit Card
Depositing funds directly with your credit or debit card is also an option on Binance. This way, you can skip the extra step of swapping stablecoins for DOT. Standard options for using Visa or MasterCard are available to new users and existing accounts.
Buying Polkadot With Other Crypto
If you already have a crypto wallet, you can transfer your funds into Binance and trade other cryptos for Polkadot DOT. You can choose among multiple DOT pairs on Binance.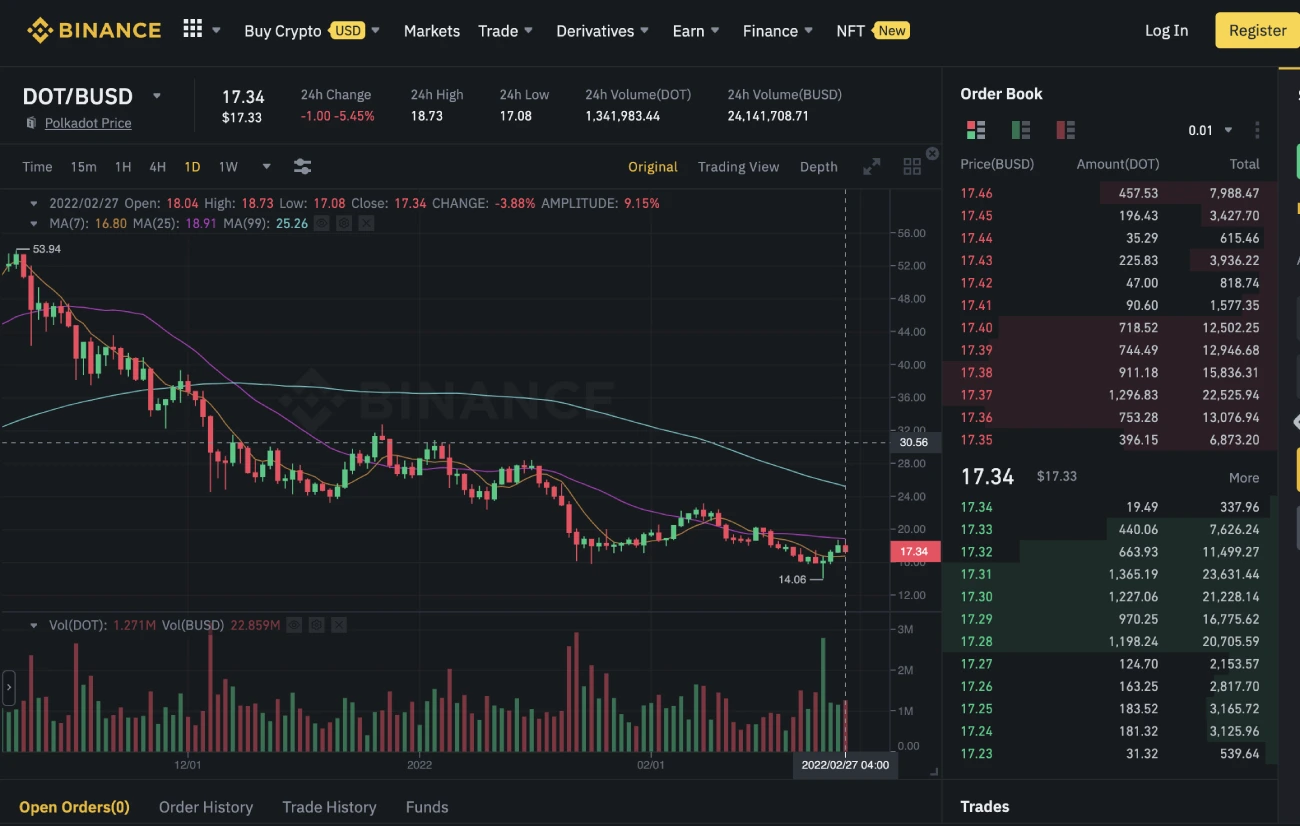 The specific price, the order book, and the available pairs will be displayed on the TradingView chart. The trading process is quite intuitive and easy to manage.
Congratulations on your first Polkadot purchase! Now let's examine what you should do once you acquire the DOT coins.
Step #4: What to Do Once You Buy Polkadot DOT
There are several options for using your Polkadot DOT.
Hold Polkadot Securely
Holding on to your digital assets and just monitoring them with a crypto tracker is always an option, and the important part is to do it safely, minimizing the risk of anyone getting hold of your coins without your permission. Most traders who don't wish to exchange their crypto assets soon prefer to safely store them away from exchanges, all of which are susceptible to hacks in different measures.
One of the most secure options for the long-term storage of your crypto assets are hardware wallets, also referred to as cold wallets.
Stake Polkadot Coins
Many popular cryptocurrencies have a staking option; however, not all traders are familiar with the process. Staking basically means that you can make the coins "work for you" and earn you rewards in return for locking them temporarily and letting the platform use them for its needs.
In short, staking is like owning a Savings account. There's a trust element involved, similar to trusting the bank to govern your money while holding it "locked" in a Savings account and getting yield in return.
NOTE: As the crypto market is highly volatile, staking is a high-risk endeavor; however, it's also a high reward, so carefully study the system before consideration.
Trade Polkadot Coins
In addition to staking and holding on to your coins, trading your DOT could also be profitable in the right circumstances. Binance has an extensive option pool with over 300 Polkadot trading pairs. If your desired crypto is not available for direct DOT trade, you can trade it for Bitcoin (BTC), Ethereum (ETH), Bitcoin cash, or any other popular coin, and then trade it for the crypto of your choice.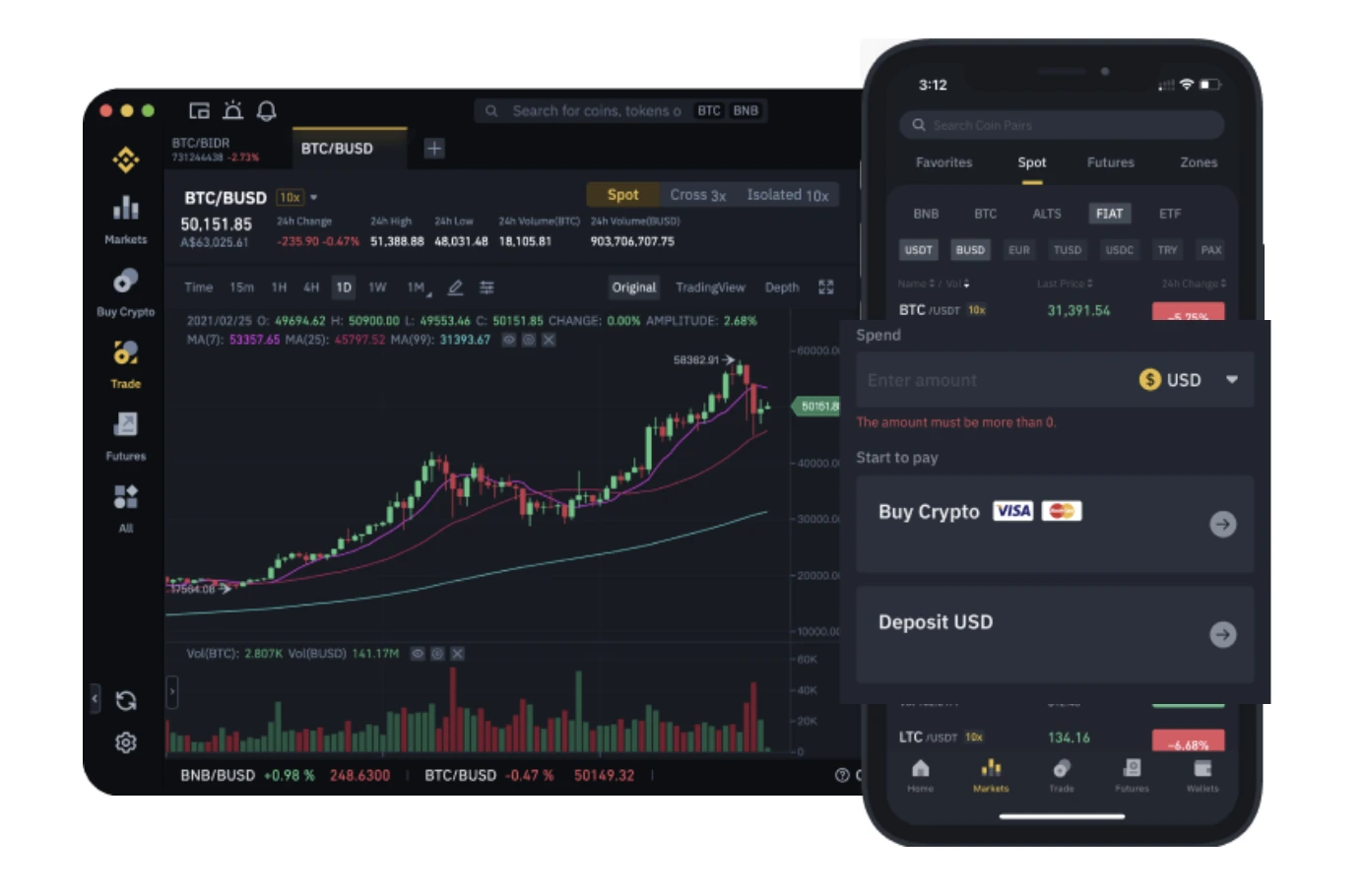 Now that we have described the purchase process let's learn more about Polkadot's blockchain, its differences from other layer-1 projects, and the community behind the Protocol.
About Polkadot
What Is Polkadot
Polkadot is a layer-1 blockchain designed to support sub-divisions called parachains (parallelized chains). Parachains are interconnected, application-specific sub-chains that use the Substrate modular framework. Substrate allows developers to successfully build compatible and purpose-built blockchains by selecting specific components that are better tailored to their needs.
Polkadot combines all the parachains in a single ecosystem and employs the Relay Chain as a base for all of them. The Relay Chain does not support application functionality. Instead, it contains Polkadot's "heart" – the consensus, voting logic, and finality.
Polkadot aims to create a decentralized web, granting users full control, delivering an interoperability protocol that uses segments, or shards, to scale the network. It connects blockchains facilitating a new form of the web where independent blockchains can exchange data and value in a trustless way.
Polkadot is created to sustain all three distinguishing traits of blockchains – decentralization, speed, and security in a trustless environment.
The Polkadot's DOT token is used for staking and governance.
History
Polkadot is the brainchild of Dr. Gavin Wood, one of the original co-founders of the Ethereum network and former CTO of the Ethereum Foundation, where he helped develop Ethereum's Solidity programming language. Wood started working on his idea to "design a shared version of Ethereum" back in 2016 and soon released the first draft of Polkadot's whitepaper.
A year later, Wood partnered up with Parity's Peter Czaban and founded the Web3 Foundation. The primary intention behind the Foundation was to provide financial support for Polkadot blockchain technology development and the extended research required to achieve it.
The Foundation held Polkadot's first token sale in 2017 and raised $145 million in less than two weeks.
Polkadot co-founder Gavin Wood is also CEO of Parity Technologies, the blockchain infrastructure firm responsible for developing Parity Ethereum.
Polkadot Features
Consensus Mechanism
Polkadot uses quite an elaborate consensus mechanism named Nominated Proof-of-Stake (NPoS). This hybrid consensus model gives the Network the benefits of both provable finality (the use of a universal agreement with no chance of reversion) and probabilistic finality (the ability to continuously and accurately produce new blocks).
Consensus Roles
As mentioned, Polkadot's validation process is quite elaborate. The system has four types of consensus roles: The Validators, the Nominators, the Collators, and the Fishermen.
The Nominators are the first link in the system, as they secure the Relay Chain by selecting the Validators. Additionally, they stake their Polkadot coins.
The Validators also secure the chain by validating proofs from collators and participating in consensus with other validators. They also stake their DOT tokens.

The Collators are participants of the consensus who "maintain shards" by collecting shard transactions from users and producing proofs for validators.
Last but not least, the Fishermen are responsible for monitoring the Network and reporting "bad behavior" to validators. The Polkadot documents claim that any Collator or other parachain full node can be a Fisherman for the Network.
Governance
Polkadot has two special functions, or collectives, that carry out governance responsibility: the Council and the Technical Committee. These two collectives have the authority to call privileged functions that affect how a proposed change goes to a referendum if they meet certain criteria. Polkadot expresses these privileged functions using origins.

The Council represents passive stakeholders. It manages the proposals, weeds out potentially harmful ones, and proposes potentially beneficial proposals. Anyone holding DOT, the Network's governance token, can propose their candidacy as a Council member.
However, "their reputation is at stake to act in good faith for the Network," says the website. The Council members are elected through community votes.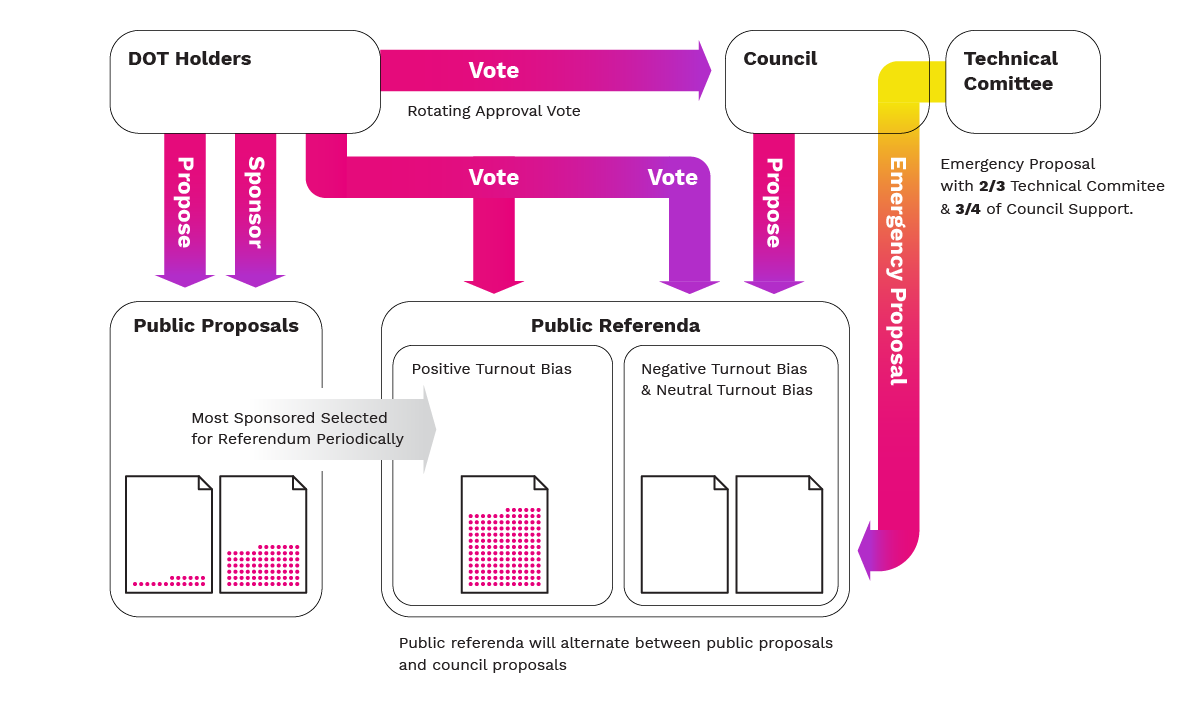 The Technical Committee serves as Polkadot's last line of defense against software errors. The Council selects the members of the Technical Committee based on providing a "formal specification or client implementation" of the Polkadot protocol.
Frequently Asked Questions
Can I Buy DOT With Cash
There is no direct way to purchase Polkadot tokens with cash. However, you can buy Polkadot with a wire transfer, credit card, or a Bitcoin wallet, which is easy enough.
Can I Purchase Polkadot in Europe
Europe is generally crypto-friendly and offers many options for potential crypto traders. In addition, most worldwide crypto exchanges are available in the region, and the government regulations are not opposed to the market.
Does Polkadot Have Smart Contracts
It does, but not on the Relay Chain, which does not implement smart contracts directly; instead, its parachains do. So it's better to say that the Polkadot ecosystem has smart contracts versus "Polkadot has smart contracts."
Is Polkadot Trustworthy
The crypto space is full of scams, and secure trading is paramount. However, Polkadot is most definitely not a scam and, as mentioned, has an elaborate ecosystem with hundreds of developers working on the project.
Check the current Polkadot price, etc., along with in-depth information on several of the biggest and fastest-growing cryptocurrencies on CoinStats crypto portfolio tracker, one of the best crypto platforms around.
Disclaimer
The information contained on this website is provided to you solely for informational purposes and does not constitute a recommendation by CoinStats to buy, sell, or hold security, financial product, or instrument mentioned in the content, nor does it constitute investment advice, financial advice, trading advice, or any other type of advice. This is not an endorsement of specific providers or services.
Cryptocurrencies are highly volatile; all investments are risky and may result in capital loss. Do your independent research, obtain your own advice, and only invest what you can afford to lose. Cryptoassets are largely unregulated in most regions. You should also verify the nature of any product or service (including its legal status and relevant regulatory requirements) and consult the relevant regulators' websites before making any decision. Performance is unpredictable, and the past performance of Polkadot is no guarantee of its future performance.
There are significant risks involved in trading CFDs, stocks, and cryptocurrencies. Between 74-89% of retail investor accounts lose money when trading CFDs. You should consider your own circumstances and take the time to explore all your options before making any investment.
Conclusion
Polkadot Ecosystem is a large and elaborate project with a massive development crew working on the Protocol. While the project is not new and won't earn you explosive three-digit rewards in a few months, Polkadot's unique consensus mechanism allows you to earn rewards on your DOT tokens instead of idly storing them away in a wallet.
Polkadot DOT tokens are widely available on various crypto exchanges worldwide. So you can easily buy Polkadot on a DEX or a CEX and hold or trade them any time.