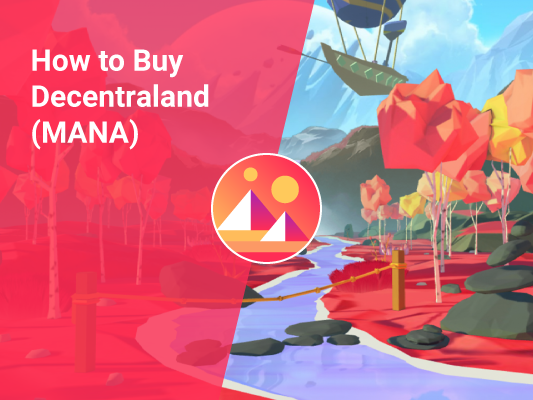 How to Buy Decentraland [A Step-By-Step Guide]
<! -- End of the Reviewed by section -->
Decentraland is a fully decentralized virtual world where users own virtual items, i.e., Land, goods, and services.
MANA is the governance token of Decentraland and is also used as the cryptocurrency of the virtual world that allows its investors to purchase digitally.
Read on for our in-depth guide on Decentraland, the MANA token, and learn more about how the world works and how to buy Decentraland (MANA).
Step 1: Select a Crypto Exchange
You can purchase MANA tokens on several cryptocurrency exchanges. Visit the market page on CoinStats to view the exchange platforms supporting MANA. Compare the exchanges' security, user experience, fee structure, supported coins, etc., to choose the one that has the characteristics you need, such as affordable transaction fees, an intuitive platform, round-the-clock customer service, etc. Also, consider whether the cryptocurrency exchange is regulated by the Financial Industry Regulatory Authority (FINRA), etc., and allows you to buy MANA using your preferred payment method.
Step 2: Create an Account
After you've chosen a cryptocurrency exchange that fulfills all your criteria, the following step is to register with the exchange using a valid email or mobile number. A link will be sent to your email, and you must click it to verify your email. Once the account is activated, you must create an elaborate password, and you're good to go.
Some exchanges have strict KYC and AML requirements, and in order to get verified, you must provide personal information such as:
Full name
Residential address
Date of Birth
ID Document.
In some cases, you might also need to upload a selfie or undergo video verification to finalize the verification process.
Once your identity verification is complete, it's recommended to activate two-factor authentication (2FA) for an extra layer of security.
Step 3: Deposit Funds
The next step is to deposit funds into your account. Many crypto exchanges support fiat currency such as USD, EUR, etc. Simply select your preferred deposit method, such as a bank transfer, wire transfer, credit or debit cards, e-wallets, PayPal, etc., and the currency you wish to deposit. Tap on "Deposit Funds," enter the amount you want to deposit, and click "Deposit."
Some deposit methods are extremely fast, while others, depending on the amount, require confirmation from authorities. Remember to evaluate the fees of different deposit methods since some have larger fees than others.
Linking your debit card to your crypto account is advantageous as it lets you make instant or recurring purchases, but be aware that it attracts an additional fee.
It's usually free to make a bank transfer from your local bank accounts, but you should still double-check with your exchange.
can be traded for another currency like Ethereum or another stablecoin; the trading pairs vary between exchanges, and you must search for MANA on the spot market to select a pair from the list of available trading pairs.
Step 4: Buy Decentraland (MANA)
Follow the steps below to place a market order to buy MANA instantly at the current market price:
Click the search bar, enter MANA, and select "Buy MANA" or the equivalent.
Choose the payment method, the currency you wish to use, and input the amount of MANA or the fiat amount to be spent. Most exchanges will automatically convert the amount to show you how many MANA tokens you'll get.
Double-check the transaction details and click "Confirm."
The MANA tokens will be displayed in your balance once the transaction is processed.
You can also place a limit order indicating that you want to buy MANA at or below a specific price point. Your broker will ask you the number of coins you wish to acquire and the maximum price you're ready to pay for each once you've placed an order. The coins will only appear in your wallet if your broker fulfills your order at or below your requested pricing. The broker may cancel your order at the end of the day or leave it open if the price increases over your limit.
If you're planning to keep your newly purchased coins for an extended period, we highly recommend securely storing them in a hardware wallet.
To trade MANA on spot markets, go to the Trade page and search for the MANA pairs (MANA/USD or MANA/USDT). Select the trading pair and check the price chart. Click "Buy MANA," select the "Market," enter your amount or choose what portion of your deposit you'd like to spend by clicking on the percentage buttons. Confirm and click "Buy MANA."
Congratulations on adding MANA tokens to your crypto portfolio!
How to Buy MANA on CoinStats?
Did you know that you can buy MANA directly on CoinStats with 0 additional fees? It's super quick and secure and allows you to buy crypto with your credit card right where you track and manage it. Here's how you can buy MANA on CoinStats on web and mobile in a few simple steps.
Head over to the CoinStats homepage
Navigate to the Cryptocurrencies tab in the menu bar above and pick your desired cryptocurrency.
Click Buy Crypto
Select a portfolio or add a wallet address where the funds will be deposited
Choose MoonPay as the provider
Add the credentials of your payment method
Complete the payment
How to Store Decentraland (MANA)?
It's always a great idea to store your crypto assets securely in a non-custodial wallet under your control, instead of leaving them in the exchange's wallet. We highly recommend creating a private wallet with your own set of keys. Depending on your investing preferences, you might choose between software and hardware wallets:
Software Wallet
If you're looking to trade MANA regularly, software or hot wallets provided by your selected crypto exchange will suit you. The strength of software wallets lies in their flexibility and ease of use. A software wallet is the most easy-to-set-up crypto wallet and lets you easily interact with several decentralized finance (DeFi) applications. However, these wallets are vulnerable to security leaks because they're hosted online. So, if you want to keep your private keys in a software wallet, conduct due diligence before choosing one to avoid security issues. We recommend a platform that offers 2-factor authentication as an extra layer of security.
Examples of software wallets include CoinStats Wallet, MetaMask, Coinbase Wallet, Trust Wallet, and Edge Wallet, amongst others.
Hardware Wallet
Hardware or cold wallets are usually considered the safest way to store your cryptocurrencies as they offer offline storage, thereby significantly reducing the risks of a hack. They are secured by a pin and will erase all information after many failed attempts, preventing physical theft. Hardware wallets also let you sign and confirm transactions on the blockchain, giving you an extra layer of protection against cyber attacks. These are more suitable for experienced users who own large amounts of tokens.
Ledger hardware wallets are arguably the most secure hardware wallets letting you securely manage your digital assets. The Nano X is designed for advanced users and offers more storage space and advanced features than Ledger Nano S, designed for crypto beginners.
A hardware wallet is more expensive than a hot wallet, with prices ranging between $50 – $200.
Examples of cold wallets are Trezor Model T, Ledger Nano X, CoolWallet Pro, KeepKey, Ellipal Titan, and SafePal S1, amongst others.
Track Decentraland (MANA)
The crypto market is volatile, and managing your portfolio could get tricky if you hold multiple assets. Utilizing a portfolio tracker will help you keep track of your MANA tokens and all your crypto investments from one platform at all times. CoinStats offers one of the best crypto portfolio trackers in the market; you can find more information here.
You can also track the live MANA Price on CoinStats and monitor the profit, loss, and liquidity of MANA across several exchanges on CoinStats.
CoinStats supports over 250 cryptocurrency exchanges and over 7,000 cryptocurrencies. It offers charting tools, analytical data, advanced search features, and up-to-date news. Here you have the opportunity to connect an unlimited number of portfolios (wallets and exchanges), including:
Binance
MetaMask
Trust Wallet
Coinbase
Kraken
Kucoin
Bitstamp and 500 others.
To connect, go to the CoinStats Portfolio Tracker page and:
Click Add Portfolio and Connect Wallet.
Click the wallet you want to connect to (e.g., Ethereum Wallet).
Input the wallet address and press Submit.
What Is Decentraland (MANA)?
Decentraland is an Ethereum-powered virtual reality platform where users create, experience, and monetize content and applications. They create avatars representing themselves to interact in the virtual world. Users can also purchase virtual real estate and create their own micro-worlds with virtual trees, aircraft, digital skyscrapers, movie theatres, and hotels, i.e., anything available in the physical world.
Decentraland was created by Esteban Ordano and its co founder Ariel Meilich, and the project launched in its current form in 2017.
Decentraland is the first fully decentralized world entirely owned by its users. The Decentraland system records ownership data through smart contracts operating on the Ethereum blockchain.
The system consists of three types of tokens.
These are:
Land
This is a non-fungible token (NFT) used to represent ownership of a piece of the virtual map in the Decentraland ecosystem. The Decentraland application is built on top of the Ethereum network to track the ownership of LAND. Users can purchase LAND in Decentraland with MANA, a fungible ERC-20 token.
Estate
These are connected adjacent plots of virtual Land that allow the owner to build higher. There is also the opportunity to take out a mortgage on an estate.
MANA
MANA is Decentraland's native token used to buy real estate and virtual assets developed and sold by Decentraland users. It's an Ethereum token used in system governance.
History of Decentraland (MANA)
Decentraland, the shared virtual world, was initially created in 2015 by Argentinians Esteban Ordano, a software engineer with extensive experience in cryptocurrency exchanges, and Ari Meilich, an entrepreneur who had worked as an analyst at Charles River Ventures.
Decentraland only offered its users pixels per proof of work (PoW) algorithm in its formative years, but it later evolved into a 3D world.
Following its beta launch in August 2017, the shared virtual world offered plots of Land selling for as little as $20.
In the wake of the 2020-2021 boom in NFT art, when digital real estate became desirable, investors rushed to buy Decentraland Land for more than $100,000.
How Decentraland Works?
Since the launch of Mark Zuckerberg's Metaverse, Decentraland has skyrocketed in value and popularity.
Decentraland works by allowing its users to create MANA and engage in trading it by using fiat currency. They can use their debit cards to buy games, 3D sites, applications, gambling services, and anything a landowner can think of and trade with other users. There is no limit to what traders can do.
Besides being an outlet for creativity, Decentraland users can create income through advertising or leasing their Land.
Unlike other virtual worlds, Decentraland is not governed by a centralized system but by the decentralized autonomous organization (DAO) through LAND, Estate, and MANA holders.
Decentraland is an Ethereum based software, so users need an Ethereum wallet to hold their MANA tokens to make the process functional. It uses Ethereum smart contracts and has several layered components:
The Consensus Layer
This manages the ledger that tracks the ownership of land plots. Each file contains descriptions of virtual plots concerning its owner and location within the virtual world.
The Content Layer
This layer controls what happens within each land parcel and holds the files needed to render them.
The Real-Time Layer
Social interactions are facilitated through this layer using the trader's avatar. It also houses methods to communicate with other users, like messages in the virtual reality universe.
How to Buy Decentraland (MANA) With Cash
Several crypto exchanges, such as Kraken, Binance, FTX, etc., allow you to buy MANA with cash deposits directly from your credit or debit cards or bank transfers. The conditions vary depending on your country and the currency you'll use to buy Decentrland (MANA). Additionally, you must consider such factors as trading fees, lock-in periods, etc., before choosing an exchange to buy Decentraland (MANA). Consider that Coinbase has a 5-day lock-in period for assets bought through bank transfers.
Why You Should Buy Decentraland (MANA)?
If you had invested in MANA at the beginning of the year, you would have had a massive investment return. Note that there was a drop in Decentraland price at the beginning of May. You should also note that its past performance is not a guarantee of its future performance.
With investors showing increasing interest in the first shared virtual world, market prices are predicted to skyrocket to an all-time high, making Decentraland the future of the metaverse. With investors storing MANA in hardware wallets in anticipation of a rise in future performance, the potential profit seems immense.
Like every other cryptocurrency, the MANA price is influenced by market sentiment, the economy, and the flow of cryptocurrencies on exchange platforms.
Cryptocurrency investments are subject to market risk – the market is volatile, unpredictable, and full of significant risks.
Consider your own circumstances and obtain your own advice before relying on this information. You should also carry out your own research, including the legal status and relevant regulatory requirements, and consult the relevant regulators' websites before making any decision.
This content is for informational purposes only and does not provide financial advice, investment advice, or any other kind of advice.
Some traders prefer to use CFDs to minimize the financial risks during a trade. Let's look into them.
CFDs: A Beginner's Guide
A contract for Difference or CFD is typically made between a buyer and seller, specifying that the buyer is required to pay the seller the difference, if any, between the current value of an asset and its value at the time the contract took place.
Instead, the seller will have to pay the buyer if the difference is negative.
CFD is a popular and risk-reduced way of trading that allows traders and investors an opportunity to profit from price movement without owning the underlying assets. The value of a CFD contract doesn't consider the asset's underlying value: only the price change between the trade entry and exit. Profit is made if, as an investor, you can accurately predict the direction of price movements while wrong guesswork will incur losses on your part.
CFDs operate by allowing investors to leverage or stake a marginal amount of assets to control a larger amount in the market.
CFD prices are usually in pairs, termed as ask and bid prices. Ask prices are the lowest amount a seller will amount on an asset, while bid prices are the highest amount a buyer is willing to pay.
An estimated 74-89% of retail investor accounts lose their money when trading CFDs. As a first-time investor, you should consider how CFDs work and if they are worth the enormous financial risk before you venture into it.
Conclusion
With its rising popularity and fast-growing pace, the virtual reality ecosystem with its free-market economy and native token is a unique and exciting venture within the Ethereum blockchain system.
Decentraland is predicted to become a multipurpose metaverse, where businesses can advertise and monetize digital content. The rising popularity of NFTs (non-fungible tokens) brings more value to MANA with the increasing popularity of Decentraland.
However, it also comes with a handful of issues, the biggest being the shockingly high gas fees to purchase MANA, which makes playing a bit problematic.
Also, clothing customization for avatars is fun but requires you to buy MANA that costs a whopping $60, with several other items of clothing costing several thousands of US dollars worth of MANA.
With this said and regulatory risks remaining high for virtual cryptocurrencies like MANA, it undoubtedly gives investors several incentives to invest in it.
Disclaimer: This article is meant for purely research purposes, and nothing in this article should be considered as a piece of investment or financial advice.