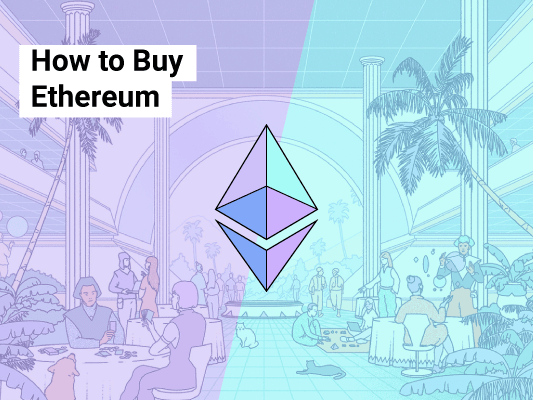 How to Buy Ethereum: Where, How, and Why
<! -- End of the Reviewed by section -->
Interested in investing in Ethereum (ETH), but not sure what it's all about or how to buy Ethereum? Read on to learn everything you need to know about the project.
Ethereum Network is an open-source, decentralized blockchain platform that uses its native coin – Ether (ETH), to pay transaction fees (called "gas").
The platform enables users to execute advanced processes through Smart Contracts, earn interest on their holdings through staking, use and store nonfungible tokens (NFTs), trade cryptocurrencies, play games, use social media, and so much more. Developers can utilize the Ethereum network to run decentralized applications (dApps) and issue entirely new crypto assets, known as ERC-20 tokens.
In 2019, the market value of Ethereum reached $16.3 billion. As of May 2021, Ethereum became the second-largest virtual currency on the crypto market, standing second only to Bitcoin. Many consider Ethereum a more promising investment than Bitcoin.
Ethereum is backed by several Fortune 500 companies and is used by many financial institutions.
So, how exactly do you start buying Ethereum, and how is it different from other investments? Let's find out!
How to Buy Ethereum on CoinStats?
Did you know that you can buy Ethereum directly on CoinStats with 0 additional fees? It's super quick and secure and allows you to buy crypto with your credit card right where you track and manage it. Here's how you can buy Ethereum on CoinStats on web and mobile in a few simple steps.
Head over to the CoinStats homepage
Navigate to the Cryptocurrencies tab in the menu bar above and pick your desired cryptocurrency.
Click Buy Crypto
Select a portfolio or add a wallet address where the funds will be deposited
Choose MoonPay as the provider
Add the credentials of your payment method
Complete the payment
How to Buy Ethereum?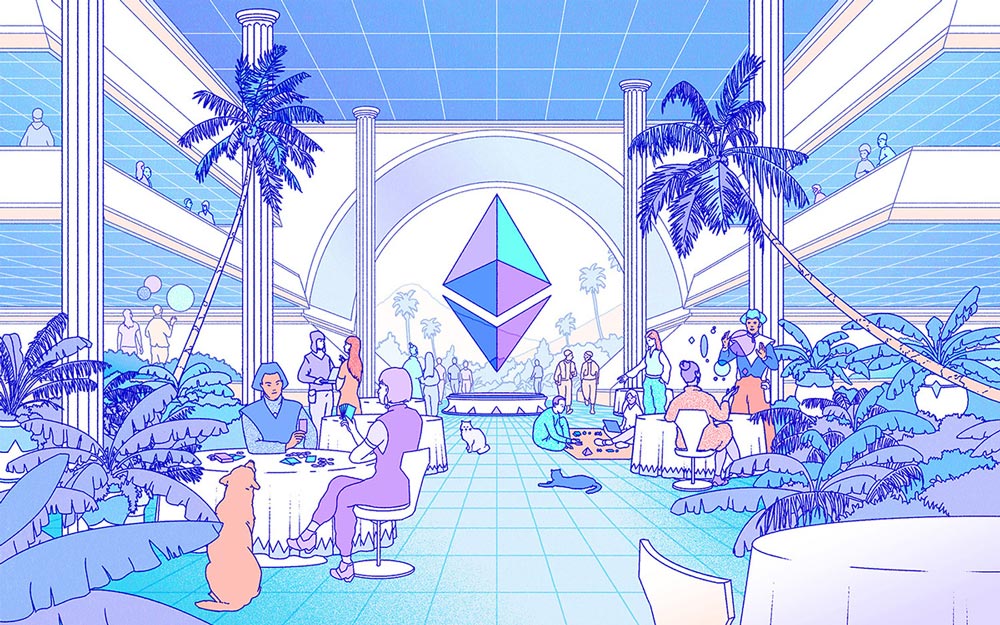 Are you planning on investing in Ethereum? Follow our step-by-step guide on how to buy Ethereum:
Step #1: Assess Your Risk Level
There are risks involved in buying Ethereum. While all investments have some risk associated with them, cryptocurrencies are particularly volatile. Consider, for example, what happened when Elon Musk posted on Twitter that Tesla would no longer accept Bitcoin as payment. Almost immediately, Bitcoin's value tumbled 15%. There's a chance for the same thing to also happen with Ethereum.
Ethereum has indeed had impressive returns in the past. But, at the same time, it also had some significant crashes. For example, in May 2021, it went from a high of almost $4,000 per coin to less than $1,800 in June 2021.
With the examples mentioned above, it's essential to consider your risk tolerance before buying Ether. But, if you think you can afford to lose, you can start investing.
Step #2: Choose a Crypto Exchange
Buying Ether is a little more complicated compared to purchasing mutual funds or stocks. This is mainly because cryptocurrencies aren't traded on major exchanges such as the New York Stock Exchange, and only a few brokerages offer crypto investing. So, one of the first requirements for you to buy Ethereum is to create an account on a cryptocurrency exchange.
Fundamentally, a crypto exchange is similar to a brokerage platform. It allows sellers and buyers to exchange fiat currency for crypto, like Bitcoin, Dogecoin, and Ethereum.
You can start with a trading platform that offers a simple purchase interface for beginners, though it may charge higher fees.
Here are some of the most popular crypto exchanges that you can choose from:
These are just some of the few exchanges to choose from. Just do thorough research to ensure that you are picking a crypto exchange that fits your needs and skill level.
When picking a crypto exchange, a key consideration is whether they offer a crypto wallet to store your Ethereum. Most crypto exchanges provide this feature, but a few don't so make sure to check it out.
If you have no experience buying cryptocurrency, you can use beginner-friendly platforms such as Cash App and Robinhood. However, they come at a hidden cost – you can't withdraw your Ethereum investment to transfer it to a third-party wallet or use it to pay for online purchases. Your crypto can only be traded within the platform you buy it on.
Step #3: Fund Your Account
You have to fund your account with a payment method to buy ETH. There are several ways to do it. You can deposit money from your bank account or PayPal, complete wire transfers, or use a debit card.
Before deciding on what funding method to use, it is best to review the crypto exchange's fees, since some have higher fees than others. For example, Gemini charges a 3.49% fee on debit card transfers, but wire transfers are free on Gemini.
You can also fund your crypto exchange account using a credit card. However, take note that most credit card companies consider cryptocurrency purchases to be cash advances. This means that you might have to pay a higher interest rate and cash advance fee on top of the crypto exchange's fees.
Step #4: Buy Ethereum
When you're buying stocks, mutual funds, or exchange-traded funds (ETFs), you're limited by market hours. Exchanges mostly work during weekdays; however, that's not the case with cryptocurrencies. Since Ethereum is a decentralized currency, you can buy or sell it at any time of day.
To purchase Ethereum, you have to enter its ticker symbol ETH in your exchange's "Buy" field and input the amount of Ethereum you want to buy. If you don't have enough money to buy a whole Ethereum token or simply don't want to, you can buy only a fraction of Ethereum.
For example, if the price of Ethereum is $4,000 and you invest $500, you will purchase 12.5% of an ETH coin. It's similar to buying a fractional share of stock.
Step #5: Store Your Ethereum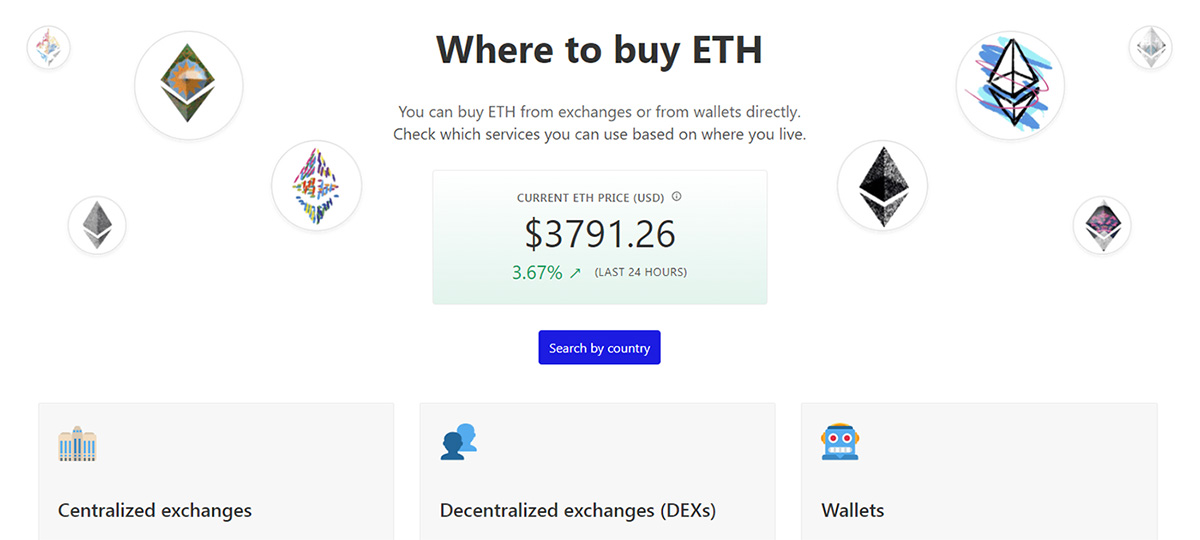 After successfully buying Ethereum, the next step is to store it. As mentioned above, most exchanges will store the crypto for you to protect it from hacking. Also, the vast majority of exchanges insure their clients' holdings and often store most of their assets offline to protect them from theft. Moreover, users receive compensation in the case of a hack.
So, if you want peace of mind, you might consider moving your Ethereum to third-party wallets. There are two types of wallets:
Cold Wallets: These are external devices entirely disconnected from the internet. You need to manually connect them to the internet every time you want to access your Ethereum or other cryptocurrencies. They're safer and usually cost between $50 to $200, depending on the type you choose. There are also more expensive versions available.
Hot Wallets: These are connected to the internet and are accessible from a smartphone or computer. For this reason, they are more convenient than cold wallets. They're usually provided by cryptocurrency exchanges at no additional cost. But, since hot wallets are connected to the internet, they're at a higher risk of being hacked.
Where to Buy Ethereum?
Once you've decided how much you wish to invest in Ethereum, the next step is to choose a platform to buy ETH, the second largest cryptocurrency after Bitcoin (BTC), in terms of market cap. The Ethereum blockchain is a general-purpose blockchain, acting as the foundation for thousands of applications, blockchain networks, tokens, etc. What makes Ethereum innovative is its ability to support smart contracts, the backbone over which decentralized apps are built. The Ethereum blockchain enables developers to create ERC-20 tokens and incorporate them into their own protocols. Moreover, most of the altcoins, NFTs, etc., are built on the Ethereum network and are ERC-20 and ERC-721 tokens, respectively.
As a result, Ethereum (ETH) is available on almost all centralized and decentralized cryptocurrency exchanges. Visit the market page on CoinStats to view the exchange platforms supporting ETH, including Binance, Uniswap, PancakeSwap, Kucoin, Huobi Global, Coinbase, Bybit, etc. If you already own crypto, you can also buy Ethereum on CoinStats. This guide will demonstrate how to buy Ethereum (ETH) on Binance and CoinStats.
Buy Ethereum on Binance
Binance is the world's largest crypto exchange in terms of trading volume. Its ease of use, lower fees compared to other exchanges, vibrant Peer-to-Peer (P2P) platform, and high liquidity make Binance popular amongst traders and investors. The platform allows you to trade over 600 cryptocurrencies, including ETH. If you're interested in purchasing Ethereum (ETH) on Binance, follow the steps highlighted below.
Create a Binance Account
To buy ETH on Binance, you must register with the exchange through your Google account, a valid email address, an Apple account, or a valid mobile number. A link will be sent to your address, and you must click it to verify your account. Once the account is activated, you must create an elaborate password, and you're good to go.
Binance doesn't require new users to undergo KYC (know your customer) verification straight away by providing additional documents. However, KYC verification enables you to take full advantage of the platform's services for lowers fees.
To get verified, you must provide personal information such as:
Full name
Residential address
Date of Birth
ID Document.
Sometimes, you might also need to upload a selfie or undergo video verification to finalize the process. Once your identity verification is complete, it's recommended to activate two-factor authentication (2FA) for an extra layer of security.
Deposit Funds
The next step is to deposit funds into your newly created Binance account to buy Ethereum tokens. Binance supports several deposit methods, such as a credit/debit card, a wire transfer, bank deposits from your bank account, and third-party payments, such as Simplex. The fees for buying crypto through the methods described above vary, so you should check them before making a purchase is highly recommended.
You can also link your crypto wallet to buy ETH with your digital assets.
Simply select your preferred deposit method, such as a bank transfer, wire transfer, credit or debit card, e-wallets, PayPal, etc., and the currency you wish to deposit. Tap on "Deposit Funds," enter the amount you want to deposit, and click "Deposit."
Some deposit methods are extremely fast, while others require confirmation from authorities depending on the amount. Remember to evaluate the fees of different deposit methods since some have more significant fees than others.
NOTE: Binance requires users to complete KYC for fiat transactions.
Buy Ethereum
Once you have sufficient funds in your Binance wallet:
Go to Markets and search for ETH.
Select a trading pair you wish to buy ETH against.
Enter the number of ETH tokens you wish to buy and click on Buy ETH.
The order will be filled instantly for the market price, and your newly purchased tokens will be reflected in your spot wallet.
Buy ETH With CoinStats Wallet
The CoinStats Wallet is available on Google Play and the App Store. Once you've set it up, you can buy ETH and other cryptos directly with the funds in your wallet or through bank cards using MoonPay or Mercuryo. Simply enter the amount you wish to buy ETH for, choose "Buy with bank card," and complete the transaction.
Buy ETH With Other Wallets on CoinStats
After you've connected your Metamask, Binance, Trust Wallet, etc., to CoinStats, go to "Ethereum" and, in the Swap section, enter select the crypto asset, you wish to swap for ETH. Click Swap and your transaction will be completed within a minute.The ETH will be displayed in the wallet used to buy it.
Congratulations on your successful purchase of ETH on Binance and on CoinStats.
Factors to Consider When Trading Ethereum (ETH)
Now, let's look into some factors to consider while trading Ethereum:
While your ETH tokens can be stored in your brokerage exchange wallet, experts highly recommend storing your precious coins away from exchange wallets, as those might be susceptible to hacks and interference. We highly recommend creating a private wallet with your own set of keys. Depending on your investing preferences, you might choose between software wallets like CoinStats Wallet, Metamask, Trust Wallet, etc., and hardware wallets like Ledger Nano S, Ledger Nano X, etc.
You don't have to simply HODL your ETH, rather you can earn passive income on your funds through staking ETH. Staking ETH has become easy, since Ethereum has moved to PoS consensus mechanism.
The crypto market is volatile, and managing your portfolio could get tricky if you hold multiple assets. Utilizing a portfolio tracker will help you keep track of your ETH tokens and all your crypto investments from one platform at all times. CoinStats offers one of the best crypto portfolio trackers in the market; you can find more information here.
How to Choose an Exchange to Buy Ethereum?
While choosing an exchange to buy ETH, you must compare the exchanges' security, user experience, fee structure, supported coins, etc., to choose the one that has the characteristics you need, such as affordable transaction fees, an intuitive platform, round-the-clock customer service, etc. Also, consider whether the cryptocurrency exchange is regulated by the Financial Industry Regulatory Authority (FINRA) and allows you to buy ETH using your preferred payment method.
Let's look into the factors to consider while choosing an exchange:
Security
Security is arguably the most crucial factor to consider when choosing an exchange platform. Most major exchanges have been subject to several malicious hacks during their history. In fact, Binance has recently suffered another $570 million hack.
Ensure that your chosen platform has a reputation for excellent security so that your crypto stored on the exchange won't be compromised.
Payment Method
The best crypto exchange platforms support multiple payment methods. Ensure that your chosen exchange platform supports your preferred payment methods, such as debit, credit cards, bank transfers, etc.
Note: A platform like CoinStats integrates with multiple exchanges and digital wallets to enable seamless purchases and swaps.
Fee Structure
Brokers usually charge a small percentage in transaction fees. Ensure that you understand the platform's fee structure and note any hidden fees to avoid paying more than you can afford.
Other Methods of Buying Ethereum
The abovementioned method is not the only way for buying ETH. Here are a few options you might want to consider:
Online Stock Brokers
This is the best option for those new to crypto and not having their own accounts on a crypto exchange platform or a third-party wallet. It's a convenient way because a stock broker makes it easy and cheap to turn your traditional currencies into crypto and vice versa for you. However, this method has several drawbacks that you should consider. The biggest downside of using online stock brokers to buy crypto is higher fees. The second downside is the security risk. Make sure to check the fine print to see whether the brokerage gives you access to your wallet and lets you move coins in and out of the account since some brokers don't. If they don't allow it, this essentially nullifies the entire point of owning a digital currency.
Crypto Brokerages With Hosted Wallets
Crypto brokers with hosted wallets enable you to buy cryptocurrency with U.S. dollars and store them in a wallet provided by the brokerage. This method of buying ETH is ideal for beginners because the buying process is streamlined and straightforward. You can also send and receive ETH. Moreover, you don't have to worry about forgetting the password or losing the private key to it with a hosted wallet. These problems are more common and have cost people millions of dollars. Instead, the host stores this information for you.
Decentralized Exchanges
If you already have your own wallet, you can buy and sell Ethereum in a decentralized exchange or DEX. Using DEX is the most genuine way to trade cryptocurrencies since there is no third party involved. With DEX, you have complete autonomy over your funds, and you can trade directly with buyers and sellers. This is contrary to most centralized exchanges requiring you to deposit money you want to trade on the market into a trading account. However, DEX has a steep learning curve, and the interface can be quite complex, making it not an ideal option for beginners. Moreover, it is commonly used for trading one crypto for another rather than buying Ethereum with cash.
Brief History of Ethereum Coin
ETH is Ethereum blockchain's native token, used to pay for activities on the Ethereum blockchain. The coin also trades on crypto exchanges, and other ErC-20 tokens built on the Ethereum blockchain use ETH to pay for fees associated with any transactions.
Ethereum's Whitepaper was published by Vitalik Buterin in 2013. The project's co-founders include Dr. Gavin Wood, Charles Hoskinson, and others. The project launched an ICO in 2014, and managed to raise USD 18 million in BTC. The Ethereum blockchain went live in 2015 and started deploying and running smart contracts using a PoW consensus mechanism. Since then, the Ethereum blockchain has undergone a number of upgrades, the most prominent one being "The Merge," where it shifted from PoW to PoS consensus mechanism.
Ethereum blockchain forms the backbone of DeFi and NFT technology, and ETH tokens are used to pay the gas fees for transactions on the blockchain. The ETH price has sky-rocketed shortly after it became available and reached an all-time high of USD 4805 on 9th November 2021. ETH price has come down significantly due to global factors and market conditions. ETH total supply is 120,527,652 tokens, with all of them in circulation. You can check the current ETH price on CoinStats.
Final Words
Ethereum is extremely popular, with a market capitalization of over $232 billion.
You should consider buying ETH if you want to: Create decentralized applications, diversify your long-term investment strategy, play Ethereum-based games or use Ethereum-based applications, or execute smart contracts on the Ethereum blockchain.
Choosing the right way to buy and hold ETH comes down to your investment goals and how much ETH you plan to buy or hold. It's possible to use a combination of the above methods, perhaps using one platform for convenient trading and another for long-term holding.
One of the most critical aspects of the Ethereum network is that transactions are irreversible. Therefore, double-check all the details before confirming a transaction.
Consider investing in a hardware wallet if you intend to buy, sell, and hold ETH in large amounts. Self-hosted wallets provide more control over stored funds, but they also have added responsibility and required knowledge.
Implement extra safety steps where possible, such as two-factor authentication and so on.
Before buying a volatile investment like Ether, you'll want to make sure you've done your independent research, and you have a large emergency fund. It's also important to diversify your portfolio, so only a portion of your investments should be in Ethereum's cryptocurrency and other digital currencies.
This information is for educational purposes only and should not be taken as investment advice, personal recommendation, or an offer of or solicitation to buy or sell ETH.