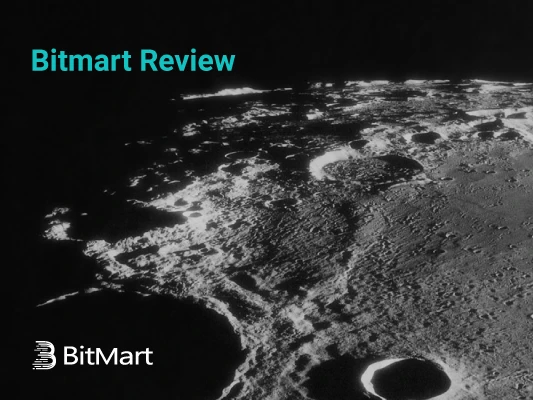 The Ultimate BitMart Review (For 2023)
<! -- End of the Reviewed by section -->
Pros
Competitive Trading Fees

Wide Range of Supported Coins

Advanced Products and Services

NFT Marketplace.
Cons
Hacked in December 2021

Negative Customer Reviews.
As a cryptocurrency trader, you were undoubtedly faced with the dilemma of choosing an exchange to suit your investment needs among a staggering number of cryptocurrency exchanges.
CoinStats regularly reviews leading platforms like Binance, Coinbase, or Kraken, relatively small but reliable crypto exchanges like the Bibox exchange, and a global exchange like Bitmart and presents their advantages and drawbacks to help you pick the right trading platform that suits your needs.
Bitmart exchange is a global cryptocurrency exchange platform for trading cryptocurrencies and earning on crypto. It offers users decentralized financial (DeFi) services, a wide range of cryptocurrencies, advanced trading features, and an NFT marketplace.
Unfortunately, the exchange was hacked in December 2021 and lost an estimated $196 million in cryptocurrency.
Our Bitmart review will discuss the platform's services and features, pros and cons, trading fees, security, etc., and demonstrate how to start trading on the platform to maximize profits.
Let's get right to it!
What Is BitMart
BitMart is a global cryptocurrency exchange with over 5.5 million users in 180 countries. The platform was launched in 2017 in the Cayman Islands, with its offices in China, South Korea, and the United States.
BitMart enables trading in over 1,000 digital assets and provides investment services and advanced features to a global customer base, including margin and futures trading. You can trade not only the most popular cryptocurrencies, such as Bitcoin, Ethereum, Dogecoin, Solana, Ripple, Cardano, etc. but also small and newly released crypto assets.
In 2018, BitMart launched the BitMart Token (BMX), which provides token holders with special trading discounts and numerous other benefits on the exchange.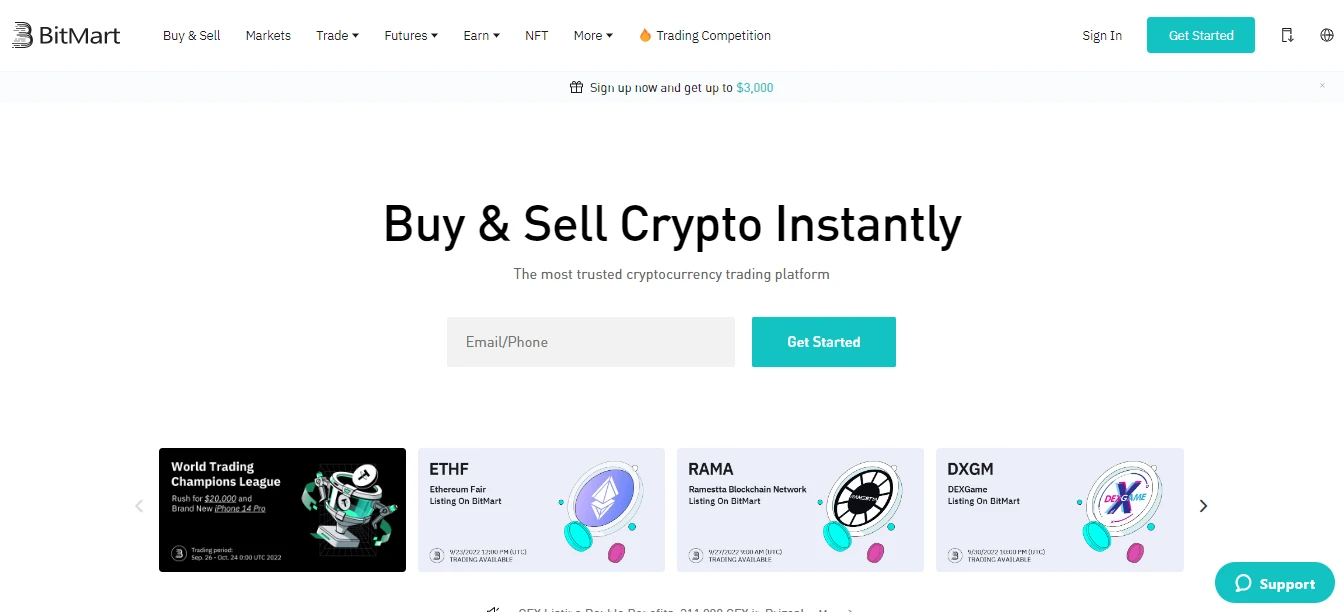 The trading platform has added numerous new features, including staking, lending, savings products, and derivatives trading.
Bitmart provides a simple buy/sell crypto feature where beginners can trade crypto using multiple payment methods with just a few clicks. Additionally, it offers advanced features such as spot trading, futures trading, margin trading, derivatives trading, OTC trading, etc., allowing investors to use leverage with their crypto investing.
The platform provides an NFT marketplace where you can buy NFT tokens and competitive fees. BitMart uses a maker and taker model to determine the trading fees, starting from 0.25% respectively and reducing with trading volume.
However, the BitMart exchange was hacked in December 2021, when the private keys of its hot wallets were compromised, resulting in the theft of $196 million worth of cryptocurrency.
Bitmart Features
Now, let's have a closer look at the Bitmart crypto exchange features:
Wide Selection of Cryptocurrencies
Bitmart has a vast selection of digital assets compared to other trading platforms that users can buy and sell easily on the exchange.
Margin and Futures Trading
In addition to its simple buy and sell function, Bitmart provides its users with crypto futures trading and margin trading options.
Bitmart includes a futures market with leveraged trading up to 100x and DeFi services such as borrowing and lending products. The derivatives and futures markets allow Bitmart customers to perform future trading without the hassle and speculate on the market.
Remember that trading crypto is highly risky, and futures and margin aren't recommended for most crypto investors.
Bitmart Lending
BitMart Lending offers passive income for investors looking to earn passive income via crypto lending options. To participate in lending, you must subscribe, and your selected token will get locked. You'll receive the deposited tokens and the interest accrued to your BitMart account when the term is completed.
The annually calculated accrued interest can vary between 5% and 120%.
Bitmart Earn
Bitmart customers can earn passive income through their crypto holdings on the platform. There are multiple ways to earn passive income on Bitmart, namely:
Bitmart Staking: Staking is the process through which users lock their crypto assets on a blockchain network to validate transactions on the blockchain and earn rewards in proportion to their locked tokens. With Bitmart Staking, users can lock up funds for 30 to 90 days to earn Bitmart staking rewards.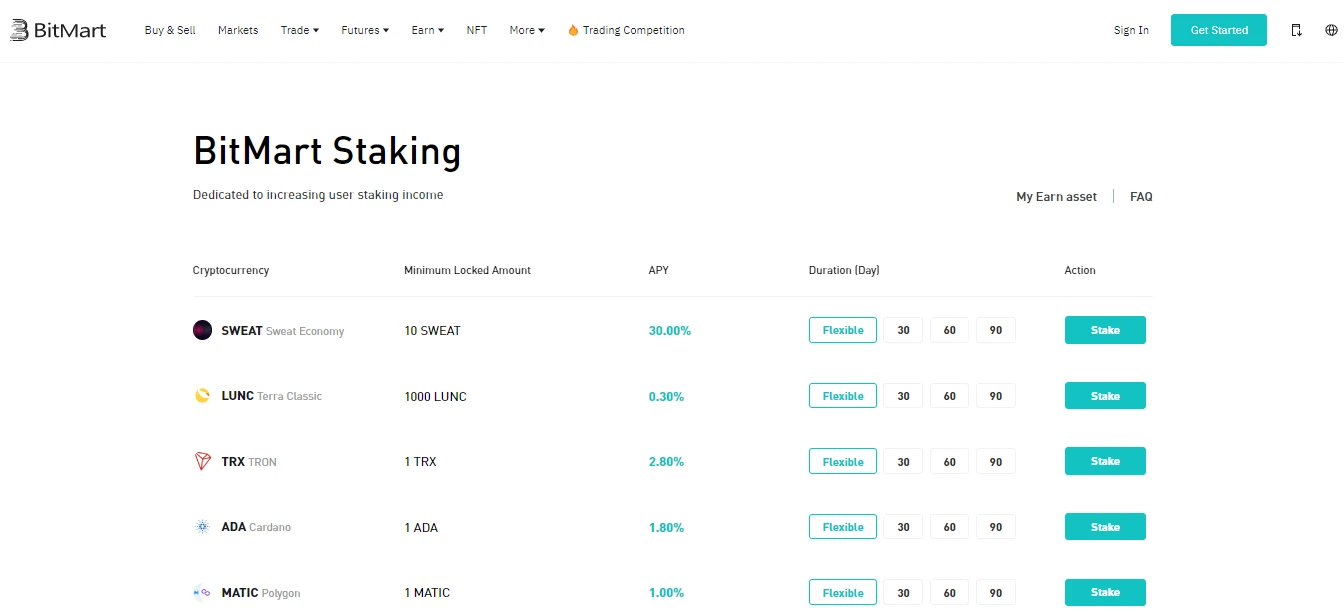 Bitmart Savings: With Bitmart Savings, you can earn an APY as high as 50 percent on your crypto holdings. The digital assets you can make through Bitmart savings range from stablecoins like USDC and USDT to large caps like BTC, ETH, LTC, etc., and newly listed tokens such as FND, VCG, DHLT, etc. Remember, however, that the feature is not available to US users.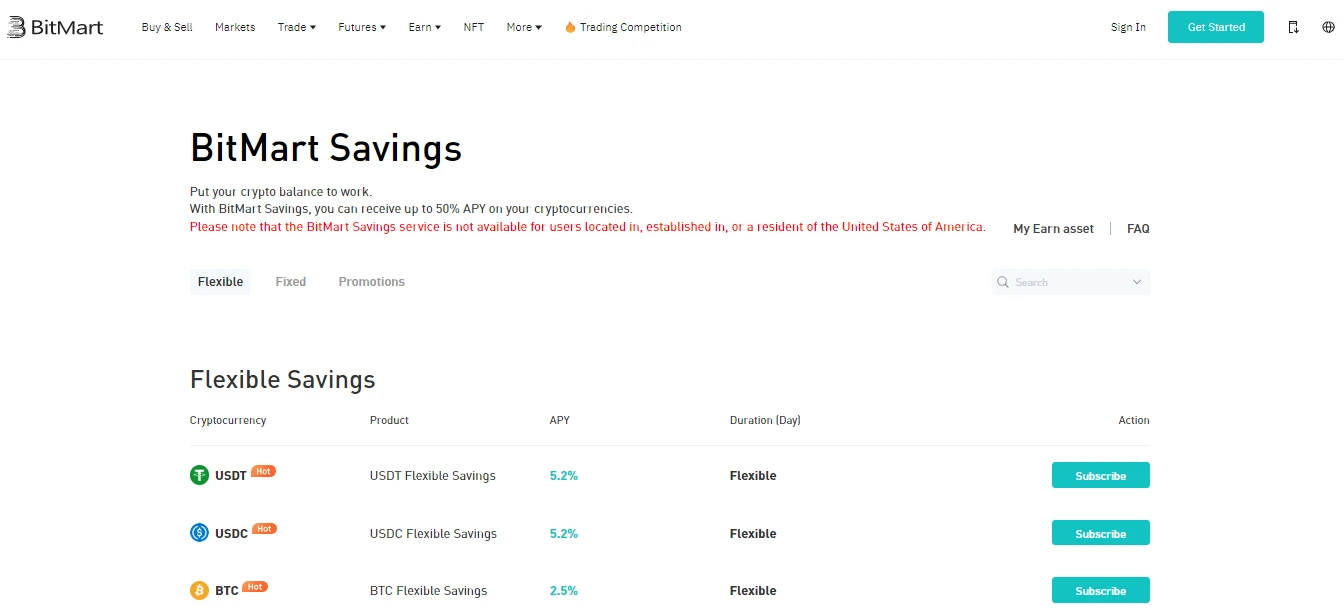 Bitmart Dual Investment: This unique feature allows users to earn in any of the two currencies in a trading pair. The trading pairs available are BTC/USDC, ETH/USDC, SOL/USDC, and BCH/USDC. You can select your preferred asset, choose the method (Sell high or Buy low), enter the subscription amount, and pick a settlement date from the options. With Bitmart Dual Investment, users can hedge against the massive price fluctuations in cryptocurrencies and earn on crypto assets or stablecoins like USDC. This feature also isn't available to US users.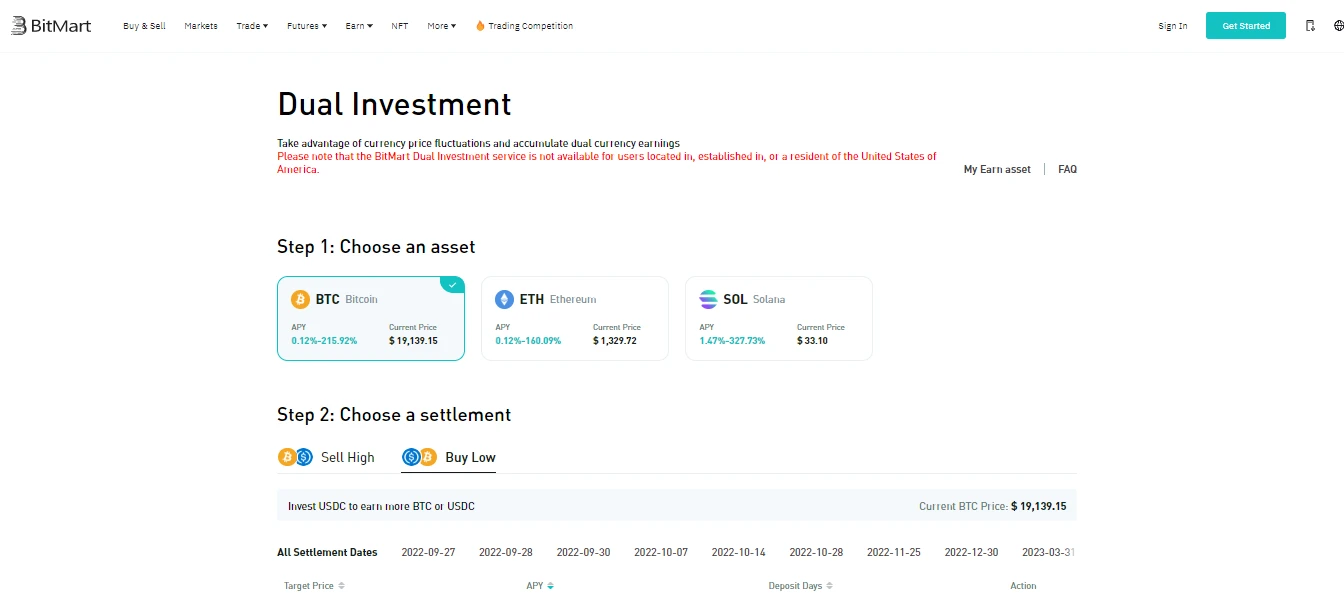 Grow Your Crypto With CoinStats Premium
Explore CoinStats without limitations and you'll never want to go back.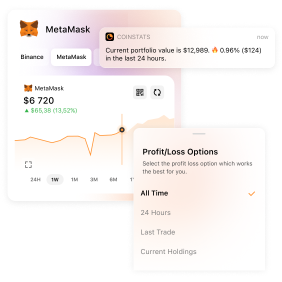 Bitmart NFT Marketplace
The Bitmart NFT marketplace aims to bring NFT artists, communities, enthusiasts, and collectors together, enabling them to create, purchase, and trade some of the world's best and most unique NFTs. Users need to create a Bitmart account to access the BitMart NFT marketplace. The NFTs supported on Bitmart are all ERC-721 tokens, the details of which can be found on Etherscan.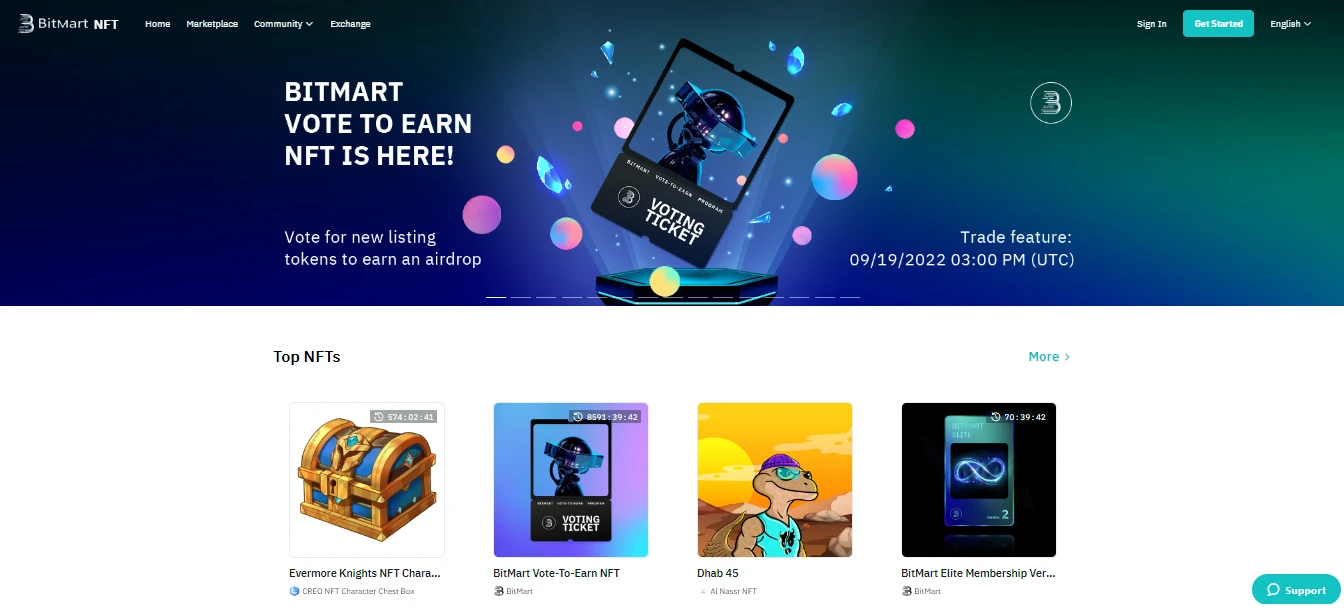 Bitmart Launchpad
Bitmart launchpad is the place where new and exciting tokens are launched. The Mission X2 project has been created for investors wanting to support startups and receive premiums from them. The investors are required to transfer a certain amount of BMX to the chosen startup. Once the amount of BMX reaches 1 million, the project token may enter the BMX market and be paired with BMX.
Bitmart Institution
Bitmart Institution is designed for large institutional investors and enables them to become a broker and a market maker, earn rewards, participate in OTC trading, or list their own tokens on the platform. While users have to fulfill certain conditions to access these features and services, Bitmart Institution proves to be very profitable for large institutional investors and entities.
Bitmart Referral Program
Bitmart has a very lucrative referral program for existing users, allowing them to invite their friends to trade on Bitmart and earn up to 40 percent from their trading fees. You can invite your friends to Bitamrt through a referral link or QR code.
Bitmart Affiliate
Any user can apply to become an affiliate for Bitmart. Once the application is approved, the user gets their unique referral link to share in their networks and earn commissions as high as 100 percent on spot and futures trading.
Bitmart Task Center
Even new users on Bitmart can get a chance to win up to USD 3000 rewards by completing a few simple tasks. By signing up for Bitmart and creating an account, you can win up to USD 500. For depositing USD 100 or more, you stand a chance to win up to USD 1000, and if your first spot trade is USD 100 or more, you become eligible to win up to USD 1500.
These are some of the most popular and commonly used features of Bitmart. In the next section of our Bitmart review, we'll explain how to access these features and introduce you to the Bitmart fee structure.
Setting up a Bitmart Account
To set up a Bitmart account, you must sign up with your email address or phone number and create a strong password. Once you've successfully created an account on Bitmart, you must verify your identity to start crypto trading immediately.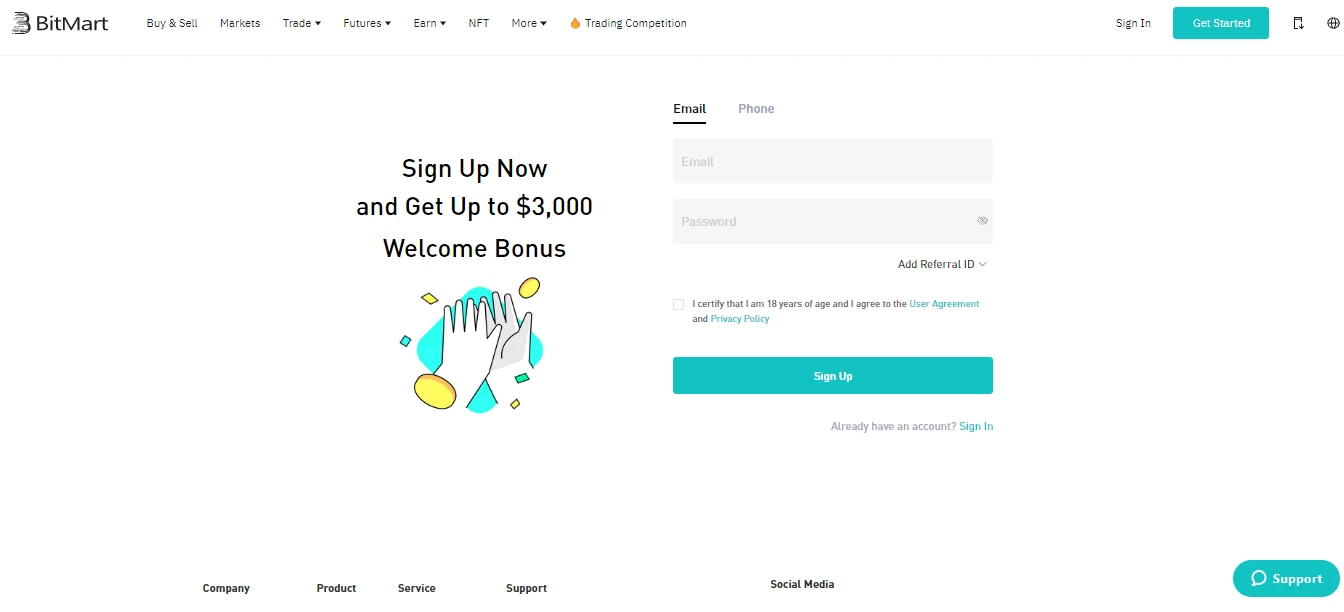 The verification process differs depending on the accounts' types:
Level 1 Starter
The verification process for Level 1 users' accounts is straightforward and requires only personal details like a valid email and a phone number to set up two-factor authentication. Once you've entered these details correctly, you can start using the Bitmart trading platform to buy and sell crypto assets.
Level 2 Advanced
To gain access to all the features and make the most of your Bitmart trading, you must upgrade to Level 2 and become an Advanced trader. The verification process involves providing a government-issued valid identification card and a complete facial verification.
Additionally, there is a special onboarding process for institutional investors and companies. Our Bitmart review will focus on retail users.
Once you've created a user account, the next step is to deposit funds into your Bitmart wallet. You can deposit crypto assets directly from your crypto wallets (software or hardware), and the exchange doesn't charge deposit fees. The Bitmart withdrawal fees vary depending on the cryptocurrency and the network used to withdraw funds.
Buy Cryptocurrencies
Bitmart allows you to buy and sell cryptocurrencies using fiat currencies through debit or credit cards, PayPal, payment gateways such as MoonPay or Simplex, etc.
Bitmart Fee Structure
While the exchange doesn't charge any deposit fees, it charges a small trading fee from its users. Bitmart competitive fee structure is one of the factors that makes it so popular amongst its users. The fee structure is tiered, and the trading fee for a standard user starts at 0.25 percent. Your level in the tiered structure depends on the number of BMX tokens you hold. The higher the number of BMX tokens, the lower the fee charged, as shown in the table below.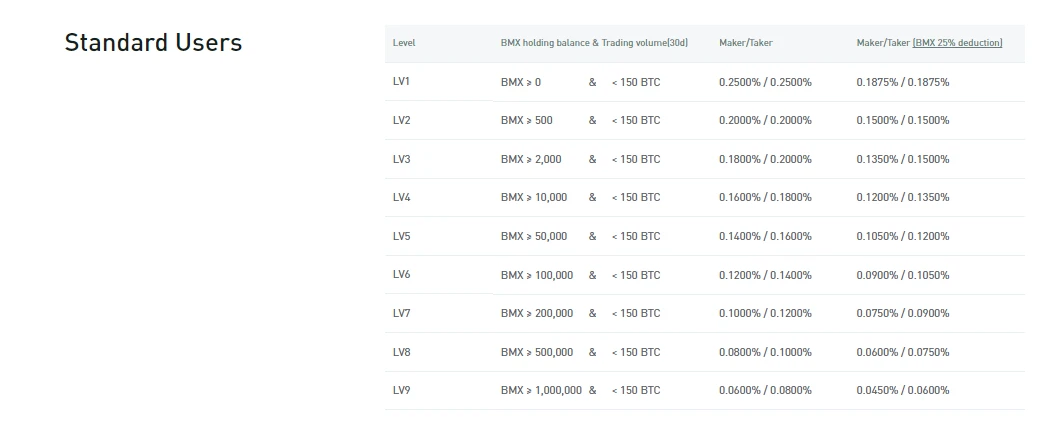 For professional users, the levels range from PRO1 to PRO6, and the trading fee goes down as one moves up the level. The 30-day trading volume in BTC determines the trading fees and levels for professional users – higher volume means higher level and lower trading fees. The trading fees for pro levels are displayed in the table below: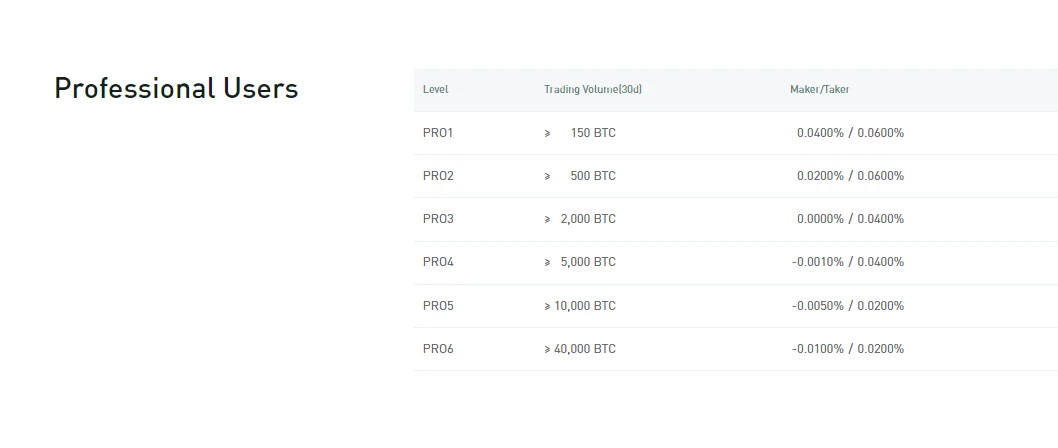 Bitmart Security
Our Bitmart review will now look into security as one of the most important considerations when choosing a crypto exchange for crypto trading. According to the official Bitmart website, it has an Advanced Risk Control System that utilizes a hybrid model of hot and cold wallet systems with multi-signature technologies. On top of that, Bitmart is registered as a Money Service Business in the USA with Financial Crimes Enforcement Network, making it a legitimate cryptocurrency exchange for crypto trading in the US.
However, despite all the Bitmart exchange's security measures, it became subject to a hack of USD 196 million in 2021. As stated, some hackers had gotten control over the private keys to two of Bitmart's hot wallets used to store users' funds and assets and managed to hack the Bitmart exchange. The company later stated that it would reimburse all its users with the funds they had raised.
Trading Experience Bitmart
Since the hacking incident in 2021, the Bitmart ratings on Trustpilot have gone down to 3.6 out of 5 stars. Another reason behind this low ranking is that the 0.25 percent standard fee charged by the trading platform can be higher than other popular exchanges.
To sum up, the Bitmart exchange is suitable for professional-level traders or those wishing to invest in small-cap and newer cryptocurrencies.
Final Word
Our detailed Bitmart review has revealed that you can easily trade and exchange crypto on the platform. The exchange provides several advanced features to make your crypto journey straightforward and more efficient. Moreover, its registration with FCEN makes the Bitmart exchange legit in the US, and users don't have to worry about their funds being suddenly frozen by the government.
It should, however, be kept in mind that cryptocurrencies are volatile in nature, and nothing in this article is a piece of financial advice.
If you wish to learn more about cryptocurrencies, blockchain technology, and DeFi, you're welcome to visit our blog and read articles like "What Is DeFi." To learn how to manage your crypto portfolios, read our "Crypto Portfolio Trackers."