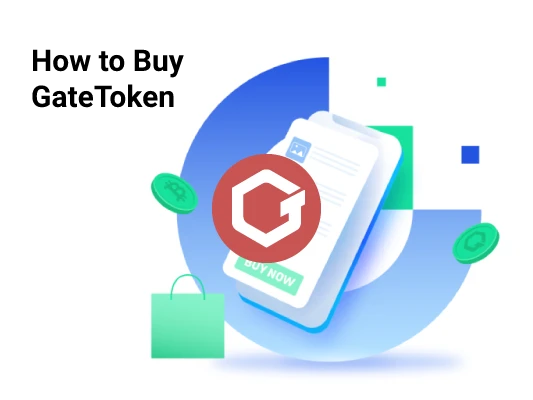 How to Buy GateToken [The Ultimate Guide 2023]
<! -- End of the Reviewed by section -->
The GateChain ecosystem provides secure and efficient decentralized digital asset storage, distribution, and cross-chain token swaps for various digital assets and offers solutions for recovering stolen assets and lost private keys. It enables developers to create applications that fulfill different use cases.
GateToken (GT) is the native token of the GateChain public chain and the unique exchange token of Gate.io centralized cryptocurrency exchange. GT is used to power the platform, pay for transaction fees on the GateChain network, facilitate liquidity between cryptocurrencies, and it also serves as the PoS staking reward.
Check the GateToken current price, price chart, 24-hour trading volume, market cap, circulating supply, total supply, etc., and get updates on GT price real-time data on CoinStats, one of the best crypto platforms around.
Read on for relevant information about the GateChain ecosystem and the GateToken. Get a quick tutorial on why, where, and how to buy GateToken in a few simple steps.
Let's get right to it!
The GateChain Ecosystem
GateChain is a public blockchain dedicated to on-chain asset safety and decentralized trading. GateChain's enterprise-grade multi-signature Vault Account is one of GateChain's unique features, designed for managing abnormal transactions. Along with customizable time-delay recovery features, vault accounts are designed to offer blockchain asset safety even after private keys are compromised.
GateChain EVM is an Ethereum Virtual Machine (EVM)-based module with smart contract support that enables developers to build decentralized applications (DApps) on the GateChain network.
GateBridge is a multi-chain trading platform that acts as an asset bridge between popular EVM-based blockchains. It enables secure and fast cross-chain token swaps with low transaction fees.
HipoSwap is a cross-chain decentralized exchange (DEX) and automated market maker (AMM) protocol on GateChain. It allows users to easily swap between different chains and platforms, provide liquidity, earn rewards via transaction fee distribution, and stake LP tokens to get more rewards.
HipoDeFi is the one-stop shop for all your decentralized finance (DeFi) needs, allowing users to 'buy' everything related to their trading activities, such as exchange ratios, interest rates, loans, and yield comparisons. It can collate (real-time) data for each DeFi project and help users find new investment chances and access them directly without the extra fees.
GateChain also launched the NFT Magic Box, an NFT marketplace with zero minting fees, in 2021.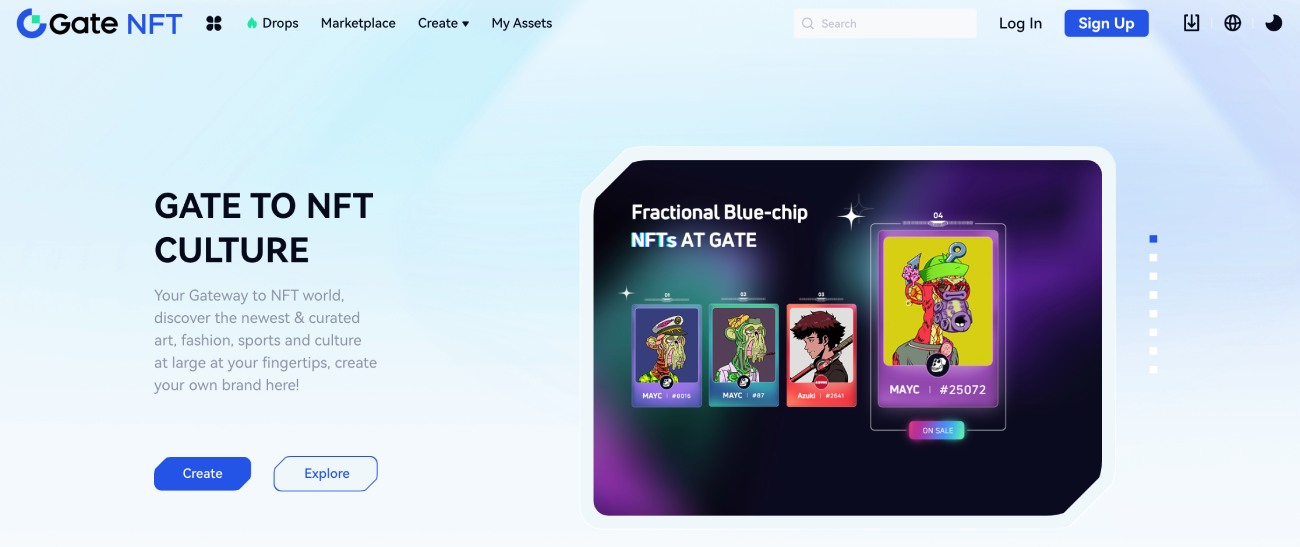 Gate.io is a multifaceted centralized cryptocurrency exchange that has been selected as one of the best exchanges by Forbes in 202. Focused on crypto-to-crypto trading, Gate.io offers 180 currencies, over 400 markets, low trading fees, and several advanced features and services, such as a leading Initial Exchange Offering (IEO) platform, a Futures market for margin trading with 10x leverage, perpetual contracts trading, margin lending, borrowing, or participating in the period investment plan, etc.
What Is GateToken (GT)

GateToken also referred to asGT, is the GateChain mainnet's native utility token and the exchange token of Gate.io since March 2, 2020.
The GT token is used for paying transaction fees and operational costs on the network. GateToken holders receive exclusive offers, discounts on token purchases, and when performing Crypto Lending, Future Trading, or Spot Trading, airdrops, and exclusive perks across the Gate.io exchange. They also enjoy a convenient trading experience while getting fast transactions and low fees.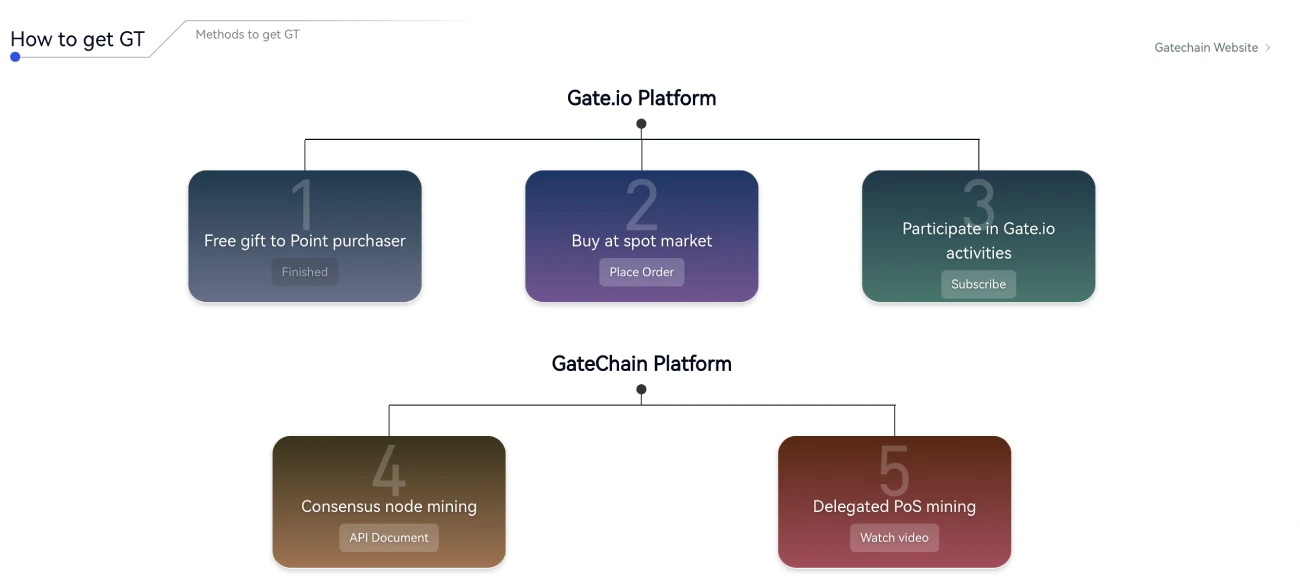 GT tokens are needed for deploying smart contracts and DApps on the network. GateTokens are also used in the GateChain Delegated Proof-of-Stake (DPoS) consensus mechanism – GateToken (GT) holders can lock up their funds to earn staking rewards and secure the network.
GateToken holders can participate in voting programs for projects listed in Gate.io.
Also, a buyback-and-burn mechanism means that the GT token has deflationary properties.
GateToken Use Cases
As an essential part of the Gate.io ecosystem, the GateToken has the following use cases:
VIP Tier Escalation
With GT, users have the opportunity to upgrade their VIP level to enjoy exclusive benefits.
Intrinsic Investment Value
Gate.io aims to increase the GT token's use cases and applications to improve its intrinsic investment value.
Payment Method
GateToken can be used on the Gate.io exchange platform to pay the trading fees, allowing users to receive additional discounts based on the transaction volume.
Exclusive Activities Participation
GateToken holders get access to several exclusive and high-profile events, including Vote Campaigns, Live Mainstreams, Discount Sales, etc.
Where to Buy GateToken

GateToken (GT) can be purchased on several cryptocurrency exchanges like any other cryptocurrency.
Below we'll look into the top 3 exchanges where you can buy GateToken (GT) with a credit card, debit card, or Bitcoin (BTC).
Gate.io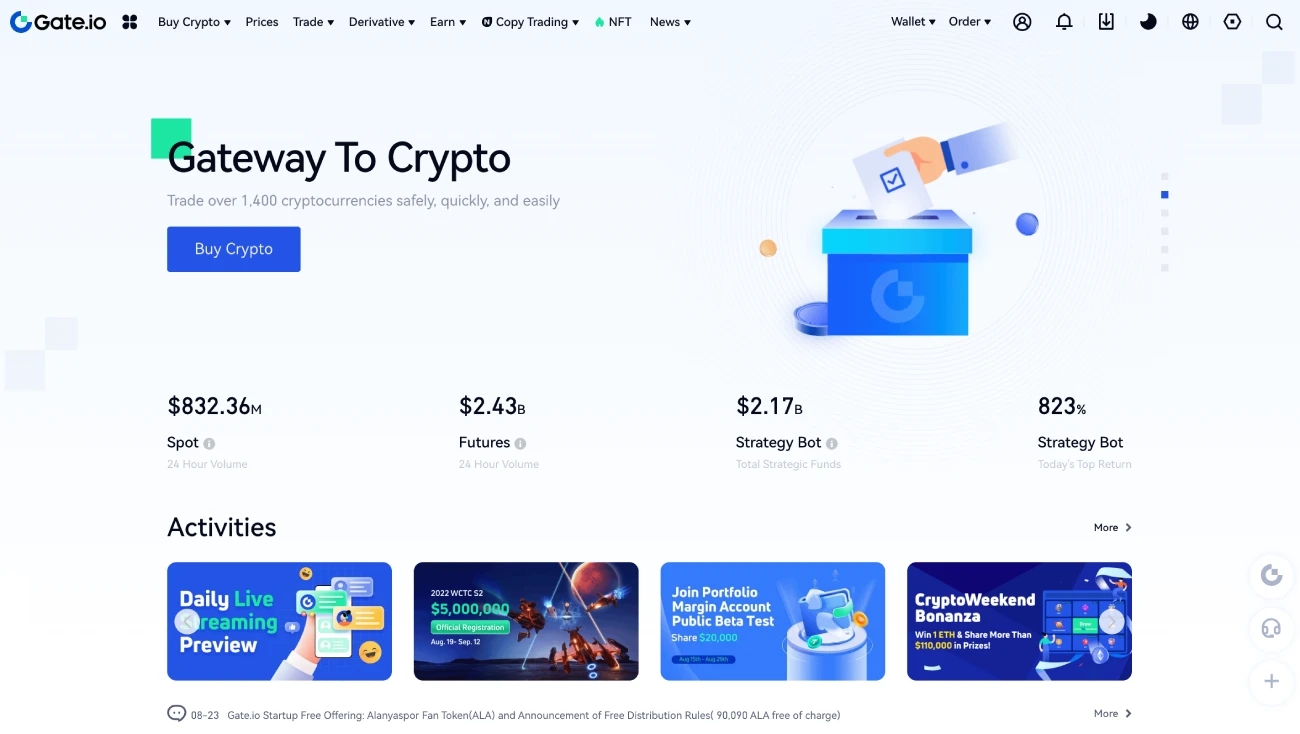 Gate.io was established in 2013 and has grown into a safe and reputable trading platform with over 10 million registered users worldwide. The exchange supports a large number of digital assets, including GateToken (GT), and is often the first to add new tokens.
It provides new users with an easy-to-use interface and offers advanced charts for various skill levels, including technical traders.
Huobi Global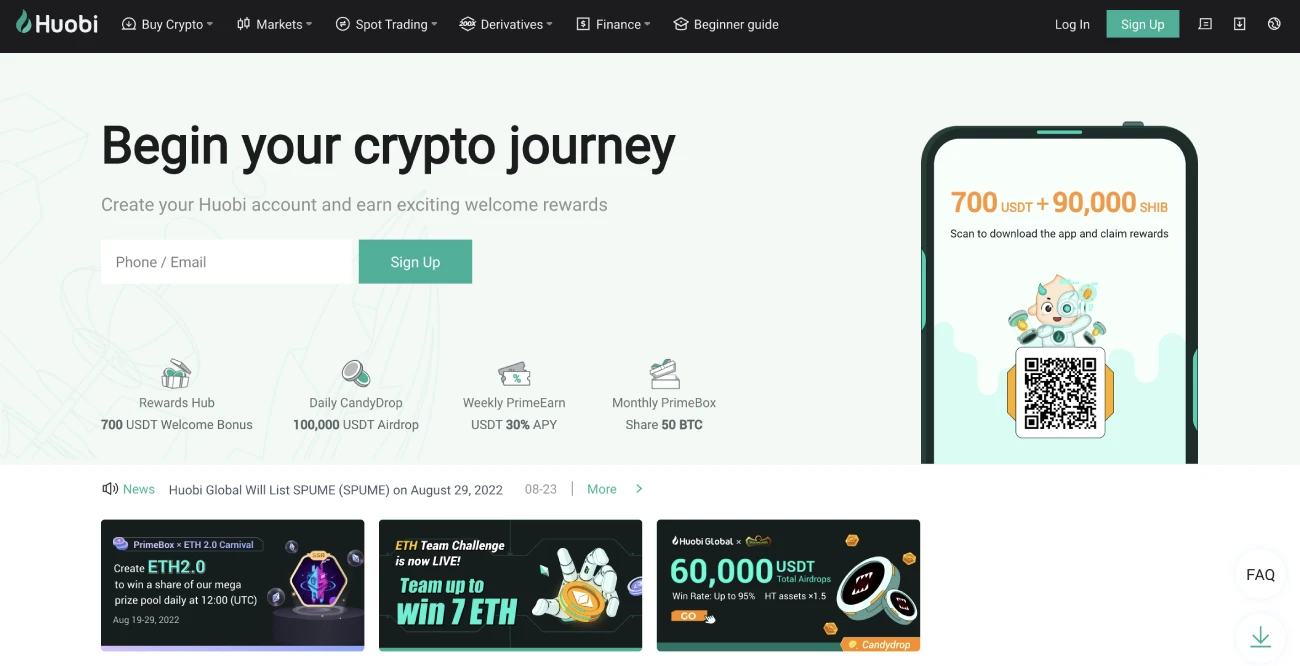 Huobi Global is one of the world's largest exchanges, with an accumulated trading volume of $1 trillion. It supports an impressive array of trading pairs and cryptocurrencies, including the GateToken (GT).
Huobi Global serves over 5 million users in more than 130 countries.
How to Buy GateToken in 4 Quick Steps
Here's our step-by-step guide on buying Gatetoken to help you get started:
Step #1: Choose a Cryptocurrency Exchange
You'll have to compare cryptocurrency exchanges to choose the one that supports GateToken and has the features you want, such as low transaction fees, an easy-to-use platform, and 24-hour customer support. Also, consider if the exchange allows purchasing GT with your preferred payment methods, such as credit or debit cards, another cryptocurrency, or a bank transfer, and supports your preferred fiat currencies.
Most importantly, ensure it's a reputable, regulated, and secure platform.
Step #2: Create an Account
After choosing the best exchange for you, it's time to register an account. You must provide a valid e mail address to create an account. A link will be sent to your email, and you must click it to verify your email. Once the account is activated, most exchanges will require you to provide an official document like a valid ID and a live photograph to complete your KYC verification in compliance with the Securities Exchange Commission regulations. After you complete your KYC, your account will get activated, and you can trade GateToken and other cryptocurrencies on the exchange.
It's advisable to enable two-factor authentication (2FA) to keep your funds safe once you've verified your identity. SMS two-factor authentication validates your identity by texting a security code to your mobile phone.
Step #3: Deposit Funds
To purchase GateToken and other cryptocurrencies, you must add funds to your account. Depending on the exchange, you can use several deposit methods such as a debit card, credit card, bank transfer from your bank account, or wire transfer. It's important to choose an affordable and convenient method.
Also, note that many crypto exchanges require a minimum deposit before you can start trading.
Step #4: Purchase GateToken
To buy GT, you must first buy Bitcoin or another major coin for trading purposes. You can use LocalBitcoins to find BTC or ETH sellers who accept your preferred payment method. You can also buy them through your Coinbase account or Binance account and transfer your newly purchased BTC, ETH, or USDT to an exchange that supports GateToken.
You can then easily swap your BTC for GateTokens. On the "Markets" page, search for GT and select a trading pair (GT/BTC, etc.). Enter the amount of BTC you wish to buy GT for and enter the price of the GT token if you want to place a limit order. You can also place a market order to buy GateToken at the current market price. Once you click "buy," the order will be executed instantly, and the tokens will reflect in your crypto wallet.
Get started by checking the current GateToken price!
Store GateToken
Once you've completed your GateToken purchase, the next step is to select a secure wallet to store your coins securely. We highly recommend creating a private wallet with your own set of keys. You can choose to store your GT in different kinds of crypto wallets, such as:
Software Wallet

These are also known as hot wallets as they are always connected to the internet. The strength of software wallets lies in their flexibility and ease of use. A software wallet is the most easy-to-set-up crypto wallet and lets you easily interact with several decentralized finance (DeFi) applications.

However, these wallets are vulnerable to security leaks because they're hosted online—like your bank accounts. So, if you want to keep your private keys in software wallets, conduct due diligence before choosing a wallet to avoid security issues. We recommend a platform that offers 2-factor authentication as an extra layer of security.

There are many software wallets available for free download online. CoinStats Wallet is one of the most secure software wallets. It helps you store your GT and other assets safely and monitor your assets' growth in real-time. Other examples of software wallets include the Trust Wallet, Metamask, etc. You can also use the Coinbase wallet available as a mobile app and browser extension.

Hardware Wallet

A hardware wallet is a device that stores the private keys you need to receive or send crypto. Hardware wallets are usually considered the safest way to store your crypto assets as they offer offline storage, thereby significantly reducing the risks of a hack. They are secured by a pin and will erase all information after many failed attempts, preventing physical theft. Hardware wallets also let you sign and confirm transactions on the blockchain, giving you an extra layer of protection against cyber attacks.

Hardware wallets are suitable for investors with a long-term investment strategy.
Ledger Nano S, and Ledger Nano X, are arguably the most secure hardware wallets letting you securely manage your Gnosis tokens.
How to Sell GateToken
You can easily sell your GT on the same trading platform you purchased them.
Sign in to the exchange account where you have GT.
If you have kept your GT in a digital wallet, compare crypto exchanges to choose where to sell it.
Place a sell order.
Decide the amount of GT you want to sell and put a sell order.
Complete your transaction.
Confirm the selling price and fees to complete the sale of GT.
Crypto Portfolio Tracker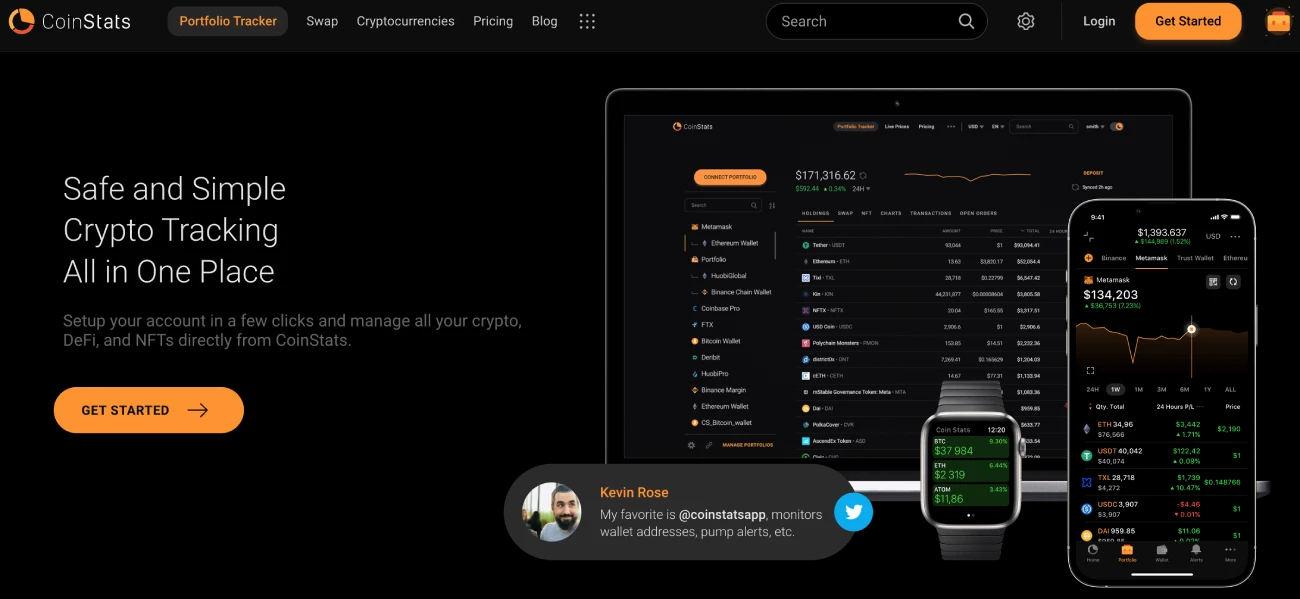 A crypto portfolio tracker is an essential tool allowingyou to keep track of all your crypto investments at all times in just a couple of clicks. The best crypto portfolio trackers can be integrated with your crypto wallet and exchange accounts to help you keep all your financial assets in one place and portray the total value of your investment portfolio.
CoinStats offers one of the best crypto portfolio trackers in the market. It lets you track and grow all your crypto, DeFi, and NFTs from a single place. You can find information about top crypto portfolio trackers here.
Closing Thoughts
GateToken (GT) plays a significant role in the GateChain ecosystem. Gate.io relies on its market position to gradually expand GT's scope and increase its intrinsic value. Currently, GT holders can upgrade VIP levels, deduct processing fees, participate in bonus campaigns, and more.
So is GateToken GT a good investment?
Most GateToken predictions show GT has long-term earning potential. Since being introduced as the base token of the Gate.io ecosystem in 2020, the value of the GateToken (GT) continues to gain significant traction with an actively growing market capitalization and volume.
To facilitate your calculations of crypto profits and loss, use the CoinStats' Crypto Investment Calculator.
You're welcome to visit our CoinStats blog to discover more about DeFi's tectonic shift in the finance sector and how decentralized finance empowers people with our article What Is DeFi.
You can also explore our in-depth buying guides on various cryptocurrencies, such as How to Buy Polygon (MATIC), How to Buy Cryptocurrency, and learn more about wallets and exchanges, portfolio trackers, etc.
Investment Advice Disclaimer: The information contained on this website is provided to you solely for informational purposes and does not constitute a recommendation by CoinStats to buy, sell, or hold any securities, financial product, or instrument mentioned in the content, nor does it constitute investment advice, financial advice, trading advice, or any other type of advice. This is not an endorsement of cryptocurrency or any specific provider, service, or offering.
Cryptocurrency is a highly volatile market, sensitive to secondary activity, do your own research, obtain your own advice, and only invest the money you can afford to lose. Trading CFDs, stocks, and cryptocurrencies involve significant risks. Between 74-89% of retail investor accounts lose money when trading CFDs. You should consider your own circumstances and obtain your advice before making any investment. You should also verify the nature of any product or service (including its legal status and relevant regulatory requirements) and consult the relevant regulators' websites before making any decision.
Performance is unpredictable, and the past performance of GateToken is no guarantee of its future performance.