How to Buy NEXO [A Complete Guide 2023]
<! -- End of the Reviewed by section -->
Ever wanted to learn how to buy NEXO but don't know where to start from? Well, you're in luck as you will soon see. The NEXO cryptocurrency was launched back in April 2018 and has witnessed exceptional growth since then. It was founded by Antoni Trenchev with the aim of overcoming the inefficiencies present in the conventional lending sector.
But before knowing how to purchase NEXO token, it is important to develop a basic understanding of this digital currency.
What Is NEXO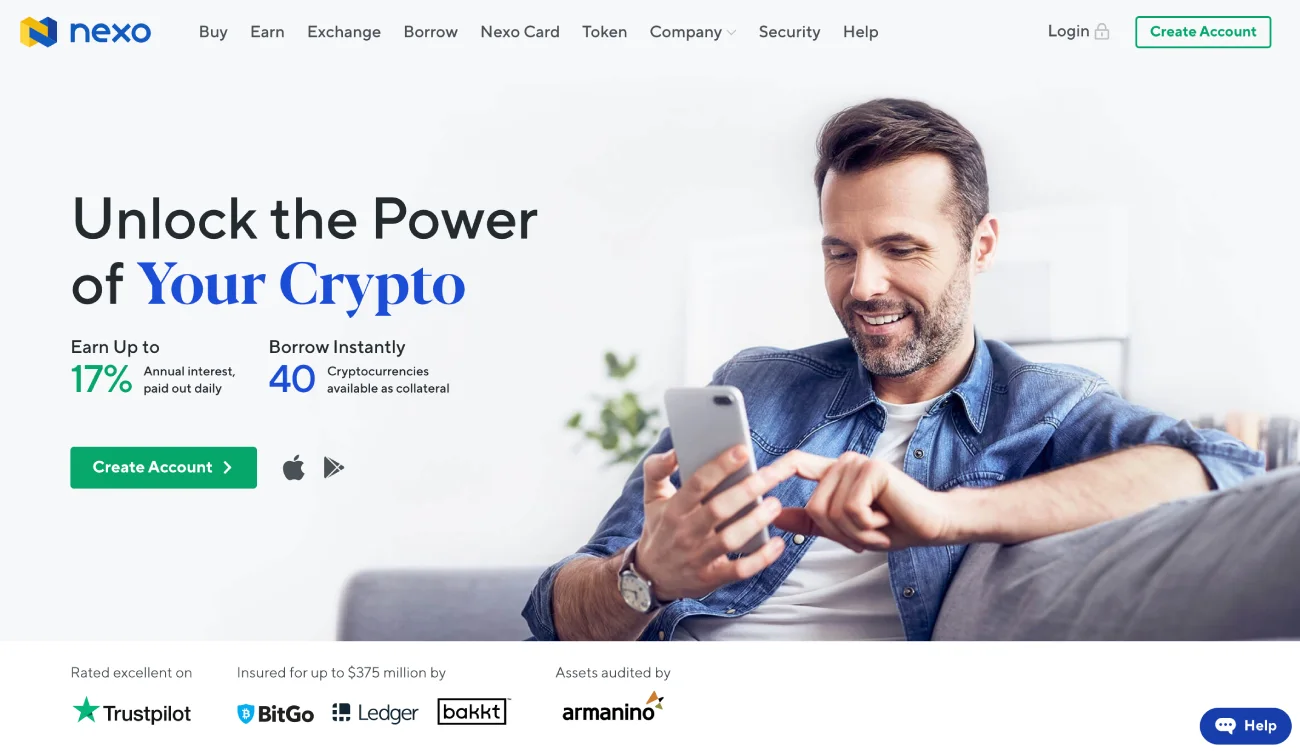 Nexo is a blockchain-based crypto-lending platform that supports more than 30 cryptocurrencies. Some of the major coins like Ethereum (ETH), Bitcoin (BTC), and Ripple (XRP) can be used for lending funds. To do this, users have to deposit their tokens on the platform which are then used as collateral for a loan. These loans can be acquired in fiat currency as well as stablecoins.
The native token of the Nexo project is denoted by NEXO. Those who hold NEXO tokens are entitled to discounts on loan interest along with interest payments. Having said that, the NEXO tokens stay locked in the blockchain.
Benefits of Buying NEXO Tokens
Since the NEXO token is the native digital currency of the platform, it offers a range of benefits to its holders. For one, holders are entitled to rewards at an interest rate of 12% per annum on the NEXO tokens stored in the Credit Line and Savings wallets of their Nexo account. Apart from enabling crypto-lending, NEXO token holders are also a part of Nexo's Loyalty Program which has a number of advantages including:
Returns of up to 50% with Nexo's Earn on Crypto service
Cashbacks of up to 0.5% on all crypto purchases done through Nexo Exchange
Five free digital currency withdrawals
Ability to borrow funds at APR starting from 0%
Active contributor to the project's governance
At this point, we remind you to ensure that you get your financial advice from only legitimate and credible sources.It is better to rely on opinions and analyses from expert finance professionals and read buying guides before you start trading NEXO.
Price Performance
While the crypto market has been notorious for its volatility, the NEXO price has stayed comparatively stable during the last twelve months or so. In 2022, it has stayed between $2.00 and $2.50 per coin with a market capitalization in excess of $1.20 billion.
The total supply of NEXO coins is capped at 1 billion tokens with over 560 million coins currently in circulation. You can keep tabs on the price of NEXO with CoinStats.
How to Buy Nexo Tokens
You can't just start buying NEXO tokens and expect to make money. Any serious cryptocurrency buyer should first know why they want to hold a coin even before making a purchase. For instance, you may be looking to invest for the long-term investment or just want to make quick bucks by trading NEXO. Knowing the reason you're buying a coin also influences your investment strategy.
So if you want to hold NEXO tokens for the short term, you may just purchase financial products such as CFDs from a broker, which is a much quicker and easier way to trade NEXO.
If you're in it for the long-term, then you will need a compatible NEXO exchange to acquire NEXO tokens. You'll also need a dedicated NEXO wallet to keep your digital currency safe. With that said, here are the steps you should take to buy NEXO token.
Stage #1: Find an Exchange that Supports NEXO
The first step is to choose a broker or an exchange that will best fit your requirements. Make sure the NEXO exchange you're considering is easy to use and has the features you're looking for. To accomplish this, you should evaluate the platform's costs, fees, customer service, payment options, and user suggestions. Don't also forget to read all the reviews about your preferred exchange.
Some of the top exchanges that support NEXO include Huobi, Bitfiinex, Bitstamp, Uniswap, and HitBTC.
Stage #2: Create an Account on Your Chosen Exchange
To create an account on the platform of your choice, you must first sign up by entering a valid email address , a username, and password. It is highly recommended that you buy NEXO token through one of the regulated exchanges supported by the Nexo platform. This will ensure that your personal information, as well as funds, remain safe and secure.
Stage #3: Go through Identity Verification
Almost all cryptocurrency exchanges will require you to verify your personal identity before you can deposit your money. This is done to ensure compliance with Know Your Customer (KYC) finance law and Anti-Money Laundering (AML) regulations. The verification enables cryptocurrency exchanges to prevent fraud and other illicit activities.
The verification process usually involves sharing a photo ID with the cryptocurrency exchange. You may also be asked to use a webcam or smartphone to prove your identity. Then there are some crypto exchanges that will ask you to provide verification of your residential address before you can trade NEXO. After identity verification, it is recommended that you enable two-factor authentication (2FA) prior to depositing your money.
Stage #4: Deposit Your Starting Capital
Once you've completed the process of creating an account, the next step is to make a deposit. If you decide to acquire NEXO tokens, you can use the deposited money as working capital. Depending on the crypto exchange you select, there is a diverse range of payment options available to you. These may include a credit or debit card, bank transfer, wire transfer, and e-payment system, to name just a few. It's important that you choose one that is both affordable and convenient.
Also, keep in mind that many crypto exchanges need a minimum deposit before you can begin trading. You further have the option to link your bank account to a crypto exchange if you want to purchase NEXO tokens or other cryptocurrencies for a longer period.
Stage #5: Buy Nexo Tokens
After you've completed the above steps and are ready to invest in NEXO, it's time to proceed to the actual buying. Cryptocurrency exchanges generally have a simple and user-friendly process that allows quick purchases. Usually, there are two different ways to buy any cryptocurrency.
Instant Buy
This is a feature offered by almost every exchange. It allows you to acquire NEXO right away at a predetermined price. It is quick and easy but you will need to pay the asking price.
Spot Market
This feature enables you to set a price at which you want to get NEXO. It is one of the most popular ways to buy digital currency. Instant buy is all about convenience while the spot market gives you affordability at the cost of waiting.
Choosing Your Wallet
You have to remember that you will need a NEXO wallet to store your NEXO tokens. Just like you use a wallet or purse to keep fiat currencies, a crypto wallet is used to securely store NEXO tokens. There are two types of wallets you can get:
Hardware Wallet
A hardware wallet is a physical device that looks like a flash drive. It is used to store the private keys that give you access to your NEXO tokens. These wallets are completely disconnected from the outer world to ensure security against hacking attempts. Some of the top hardware wallets to store your NEXO coins include Ledger Nano S and Trezor.
Software Wallet
A software wallet comes in the form of an application or an integrated feature in cryptocurrency exchanges and can also be used to store NEXO tokens. Unlike hardware wallets, software wallets are usually connected to the internet for quick and easy access to the coins. This feature, however, makes them susceptible to hacking.
Buying NEXO Tokens with the NEXO Exchange
The best and most efficient way to buy the native token is through the NEXO exchange. This method is not only easy but highly affordable. Here is what you need to do:
Create a NEXO account and use the Exchange tab to log in.
Now select the "Buy" option and choose your preferred fiat currency.
Choose NEXO Token as the digital currency you want to buy.
Next, select your credit or debit card between MasterCard and Visa.
Enter your card information and confirm your purchase.
Buy NEXO with Cryptocurrency
If you already have a cryptocurrency like Bitcoin (BTC) or Ethereum (ETH), you can use it to purchase NEXO tokens. You will need to create an account with Huobi exchange and deposit your digital currency into your account. There are a number of supported cryptocurrencies which you can see by going to the wallet screen. You can then select the one you want to use and click on "Deposit".
An address will be shown to you which you will have to copy and paste into the crypto wallet holding your crypto tokens. NEXO tokens will show up in your Huobi account in a few minutes depending on the blockchain and exchange processing speed.
NEXO Investment Strategies
NEXO may be purchased using a variety of investment strategies. Some of the most common strategies are given below.
Buy and "Hodl"
The term "HODL" was coined in 2013 by an angry bitcoin investor who went on the internet to vent his rage over bitcoin's lack of widespread adoption. Because of his belief in the decentralized blockchain's ability to substitute fiat currencies, the stated buyer made a promise to continue to "hodl" bitcoin despite the currency's lack of popularity at the time. As a general rule, buying and holding NEXO indicates that you have faith in the long-term viability of the project and the NEXO token itself.
Day Trading
The inverse of 'hodling' is day trading. By buying and selling your NEXO tokens quickly, you avoid having to store them for an extended length of time and instead reap the rewards from your investment immediately. Investing in this manner is more akin to trading equities or forex on the open market. Rather than waiting for long-term returns, the objective is to take advantage of the asset's price volatility.
Swing Trading
This kind of trading is similar to day trading, but it lasts for a longer amount of time, from a few days to a few weeks at a time. An accurate technical evaluation of indicators is required for this approach to be implemented.
Fees and Charges for Buying NEXO
When you buy a cryptocurrency such as NEXO or any other coin, there is no definite fee structure. It generally depends on your country of residence and a wide range of other factors including the exchange policy, payment method, and the amount of NEXO you want to buy.
Usually, the most affordable payment method is a bank transfer. It is comparatively slow, however. So if you are looking for quick funds processing, it is better to rely on a credit or debit card which will cost you anywhere between 5% and 10% of the total amount. For profitability, you need to keep your costs in check so they don't exceed your profit margin.
The Right Time to Buy NEXO
Being the native token of one of the first crypto-lending platforms, NEXO obviously has potential. That being said, nobody can give you accurate financial advice as to the timing of your purchase. It is something that you will need to determine on your own. Keep in mind that with cryptocurrencies like NEXO, the price increase isn't the only way to gain profit. There are specified interest rates that also add to your overall profitability.
As a rule of thumb, a long-term investment strategy is more likely to be profitable. And since the NEXO project is a part of the decentralized finance or DeFi movement, it has the opportunity to grow with the crypto-lending sector. You can learn what is DeFi in this article.
Final Word
Nexo streamlines the process of obtaining a loan and adds the assurance of a smart contract to it. Unlike the traditional way of business, its borrowers are no longer subjected to lengthy and rigorous background investigations. It's safe to say that Nexo is on the path to establishing itself as one of the world's major crypto-lending platforms if DeFi use continues to rise.
However, Nexo must keep innovating to remain ahead of the competition, which may provide greater interest rates or dividends. Because as we all know, the value of Nexo's dividend-paying native token NEXO will only rise if the company is successful.