Bitfinex: Pros and Cons
The exchange has been around for almost a decade. It has gone through various upgrades and also faced multiple hacking attacks.
Still, there is a reason why it has such a high trading volume and high level of trust.
Let's look into the pros and cons of Bitfinex below:
Bitfinex Pros
User-friendly interface

Fiat deposits and withdrawals directly through bank accounts

Multiple supported languages

Relatively low fees for trading, deposits, or withdrawals

Suitable for intermediate to high-value cryptocurrency traders and investors

Advanced security features such as Two-Factor Authentication, Universal 2nd Factor

Authentication, API key management, etc

Cold storage for 99.5% of users' funds
Bitfinex Cons
Multiple cyber-attacks in the past

Not suitable for small retail investors or beginners

Not available in the USA, Bangladesh, Bolivia, Ecuador, and Kyrgyzstan

Fiat deposits can only be completed through bank transfers

Crypto purchases with Debit/Credit cards or electronic wallets aren't supported Unregulated
Lately, there has been a boom in the number of cryptocurrency exchanges all across the globe. This has been a result of the slow but steady worldwide adoption of cryptocurrency and blockchain technology, as well as cryptocurrency tokens being treated as an asset class and traded on exchanges, centralized and decentralized alike.
Choosing the exchange to suit your needs among a staggering number of cryptocurrency exchanges out there might not seem easy. Our Bitfinex review will reveal everything you need to know about the Bitfinex exchange, its features, services, trading fees, etc., to help you decide if it's a suitable exchange for you.
Bitfinex is one of the oldest centralized exchanges, which has been in operation since 2012. The platform offers over 200 cryptocurrencies and is available in over 50 countries.
Let's take a closer look at what you can expect from the state-of-the-art digital token trading platform Bitfinex!
What Is Bitfinex
Bitfinex is one of the oldest cryptocurrency exchanges that has been in operation since 2012. The Bitfinex headquarters is based in Hong Kong and managed by iFinex Inc.
Bitfinex is one of the top exchanges regarding recognition and trading volume. It serves most countries worldwide and supports both fiat-to-crypto and crypto-to-crypto trades. The Bitfinex exchange offers a tiered fee structure and a wide range of advanced trading options with easy-to-navigate dashboards and menus.
Yet despite the robust security measures, Bitfinex was hacked in 2015 and 2016. Nonetheless, Bitfinex's recovery management after the hacks was legendary, and since then, it has significantly improved its security and compensated lost funds to every user.
Difference Between Centralized and Decentralized Exchanges
The Bitfinex exchange is a centralized cryptocurrency exchange. Unlike decentralized exchanges, centralized exchanges act as middlemen to facilitate trading in cryptocurrency tokens.
A decentralized exchange supports peer-to-peer transactions and trades without the need for middlemen, letting users have complete control over their crypto assets. However, this comes with significant risks of not being able to correct possible mistakes, undo wrong transactions, recover forgotten passwords, prevent frauds, etc. In contrast, it's much safer to trade on a centralized exchange, which stores assets on its platform and secures all transactions.
Bitfinex Features
The Bitfinex exchange is one of the largest cryptocurrency platforms in terms of trading volume, with a 24-hour volume of over $2 billion. Bitfinex is known for its high liquidity in terms of BTC/USD daily trading volume, which guarantees price stability and confidence for every trader.
The advanced trading platform of Bitfinex, with customizable GUI, multiple order types, charting features, and an API makes it a good option for intermediate and advanced level traders.
As a centralized cryptocurrency exchange, Bitfinex offers its users a plethora of features and services to make their trading experience smooth and seamless.
Bitfinex supports trading in more than 500 tokens, including Bitcoin (BTC), Ethereum (ETH), Ripple (XRP), Cardano (ADA), and popular altcoins like Dogecoin (DOGE), Shiba Inu (SHIB), etc.
Bitfinex is available in six different languages: English, Russian, Cantonese, Chinese, Spanish, and Turkish.
The Bitfinex exchange is available worldwide with a few exceptions, i.e., the United States of America, Bangladesh, Bolivia, Ecuador, and Kyrgyzstan.
Types of Trading Available on Bitfinex
Bitfinex supports more than 50 trading pairs, including BTC/ETH, BTC/USDT, BTC/USD, etc. It provides multiple trading options to Bitfinex users, including: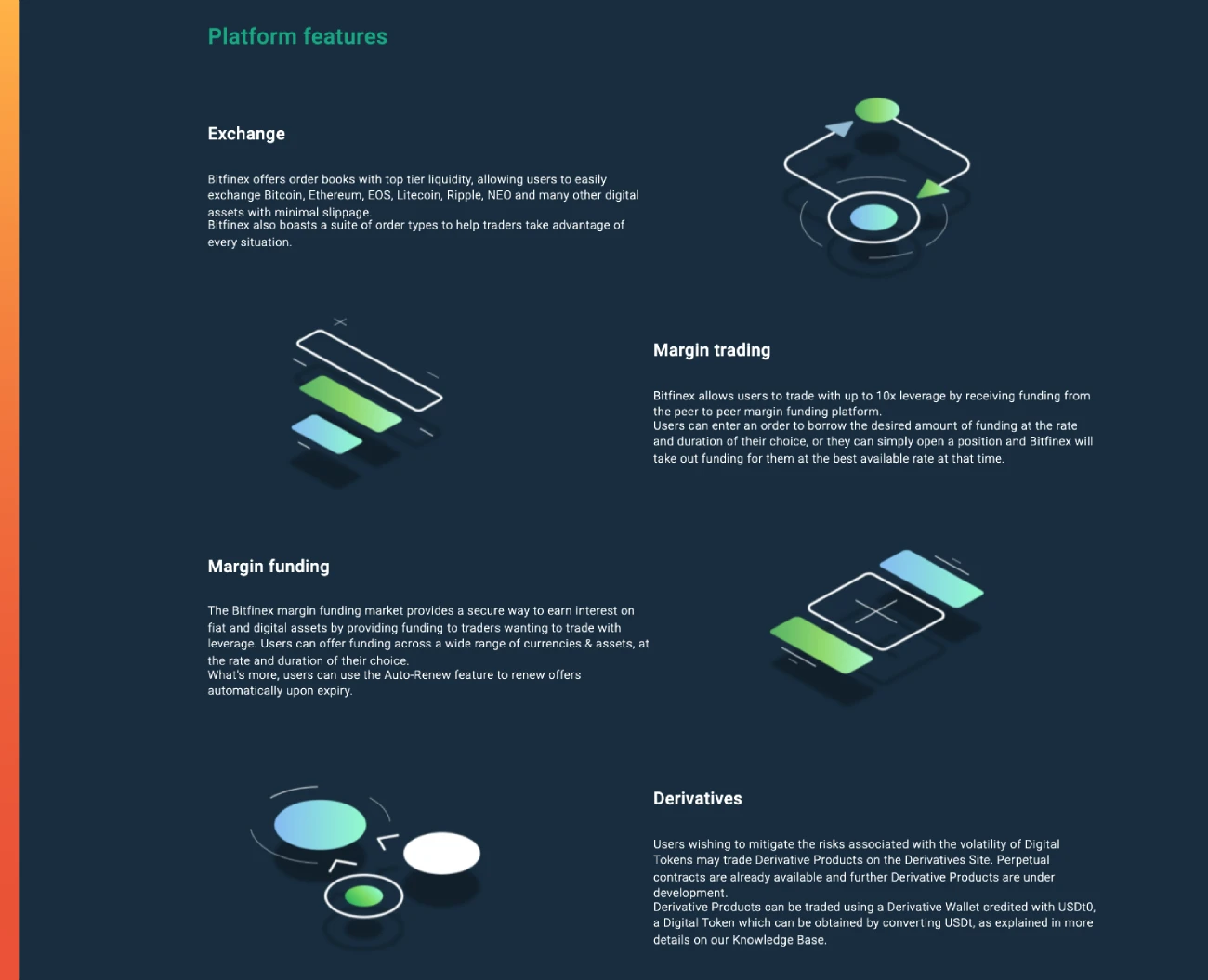 Market Trading (Spot Trading): Cryptocurrency tokens can be bought and sold at the current market price.
Stop Order: Cryptocurrency tokens can be bought and sold once they reach a specified price, known as the stop price.
Limit Order: Cryptocurrency tokens can be bought and sold for a set price and amount.
Stop-Limit Order: Users can select their Stop Price and limit for the order to be executed.
Scaled Order: Multiple limit orders across a pre-determined price range are created by an algorithm.
OTC, Over the Counter Trading: High-volume traders trading in $100000+ worth of tokens can trade privately in a secure manner.
Margin Trading: Margin trading options with up to 10x leverage are offered to advanced and qualified users by the Bitfinex Peer-to-peer system.
Paper Trading: An excellent tool for traders looking to hone and perfect their trading skills in a simulated marketplace without having to spend any money.
Exchange Trading: Central limit order books where users can deposit, trade, and withdraw digital tokens.
Comprehensive trading options: Besides the above-mentioned popular trading options, traders can take advantage of fill or kill, iceberg, OCO, hidden, derivatives, post-only limit orders, etc.
In addition to the above-mentioned trading options, a Bitfinex account empowers users to:
Margin Funding: Users can earn interest by lending their tokens to other traders who trade with leverage.
Referrals: The Bitfinex affiliate program allows users to earn up to 55% commissions on their referral links and codes.
Staking: Users can stake their tokens and earn interest on them.
Charts on Bitfinex
Cryptocurrency investors probably know how important a chart is for crypto trading.
Bitfinex offers advanced charts to keep users informed in the broader crypto market and Bitfinex currencies and help them make a well-informed decision regarding investing or trading. The platform's charting tools let users track Bitfinex crypto coin-to-coin performance and price over time.
Bitfinex users can view their current wallet balances, trading history, deposits and withdrawals, orders, etc., from the reports section.
The features and services described above and many more make Bitfinex one of the go-to exchanges in high-volume trades, offering you the advantage of earning on your tokens.
How to Get Started on Bitfinex?
Bitfinex is designed for experienced high-volume traders; therefore, its minimum deposit in fiat currency is $10000 or the equivalent in other currencies. Some of the supported fiat currencies and minimum deposit amounts on Bitfinex are:
U.S. Dollar: $10000
Euro: 10000 EUR
British Pound Sterling: 10,000 GBP
Japanese Yen: 1,000,000 JPY
Chinese Yuan Renminbi: 75,000 CNH
Fiat deposits into your Bitfinex account can be made directly through a bank transfer. However, there are Bitfinex deposit fees associated with it and capped at 0.1 percent with a minimum of $60 fee. Digital asset deposits on Bitfinex have no additional trading fees except for the gas fee associated with transactions on particular blockchains.
Setting up a Bitfinex Account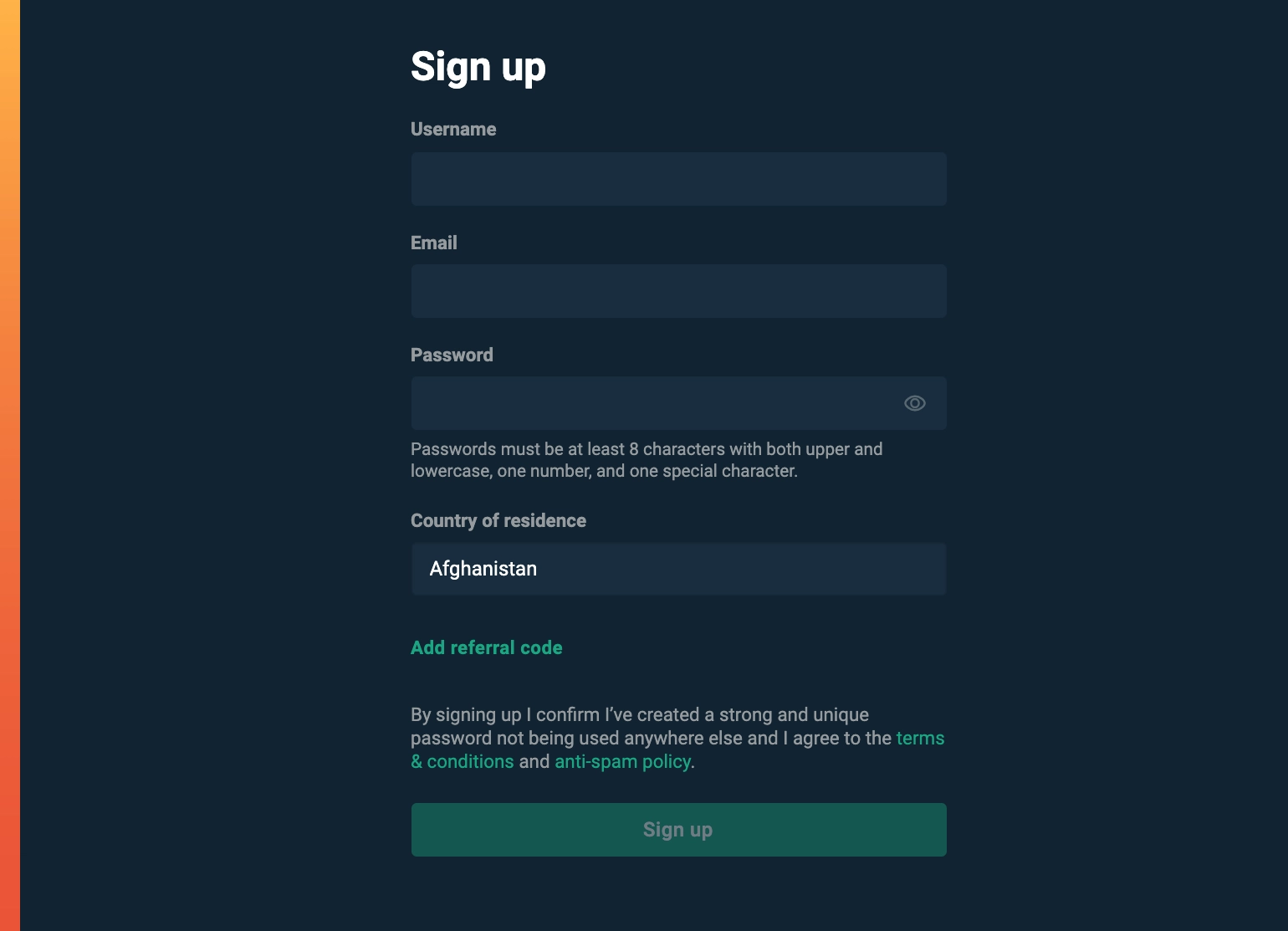 To open a Bitfinex account, new users are required to register on the Bitfinex platform by providing their username and email address. However, to make use of all the available features, users need to provide additional information, such as:
Full name
Complete Address
Phone Number for an additional layer of security
Two scanned photo identifications, namely driver's license and passport
Proof of address, i.e., a utility bill
A selfie that matches the photo on the government-issued I.D.
Once the account details are approved by Bitfinex, users can start using their Bitfinex account and benefit from all services and features offered by the platform. As the exchange allows high-volume trades, its verification process is thorough and usually takes seven to ten days.
After setting up an account and completing the KYC procedure, you are all set to buy your favorite crypto tokens with your bank account or a debit or credit card. It's easy to set up a payment, but a minimum purchase of $25 is required. Remember that this is only for buying crypto assets and not for trading.
You can use the web version of the Bitfinex exchange or switch to the app, available on iOS and Android.
Bitfinex Fee Structure
Bitfinex has a user-friendly fee structure for deposits, withdrawals, and trading. The fee structure is designed to facilitate high-volume trades by charging minimal trading fees.
Bitfinex Trading Fees
Bitfinex trading fees are relatively minimal compared to other centralized exchanges such as Binance, Huobi, Coinbase, etc. The exchange has a "Taker-Maker fee model" – the taker fee starts at 0.2%, and the maker fee at 0.1%.
Bitfinex Deposit Fees
The exchange charges low fees of 0.1% for fiat deposits via bank transfers. The fee for depositing digital tokens on Bitfinex varies depending on the cryptocurrency and the blockchain on which the transaction is being made.
Bitfinex Withdrawal Fees
The withdrawal fee from the Bitfinex account to the bank account is 0.1% for fiat currencies. If you want the withdrawal to be processed within 24 hours, you can pay upfront the 1% fee.
Bitfinex Security Features
One of the most prominent features to consider while choosing a cryptocurrency exchange for trading is its security.
As mentioned above, Bitfinex has faced cyber-attacks and hacks in the past. Two of the most prominent hacks on Bitfinex have been in May 2015 and August 2016. However, Bitfinex is known for having made full reimbursements to users within a year after facing the hacks.
Moreover, Bitfinex has stored nearly 99.5 percent of user funds in cold storage through a geographically distributed multi-signature system to protect users from possible future attacks.
Additionally, Bitfinex implements a two-factor authentication system and a Universal 2nd-Factor (U2F) Authentication to secure users' accounts. With U2F, users are required to login into an external hardware device such as a USB drive to secure their accounts.
Some other commonly used security features available on Bitfinex are:
Saving users' login information to identify unusual activities
Notifying users about a change in their I.P. address
Allowing users to freeze their accounts in case of suspicious activities
Protection against Distributed Denial of Service (DDoS) attacks
Keeping its system and software up to date.
Customer Support on Bitfinex
Bitfinex offers the best possible customer support to its users.
Bitfinex users can reach support 24/7 via email. All queries are answered within 12 hours, except for periods of high activity.
Additionally, the live chat option is available to users from Monday to Friday.
Along with customer support services, Bitfinex has a dedicated "Help Centre" that provides information, guides, tips, and guidelines on how to make the most of the exchange and their tokens. Users can also use an extensive knowledge base to answer most of their basic inquiries.
Wallets on Bitfinex 
Bitfinex offers 3 types of wallets:
Exchange Wallet: For exchanging funds between currencies supported at Bitfinex
Margin Wallet: For trading leveraged short and long positions
Funding Wallet: For providing margin funding/financing to other traders.
Bitfinex also supports all major software and hardware wallets, where users choose to store their digital currencies.
Consider the CoinStats Wallet, one of the best software wallets to add an additional layer of security to your funds.
CoinStats also lets you track your Bitfinex portfolio on its platform – all you have to do is connect your portfolio to the CoinStats Portfolio tracker.
Bitfinex Review: Conclusion
Bitfinex has been operating since 2012 and has had its ups and downs. From facing multiple hacks to having its accounts frozen in the U.S., braving controversies such as price manipulation and solvency rumors. However, the exchange has tightened security and has come a long way in earning users' trust.
Among the advantages of using Bitfinex are the significant volumes of liquidity. Bitfinex also has one of the most comprehensive listings of supported coins. Moreover, advanced traders will benefit from its top-grade charting analysis tools and multiple trading options.
However, Bitfinex is unregulated and unavailable in a few countries, including the U.S. Also, you can only deposit fiat money via a bank transfer.
That being said, the exchange's reputation, user-friendly interface, high liquidity, advanced trading, security features, etc., have made Bitfinex one of the best exchanges for high-volume advanced traders helping it achieve significant trading volumes. If you are a Bitfinex user, make sure to connect it to CoinStats to start tracking and managing all your crypto and DeFi from one spot.
Nare Navasardyan is a writer at CoinStats. She is particularly interested in writing about exciting new DeFi projects and the transformations the world of finance will soon undergo. In her free time, she works on mini documentaries on the cardinal virtues.